Reports began to surface early Wednesday morning that St. Louis Cardinals' ace Adam Wainwright was experiencing pain in his throwing elbow and heard a mysterious "pop" when pitching batting practice on Tuesday.
Most baseball fans will remember it was a mysterious "pop" that forced young phenom Stephen Strasburg to undergo Tommy John surgery this past season.
All signs indicate that Wainwright will have to do the same, which will shelf him for anywhere from 12-18 months and guarantee he doesn't pitch for the Cardinals in the 2011 season.
With Adam Wainwright likely out for the season, the St. Louis Cardinals' rotation starts to look a little thin.
Chris Carpenter becomes the de facto ace, although he is no stranger to serious injury himself.
Jaime Garcia slides into the second spot in the rotation and will have to fight off a second half lull that sent his season into a tailspin last year, as well as the dreaded sophomore slump so prevalent in baseball.
Jake Westbrook and Kyle Lohse will round out the back end of the rotation with a fifth starter yet to be named.
All in all, it isn't an overly impressive rotation–especially if Garcia is unable to repeat his 2010 performance or Carpenter misses any time due to injury.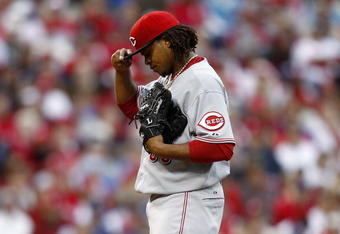 Jeff Zelevansky/Getty Images
Therefore, the Milwaukee Brewers starting rotation is now, without a doubt, the best in the NL Central—if it wasn't already.
After all, the Cincinnati Reds have named Edinson Volquez their Opening Day starter. Volquez has been anything but consistent; he hasn't pitched a full season since 2008.
Paul Maholm will likely start for the Pittsburgh Pirates—yawn.
Ryan Dempster is opening the season for the Chicago Cubs, as Carlos Zambrano is a headcase and Wandy Rodriguez has taken the reigns in Houston after the departure of Roy Oswalt.
None of those names instill fear in opposing hitters.
Meanwhile, the Milwaukee Brewers have Zack Greinke, Shaun Marcum and Yovani Gallardo—all Opening Day starters for their respective 2010 clubs—to choose from as well, as a solid veteran like Randy Wolf rounding out their rotation with Chris Narveson in the fifth spot.
The only NL Central team with a better offense than the Milwaukee Brewers in 2010 was the division winning Cincinnati Reds.
While there is reason to believe the Reds and their young offensive core should put up similar numbers to last season, there are more reasons to assume the Milwaukee Brewers should improve offensively across the board.
Andy Lyons/Getty Images
The Brewers' two superstars–—Ryan Braun and Prince Fielder—both had down seasons, with Fielder possibly having the worst of his career.
That shouldn't be the case this year, as he and Scott Boras have a huge contract waiting for them at the end of the season if he is able to return to his run-producing, home run slugging ways.
Braun's best two seasons have been in 2007 and 2008, when the team was in contention until the very end.
It is assumed that the Milwaukee Brewers will be in the playoff hunt until the very end, which could lead to a career season from Ryan Braun.
With the St. Louis Cardinals suffering a major blow from the loss of Adam Wainwright and the Cincinnati Reds having more questions than answers with their pitching staff, it seems as though a recipe for success is beginning to brew in Milwaukee.
2011 could be the year of the beer in the NL Central.