2011 AL West Preview: 10 Bold Predictions For The Teams Out West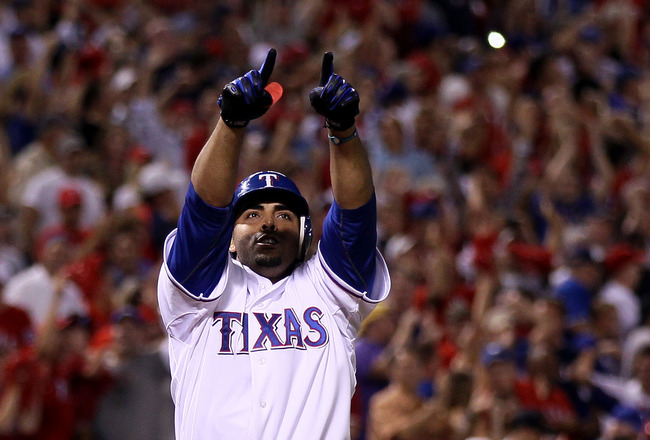 Elsa/Getty Images
The AL West represented the AL in the World Series this year, but fell short. The Angels seemed to be the destination for coveted free agent Carl Crawford, but as we all know, that didn't pan out as expected.
The AL West seems to be completely up for grabs. The A's are on the move, the Rangers look to duplicate last seasons successes, the Angels have a chip on their shoulder and the Mariners are, well, still the Mariners.
Just remember, anything is possible during this long season.
Before the season gets underway, it is time for another round of bold predictions that could play out over the 2011 MLB season.
10. Vernon Wells Will Have a Career-Year With The Angels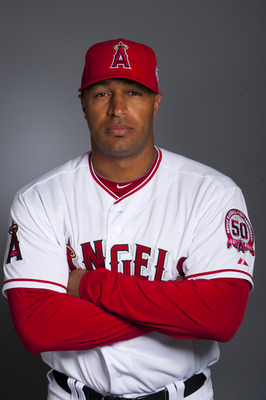 Rob Tringali/Getty Images
The Vernon Wells deal at first glance looks like the Angels panicked and made a costly mistake. Contrary to most experts beliefs, Wells will have a career-year playing in front of his hometown fans.
Wells, had a power surge last year with the Blue Jays. There must have been something in the water that he and former teammate Jose Bautista were drinking since they both mashed the ball. Vernon launched 31 HRs, the third most of his 11-year career, and hit for a decent average, .271 BA.
Wells understands the scrutiny that came with his trade and will enter 2011 with a chip on his shoulder. Another year of 30 HRs and a near .300 BA is a reality as he will look to make a statement with his new team.
Angles fans will all soon forget what could have been in Anaheim.
9. Texas Finds Themselves On The Outside Looking In Come October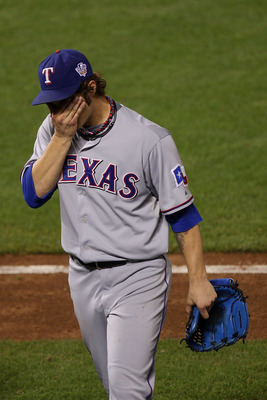 Jed Jacobsohn/Getty Images
After taking the AL crown in 2010, the Rangers will be looking to duplicate their success in 2011.
Not so fast.
Though their offensive will be a force, their pitching will ultimately set them back.
C.J. Wilson had a fantastic 2010 campaign, going 15-8 with a 3.35 ERA, but he will not be able to be the ace that the Rangers need him to be. The loss of Cliff Lee will take its toll. Lee only went 4-6 during his stint in Arlington, but he was a true ace that the Rangers lacked.
Journeyman Colby Lewis had a great postseason run. His 3-0 record and 1.71 ERA speaks for itself, but he cannot be counted on to be the workhorse this team lacks. Also, moving Neftali Feliz to the starting rotation is not the answer.
The Rangers still boast one of the deadliest offenses in the game, but as they know first hand from their run in with the Giants, pitching wins games.
8. Dustin Ackley Stumbles In His First Year In The Bigs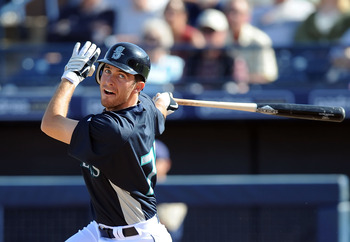 Lisa Blumenfeld/Getty Images
The Arizona Fall League was mastered by Dustin Ackley as he put together a remarkable .424/.581/.758 slash line to go along with four homeruns and five steals. As of right now, he is on a tear entering spring training and looking to continue his success in his first year at the Major League level.
All players deal with speed bumps and slumps during their first season, but Ackley will vastly underproduce and lose his starting job to Brendan Ryan. Ackley is still making the transition to second base—he committed eighteen errors last year throughout AA and AAA—and his difficulty on the field will translate to problems at the plate.
Just ask all major league players, success and confidence on the diamond leads to confidence in the batters box. It is a place where players can relax and focus, but Ackley will not be able to find that peace of mind.
Ackley is a star in the making, but 2011 will not showcase his abilities.
7. Oakland Returns To The Playoffs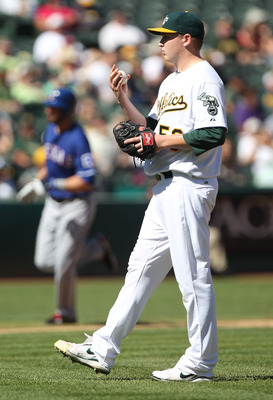 Jed Jacobsohn/Getty Images
A young and talented pitching staff has always been the centerpiece of Billy Beane's A's, and 2011 will be no different.
With a rotation that includes All-Star Trevor Cahill, Gio Gonzalez, Brett Anderson and Mr. Perfect Dallas Braden, what is there not to like?
Braden is the oldest of this bunch at only 27-years-old, which is the time that most players reach their prime. Having three deadly southpaws in Braden, Gonzalez and Anderson will strike fear into the hearts of batters.
With the additions of Hideki Matsui, David DeJesus, Josh Willingham and the promotion of up and coming star Chris Carter scattered throughout the A's lineup, this team is playoff bound once again.
I smelling a division winner in the making.
6. Rangers Offseason Acquisitions Make a Splash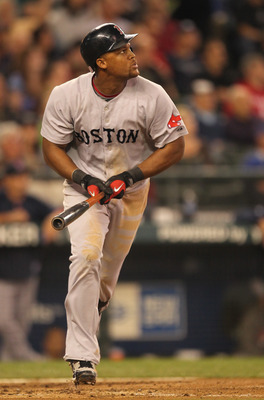 Otto Greule Jr/Getty Images
The additions of Adrian Beltre and Mike Napoli will make some noise this season for the Rangers.
For a team already deep in the power department, adding two more bats with plenty of pop will only make this club more of an offensive juggernaut. Napoli slugged 26 HRs for the Angels and Beltre popped 28 for the Sox.
Arlington is going to be the king of the long-ball in 2011.
With Michael Young still on the roster, even if he is not too happy, his bat will be a great compliment to both Napoli and Beltre.
Even though the loss of Guerrero does hurt, this Texan offensive powerhouse will not miss a beat.
5. Big Fish In a Small Pond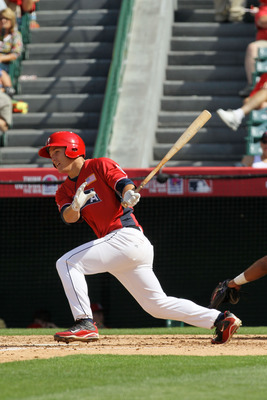 Stephen Dunn/Getty Images
Mike Trout, the 19-year-old phenom in the Angels' farm system, has tore up A-ball over the last two seasons. His .344 BA and .426 OBP have put his name amongst the best of the prospects just waiting to break into the Majors.
It has already been reported that Trout will not make his debut in 2011 before the end of the season.
I beg to differ.
This young prospect is ready to make the jump and will have his name called months before the end of the season. I am projecting a late April, early May call-up. He has the talent to make a splash and this Angel team will be in need of his services sooner rather than later.
4. Felix Hernandez Hits The 20-Win Mark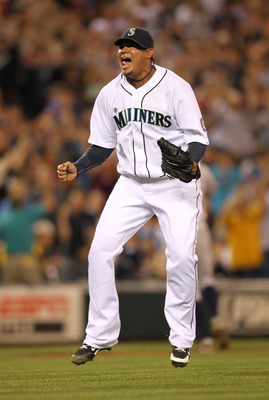 Otto Greule Jr/Getty Images
King Felix took home Cy Young honors after only winning 13 games. This is due largely in part to the fact that wins are drastically overrated as a way to measure the ability of a pitcher. His stuff is electric and he is just hitting his prime at 24-years-old.
What everyone loves to see, fans and statisticians alike, is a 20-win season to cement yourself amongst the all-time greats. Some pitchers come close but fail to get over the hump, and as of now Felix is in that boat.
Look for that all to change this season.
In 2009, Hernandez racked up 19 wins, the most in his short career. I am predicting a 21-win season for this young flamethrower. He has all of the intangibles and his Mariner team is trying to improve.
With a little run support—Hernandez doesn't need much as his ERA over the last two season was 2.49 and 2.27 respectively—King Felix will once again carry the crown.
3. Andrew Bailey Leads The American League In Saves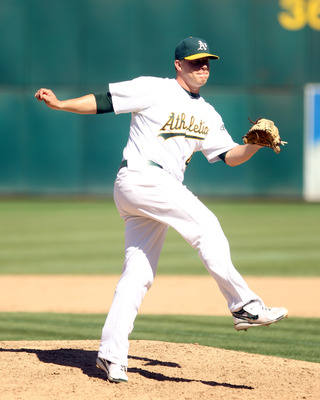 Ezra Shaw/Getty Images
After having to end his season early due to an elbow injury, the 2009 ROY will be looking to make his mark on the 2011 season. He has the skill set to be one of the best, if not the best, closer in the American League.
His 1.47 ERA and .96 WHIP in 2010 show just how good this 26-year-old is. He is coming into his prime and is on an A's team that looks to be upping the ante in the win column.
Billy Beane knows how to draft pitchers and found a gem in Bailey. With plenty of opportunities to close out games for the A's, Bailey will eclipse the 40 save plateau.
2. Kendry Morales Will Become The Full-Time DH For The Angels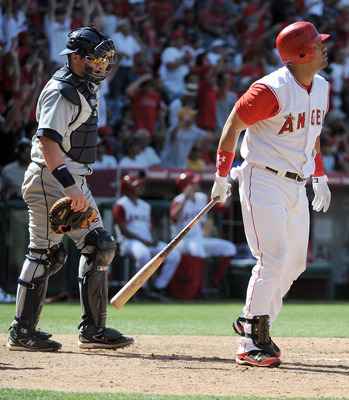 Harry How/Getty Images
After Kendry Morales hit a walk-off grand slam against the Mariners, he preceded to break his leg during his celebratory leap onto home plate. Now, unable to field his position as well as he could before the injury, he has set his career off track.
He will, however, still be able to mash from the plate according to Manager Mike Scioscia in an interview with the Orange County Register.
This will in turn set the plans of the Angels back as Bobby Abreu will have to spend time in the field in order to make room for Morales.
A significant leg injury that kept Morales out for almost the entire 2010 season will keep him off the diamond, but in the batters box, for 2011.
1. Michael Young Finishes The Year In The National League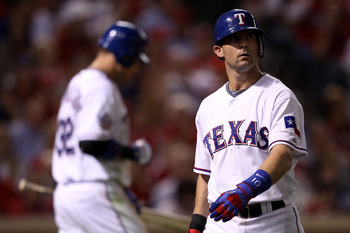 Christian Petersen/Getty Images
Michael Young wants out of Texas.
He has become restricted to the DH role after the signing of Adrian Beltre, but is still capable of playing the field as well.
With Ian Kinsler manning second base and Andrus calling shortstop his home, Young doesn't have a position to battle for. There are plenty of teams in the National League could be begging for Young's expertise.
Frankly, I could see the Rockies adding both Young's bat and glove to their roster this season. With Eric Young Jr. and Jose Lopez not providing much pop with the bat, the Rockies would welcome Young with open arms.
The situation in Texas could soon become a cancer to the team and a move to Colorado could be in both parties best interest.
Keep Reading