Jeremy Shockey: What Options Does the Former Pro Bowler Have Left?
Chris Graythen/Getty Images
Jeremy Shockey To Hit The Open Market: Who's Interested?
Jeremy Shockey was released by the Saints yesterday.
And although next year would be his 10th in the NFL and the 30-year-old former first round pick has missed multiple games every year since 2006, there will be teams out there who at least consider taking a flier on the former All Pro.
There is still a good chance that he is without a team by training camp, but stranger things have happened.
Here are 10 teams that Shockey might ultimately suit up for come next fall.
Honorable Mention: Las Vegas Locomotives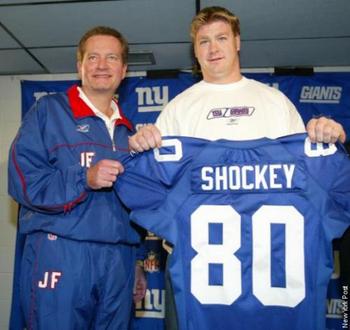 People forget that the man who drafted Jeremy Shockey--the same man who was head coach during Shockey's great rookie season--is still a professional head coach: Jim Fassel.
Of course his team, the Las Vegas Locomotive, play in the UFL, not the NFL.
Shockey probably thinks the UFL is beneath him, but he would be a star there. And it wasn't beneath his former head coach.
And, assuming they can afford it, the Locomotives would give Shockey all the money he wants to enhance the league's profile and give it a football celebrity on the field.
No. 10: New Orleans Saints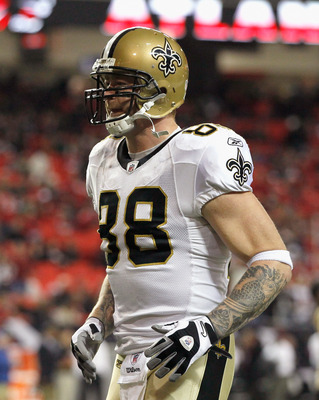 Kevin C. Cox/Getty Images
The Saints haven't completely shut the door on Shockey.
He might still return to the Saints in 2011.
But to do so he would have to take a substantial pay cut and be willing to serve as the backup to Jimmy Graham.
On almost any other team, Shockey might view that as beneath him. But in New Orleans, Shockey can be a "backup" to Graham while still catching plenty of passes and playing a significant role.
The longer he sits on the open market, the odds of this particular scenario playing out becomes more likely.
No. 9: Kansas City Chiefs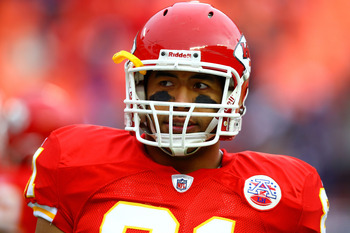 Dilip Vishwanat/Getty Images
Tony Moeaki is clearly the future at the tight end spot for the Chiefs. Last year's third round choice had 47 catches, 556 yards, and three touchdowns. But with both Leonard Pope and Brad Cottam free agent's Kansas City will likely have a void to fill.
Rather than doing so with another extremely green player (i.e. through the draft) picking up Shockey seems like the next best alternative....assuming he doesn't demand the enormous salary he was due in 2011.
At this point, with a new offensive coordinator at the helm, the Chiefs cannot afford to discount any option that might improve their one-sided (Dwayne Bowe) passing game.
No. 8: St. Louis Rams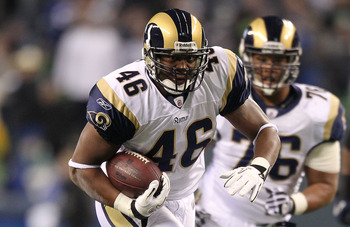 Otto Greule Jr/Getty Images
Like their fellow Missourians, the Rams also have a pair of tight ends who will hit the free agent market this spring: Daniel Fells and Derek Schouman.
And since their next two options, Billy Bajema and Michael Hoomanawanui, combined for just 27 catches they could afford to look into adding Shockey.
Bradford would benefit from having another veteran in the huddle, especially if the Rams luck out and are able to nab Julio Jones with their first pick in the draft.
No. 7: Oakland Raiders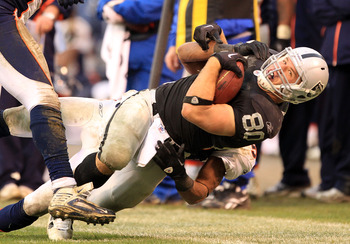 Ezra Shaw/Getty Images
The Raiders might end up re-signing young, budding superstar Zach Miller. But if that was the case, don't you think they would have already locked up their leading receiver by now? Or at least given him the franchise tag?
Perhaps his asking price is too high.
If they do lose Miller, Shockey does seem like a perfect "Raider guy."
And Al Davis loves giving players a second or third chance to rehab their reputation.
Furthermore, like the Rams, the extremely young Raiders receiving corp might benefit from a veteran with a Super Bowl ring.
No. 6: Carolina Panthers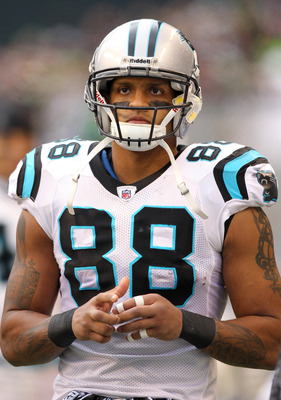 Otto Greule Jr/Getty Images
Both of the Panthers top tight ends, Jeff King and Dante Rosario, are free agents this offseason.
And if Carolina does end up losing them, on top of dealing away Steve Smith, Charlotte might be the ideal spot for Shockey.
Even if it's Jimmy Clausen or Tony Pike under center, he would likely be one of the club's main targets, alongside David Gettis.
At this point in his career, after already winning a Super Bowl, Shockey can afford to look for the spot that offers him the most opportunities to play, not win.
No. 5: Houston Texans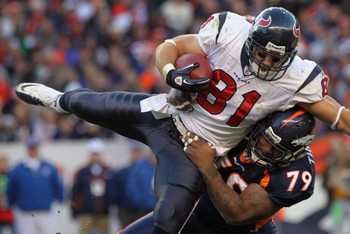 Doug Pensinger/Getty Images
Owen Daniels is a very good tight end: he was a pro bowler in 2008 and does a fine job across the middle while Andre Johnson stretches the field.
But he is a free agent and the Texans might not be interested in giving a player who's missed 14 games the last two seasons a long, lucrative contract.
If they lose Daniels to the open market, they can put a band-aid on that wound for a year with Shockey and maybe address the position long term a year from now or through the draft. After all, the Texans have bigger issues to worry about on the defensive side of the ball.
No. 4: Tennessee Titans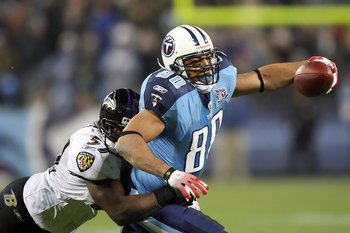 Andy Lyons/Getty Images
Bo Scaife will not be back with the team in 2011, and even though he wasn't exactly Antonio Gates (36 catches, 384 yards, three TDs) they have to go out and fill that spot with someone: the rest of their receiving corps is just way too weak to neglect the position.
Shockey might not be the ideal personality to bring in under a new head coach and during the post-Vince Young era, but he does have the type of experience that would be invaluable to a young team that is going through countless changes.
And if Tennessee does nab a quarterback (Blaine Gabbert?) in this year's draft, having Shockey as a safety valve would keep him upright and healthy.
No. 3: Arizona Cardinals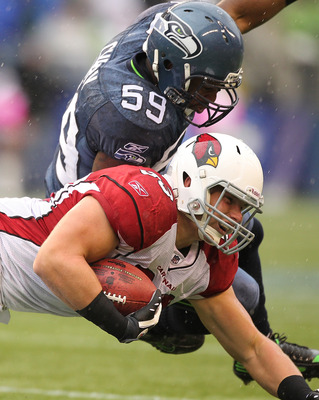 Otto Greule Jr/Getty Images
Are you seeing a pattern yet?
Shockey's best possible hopes of catching on are with a team that just lost one of their veteran, incumbent tight ends.
And the Cardinals have two unrestricted free agents at that spot: Ben Patrick and Stephen Spach.
Shockey would be of use to the Cardinals who have to find options (other than Larry Fitzgerald) for their messy quarterback situation.
In Pittsburgh, Ken Whisenhunt worked with a tight end of similar pass catching talents but more speed (Heath Miller) so he'll know how to use him effectively.
No. 2: Buffalo Bills
Jonathan Daniel/Getty Images
The Bills don't have any impending free agent loss at the tight end spot. But they also don't have any reliable pass catchers at the spot either.
Jonathan Stupar led all tight ends with 12 catches.
This might seem like an out-of-character move for the Bills to bring in a beat up, aging veteran with some "character issues." But Buffalo needs to find both star power and viable receiving options.
Shockey brings a little bit of both to the team.
No. 1: Seattle Seahawks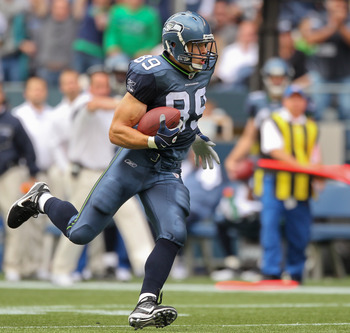 Otto Greule Jr/Getty Images
If you can't beat 'em, join 'em?
Shockey, whose team was eliminated from the playoffs last year by Seattle, might most easily find a home in the Pacific Northwest.
Seattle is desperately in need of a tight end. Chris Baker (nine catches in 15 games) didn't exactly earn his $1.6 million this year and probably won't be back in 2011. John Carlson put up good numbers (31 catches, 318 yards) but suffered a terrible injury in the playoff loss to Chicago.
If it takes him a while to return to full strength, Shockey would be a nice stand-in.
Keep Reading