2011 NFL Draft: Rating the Top 5 QBs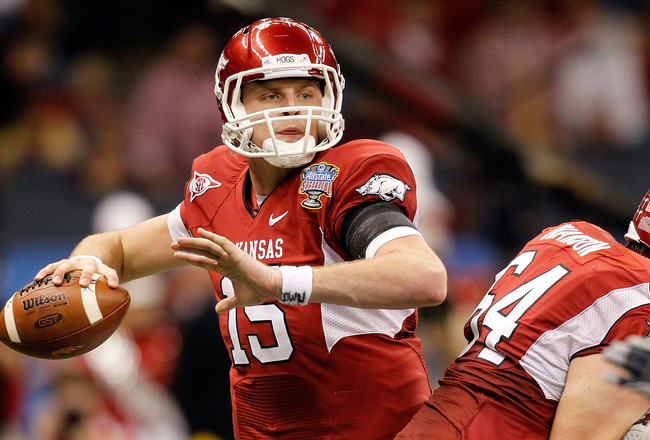 Matthew Stockman/Getty Images
Predictions are just that: predictions. And if we've learned anything over the years about projecting how well a player will fare at the NFL level, it's that there's certainly no such thing as a sure thing.
With that said, many prediction "misses" have come as a result of experts and even scouts over-hyping players who, when really analyzed and broken down on film, have proven very little. Often times, scouts and analysts fall in love with the idea of a player, and thus, like sheep, others piggy-back on the hype, creating a perceived value of that player that just isn't real.
Just as well, certain players are often overlooked for reasons as shallow as lack of visual appeal, yet when they hit the field on Sundays, they rise to the occasion.
With the NFL Combine kicking off this Wednesday, we take a look at the five quarterbacks garnering the most attention coming into the week, and apply film review to rank each one.
Derek Stephens is Managing Editor and Author at TheBlueBirdHerd.com, a blog dedicated to Seattle Seahawks discussion and analysis.
He is also a contributor at NFL.com's NFL Blog Blitz (Seattle Seahawks Blog), and has scouted for Lindy's Sports Pro Football Draft Guide as well as provided player draft analysis at NFLDraftScout.com.
No. 5: Blaine Gabbert (Missouri)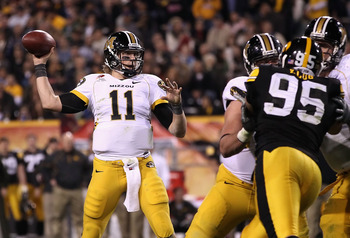 Christian Petersen/Getty Images
Oh yes—I'll draw my share of criticism for this one, but hey, I'm just going off of game tape.
Sure, Gabbert has a good arm, prototypical size and flashes some nice accuracy. What I can't seem to get away from, though, is the overwhelming evidence of a lack of ability to go through progressions and find a second or third receiver consistently.
Could this have something to do with the style of offense that Mizzou ran? Perhaps somewhat. However, there were clearly cases where Gabbert was supposed to check down and go through progressions, but instead held the ball too long, panicked and spun out of the pocket before making an off-balance throw downfield, often times missing.
He only performed marginally in Mizzou's spread attack during his junior campaign, and his lack of experience taking snaps from under center doesn't cushion the blow of an already steep learning curve that he'll surely be undertaking at the next level. There have been flashes, but I think this guy has a long way to go and needs to show loads more in the instincts department before I go spending a first-round pick, let alone a top 15 pick on him.
Prediction: Considering the hype, he'll be the first or second QB taken, as long as he doesn't do anything horrendous in his pre-draft workout sessions.
No. 4: Jake Locker (Washington)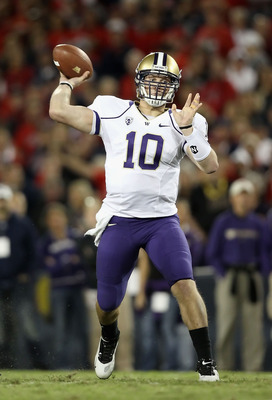 Christian Petersen/Getty Images
Locker had a year that many deemed as a regression from his junior season. While they have a case to some extent, the film is clear from his junior year as well, and shows that his struggles with accuracy and decision-making are nothing new. These weaknesses may have a lot to do with the fact that his O-line was subpar and at times, it looked as though Steve Sarkisian didn't know what type of offense he wanted to run.
His experience in a pro-style offense make him more prepared in many ways than Gabbert or even Newton, but the accuracy and instincts are a concern. The best thing for Locker would be to sit behind a veteran QB for a season or two (probably two), and learn from a true professional who has succeeded at the NFL level. He's still higher than Gabbert, to me, simply because of superior athleticism and experience in an NFL-like offense.
Prediction: Locker's upside is so huge that teams will have to give him a serious look in the top 25. I don't see him dropping into the second round, but a grab by Seattle at 25 may not be outside the realms of possibility. A strong combine, and he could go before 20.
No. 3: Ryan Mallett (Arkansas)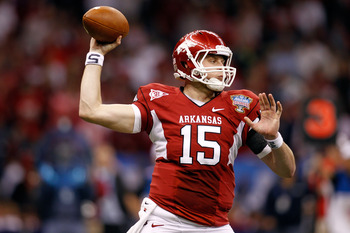 Chris Graythen/Getty Images
It's amazing to me how ripples can become waves in such a short amount of time.
Wasn't long ago that Mallett was projected to be the top QB taken with Luck not entering. Now, after a few rumblings of past off-the-field issues, some have him falling out of the first round.
Interestingly, Mark Sanchez had a very notable off-field incident prior to his late escalation up draft boards two years ago, yet, it didn't seem to be much of an issue on Draft Day. If you want to know what I'm referring to, do the research. This isn't a gossip site, but I'll just say that recent accusations by a female against Sanchez are not the first of their kind with him. I'll leave it at that.
Mallett has the best arm in the draft, above average accuracy and good instincts. The main technical knocks are footwork and decision-making. Otherwise, some question his work ethic and off-field decision-making.
At the end of the day, it's still about how good of a quarterback the guy can be. Each guy is a risk. Part of that risk is knowing that there will be elements of a guy's game that will need to be coached and developed. I'd rather have footwork and work ethic as my project than a crappy arm, no accuracy and a guy who gets rattled. He's still more refined than Gabbert or Newton, and I have him as a mid-late first-round talent.
Prediction: Considering the recent poo-poo'ing and character questions, it wouldn't be inconceivable to imagine Mallett dropping into the second round, where I think he would be an absolute steal. Interviews will be his biggest proving ground in pre-draft activity sessions.
No. 2: Christian Ponder (Florida State)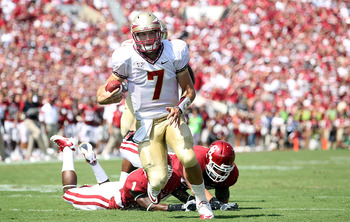 Ronald Martinez/Getty Images
If we were rating QBs on their ceiling and potential, Ponder wouldn't be my No. 2. But last I checked, the NFL Draft is about finding guys who will play well at the NFL level, and Ponder is definitely the most NFL-ready at this point.
His combination of accuracy, instincts, ability to read defenses, athleticism to escape the rush, and leadership ability make him a natural fit for a West Coast-oriented offense. He doesn't have the cannon of a Gabbert, Newton or Mallett, but the guy is a natural football player who projects to be a quick study, and displays a good understanding of how to run a pro style offense.
Injuries have been his biggest enemy, and he has a lot of proving to do in the health department.
Prediction: Ponder probably goes early second-round. Unfortunately, there's not a lot he can do in pre-draft workouts to dispel injury concerns. This will have to happen on the field, over time, so I don't see him making a huge leap up draft boards. Athleticism and instincts still make him a risk worth taking anywhere after 20.
No 1: Cam Newton (Auburn)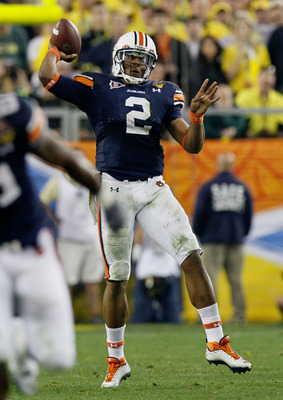 Kevin C. Cox/Getty Images
Newton's lack of experience in a pro-style offense should be cause for some concern. However, it would be hard to predict anything but success for a guy with the combination of out-of-this-world athleticism and truly elite work ethic that Newton possesses.
The comparisons to JaMarcus Russell are completely unfounded. This guy wants to be good, and his workouts show it. He has the arm, he has the feet and he certainly has the desire.
Is he ready to take over an NFL offense right away? No. But the wait should be worth the pick.
Prediction: Once Newton gets a couple of workouts and interviews under his belt, he could very easily move ahead of Blaine Gabbert to become the top QB taken in the draft. As the draft nears and teams really have time to think about it, it will be hard to justify picking another QB over this guy.
Keep Reading