2011 NFL Draft: 10 Defensive Players That Need A Great NFL Combine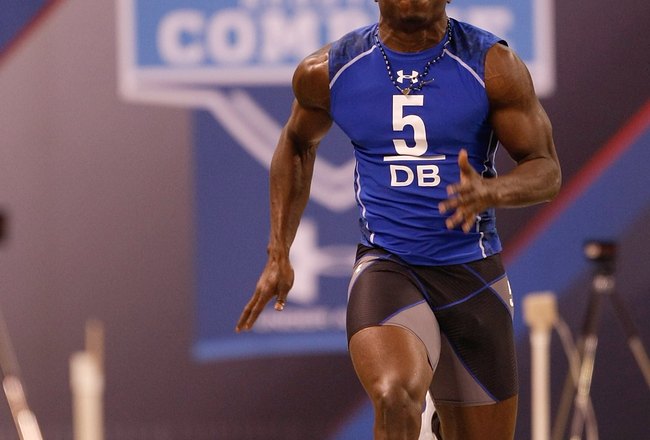 Scott Boehm/Getty Images
The NFL Combine is a venue for players to show their extreme athleticism and physical abilities to move up 2011 NFL Draft boards.
Players who did not perform well during their college career can prove their hype was not just hype. They can provide a final view of their abilities for NFL scouts.
Abilities like speed, vertical jump, and upper-body strength all come to the forefront at the combine. Players who excel, are bound to catch the eye of an NFL team.
Here are 10 defensive players who need to show they have NFL caliber abilities, from February 23rd to March 1st.
**Draft rankings provided in this article were taken from cbssports.com
10. Brooks Reed, OLB (University of Arizona)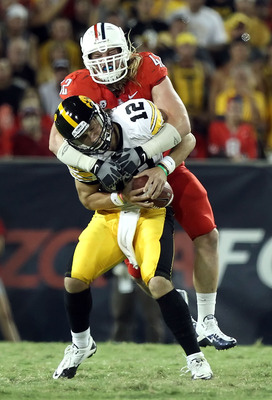 Christian Petersen/Getty Images
Does he have the long, blonde hair that's becoming a popular style for NFL linebackers?
Check.
Is he quick enough to be a linebacker at the professional level?
Question mark.
Brooks Reed hasn't shown the ability to use his strength to shed blocks, despite recording six and a half sacks during his senior season. He also hasn't shown the ability to play man coverage on a NFL-quality tight end.
He's projected to go in the middle of the second round, but an improved 40-yard dash time at the NFL Combine could boost him up to an early second-round pick.
9. Drake Nevis, DT (LSU)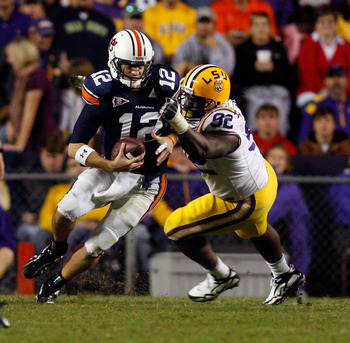 Chris Graythen/Getty Images
Drake Nevis senior season was overshadowed by Auburn's Nick Fairley. Fairley's impressive 2010 campaign kept Nevis from the limelight.
However, Nevis had an outstanding season, recording six sacks and 13 tackles for losses in his only full year as a starter.
Although Nevis is a beast in the weight room, many NFL scouts do not think he is an every-down player because of his 6'1", 285-pound frame.
Like Reed, Nevis is currently listed as a mid-second rounder. If he adds on more weight and does not lose his quick first step, Nevis can surpass other defensive tackles.
8. Casey Matthews, ILB (University of Oregon)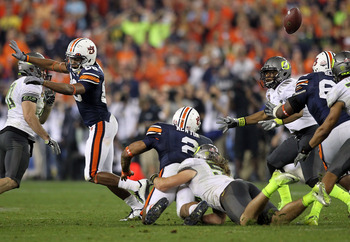 Jonathan Ferrey/Getty Images
Casey Matthews has a last name that will grab the attention of NFL scouts.
Unfortunately for Matthews, he is not as highly regarded as his brother Clay. He's not as quick nor doesn't seem to have the same level of intensity as his brother.
However, in the BCS National Championship game, Casey showed what could be. He kept Oregon in the game on defense and showed that he can rise up to the occasion.
He's projected as a fifth-round draft pick. For his stock to rise, he'll have to show he has an elite ability. Otherwise, he may sit on draft boards until day two.
7. Curtis Brown, CB (University of Texas)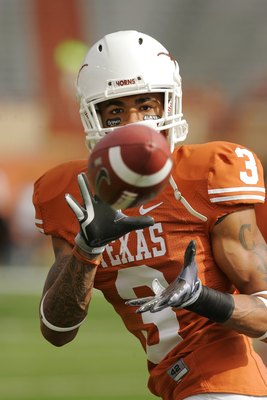 Brian Bahr/Getty Images
Curtis Brown proved his worth at the 2011 Senior Bowl, despite being surrounded by immense talent.
Many scouts believed he was the best defensive back at the Senior Bowl. A pleasant surprise, considering he's ranked seventh among corner backs entering the draft.
Brown made the transition from special teams standout to shutdown corner look and made it look easy. In his junior year, he showed up on the national scene, after he batted a pass away from Oklahoma State's Dez Bryant in the closing seconds of a Longhorns win.
He's projected to go late in the second round, but if he shows improved strength to go with his upper-level speed, his stock could rise.
6. Von Miller, DE (Texas A&M)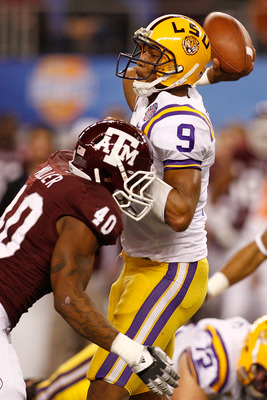 Chris Graythen/Getty Images
If Von Miller left Texas A&M after his junior season, he might have gone higher in the NFL Draft.
Instead, Miller decided to stay for his senior season after leading the nation with 17 sacks. In his return, Miller won the Butkus Award for the best linebacker in the country. Although he got off to a slow start, Miller caught fire midway in the season.
The knock on Miller is that he may be limited to one style of play. He was commonly lined up in a standing position outside the tackle, allowing him to use speed to beat the block.
Miller is projected as the No. 7 pick in the 2011 NFL Draft. If he wants to be a Top Five pick, he'll have to show that he has more tricks up his sleeve.
5. Rahim Moore, FS (UCLA)
Lisa Blumenfeld/Getty Images
Rahim Moore had a spectacular sophomore season as a Bruin.
Moore recorded 10 interceptions in 2009, which lead the country, and was the most by anyone since 2003. He was expected to follow that up with another amazing season in 2010.
Moore was not as aggressive in his junior year, only intercepting one pass and taking far fewer chances.
Instead of being a top pick, he is expected to go on the second day of the NFL Draft. If Moore turns in a stellar showing at the Combine, he may be a late second-round pick on day one.
4. Akeem Ayers, OLB (UCLA)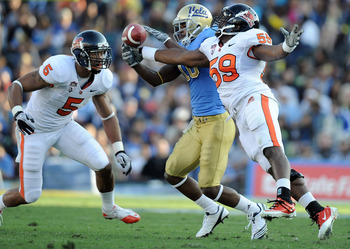 Harry How/Getty Images
The second straight UCLA Bruin on the list had a similar situation as his teammate.
Akeem Ayers displayed his big-play ability during his sophomore season, scoring three touchdowns from the linebacker position. He nabbed four interceptions, forced two fumbles, and recorded six sacks in the process.
Although his stats slipped in 2010, he still decided to declare early for the draft. His numbers were roughly the same, but he wasn't able to turn in the big plays like the previous year.
If he can prove that he's fast enough to make big things happen on defense, he may rise from his projection of 26th pick, to a top 20 selection.
3. Davon House, CB (New Mexico State)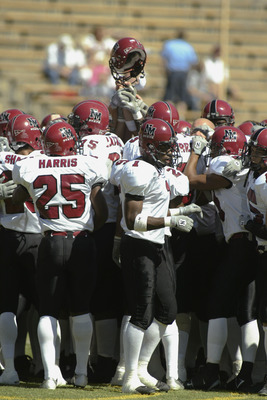 Scott Halleran/Getty Images
Davon House had a huge junior season for the New Mexico State Aggies.
His performance garnered a first-team All-WAC selection and some NFL attention. Although he didn't quite put up the same numbers in his senior year, House is this year's WAC's top cornerback.
The WAC has produced a Top 100 draft pick from the cornerback position in four of the last five NFL Drafts, including Kyle Wilson of the New York Jets.
House is projected to go 55th in the draft, but if he improves his 40 time, he will surely be drafted in the Top 100 to keep the streak alive.
2. Da'Quan Bowers, DE (Clemson University)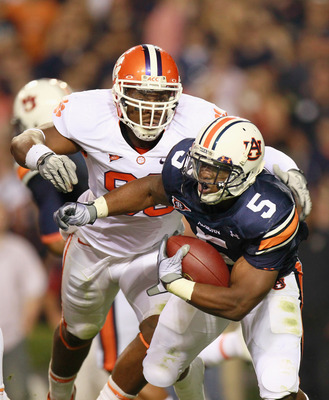 Kevin C. Cox/Getty Images
Two years of underachieving were followed by a huge year from a huge player.
Da'Quan Bowers used all 275 pounds to lead the nation with 15.5 sacks as a junior in 2010. The previous two seasons, he only recorded four.
The Carolina Panthers—owner of the No. 1 pick—are a potential suitor, as Bowers grew up in South Carolina. Since the departure of Julius Peppers, the Panthers have been looking for a worthy replacement.
However, Bowers had surgery to repair a partially torn meniscus, leaving some to question if he still has the same ability.
If Bowers performs well at the NFL Combine, he could be the No. 1 pick. If he shows any sign of weakness, he could plummet.
1. Robert Quinn, DE (University of North Carolina)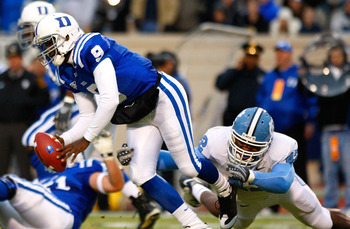 Kevin C. Cox/Getty Images
Robert Quinn is the boldest junior in this year's draft class.
After recording 11 sacks and 19 tackles for loss in his sophomore year, Quinn was caught in an agent scandal. Quinn was suspended for the entirety of his junior season, yet he still declared for the NFL Draft after a year without competition.
Quinn is projected to be taken with the No. 6 pick in this year's draft, very high for a player who hasn't played a game in over a year.
Scouts will be incredibly harsh on Quinn when he showcases his skills at the Combine. If he shows any minor rust, teams will be wary to take a chance on him early.
Even if he does good, people may question his ability to excel.
Quinn needs to ace this audition if he plans to be a Top 10 pick.
Keep Reading