MLB Preview 2011: A.J. Burnett and Each Team's Most Important Comeback Player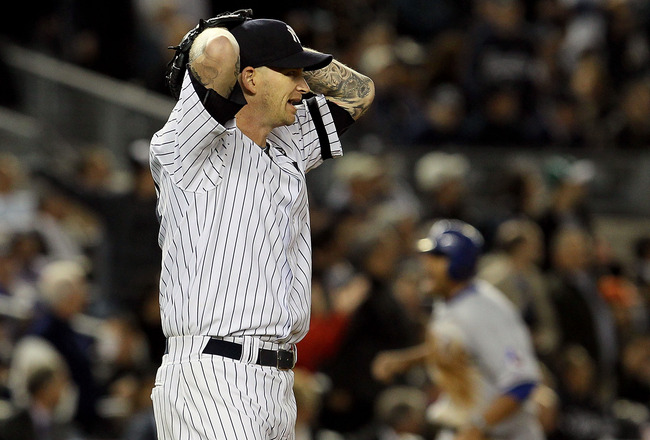 Jim McIsaac/Getty Images
A team's fortunes can often be severely altered by the injury or severe under-performance of just one player. When a team is littered with those types of players (see the New York Mets), a season can be over in just a few short months.
Coming into the 2011 season, every team expects to be better. If it didn't believe that, what's the point in even playing the games, besides the money of course?
Some of the aforementioned type of players have moved on to new teams. That doesn't mean they aren't expected to make a comeback in their new digs, however.
One player can make a huge difference, especially on teams that aren't stacked with talent from top to bottom.
Now who exactly are these players, and what is expected of them this season? You're just going to have to read on to find out.
New York Yankees: A.J. Burnett, SP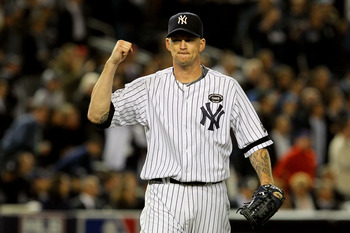 Jim McIsaac/Getty Images
I figured since Burnett was in the title of this article, he was no mystery and should go first.
Burnett was important last year to the Yankees, and this year he is doubly important. Failing to land another quality starting pitcher such as Cliff Lee and losing Andy Pettitte puts even more pressure squarely on the shoulders of Burnett.
Just yesterday Ken Rosenthal of FOX Sports emphatically stated that A.J. Burnett doesn't suck and touted his career numbers as being nearly identical to those of Josh Beckett. Excuse me Ken, but no one in New York cares what Burnett accomplished while he was in Florida or Toronto. They only care about what he did last year and what he will do this year.
As far as the 2010 season goes, Burnett DID massively suck. All one needs to do is look at his numbers from June and August of last year. He was 0-9 with an ERA of around 9.00. That is so nasty that I threw up in my mouth a little while typing it.
Supposedly this spring Burnett has connected well with new pitching coach Larry Rothschild and has made an adjustment to his mechanics. Burnett is reportedly working on the mental side of pitching as well.
The Yankees need Burnett to improve significantly. If he can't, acquiring someone like Francisco Liriano would be a necessity.
Baltimore Orioles: Nick Markakis, OF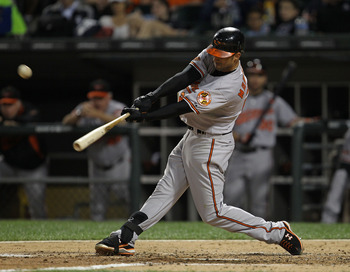 Jonathan Daniel/Getty Images
Some of you may disagree with this selection, but Markakis needs to step it up and become a consistent run producer. The key word here is consistent.
In 2007 and 2009 he drove in 112 and 101 runs respectively. The issue I have is that, in virtually the same number of at-bats, Markakis drove in 41 fewer runs last season. The Orioles cannot afford to have another subpar season like that from Markakis.
He is entering his prime, and it's time to put up or shut up. Hopefully Markakis won't be the modern version of Bret Saberhagen by putting up good numbers only every other year.
Maybe the addition of Derrek Lee and Vlad Guerrero will help Markakis get more pitches to hit. Either way, the Orioles need big-time production from Markakis in order to be competitive in the AL East in 2011.
Tampa Bay Rays: Ben Zobrist, 2B/SS/OF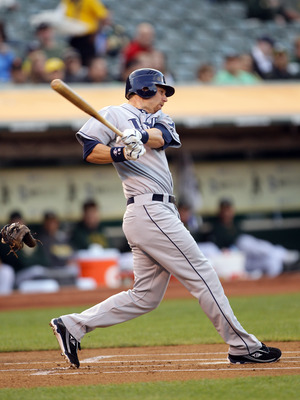 Ezra Shaw/Getty Images
From 2009 to 2010, Zobrist's all-around numbers dropped significantly. With the losses of Carl Crawford and Carlos Pena, the Rays will need Zobrist to find the hitting stroke he displayed a couple years back.
Even though the Rays added both Johnny Damon and Manny Ramirez, there will still be a strong need for run production from other sources. Damon and Ramirez are no longer All-Stars, so other players will need to step up their games, including Zobrist.
The Rays still have a solid pitching staff even after the trade of Matt Garza. If they are going to continue to compete in the brutal AL East, they have to find offense from somewhere. For their sake, they need to see major improvement from Zobrist.
Toronto Blue Jays: Frank Francisco, CL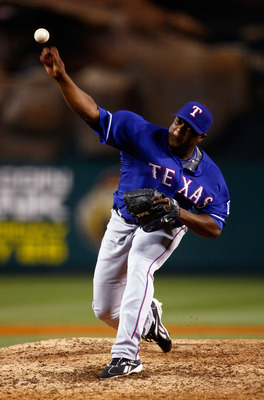 Jeff Gross/Getty Images
Francisco lost his closing job for the Rangers in 2010 to the rookie Neftali Feliz. While Francisco didn't pitch poorly, Perez was lights out.
The Blue Jays traded for Francisco ostensibly to be their closer in 2011. As it stands right now, many believe he has a leg up on both Octavio Dotel and Jon Rauch.
If Francisco does win the job outright, he will have some solid arms ahead of him as setup men. Besides Dotel and Rauch, Jason Frasor will also be in the mix. Francisco should have no excuses for being unsuccessful as the Jays closer in 2011.
Boston Red Sox: Dustin Pedroia, 2B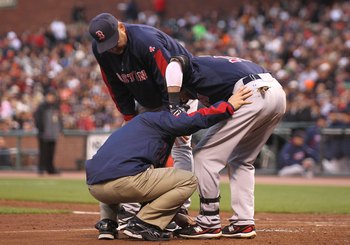 Jed Jacobsohn/Getty Images
While Josh Beckett could be on this list, I believe Pedroia means more to the success of the Red Sox than does Beckett. Having Jon Lester, Clay Buchholz and John Lackey softens the blow of the loss of Beckett.
Pedroia's comeback will be from an injury rather than just a poor season. It should be obvious to anyone that knows baseball that when runners get on base ahead of the run producers in the lineup, the team will score more runs. That where Pedroia comes in.
His offense isn't his only asset. He also brings defensive stability to the right side of the infield. Pairing him with Adrian Gonzalez will only make things easier on the Red Sox's pitchers.
Pedroia's mere presence on the field and in the clubhouse will make the Red Sox better absent all the statistics.
Chicago White Sox: Jake Peavy, SP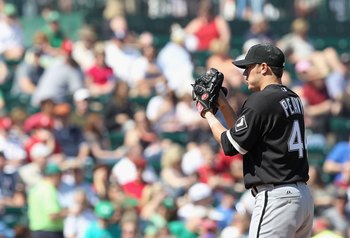 Christian Petersen/Getty Images
Peavy has been battling injuries the past couple of seasons. The White Sox thought they were getting a durable workhorse when they made the trade with the Padres. What they got instead was a prematurely arthritic donkey.
That comparison may be slightly harsh, but I think you see where I'm coming from. Peavy has made only 33 starts the past two seasons. While Mark Buehrle is solid, Edwin Jackson is highly inconsistent, and the Sox need someone to step up next to John Danks to carry the load. That person needs to be Jake Peavy.
He may never be that sick and nasty dude he was in San Diego, but he can still be a very good pitcher. He has way too much talent to just disappear from the MLB landscape.
Cleveland Indians: Grady Sizemore, OF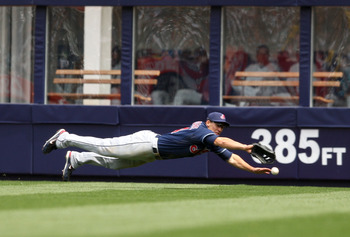 Ezra Shaw/Getty Images
Sizemore has been dogged by injuries the past couple seasons. It's a shame because prior to 2009 and 2010, he had played in 639 of a possible 648 total games in the previous four seasons.
When Sizemore is right physically, he is one of the most exciting players in the game both offensively and defensively (two Gold Gloves).
He is the catalyst for the Indians offense, and without him in the lineup, the Indians will struggle to score runs, as they have the past couple seasons.
It's quite possible that the Indians may look to trade him at some point during the season. Sizemore has a 2012 team option for $8.5 million that could escalate to $10.5 million. It's highly unlikely the Indians would pick that up. The caveat here is that Sizemore needs to be healthy whether they keep him or not.
Detroit Tigers: Magglio Ordonez, DH/OF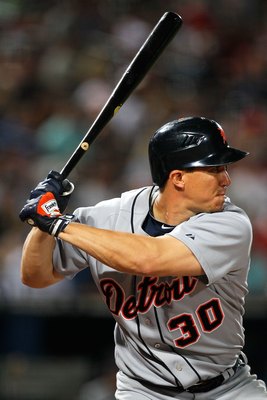 Kevin C. Cox/Getty Images
I have always been a big fan of Magglio Ordonez. I have to admit that his 2009 season stunk, and 2010 was cut short by injury. The Tigers need him back healthy and producing runs.
Ordonez most likely won't be a big home run hitter any longer, but he can still hit for a high average and get on base. Adding Victor Martinez to that lineup can only help Ordonez round back into form.
If Ordonez stays healthy, the Tigers will have one of the most potent threesomes in all of MLB in the middle of their lineup.
Kansas City Royals: Alex Gordon, OF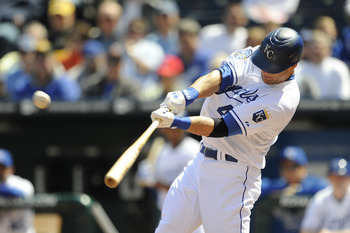 G. Newman Lowrance/Getty Images
Gordon was part of the 2005 draft class that had three 3B being selected at the top of the draft. Can you name the other two? Ryan Braun and Ryan Zimmerman were the others selected along with Gordon. Those other two have obviously done some very good things, while Gordon has lagged well behind.
As with Braun, Gordon was moved to the outfield. Braun has excelled, while Gordon in the outfield is still a work in progress. If Gordon doesn't produce in 2011, he will most likely find himself on the outside looking in.
The Royals have tons of young talent moving up in their farm system, and they would rather develop the youngsters than stick with Gordon, who has yet to have things "click" for him.
Injuries have only been a part of the story. When Gordon has been healthy, he has given the Royals little reason for optimism. It may be now or never.
Minnesota Twins: Justin Morneau, 1B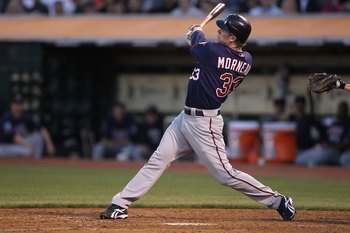 Jed Jacobsohn/Getty Images
Concussions don't just cause havoc on the football field. Just ask Corey Koskie. He suffered a concussion while playing for the Milwaukee Brewers in 2006 and never played baseball again.
Luckily for Morneau, his case wasn't as serious as Koskie's. According to the Twins and manager Ron Gardenhire, Morneau has participated in every drill at Twins camp since spring training kicked off. That is obviously a good sign. He is just waiting for full clearance from doctors to be able to play in games.
Morneau's bat is basically irreplaceable in Minnesota. Having him back at even 90 percent of the old Justin would be welcomed. Hopefully there won't be any hiccups on his road to Opening Day 2011.
Los Angeles Angels of Anaheim: Bobby Abreu, DH/OF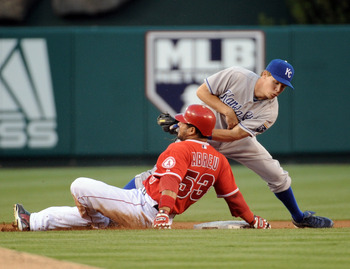 Harry How/Getty Images
Yes I know. Bobby Abreu is no spring chicken, but he is not a horse ready for the glue factory either.
Abreu had a down year in 2010. It wasn't terrible, but it was certainly not what people have gotten accustomed to from him either. His BA, OBP, SLG and OPS all went down significantly, while his strikeouts went up.
Abreu is a big part of the Angels offense, and if those numbers don't go back up, the offense may struggle. He's a professional hitter, so I expect him to bounce back in a big way.
Oakland Athletics: Coco Crisp, OF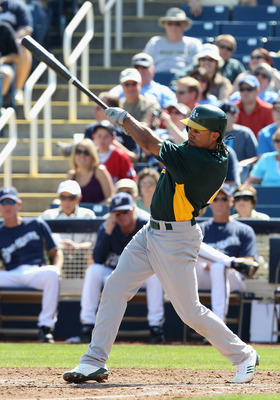 Christian Petersen/Getty Images
Coco Crisp is slated to be the A's starting center fielder. Based on his injury history, I'm just wondering how long that might last. He has missed 40 or more games in five seasons during his nine-year career.
The A's young pitching staff needs a couple things to be successful. They need their offense to score runs and their defense to play consistently well. Crisp is a player who can help in both areas.
A healthy outfield of David DeJesus, Josh Willingham and Crisp certainly solidifies the defense. Crisp and DeJesus together should provide plenty of RBI opportunities for the rest of the A's hitters.
Asking Crisp to stay healthy for an entire season may be an exercise in futility, but all you can do is put him out there and hope for the best.
Seattle Mariners: Chone Figgins, 2B/3B/OF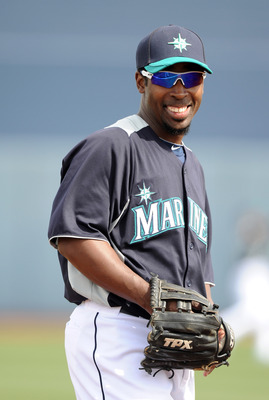 Harry How/Getty Images
To be blunt, Figgins had a stinker in Seattle in 2010. He was a complete disappointment. Sure, he wasn't happy with the position he had to play, but that's beside the point.
Figgins is supposed to be a top of the order, get on base and score runs kind of guy. His offensive numbers across the board were down. His BA, SLG and OPS were the lowest of his nine-year career. His OBP was at the bottom as well, while his strikeouts tied his career high.
In short, Figgins' entire offensive game needs to improve for 2011. He is getting paid very well, and he really didn't earn it last year. If the Mariners are going to improve this season, Figgins needs to play much, much better.
Texas Rangers: Brandon Webb, SP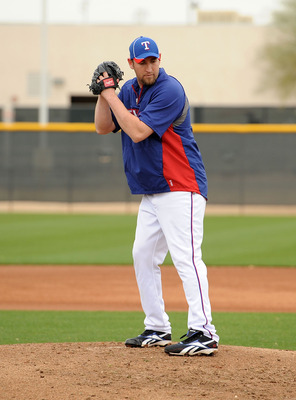 Norm Hall/Getty Images
Prior to missing all but one game the past two seasons, Brandon Webb was filthy. While he only won one Cy Young Award (2006), he finished second in consecutive seasons (2007-2008) thereafter.
Prior to his injury, Webb was a workhorse. The Rangers are hoping he can at least get back some of the magic he had in that arm before his injury.
I've heard that his velocity is down, but it's only March. It's a good thing that Webb never relied on a 98 MPH fastball to get people out. His out pitch would be his sinker.
Not being able to sign Cliff Lee was a blow to the Rangers, but they are hoping Webb can at least soften that blow even just a little bit. He can make a difference.
Atlanta Braves: Chipper Jones, 3B
Bob Levey/Getty Images
As had been an annual event the previous six seasons, Chipper succumbed to another injury in 2010. Whether he can come back at his age and be productive for the Braves is the big question.
Regardless if he can or not, the Braves NEED him to. He is crucial to their offensive success in my opinion. He is also important in the dugout and clubhouse, as he brings veteran leadership to the club.
Chipper has been a DH so far in the spring, but all signs point to him making his debut in the field in the next few days. According to manager Fredi Gonzalez, Chipper has been feeling really good.
Let's see if Jones can carry that healthy feeling into the season and all the way through it. That hasn't happened in some time.
Florida Marlins: Javier Vazquez, SP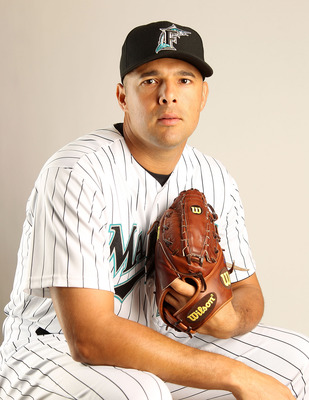 Mike Ehrmann/Getty Images
Javier Vazquez has never pitched fewer than 26 starts and 154.2 innings in a season. He has pitched over 200 innings in nine seasons. The Marlins got an extremely durable solid pitcher.
Vazquez's 2010 season was probably the poorest overall in his career. His ERA was the highest since his rookie year (1998), and his WHIP was the highest since the 2000 season. In addition, his SO/BB ratio was the worst of his entire career.
Vazquez actually took less money to sign with Florida because of its geographic location. It was a coup for the dollar-conscious Marlins not just because Vazquez is a good pitcher at a discount, but also because he is a veteran to put in the middle of a very young Marlins team.
Vazquez always seems to bounce back, so I don't expect this year to be any different.
New York Mets: Jason Bay, OF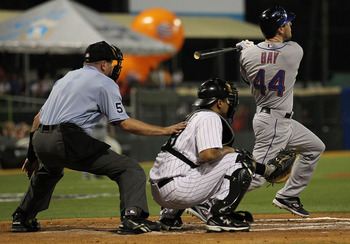 Al Bello/Getty Images
I could have picked a few other players for this list, most notably Francisco Rodriguez. The problem I saw with that was that a closer becomes moot if the team doesn't score enough runs to have the lead in the ninth inning.
Without Jason Bay in the lineup, there is a huge hole. That hole was evident last year when he missed 67 games due to injury. In the six seasons prior to last year, Bay drove in over 100 runs four times.
Even before Bay got hurt, he was not playing well offensively. With Bay in that lineup, it is stacked with Jose Reyes, David Wright, Carlos Beltran and young Ike Davis. His presence would make everyone better.
If he stays healthy, Bay should be able to bounce back and make a more than significant contribution.
Philadelphia Phillies: Chase Utley, 2B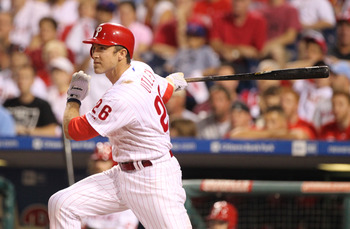 Hunter Martin/Getty Images
Utley had proven to be quite durable throughout his career until he was bitten by the injury bug last year. The Phillies can't afford to have that happen again.
Utley is one of the top offensive players in the game. Taking him out of that lineup last year made the offense a bit prone to stagnation. That should have seemed clear to anyone that was looking.
With Jayson Werth moving on to Washington, it is even more imperative that Utley stay healthy and remain a fixture in the top part of the batting order.
You can't always expect your pitchers to hold the opposition to one, two or even three runs. Utley's presence will ensure a much better chance of scoring more runs on a regular basis.
Washington Nationals: Jason Marquis, SP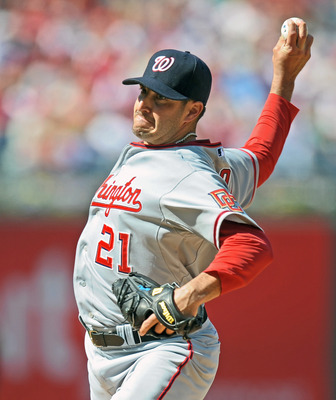 Drew Hallowell/Getty Images
Marquis had a lost season in 2010. He missed over three complete months due to injury. After returning in August, Marquis proved to be just as bad as he was before he got hurt.
Overall he finished with a 6.60 ERA in 13 starts, and it could easily have been worse. Marquis pitched pretty well the previous season in Colorado, so the complete inability to get people out was a surprise.
The Nationals need Marquis to pitch a lot of quality innings this year. He's by no means a star, but he needs to be more than just a total tomato can.
Chicago Cubs: Aramis Ramirez, 3B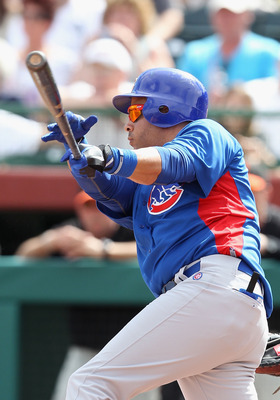 Christian Petersen/Getty Images
Ramirez was lucky that Carlos Silva didn't take him out before the season even started. The Cubs can lose Silva, but they can ill afford to lose Ramirez.
It's not like the Cubs have offensive weapons ready to launch at every position. In all honesty Geovany Soto and Alfonso Soriano are the only other players capable of driving in a significant number of runs. I completely discount Carlos Pena because if you can't hit over .200 in the AL, you're just a total stump.
Even though the Cubs were able to attain Matt Garza, they still need to score runs. A healthy Ramirez would make that happening much closer to reality.
Cincinnati Reds: Edinson Volquez, SP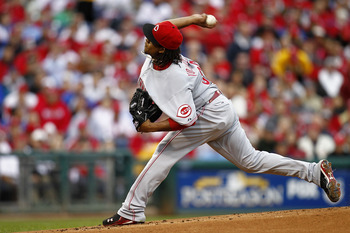 Jeff Zelevansky/Getty Images
While the Reds have guys like Johnny Cueto, Bronson Arroyo, Mike Leake and Homer Bailey on the pitching staff, they truly need Volquez back at 100 percent. From all indications, that seems to be the case.
In his only full season in the bigs in 2008, Volquez won 17 games with a 3.21 ERA. He needs to be on the mound every five days if the Reds have a shot at repeating in the NL Central because I don't think the Reds offense will be able to carry them again this year.
Volquez is good, and a full season with him on the mound will, without a doubt, make the Reds a much better team.
Houston Astros: Carlos Lee, OF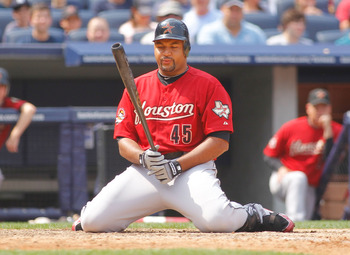 Mike Stobe/Getty Images
Lee's HR (24) and RBI (89) numbers last season weren't all that bad. The putrid stats are his BA (.246), OBP (.291), SLG (.417) and OPS (.708). Those are all sharp drop-offs from the 2009 season.
Lee has always been a good hitter. When you hit .300 or more seven times, that fact is incontrovertible. Maybe he got caught up in the awful season the Astros were having and lost his concentration. That's pure speculation.
He has a young team around him with Lance Berkman finding his way out of town. Carlos can either cowboy up and be a leader or just fade into oblivion. In my estimation, he doesn't seem the fade away type.
The Astros need him to bounce back, or that offense will end up being stuck in the mud once again.
Milwaukee Brewers: Yovani Gallardo, SP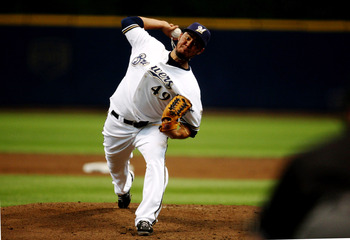 Jonathan Daniel/Getty Images
Strictly speaking, Yovani isn't a bad pitcher. In fact, he's a good pitcher. He just turned 25 and should be getting into his prime pitching years. That's actually why he is on this list.
Last season he pitched well in all but two months, July and August. Those months he just totally blew up. He was counted on last year to be THE guy in Milwaukee. Unfortunately, those guys don't forget how to pitch for two months.
With Zack Greinke in Milwaukee, Gallardo doesn't have to be the man, but he still needs to be more consistent and be more economical with his pitches. If he is able to do that, the Brewers may have a No. 1-A and No. 1-B on their hands.
Pittsburgh Pirates: Ryan Doumit, C/1B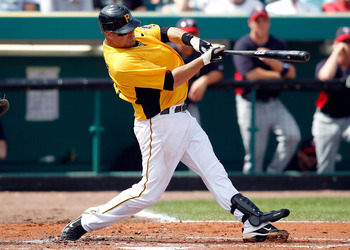 J. Meric/Getty Images
I'm not a hater, really I'm not, but Ryan Doumit was the best I could come up with for the Pirates. He's sort of been a guy most Pirates fans wish would come back (from injury) and stay back.
Injuries have had a bearing on his lagging production, but so has poor play. Switch-hitting catchers are few and far between, so he is obviously valuable. Complicating matters is that the Pirates traded for catcher Chris Snyder and plan to use him as the starter.
Where does that leave Doumit? Luckily he can play first base and right field as well, so he may see action at those spots as well. Another possibility would have the Pirates trading Doumit and his large salary. catcher.
No matter what happens, the Pirates need Doumit to make himself useful in any way possible, including an audition for a possible trade.
St. Louis Cardinals: Lance Berkman, OF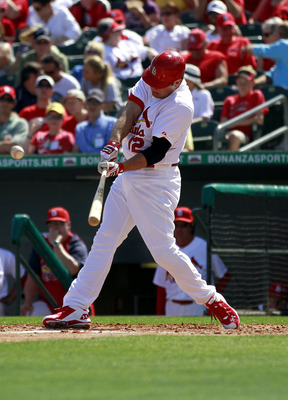 Marc Serota/Getty Images
Simply put, Lance Berkman stunk it up in 2010. Now comes the news that he is nursing a couple of injuries already this spring. I'm pretty sure that's not quite the way he wanted to start out his stint in St. Louis.
The big question I have for the Cardinals is why did they think Berkman could play outfield on an everyday basis? He only played first base and DH last year and has not played at all in the outfield since 2007. It seems to me that he is almost being set up to fail.
That wouldn't be good because the Cardinals need Berkman's bat from his productive years of 2008 and earlier. If he isn't able to produce runs, the trio of Albert Pujols, Colby Rasmus and Matt Holliday will pretty much be on their own. That is assuming Rasmus is able to move forward in his development.
Arizona Diamondbacks: Justin Upton, OF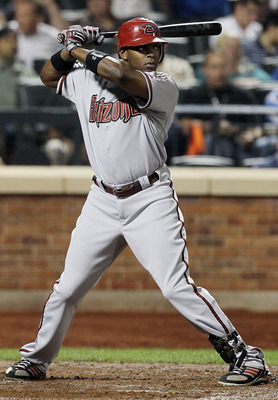 Jim McIsaac/Getty Images
I realize that Upton is only 23, but his game didn't progress last season like everyone had expected. In fact, it regressed slightly. Upton has oodles of talent and needs to make a jump to the next level in 2011.
The Diamondbacks are young, but that excuse for stagnant production won't hold water for much longer. Upton's steadily increasing strikeout totals are not an encouraging sign either.
Personally, I have never been a fan of either Upton brother. They seem to think they are power hitters and show you that nearly every time they swing the bat. Justin needs let go of the "chicks dig the long ball" mantra and become a real hitter. A huge part of that is understanding the strike zone.
If he commits to learning that, he will become even more valuable to the D-Backs than he ever thought possible.
Colorado Rockies: Aaron Cook, SP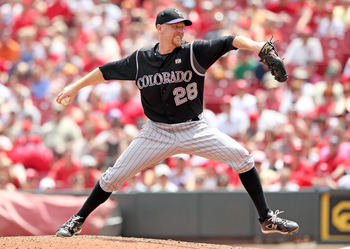 Andy Lyons/Getty Images
Cook has battled injuries much of his career, and 2010 was no exception. That does not excuse how poorly he pitched when he did take the mound.
Cook pitches to contact. The only person he could overpower is a 12-year-old Little Leaguer on that close pitching mound. Last year, Cook's patented sinker was pretty much sunk.
Colorado has been highly competitive the past few years in the NL West, and this year should be the same. If the Rockies want to win the division, they will need Cook to find his groove again. I'm sure they'll be keeping their fingers crossed.
Los Angeles Dodgers: Jonathan Broxton, CL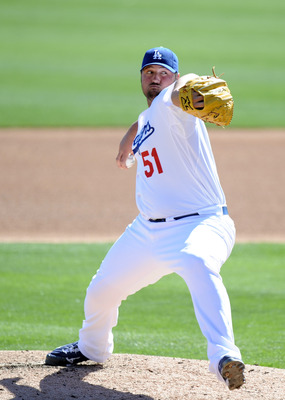 Harry How/Getty Images
This behemoth of a man was downright bad in 2010. That turn of events was curious, as he had been stellar previously in both the setup and closer roles.
Some people seem to think it may have been a mental thing. If that's the case, he better find a way to get his thought processes straight. A closer with scrambled brains is useless (see Derrick Turnbow).
Knowing you have a shutdown guy at the end of games makes things easier on the whole pitching staff and the heart of the manager as well.
Broxton still has all the physical tools and talent to close successfully. The Dodgers just better hope he gets his head on straight.
San Diego Padres: Ryan Ludwick, OF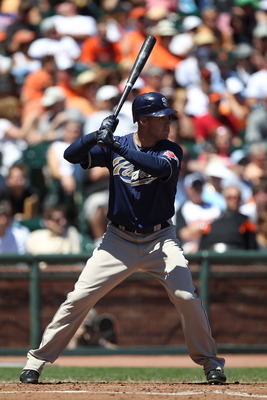 Jed Jacobsohn/Getty Images
Since Ludwick left St. Louis, his production has left something to be desired. With Adrian Gonzalez moving on to Boston, Ludwick will have to become a run producer since the most of the Padres lineup is quite young and relatively inexperienced.
Ludwick has fellow veterans Jorge Cantu and Brad Hawpe in the lineup with him, but they also are trying to bounce back from subpar seasons. I suppose I could have had the trio as my choice for the Padres.
Whether it's just Ludwick or all three, the Padres need production from them and in a big way. They'll be counting on it if the team expects to compete for the division crown.
San Francisco Giants: Pablo Sandoval, 3B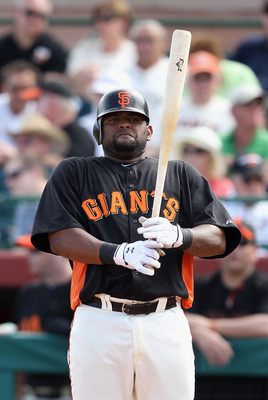 Christian Petersen/Getty Images
Not too long ago, I derided this guy because of his considerable bulk and massive drop in production. Now I hear that he came into camp in great shape having dropped what amounts to a small child in weight (38 pounds). That's quite a start.
In my mind his slovenly physique was a big part of his struggles last year. With that out of the way, he seems to be climbing the ladder to reach that bar he set as a rookie in 2009.
A big question is can he keep it off? Admittedly, Sandoval has said he generally gains weight as the season progresses. He seems to have dedicated himself to keeping the new body intact, so he will most likely do whatever he can to stay in good shape.
His new lower weight should allow Sandoval to become a better defender, as well as significantly improve his lateral quickness. The biggest benefit of the lower weight will be to increase Sandoval's stamina and recovery time from possible injury.
I expect big things from him.
Keep Reading