2011 NFL Rumors: OJ Atogwe's 5 Best Landing Spots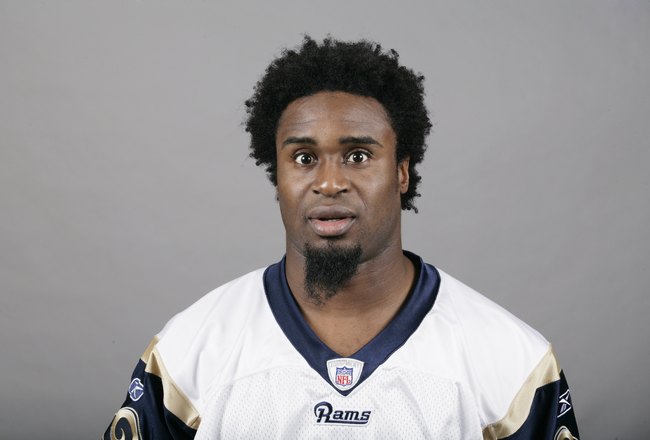 pretty soon this look will be seen in a new team's secondary
NFL Photos/Getty Images
OJ Atogwe is one of the NFL's top recent safeties, so much so that he's received the franchise tag from the St. Louis Rams.
Now that he's fully a free agent, Atogwe will not have a shortage of suitors.
Plenty of teams need help in the secondary. But which ones represent the best fit who have the biggest need?
Here are five teams that could use Atogwe's services in 2011.
5) Jacksonville Jaguars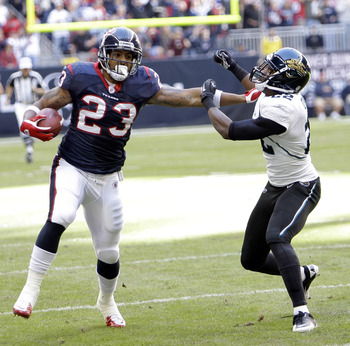 while Adrian Foster has abused many defensive backs, Don Carey is part of the problem, and not solution, in Jacksonville
Bob Levey/Getty Images
One interception is not going to cut it, as opponents sliced and diced the Jacksonville secondary to the tune of 250 yds/gm last season. The NFL's 28th-ranked pass defense in passing yards allowed needs a major boost.
Enter Atogwe.
Atogwe is only one player, and one player does not a good defense make. But it's a start. Atogwe would be an immediate gain a defense that desperately needs it.
4) Washington Redskins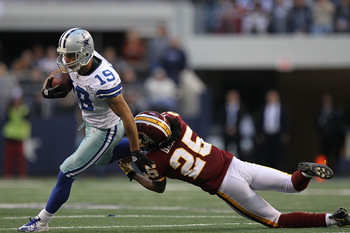 If Washington wants to avoid this scenario twice a year, it might think long and hard about employing Atogwe's services
Ronald Martinez/Getty Images
Let's face it: Washington has never shied away from free agency. Always looking for a splash, Redskins owner Daniel Snyder could help out the NFL's worst-ranked secondary by signing Atogwe.
Washington is in need of help. Atogwe's stabilizing force in the secondary will only benefit them. And unlike some recent defensive players, Atogwe doesn't come with any excess baggage.
3) Dallas Cowboys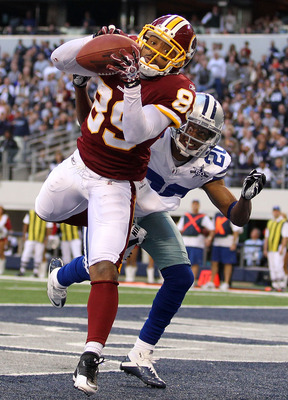 most of the NFC East could use a boost in the secondary, including the Cowboys
Ronald Martinez/Getty Images
Dallas Cowboys owner Jerry Jones is still fuming after hosting the Super Bowl in his fancy $1.1 billion stadium when his team never even had a sniff of playing in it.
Jones has never been one to sit idly by.
While health and a legitimate running game can do the Cowboys wonders, so would someone to help out an anemic secondary. Atogwe is definitely on the list of Jones's targets this free agency.
2) Houston Texans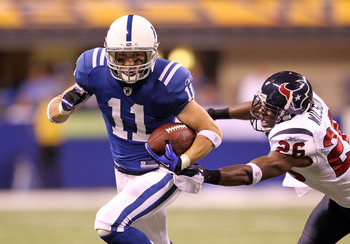 Peyton Manning always smiles when he faces the Texans secondary
Andy Lyons/Getty Images
Zero interceptions. Zero sacks. Zero forced fumbles.
The numbers speak for themselves, don't they?
Eugene Wilson played in 14 games for the Houston Texans this season without making one game-impacting play.
Expect Houston to give Atogwe a call, along with any defensive secondary talent that has a pulse.
1) Miami Dolphins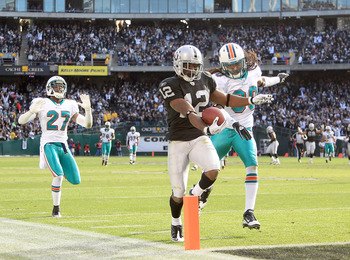 whenever Oakland is embarassing you in a photo shot, you know it's bad
Ezra Shaw/Getty Images
Houston may have the bigger need, but Miami, if just for the sunshine, is the better attraction.
Oh, and defensive guru Mike Nolan might have something to do with it.
Nolan had fun with Ed Reed. He can have a lot of fun with Atogwe, too.
Miami might want to keep developing Chris Clemons, but they've had their eyes on Atogwe for a few seasons now. And this year might be there best chance to make an upgrade.
Keep Reading