The 2011 NFL Draft Sleeping Giants: Top Sleepers at Each Skill Position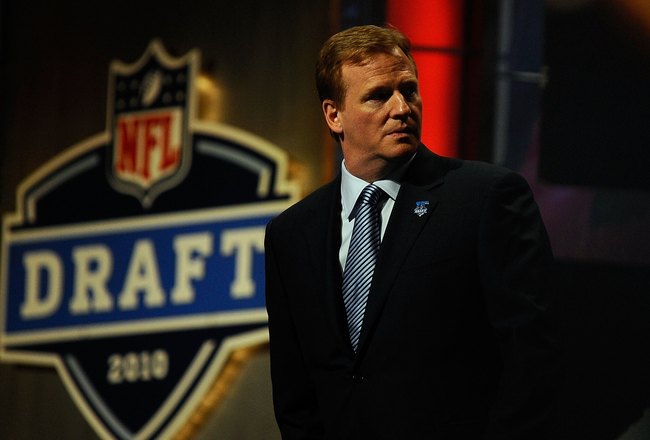 Jeff Zelevansky/Getty Images
Every year there is a hand full of players that are drafted low (or not drafted at all) that end up turning into huge superstars.
In 2008 it was Jamaal Charles, in 2009 it was Johnny Knox, in 2010 a pair of undrafted free agents (Sammy Shields and LeGarrette Blount) were the big sleepers.
Who will be the big sleepers in 2011? Move through the slideshow to find out.
Pat Devlin QB Delaware (Formerly Of Penn State)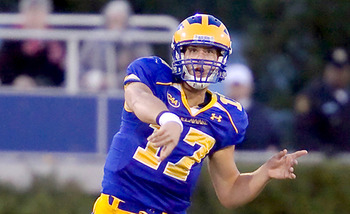 He has a perfect build (6'4" 220) and came from one of the best QB factories in the nation in UD. His ability to take snaps from center is very overlooked as is his accuracy which might be the best in his class. He doesn't have a huge arm which is why some scouts are overlooking him but that can be improved as we have seen (ala Aaron Rodgers). He will be a NFL starter some day but he won't get drafted above the 4th round, I'd call that a steal.
Alex Green RB Hawai'i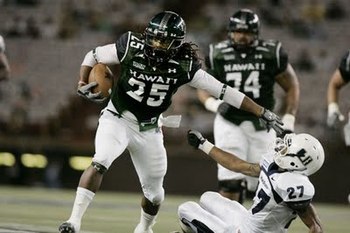 If you mentioned Green to most people before December they would have looked at you funny. No one has heard of this kid and when you say he is a running back from Hawai'i they just laugh. Coming from a big spread pass-every-down offense scouts wouldn't expect him to be an every down back in the NFL. He won't be.
I'm not even going to pretend that he will but he could become one of the best complimentary/3rd down backs in the game. He already has shown that he can block for the QB and that he can catch, plus at 230 he could be a bruiser and he runs a 4.58 40 (I know some don't like to even see 40 times but you look at his game film and he definitely is not the slowest guy on the field). You put all that together and he should be a 2nd-3rd round pick but right now he might not even get a good enough look to get drafted.
Cecil Shorts WR Mount Union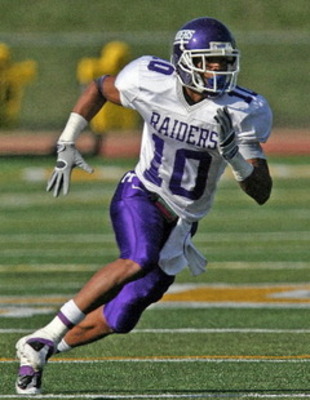 Coming out of a D3 school would never help anyone but it really hurts WR Cecil Shorts. Coming in as a 6'0" WR who runs a 4.4 everyone would be drooling over him to be their slot target but teams just look at the competition he played in college and can't really count the film. The kid plays like a mix between Pierre Garcon (former teammate) and Greg Jennings which is a deadly combo that could help any offense. You put a 4th-5th round grade on him and I just scratch my head. He should be a 2nd round pick at the lastest.
Julius Thomas TE Portland State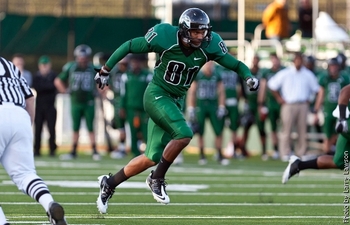 Thomas is a 6'5" 240 TE who has amazing hands, one problem though; he only played one year of football after his 4 year career as a Portland State Vikings basketball player. It seems that every year there are one or two former basketball players (last year it was Graham) that end up being very good TE's in the NFL. First time I saw him play was when PSU played the Oregon Ducks and he created mismatches wherever he was.
He was essentially the only thing that Portland State had over the Ducks, who ended up going undefeated in the regular season and went to the National Championship. Only one year of tape on him and his career in football will really drop his grade lower than his talent actually is. In a "All Star" game this winter he caught a TD pass, then promptly caught the two point conversion. You should see much more of that when he gets to the NFL. Whether he is drafted or not (most-likely he will be but it will be late) he should be the best TE in the class, if not the best since Gates.
Keep Reading