2011 Los Angeles Dodgers: Most Underrated Rotation in Baseball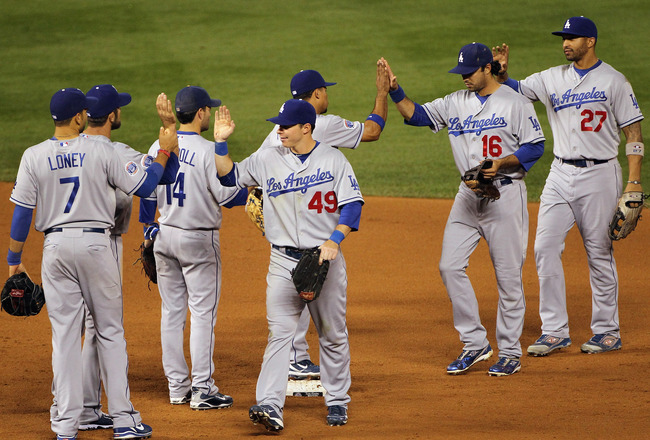 Doug Pensinger/Getty Images
Let the record show, I am not a Dodgesr fan. In fact, I wouldn't hesitate to say I don't see any of the NL West teams being relevant in the playoffs. That being said, everyone raves about the Giants rotation, and it is awesome, but I had a "that can't be right" moment when I was researching the Dodgers rotation.
It is time people took notice of the most deceptive rotation in baseball.
No. 1 Clayton Kershaw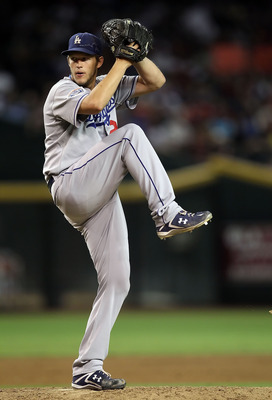 Christian Petersen/Getty Images
1. Clayton Kershaw, 22 years old, 2010: 2.91 ERA, 1.179 WHIP, 9.3 K/9, 2.62 K/BB
This kid is 22 and still has growing to do, but to get over 200 K's and a sub-3.00 ERA from him already means he should be an ace for the next decade. At 22 years old, Tim Lincecum had not yet reached Double-A ball.
Meanwhile, "The Claw" has three seasons under his belt, 83 starts, 483 innings, 497 strikeouts, a 3.17 ERA and a 1.267 WHIP. His K/BB ratio has gone up every year. If he keeps it down, we are talking about one of the top 10 pitchers in baseball for the next 10 years.
No. 2 Chad Billingsley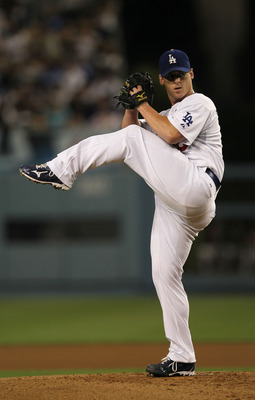 Stephen Dunn/Getty Images
2. Chad Billingsley, 26, 2010: 3.57 ERA, 1.278 WHIP, 8.0 K/9, 2.48 K/BB
He has been notoriously erratic, but at 26, Billingsley has already been an All-Star once and has a 200 strikeout season. Here is a second young ace for the Dodgers' future. Sure, Billingsley is still prone to off days, but he is still learning, and improving.
No. 3 Ted Lilly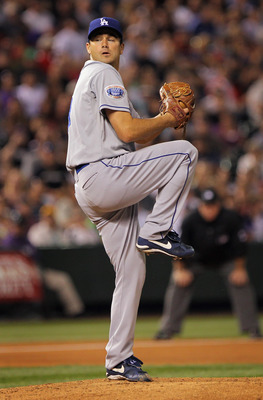 Doug Pensinger/Getty Images
3. Ted Lilly, 35, 2010: 3.62 ERA, 1.079 WHIP, 7.77 K/9, 3.77 K/BB
He isn't sexy, but he gets the job done every week. Lilly is the perfect No. 3 guy. He might never strike out 10 in a game, or pitch any complete ones, but he will give you quality start after quality start.
In 76.2 innings pitched for the Dodgers last year, Lilly was 7-4 with an incredible .991 WHIP and 5.13 K/BB.
Lilly has made 25+ starts every year since 2003, so he can be relied on to provide plenty of innings and he has won 10+ in each of those years, which is especially impressive considering he was pitching for the A's, Blue Jays and Cubs in that span.
No. 4 Hiroki Kuroda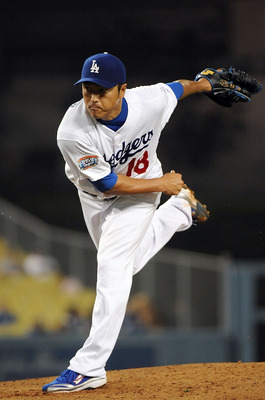 Lisa Blumenfeld/Getty Images
4. Hiroki Kuroda, 36, 2010: 3.39 ERA, 1.16 WHIP, 7.29 K/9, 3.31 K/BB
Kuroda is entering his third year in Major League Baseball. In 83 games, he has 3.60 ERA and 1.177 WHIP.
Kuroda, like Lilly, isn't exciting. You don't buy a ticket for a specific game to see him pitch, but you turn around every five days and see Kuroda threw another 6-7 innings and the Dodgers had a chance to win at the end.
What else can you ask from your No. 4?
No. 5 Jon Garland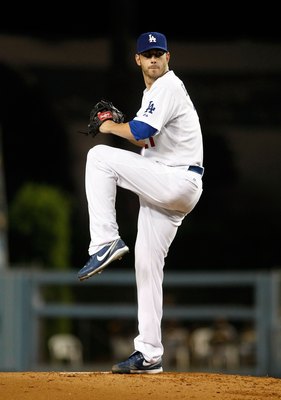 Jeff Gross/Getty Images
5. Jon Garland, 31, 2010: 3.47 ERA, 1.315 WHIP, 6.1 K/9, 1.56 K/BB
Look at those numbers again to fully appreciate them. Remember, Tim Lincecum had a 3.43 ERA last year. Yes, it was the lowest ERA of his career, and second lowest WHIP, but he has also won 10+ games every year since 2002, including back-to-back 18 win campaigns with the Chicago White Sox.
For a No. 5 to have an ERA under 3.50, you know you're doing well. Garland is also an inning-eater, with over 195 innings every year since 2004, and over 200 innings all but one of those seasons.
In Review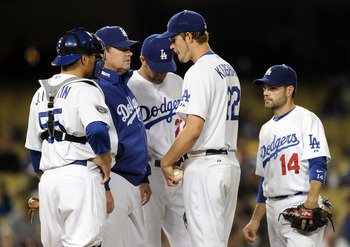 Harry How/Getty Images
All five Dodgers starters were in the top 40 of all SP last year in ERA. Three were in the top 25 in WHIP.
No, its not fair to compare them to the San Francisco Giants rotation, and yet, Tim Lincecum would have had the third best ERA, and fourth best WHIP out of this group. Jonathan Sanchez would have had the fourth best WHIP, and the second worst strikeout-to-walk ratio. Barry Zito would have had BY FAR the worst ERA and WHIP.
No, I don't expect the Dodgers rotation to be as good as their counterparts, but with Rafael Furcal leading off for the likes of Matt Kemp, Andre Ethier, and James Loney, and with Hong-Chi Kuo, Jansen and Jonathan Broxton at the back end, they don't have to be.
If I had to pick right now, I'd take the Rockies to win the West, but make no mistake, it is absolutely a three-team race.
Keep Reading

Los Angeles Dodgers: Like this team?