NFL Power Rankings: Is Ndamukong Suh One of the NFL's Top 5 Defensive Tackles?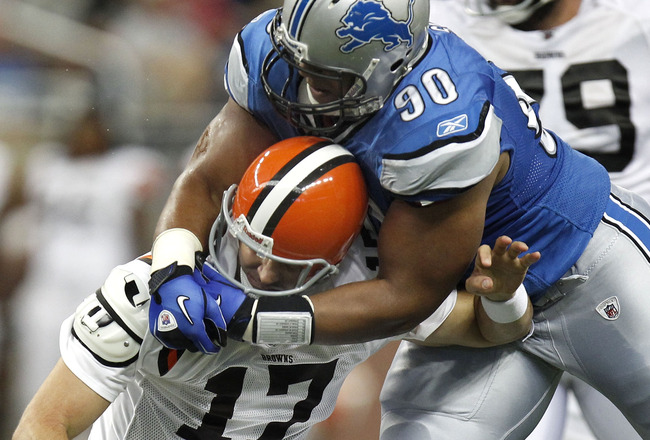 Gregory Shamus/Getty Images
5. B.J. Raji: Green Bay Packers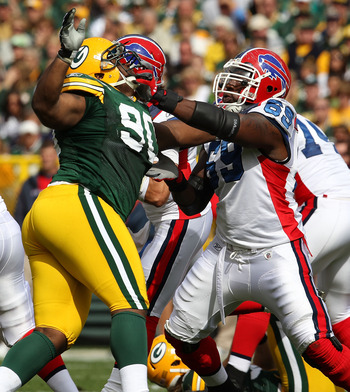 Jonathan Daniel/Getty Images
Raji is a mountain of a man. He is 6'2" and weighs 340 lbs. Yet despite this he moves well, which is proven by his ability to penetrate into the backfield and play coverage in Dom Capers' 3-4 defense.
Raji has become one of the best nose tackles in the league. He combines his imposing girth with good lateral agility and burst. These abilities mean that he plays in the backfield a lot, and is why he led nose tackles in sacks for the 2010 season.
His game is not all pizazz though. Raji does a good job at the traditional nose tackle role of occupying blockers and keeping the linebackers behind him clean. He is also a bear to move, and is rarely driven backwards.
Raji's weakness lies in his youth. He still loses focus and tries to make a play on his own, but he will conquer this as he gets more experience.
2010 stats: 39 tackles, 6.5 sacks, 3 passes defended
4. Vince Wilfork: New England Patriots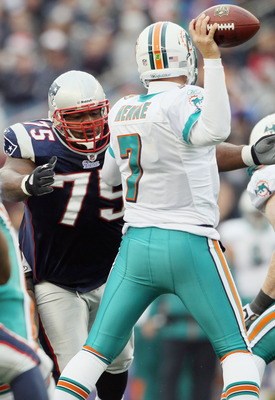 Elsa/Getty Images
The big body of the Patriots defense is one of the best run defenders in the league. He was drafted from the University of Miami in the first round of the 2004 NFL Draft to replace Ted Washington in the middle of New England's 3-4 defense.
Wilfork is the prototypical nose tackle. He is a huge player who weighs 325 pounds, and because of his squat body shape has a low centre of gravity. This makes him almost unmovable. He can hold the line against a double team. He is also surprisingly athletic, and can penetrate and make plays in the backfield. This occurs more when he moves out to defensive end.
Wilfork's limitation is his conditioning. Although all big men suffer from this, Wilfork is especially bad. He can also turn his shoulders when double teamed, which makes it very difficult for him to make a break away and make a play.
2010 stats: 57 tackles, 2 sacks, 2 passes defended, 1 fumble recovery
3. Kyle Williams: Buffalo Bills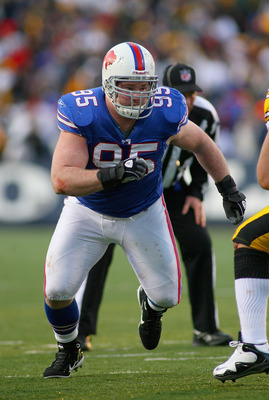 Rick Stewart/Getty Images
Defensive tackle is a position where NFL teams can get very good players in the late rounds. A top run stuffer does not normally get a lot of press in college. This is exactly what happened to Kyle Williams coming into the NFL in 2006. Although he had a distinguished career as an LSU Tiger, Williams was thought to be too short, light and not athletic enough to be a good defensive tackle. He was finally taken by the Buffalo Bills with their 134th pick in the draft.
Williams has certainly proved those doubters wrong. He lacks prototypical bulk for a 3-4 nose tackle, as he is only 306 lbs. However, he is the best run stuffing defensive tackle in the league, and also records a fair amount of quarterback hurries (he had 20 by Week 12).
His strength is his ability to beat interior linemen and penetrate into the backfield. He does this with his strength, quickness, use of leverage and his non-stop motor. He is one of the best at shedding and stacking, and is rarely bogged down on plays.
Williams is one of the best defensive tackles at present, and if he played for a high-profile team like the Pittsburgh Steelers or New England Patriots, there is no doubt in my mind that placing him third on this list would lead to a barrage of abusive comments about how he should be the best.
2010 stats: 77 tackles, 5.5 sacks, 3 passes defended, 1 interception, 2 fumble recoveries
2. Ndamukong Suh: Detroit Lions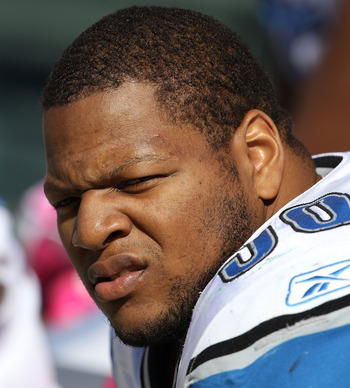 He is really a nice guy...
Jonathan Daniel/Getty Images
The new kid on the block comes in at number two after arguably the best ever rookie season by a defensive tackle. Being a Lions fan, I would have loved to put him first, but another player deserved to be above him.
After a distinguished college career at Nebraska and a strong showing at the scouting combine, Suh was taken second overall in the 2010 NFL Draft. His use of leverage, strength, lateral agility and burst made him the best defensive tackle prospect in living memory.
In his first year as a pro, Suh consistently showed a knack for getting to the quarterback and making plays. He played most of the season in the offensive backfield, and rarely missed tackles or sacks.
He is still not an elite run stopper, although he has good instincts when locating the ball carrier. He can be over-powered by larger interior linemen, but he will improve in this regard with more experience and time in the weight room.
2010 stats: 66 tackles, 10 sacks, 3 passes defended, 1 interception, 1 forced fumble, 1 fumble recovery, 1 TD
1. Haloti Ngata: Batimore Ravens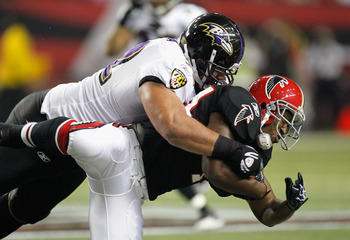 Kevin C. Cox/Getty Images
Haloti Ngata is the NFL's best defensive lineman at the moment. He is an elite run stuffer and a dangerous gap penetrator who can play about every position in a defensive line. He has the size of a nose tackle (350 lbs), the height of a 3-technique defensive tackle (6'4") and the agility of a defensive end.
Ngata's greatest strengths are his physical strength and explosion off the line. He bench-pressed 225 pounds 48 times at the 2006 combine, and also recorded a 31-inch vertical leap. These attributes combine to make him almost unblockable as a 3-4 defensive end and an immovable object as a nose tackle who can also penetrate into the backfield.
It speaks volumes of Ngata's importance to the elite Ravens defense that the Ravens used their franchise tag on him. He has no real weakness against the run or when rushing the passer. He is one of the top five impact players in the league.
2010 stats: 63 tackles, 5.5 sacks, 5 passes defended, 1 fumble recovered
The Best of the Rest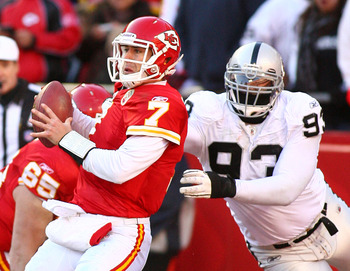 Tim Umphrey/Getty Images
Tommy Kelly
Kelly, after many years of disappointing performances, finally "got it." He played well beside Seymour, and was a big part of the revival of the Oakland Raiders. He recorded seven sacks and made 60 tackles. He was able to finally make the most of his amazing athleticism to beat interior linemen one-on-one and make plays behind the line of scrimmage.
Antonio Garay
The new San Diego Chargers nose tackle has obliterated the memory of Jamaal Williams in Chargers fans' minds. He had a great 2010 season, holding up double teams and occasionally penetrating into the backfield. His 5.5 sacks are a testament to that. His resurgence is an important part of the Chargers fielding the number one defense of the NFL.
Kevin Williams
He has historically been the top defensive tackle of the last decade, but his play has slipped this season. He is still a powerful force against the run, but does not have the same explosiveness as a pass rusher as he did even last season. His drop in performance also correlates with the weakening of the Minnesota Vikings' defensive front four.
Keep Reading