2011 NFL Mock Draft: 12-Pack of QB Options for The San Francisco 49ers, Pt. 1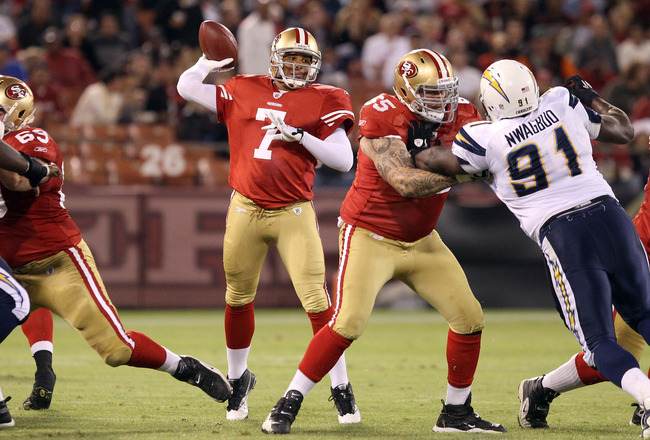 Ezra Shaw/Getty Images
The end of February brings uncertainty this year for the San Francisco 49ers and the rest of the NFL.

The NFL Players' Association's Collective Bargaining Agreement with the league owners is set to expire March 3, and as recently as last week, scheduled negotiations were called off with parties claiming it was "not productive to be in the same room."
Nobody knows whether an agreement will be reached before the deadline, nor what the offseason and upcoming regular season will look like if that fails to happen.

One thing is certain, however: the NFL Combine and NFL Draft will proceed as planned, regardless of other circumstances. This has scouts and general managers across the league booking tickets to Indianapolis as they try to finalize their draft boards and address team needs.

The 49ers are a team with many needs, but high on the list is quarterback. As previously established, the 49ers should pursue a two-pronged approach in addressing their QB need, bringing in a veteran for the short-term and drafting a rookie for long-term development.
While the 49ers definitely should not pursue a QB in the first or even second round of this year's draft. They would be remiss if they went through all seven rounds without adding a prospect under center, especially with the departure of Nate Davis earlier this offseason.

The 49ers have a wide variety of possibilities to choose from in this year's draft, hailing from a wide array of backgrounds and experiences. Trent Baalke and Jim Harbaugh will have a full plate in trying to determine who among them is the best fit for this (hopefully) re-emerging team.

As with the previous series of articles highlighting short-term QB options (here and here), herein is a two-part analysis and ranking of draft prospects at QB, whom the 49ers may look to develop for the future.
This list has been expanded to include a full 12 options, with part one highlighting No. 12 through No. 7:
No. 12: Cameron Newton, Pros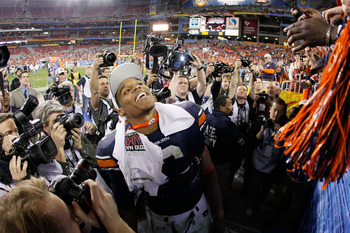 Kevin C. Cox/Getty Images
Auburn's national champion and Heisman Trophy-winning QB Cameron Newton weighs in at No. 12.

Newton enjoyed a meteoric rise in 2010, going from a junior college QB to starting every game for the Tigers on the way to a BCS national championship, winning the Heisman Trophy along the way. He has been described as a physical freak, whose raw abilities and talent provide almost unlimited upside.

Newton has shown ability to make a variety of throws, and he exhibits plenty of arm strength to be effective at the next level. He is also a dangerous threat running with the ball.

Newton became one of only three QBs in NCAA history to rush and throw for 20 or more touchdowns on a season, posting 20 rushing touchdowns and 30 passing touchdowns in 2010. He has great speed and the ability to escape the pocket to extend plays and buy time.

He has also proven himself a winner at multiple levels, leading Blinn College to a junior college championship in 2009 before transferring to the NCAA.
Newton's seemingly unlimited potential will certainly draw the attention of many scouts and is expected to make him a first-round and potential top-five pick.
Cameron Newton: Cons/Conclusion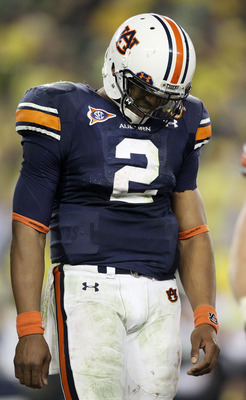 Christian Petersen/Getty Images
Newton has four main drawbacks: inexperience, style of play, off-field issues, and cost.

Newton enjoyed a spectacular 2010 season, but unfortunately that is the only thing teams have to go on in evaluating him. His stats were impressive against tough SEC and BCS competition, but he struggled somewhat in the BCS title game, going 20-of-34 for 265 yards and two touchdowns with one interception.

With such a limited sample size, how can scouts be certain his overall production will translate to the NFL, especially with a mediocre performance in his biggest college game?

Newton's style of play also raises concern. It was perfect for the Auburn offense, but like many in the college game today, they employ a simplified spread system that allows the QB to rack up generous stats with ease.

Newton has little experience taking snaps from under center and played in a system where he rarely had to make secondary and tertiary reads. Instead of going through progressions, Newton could simply tuck the ball and run in the face of pressure.
He may be overly reliant on the ground aspect of his game, which could translate to having happy feet in a pro-style offense with faster and more agile pass rushers.

Newton's character may also be a concern. He faced larceny and obstruction charges related to stealing and then ditching a laptop computer while at Florida in 2008, and then was at the center of a massive tampering pay-for-play conspiracy investigation involving his father and Mississippi State University last season.
The NCAA eventually concluded that there was not enough evidence to prove Newton himself knew of the conspiracy, and opted not to repeal his eligibility at Auburn. Many remain unconvinced, however, especially in the wake of recent scandals at USC and University of North Carolina.

Finally, Newton will be a very large investment in the draft. Andrew Luck is back on the farm at Stanford, meaning that a relatively weak remaining QB class has made Newton a top prospect. Despite his issues, he is expected to go top-five in April and it would be a shock to see him fall to the late first round (combine notwithstanding).

He might be a decent project in the third round or later, but there is simply no way he falls that far. The 49ers cannot afford to spend their No. 7 overall pick on a player like Newton, given their other needs, so he is not a fit.
No. 11: Blaine Gabbert, Pros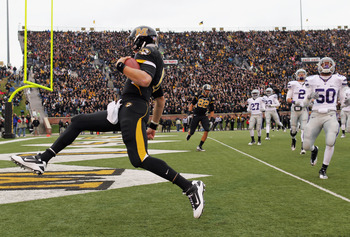 Jamie Squire/Getty Images
Mizzou QB Blaine Gabbert surprised many when he announced his eligibility for the draft, coming out after two years at Mizzou, as a junior.

With Luck out, some have called Gabbert the prize of the 2010 QB class. He has the size, strength, and skill to compete at the NFL level, but he may take some time to develop.

Gabbert has nearly as big a physical upside as Newton, with an extra year of NCAA experience under his belt.
While less mobile than Newton, Gabbert possesses enough mobility to extend plays and is willing to take a hit to make a solid throw. He can deliver medium and deep passes with zip and accuracy and can throw on the run.

Gabbert's stats in 2009 and 2010 were impressive, completing more than 55 percent of his passes and throwing for well over 3,000 yards each season.
Gabbert could have played at any major university, but chose to remain in his home state and play for the Missouri Tigers.
Gabbert possesses the size and style more typical of many current NFL starters like Ben Roethlisberger, Phillip Rivers, Peyton Manning and Tom Brady. With some polish and proper coaching, he could become a star in the NFL.


Blaine Gabbert: Cons/Conclusion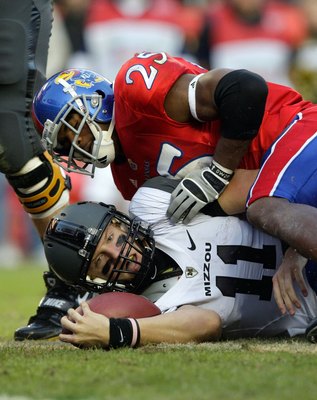 Jamie Squire/Getty Images
Gabbert shares many of the same shortcomings as Newton, without the pay-for-play scandal, however.

While Gabbert does have two years of NCAA experience, and a very respectable 18-8 record as a starter for a still-emerging collegiate program, he is still far less experienced than many others on the list, especially in big games.
Many experts questioned his decision to come out early, suggesting he may have wanted to avoid competition with the likes of Luck and try to emerge as a sure first-round pick in a weak draft.

Gabbert played in a system similar to Newton, where he was not asked to make many difficult reads and rarely if ever took snaps from under center.
He will have a lot to learn when it comes to reading pro defenses and mastering complex passing trees. That could delay his development at the pro level, if he can even clear these hurdles in the first place.

Many scouts have questioned his passing prowess as well. While he possesses plenty of arm strength and can deliver a fairly accurate deep ball, he is often guilty of over-throwing shorter routes and sometimes fails to set his feet when forced to move in the pocket.
That combined with his inexperience in traditional under-center scenarios should raise major concern for any team looking to install him in a West Coast Offense system.

While many believe Gabbert is not deserving of the hype, he too is expected to go early in the first round. Given team needs, his potential long-lead in development, and his multiple questions, the 49ers should pass on Gabbert in the draft.
No. 10: Jake Locker, Pros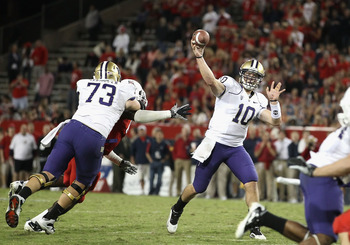 Christian Petersen/Getty Images
Washington's Jake Locker enters the fray as the first of the senior class of QBs. Locker was a four-year starter at Washington, helping the Huskies transition from Ty Willingham to Steve Sarkisian at head coach and become more competitive in the ever-improving Pac 10.

Locker enjoyed a strong 2009 campaign—his first under Sarkisian—helping the Huskies to a 5-7 record (improving from 0-12 in 2008) with notable wins including a big home upset of the Pac 10 rival USC Trojans. He was 230-395 for 2,800 yards on the year with 21 touchdowns and 11 interceptions.
Many had him pegged as the consensus No. 1 QB if not No. 1 pick had he chosen to declare for the 2010 draft, but he returned to Washington instead.

Like Matt Leinart and many before him, things did not go as hoped.

Nonetheless, Locker possesses many qualities teams look for in a franchise QB. He has ample size at 6'-3" and 230 pounds, and while he does not possess a huge arm, he can make nearly every NFL throw fairly easily.
While primarily a pocket passer, Locker possesses a dangerous running ability as well—with good speed and vision to pick up a first down and more on the ground when warranted.

Locker also has the savvy that comes with having started for several years in a BCS conference against good NCAA competition.
While Washington has not been competitive enough to give Locker a shot at a major bowl game, he does have some bowl experience—specifically a 19-7 win over the Nebraska Cornhuskers in January's Holiday Bowl, avenging a 56-21 loss back in September.

Locker is also a strong team leader with good control of the huddle and is a well-respected player among coaches and teammates.
Jake Locker: Cons/Conclusion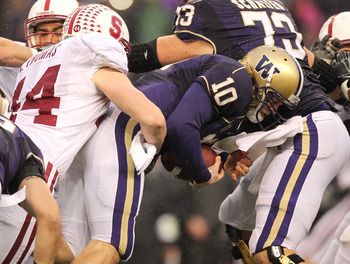 Otto Greule Jr/Getty Images
As stated earlier, Locker's senior season did not go as well as hoped, which has severely hurt his stock in the eyes of many.

On the 2010 season, Locker was 184-332 for 2,265 yards and just 17 touchdowns to nine interceptions. Following on the heels of his promising 2009 campaign, these results have raised the question of consistency among many scouts, and this worry seems to be the one which may hurt him the most come draft day.

It certainly is a concern. The Huskies may have played slightly stronger competition in 2010, with the Pac 10 emerging as an elite conference with two teams in the top five in the BCS standings, but they still suffered losses against several average opponents.
Locker's play in leading the Huskies to a revenge victory over Nebraska was impressive, but he was pedestrian by most reports throughout the week of Senior Bowl practice and was disappointing (like most QBs for the North) during the game.

Locker would be a better option than Newton or Gabbert and has some tools to work with. Given concerns over his consistency, he could drop to the second round, but almost assuredly will still be gone by the third.
The 49ers would likely be substantially better-served focusing on defense in the first and second rounds rather than taking an expensive chance on a QB with substantial uncertainty.
No. 9: Ryan Mallett, Pros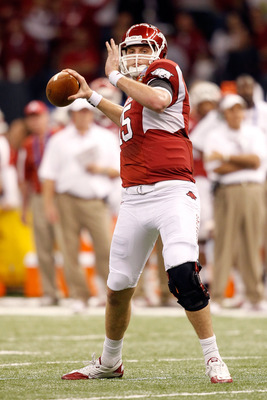 Matthew Stockman/Getty Images
Ryan Mallett enters the 2011 draft with an interesting history in college and the skills to make him a potential first-round selection. He has size galore at 6'-6" and 238 pounds and possesses the rare combination of arm strength and pocket presence that could make him a star in the NFL.
Mallett's height gives him the ability to see easily over the offensive and defensive lines and find open receivers down the field. He possesses surprising mobility for a player his size and is adept at moving in the pocket to avoid the rush.
He has some of the best vision of any QB available in the draft when it comes to reading the blitz and looking off defensive backs, though he enjoyed excellent protection from his offensive line while at Arkansas.
Mallett was originally signed by Michigan, but left after one season behind Chad Henne where he started three games and appeared in 11 as a true freshman, completing just 43 percent of his passes for under 1,000 yards with seven touchdowns and five interceptions.
He transferred to Arkansas to avoid playing in a gimmick offense expected to be implemented in the wake of Lloyd Carr's retirement from Michigan.
The transfer cost Mallett the 2008 season per NCAA regulations, but he was impressive in his two years at Arkansas, quickly learning Bobby Petrino's offense and putting up huge numbers.
His accuracy showed great improvement and he set Arkansas school records for completions, attempts, yards and touchdowns on a single season in 2010.
Mallett has great accuracy as well—showing the ability to hit receivers in stride on nearly all short and intermediate routes. Such a trait could make him a tremendous asset to a team seeking to employ a true West Coast Offense.
Ryan Mallett: Cons/Conclusion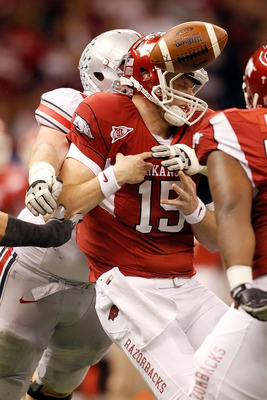 Matthew Stockman/Getty Images
Mallett's attitude and self-confidence may equally be two of his greatest strengths and two of his biggest flaws.
Having confidence as a QB in the NFL is critical to success, but being cocky can be a major issue.
Many college QBs have entered the league with great talent and promise, but over-confidence in their personal abilities has led them to take unreasonable risks and greatly hampered their development.
Tulane's J.P. Losman is an excellent example of what can go wrong in those respects.
Many have questioned whether Mallett has the maturity and dedication to lead an NFL offense. He was arrested in 2009 on charges of public intoxication while at Arkansas and was never voted a team captain by his teammates. His diligence in film study has also been questioned.
The 49ers have had a dearth of leadership at QB for a long time. Troy Smith has proven the best potential leader since Jeff Garcia and many remain convinced that even he lacks the necessary moxie in this area.
Jim Harbaugh has been hailed as a wizard at grooming QBs and the 49ers have other leaders on the offense like Vernon Davis and Frank Gore. Mallett's suspect maturity is not necessarily a make-or-break issue, but is certainly something the 49ers should weigh carefully.
In addition, Mallett's height may give him an advantage in visibility, but hampers his ability to throw on the run. His long strides make for slow feet and he often fails to reset himself when forced to move in the pocket, causing overthrows, incompletions and worse.
Mallett was protected by a stout offensive line at Arkansas, so this aspect of his game was rarely exploited. The 49ers' offensive line should be much improved, but opposing defenses would still be able to get much more pressure on him than he was used to seeing in college.
All in all, Mallett possesses perhaps the best combination of attributes of any of the big-name QBs in the draft. He should fall to the middle of the second round, which could allow the 49ers to focus on defense in the first round and still land his services.
Nonetheless, the second round is probably still too early for the 49ers to look to the QB position, given the impressive options available at the top of the draft board in the defensive backfield and pass rush areas.
If Mallett fell to the third round (leaving open the possibility of trading up a few spots to secure him), his value at that position would certainly outweigh the cost, but in the middle of the second round, he is probably still a reach.
Mallett may be the only one of the big four QBs the 49ers should even consider, but that consideration should remain minimal unless something unforeseen happens on draft day.
No. 8: Christian Ponder, Pros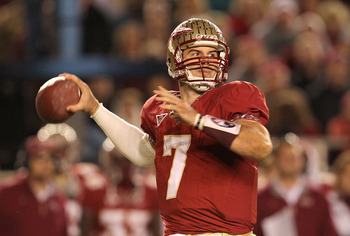 Mike Ehrmann/Getty Images
Florida State senior QB Christian Ponder's stock enjoyed a boost recently after an impressive Senior Bowl performance in which he went 7-13 for 132 yards and threw two touchdowns—including one in the fourth quarter with under five minutes left.
Ponder had entered the 2010 season as the top senior QB prospect, but his stock waned somewhat when he suffered an injury for the second straight season, this time costing him the ability to play in the ACC Championship Game and a potential berth in the Orange Bowl.
Still, as a three-year starter in the ACC, Ponder possesses experience and polish beyond that which many QBs in the draft can boast.
Ponder shows good vision in the pocket and at 6'3" is tall enough to have good visibility of the offensive play as it develops.
He has good accuracy and the ability to anticipate his receiver's routes and exploit slant routes and short options effectively. He is also one of the few QBs on the list with substantial experience under center.
Some have questioned Ponder's arm strength, but he possesses enough to make all the NFL throws he needs to. His experience also allows him to effectively and smoothly pump fake to draw defenders off his intended receiver.
He has strong footwork and the ability to evade the pass rush and extend plays when necessary. Ponder's experience could be a major asset as he transitions to the NFL.
Ponder should also be much more affordable for the 49ers than any of the other QB options discussed thus far. He has been projected as high as the second or third round, but will likely fall to at least the third if not later due to the defensive talent earlier on.
The third round is where the 49ers would like to start considering QBs, and Ponder might make an intriguing option with a shorter transition to the NFL than others.
Christian Ponder: Cons/Conclusion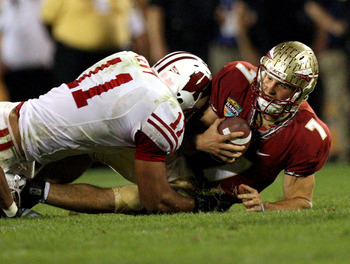 Sam Greenwood/Getty Images
Ponder's health is easily the biggest red flag in his game. He suffered a grade three separation of his throwing shoulder in 2009 and missed the ACC Championship game in 2010.
Ponder showed good toughness in recovering from the injuries he suffered at Florida State, but the frequency and severity of those maladies is certainly raising some legitimate concern among potential NFL suitors.
A QB can only be effective when he is on the field and contributing, and Ponder's injury history raises significant concerns about his ability to do so regularly in the NFL.
From an on-field standpoint, Ponder's alleged lack of arm strength is not as big a concern as people have made it out to be, but there are some legitimate worries.
Ponder has a tendency to lock his eyes on his intended receiver and can fail to recognize blitzes when working through progressions.
Ponder possesses many qualities that could lead him to become a successful starter in the NFL, but durability and consistency are legitimate concerns.
If the 49ers get "stuck" with Ponder in the middle rounds, he would not be the worst of options—and could be ready to contribute on an accelerated timetable—but better options certainly exist.
No. 7: Ricky Stanzi, Pros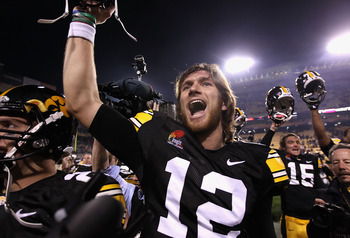 Christian Petersen/Getty Images
Iowa Hawkeye QB Ricky Stanzi rounds out the bottom six on the list. Stanzi was a three-year starter at Iowa and earned a spot in the Senior Bowl in 2010.
Stanzi possesses all the skills to make him an NFL star: size, strength, poise, awareness, and savvy. Perhaps his best asset is that he is a proven winner. Stanzi may not have eye-popping stats, but he finds a way to make his teammates better and win games when it matters.
If you want an indication of what Stanzi meant to the team, look no further than the two games at the end of 2009 which he sat out with an injury. James Vandenberg stepped in and led the Hawkeyes to a 1-1 record, but the offense struggled mightily, relying on their defense to carry them to victory in the final game over Minnesota, 12-0.
Stanzi was 28-11 as a starting QB at Iowa, helping the emerging Hawkeye program continue its development into a legitimate Big Ten contender, capable competing with bigger-name schools like Wisconsin, Michigan, and Penn State.
Stanzi shined brightest in the biggest games, going a perfect 3-0 in bowls—including leading the Hawkeyes to victory over the Georgia Tech Yellow Jackets in the 2009 FedEx Orange Bowl.
Stanzi is also perhaps the only one on the list who can boast that his senior season was his best of his college career as he improved every year at Iowa.
In 2010, he was an efficient 221-345 passing with 3,004 passing yards and 25 touchdowns against just six interceptions. He is a proven team leader and recognized as such by his teammates and coaches.
Ricky Stanzi: Cons/Conclusion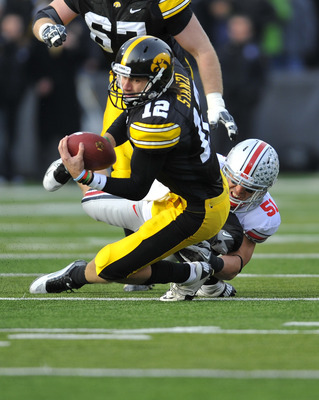 David Purdy/Getty Images
Stanzi had an impressive senior season and led the Hawkeyes to their third straight bowl victory over the Missouri Tigers in the Insight Bowl.
Still, while his play on the field yielded favorable results more often than not, he was not often relied that heavily upon at Iowa, leading many to question how much of the team's success was a result of his play, and how much was the supporting cast.
Iowa took a major step back in 2009 when Stanzi went down with an injury late in the year and they had to rely on Vandenberg for a few games. But Vandenberg was in his first year playing for the Hawkeyes and one would only expect some level of letdown as a result of that transition.
Nonetheless, the team still managed to beat the conference rival Minnesota Golden Gophers without Stanzi and advance to the Orange Bowl, where Stanzi returned to help them to a BCS bowl victory.
Stanzi's production at Iowa was nothing to write home about. He had a nice campaign in 2010, but prior to that he was fairly pedestrian.
He averaged about 2,200 yards completing roughly 57 percent of his passes in 2008 and 2009, but threw just 31 touchdowns against 24 interceptions combined in those seasons.
His 2010 campaign was a noted improvement, but was it an indication of more progress to come, or simply an aberration?
Stanzi's record should garner him strong consideration. His 3-0 record in bowl games is quite impressive and despite his overall stats, he has an undeniable ability to find ways to win.
He has rarely been projected higher than the fourth round meaning he could be a good value pick up for a team like the 49ers in the middle rounds of the draft.
Targeting a player like Stanzi could allow them to focus on defense upfront, bolstering the secondary and the pass rush and maybe even adding at player like Owen Marecic in the third or fourth round, before having to look to the QB position.
Like Ponder, Stanzi's senior experience could help him make a quicker transition to the NFL, allowing the 49ers more leeway in finding a short-term solution at QB.
The top six options will be revealed soon.
Stay tuned and Keep the Faith!
Keep Reading

San Francisco 49ers: Like this team?