MLB Power Rankings: The 15 Top-Tier Prospects Most Likely To Flame Out
Brandon Wood crashed and burned in Anaheim
Stephen Dunn/Getty Images
I've written a number of pieces on some of the top prospects in Major League Baseball. For the most part, my opinions have been positive, looking at what these up-and-comers do well. Now it's time to turn the page and examine why some of them may just end up littering the side of the road like so many prospects before them.
Now, I don't WANT any of these guys to fail, but they all have flaws in their games. Flaws that, by most accounts, often lead a top prospect to crash and burn in his quest to become an MLB star.
It happens year after year, so this is nothing new to any of us. I know we sit there with our fingers crossed just hoping it won't be our team's prospect(s) that fizzle out like a dud firework on the Fourth of July.
Let's just hope our guy is able to stick around for the Grand Finale.
(Photo is of Brandon Wood)
15. Brent Morel, 3B Chicago White Sox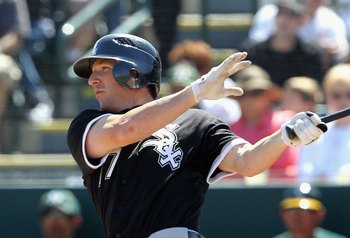 Christian Petersen/Getty Images
Brent Morel is a talented player. I think everyone can agree on that. Is he a guy that will do great things once he makes it to Chicago? I say it's not likely.
Morel is basically a gap-hitter who hits for a high average. He has also been known to play a pretty good defensive third-base. Those people expecting him to be a middle-of-the-lineup run producer will have to keep looking. He is NOT that guy.
If Morel was going to start hitting for more power than he has previously shown, it should have happened last year. I can see him becoming a Kevin Seitzer type of player. If you don't know who that is, please look him up.
14. Jarrod Parker, SP, Arizona Diamondbacks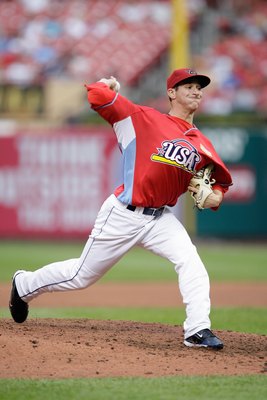 Jamie Squire/Getty Images
Now Jarrod Parker is an interesting case and maybe it's not fair for me to put him on this list. I think I'll keep him on here anyway.
I say that because Parker missed the entire 2010 season. When the words "Tommy John" are associated with a pitcher, the odds are they aren't being compared to John as a pitcher. In this day and age, a large percentage of pitchers do come back and have good careers following the surgery.
As far as Parker goes, he didn't really knock anyone's socks off prior to the injury. That doesn't mean he lacks the tools to be successful. It just means he wasn't an overwhelming force before he got hurt.
The expectations for Parker will now be a bit tempered, but many still expect him to come back and fashion a successful career. I'm not so sure.
13. Brett Lawrie, 2B, Toronto Blue Jays
Nick Laham/Getty Images
Lawrie was the chip the Milwaukee Brewers used to land starting pitcher Shaun Marcum this winter. Just a year ago, Brewers' GM Doug Melvin basically put Lawrie off-limits as far as using him as trade bait. He did a complete 180 in a short amount of time.
Does Lawrie have oodles of talent? Of course he does. He's been fast-tracked through the minors up to this point and I don't see him anywhere but Triple-A to start the season.
Despite all that, Lawrie has a downside. He's immature and has made some very poor decisions in the recent past. He reportedly fought with a teammate and later posted some questionable party pics on the web. Whether they are just poor decisions or the result of sheer stupidity, only time will tell.
My questions about him don't revolve around his tools but mainly his mental make-up. I've seen many players before him do a lot of the same things. For some of them, things didn't end well.
12. Aaron Hicks, OF, Minnesota Twins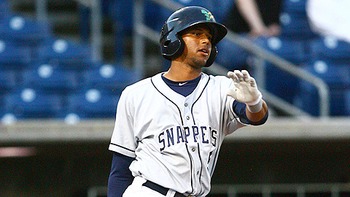 Hicks is immensely talented, but his development has been relatively slow. Most have expected more from him up to this point and are still waiting to see exactly why he is rated so highly.
Only two stats stand out for Hicks. His BB/K ratio and his OBP are impressive, but that is where it ends. He has still played pretty well overall, but nothing screams "impact player" at this point in his development.
If he doesn't start to play with a sense of urgency, it's quite possible he'll just end up another back-up outfielder in the majors.
11. Zach Stewart, P, Toronto Blue Jays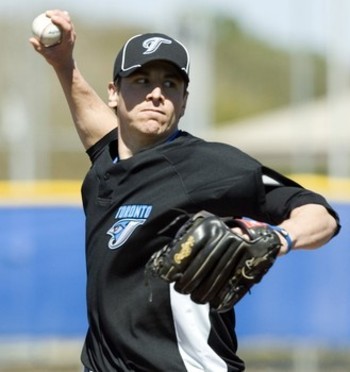 The Blue Jays aren't exactly sure what to do with this guy. Stewart was impressive in 2008 and 2009 in a relief role posting sub 2.00 ERA's in both seasons.
In 2010, the Jays reversed course by sending Stewart back to Double-A and having him start 26 games. He did little to convince anyone that he is a starting pitcher—to say he struggled would be putting it nicely.
It's now 2011 and the Blue Jays need to make up their minds. For a pitcher like Stewart who has bounced back and forth in different roles, it can become difficult to find a comfort zone wherever he ends up.
I don't know what the Blue Jays will decide, but continuing to move Stewart around will only hurt his development.
10. Martin Perez, SP, Texas Rangers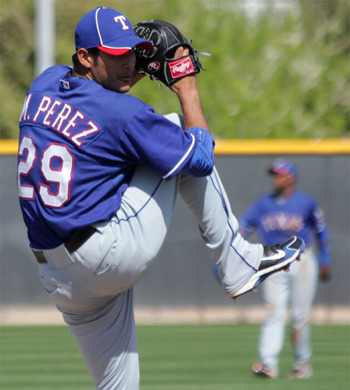 This dude is clearly talented. Some have said he's one of the best pitching prospects in the minors. Personally I don't see that, but what do I know?
Perez pretty much breezed through Single-A with little trouble. In doing so, he had pretty good command and kept his walk numbers low. Then came Double-A. He struggled mightily. His command wavered and he didn't look like the same pitcher.
Here we are in 2011. I see him beginning this season right back in Double-A. Some people use the excuse that he was young for the Texas League. That's just an excuse for someone laying an egg in my opinion. I hear it a lot. If they stunk, they stunk. Don't sugar-coat it.
We'll see shortly if last year was just a bump in the road or a massive sinkhole.
9. Jacob Turner, P, Detroit Tigers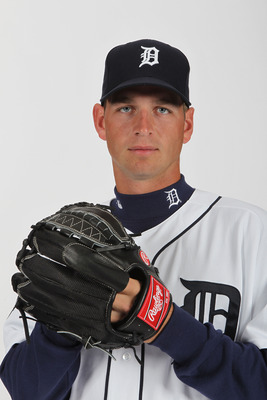 Nick Laham/Getty Images
Turner is young (19) and is a physical specimen topping out currently at 6' 5" and 210 lbs. If those numbers guaranteed major league success, every pitching staff would have a lot more of them.
Other than with Justin Verlander, the Tigers have had limited success in developing young arms. While they are not the Milwaukee Brewers, they aren't that far behind.
I won't lie and say Turner didn't have success last year at both levels of Single-A because he did. He showed very good command and never really struggled to get opposing hitters out.
Putting Turner on this list is more an indictment of the Tigers pitching development program than it is strictly of Turner.
A lot can happen between now and when, or even if, Turner makes it to Detroit. We'll have to wait and see if he is able to make it in spite of the Tigers.
8. Yonder Alonso, 1B/OF, Cincinnati Reds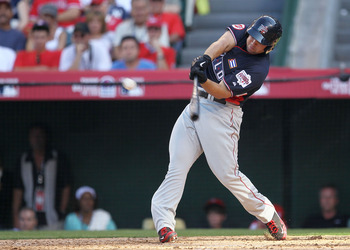 Stephen Dunn/Getty Images
Alonso is a first-baseman by trade, but anyone who thinks he'll be playing there in Cincinnati is smoking something nasty. With the reigning NL MVP and his new contract entrenched in that spot, Alonso is facing a position switch to the OF.
Switching positions is a hit-or-miss proposition. Some players are athletic enough and have enough baseball instincts to make the transition. Other players don't. Based on what I know of Alonso, I'm not so sure he can make a smooth transition.
Alonso isn't a big power guy and he's not a burner either. Even if he is able to move to the OF successfully, he'll need to step up his run production to stick in the everyday line-up.
I have my doubts.
7. Casey Kelly, P, San Diego Padres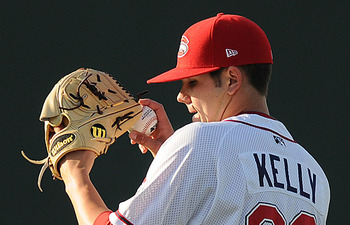 Kelly was the highly-sought-after piece in the trade that sent Adrian Gonzalez to the Boston Red Sox. Simply put, Kelly is RAW.
I hear a lot of these phrases when people talk about Kelly, "once he develops", "when he improves his command", "when he becomes a pitcher", and "if all goes well". There are more, but I think you get the idea. This kid has loads of potential, but really hasn't done anything yet outside of A-ball.
There are so many questions to be answered that I can't see how he's going to be able to meet anyone's expectations anytime soon.
Some have gone on to say that they project Kelly to be a no. 2 or no. 3 starter at the major league level. Being successful in Single-A is one thing but getting out major league hitters is a whole new ball game.
Not many younger pitchers develop and can make a real impact in the majors. I think Kelly will land on that list.
6. Dee Gordon, SS, Los Angeles Dodgers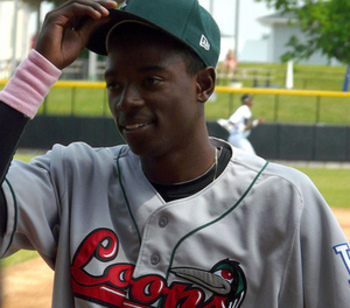 Gordon is electric. He can impact the game with his legs alone. He's not going to impress anyone with his overall offense because he steals more bases than he drives in runs.
His game is predicated on one thing and one thing only, speed. In 2 1/2 minor league seasons, Gordon has stolen 144/194 bases. That is just over a 74% success rate which is good, but not great.
If you can't hit major league pitching or get on base (see: Carlos Gomez), your speed is virtually useless. While it's too early to say if that will be the case with Gordon, it happens to more players than most people realize. Gordon's BA and OBP dropped off significantly last year, his first full season in Double-A.
That raises a red flag for me as does his porous defense at shortstop. He has accumulated 95 errors in 2 1/2 seasons. Pretty soon the Dodgers may have to consider a move to second-base or the outfield if his defense doesn't improve.
If you put all of that together, I see a high potential for a massive belly flop from Gordon.
5. Gary Sanchez, C, New York Yankees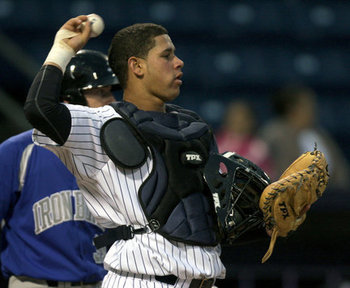 I'll start off by saying that I really like Sanchez at this point in his development. He is already ahead of other young catchers defensively and he has shown that he can hit as well. The problem is that he just turned 18 in December.
I say his age is a problem because Sanchez, as with most young catchers, may struggle to continue to develop his skills over time.
Good all-around catchers are like gold in MLB and with that comes immense pressure. I don't know what Sanchez' mental make-up looks like, but constant high expectations can break anyone down.
I certainly won't say Sanchez doesn't have the tools and potential right now to become a great catcher down the line. I will say that recent history is clearly against him, and the odds certainly aren't in his favor.
4. J.P. Arencibia, C, Toronto Blue Jays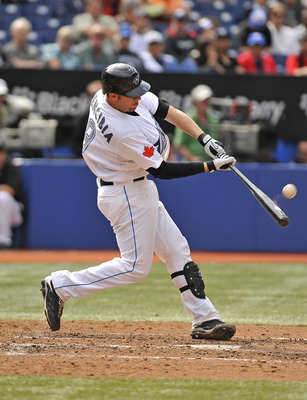 Brad White/Getty Images
Yes, another Toronto Blue Jay. There has been a lot of hype surrounding Arencibia with much of it being based on his 2010 season at Triple-A where he hit 32 bombs, had a .301 BA and an OPS of .986.
While those numbers really stand out, it was his second full season in Las Vegas. His previous turn in Vegas produced some somewhat ghastly numbers. He has shown through the years that he does have some pop in his bat, nonetheless.
A huge question mark surrounding Arencibia is his ability to catch at the major league level. He has hit double digits in passed balls the last two seasons and his CS% has dropped each year in the minors. I don't think he'll be anything but a below average defensive catcher with some pop in his bat.
If he gets a significant amount of at-bats, it will most likely be as a DH. Not making it as a catcher would be a huge disappointment.
3. Freddie Freeman, 1B, Atlanta Braves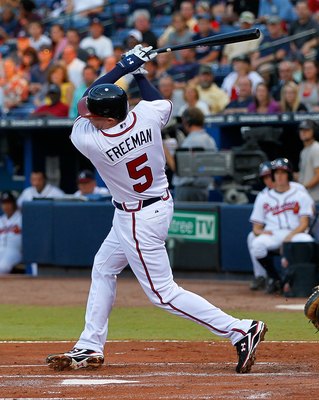 Kevin C. Cox/Getty Images
Let me start off by saying that Freeman is a good player. While he's not a dunce, he does have a few question marks in his game. On top of that, the expectations for him are quite high even at the tender age of 21.
Freeman can hit for average and he doesn't strike out all that much but neither did Justin Smoak until he got regular at-bats in the majors. Whether Freeman follows Smoak's path or makes his own is certainly up in the air.
Traditionally people expect power out of the 1B position. So far, Freeman has been below average in that area. In 1580 minor league at-bats, Freeman has only hit 50 HR. He could develop more power as he ages, but that isn't always the case.
Someone with very similar minor league numbers to those of Freeman is Adam LaRoche. In 1599 at-bats down on the farm, LaRoche hit 49 bombs.
The expectations for Freeman are high and he will have a very difficult time living up to them.
2. Dustin Ackley, 2B, Seattle Mariners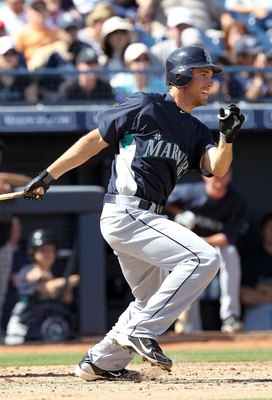 Christian Petersen/Getty Images
Ackley looks to be a nice player. I see him being around for a long time. Will he ever live up to the expectations of a #2 overall draft pick? I don't ever see that happening.
While Ackley has played just one season in the minors, there is only one thing that I see that jumps out at me. His BB/K ratio is nearly even 75 BB/ 79 K. Committing 18 errors at second-base clearly shows that his fielding seems to be quite a work in progress as well.
Ackley could be one of those steady "glue" guys for the Mariners. I just can't ever see him making the impact that some people are expecting. I'm not sure he can be as good as Brian Roberts overall.
1. Bryce Harper, OF, Washington Nationals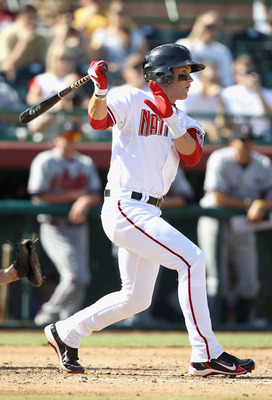 Christian Petersen/Getty Images
You're probably looking at this and saying something along the lines of, "What are you freaking nuts?" My answer to that is that I'm pretty sure I'm not. I can see your point though.
Okay here's an analogy for you. If everyone expects you to become Superman and you turn out to be only Batman, you're a disappointment. That is where Bryce Harper finds himself today. EVERYONE expects him to be a superstar pretty much from day one.
Are those expectations fair? I'd say yes and no. The part of me that says yes does so because he brought many of the expectations on himself by taking the route he took to the MLB draft. I also say no because becoming a superstar at age 18 or 19 just doesn't happen....ever.
With the expectations so high, the probability of Harper not reaching them is much greater than the odds he will. Fairly or unfairly that is how he will be judged.
Keep Reading