2011 NFL Draft: Five Potential Sleepers at The Running Back Position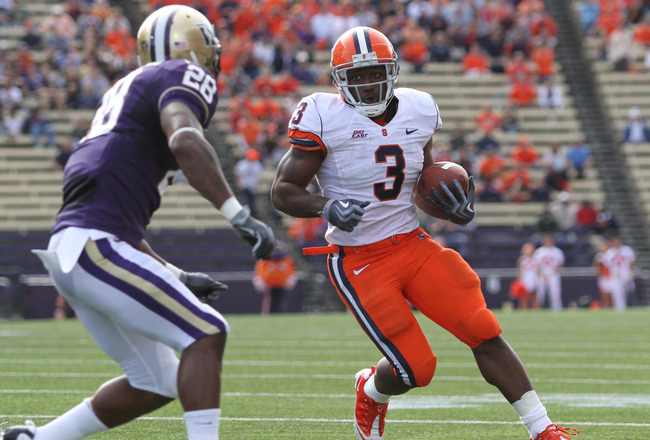 Otto Greule Jr/Getty Images
The NFL has become a predominately pass-first league, but teams cannot look past the impact that a running back can have on an offense.
Running backs don't face as big of a learning curve as some of the other positions in football, which is why you see a lot of rookie running backs make a big impact in their first season.
Top rookie running backs don't always come in the form of a first round pick. Look no further than the 2010 class of running backs, as the top two rookie rushers, LeGarrette Blount and Chris Ivory, weren't even selected in last year's draft. Another rookie, James Starks, was a key component to the Green Bay Packers Super Bowl run.
So let's take a look at five running backs in this year's draft class who could be key contributors in the 2011 season, despite the fact that they won't be selected in the first couple of rounds of the draft.
RB Bilal Powell, Louisville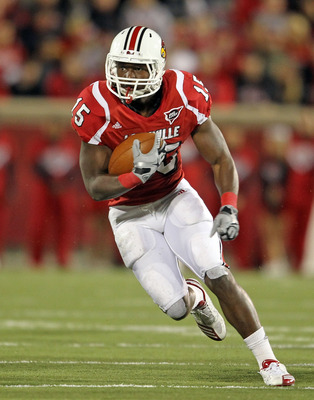 Andy Lyons/Getty Images
Powell has a very nice combination of size and speed. He has the power and toughness to run in between the tackles, but he also has the speed to break a big run on the outside. He had a great Senior Bowl week, and his stock is rising very quickly.
Powell isn't a great receiver out of the backfield, and he takes a lot of big hits because of his running style.
Powell has a very intriguing overall skill set which has led to his recent rise in many scout's running back rankings.
I expect him to compete for a starting job in his rookie season if he's given the opportunity. But my one big concern with him is that he only had one season as the starting running back. However, that could be seen as a positive by some people because of the fact that his legs should be very fresh.
2010 Stats: 1,405 rushing yards, 11 touchdowns, 6.1 yards per carry
Draft Projection: fourth round to sixth round
RB Delone Carter, Syracuse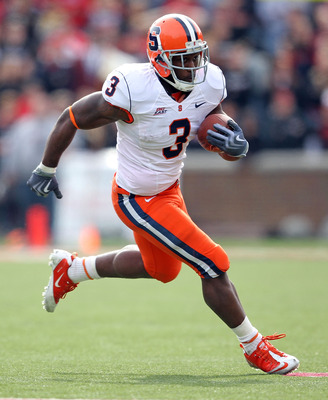 Andy Lyons/Getty Images
Carter is a very effective runner between the tackles due to his excellent size. His legs never quit moving, and he has good vision, allowing him to see the open hole as quickly as possible.
He has had some injuries in the past, and he's got some character concerns. He isn't a burner, so he isn't really a home run threat.
That said, Carter has the size to be a very effective running back in short yardage situations. He's not the type of back who is a threat to break off a big run every time he touches the football, but his ability to run in between the tackles will make him an intriguing option for any team that uses a two back system.
2010 Stats: 1,233 rushing yards, nine touchdowns, 5.3 yards per carry
Draft Projection: fourth round to sixth round
RB DaRel Scott, Maryland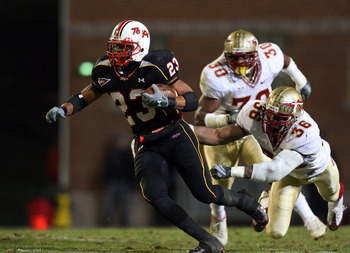 Jim McIsaac/Getty Images
Scott is another running back on this list that has a very good combination of size and speed. I really like his acceleration, as he shows great burst through the hole. He has pretty good hands as a receiver out of the backfield and has shown a lot of promise as a pass blocker.
Scott has major durability issues, as he has missed quite a few games in college career due to injury.
Scott has a lot of things that will make him a good option in the mid to late rounds of this year's draft. His injury concerns may cause him to drop in the draft, but if he can keep himself healthy, he should be able to contribute as a rookie.
2010 Stats: 708 rushing yards, five touchdowns, 5.8 yards per carry
Draft Projection: fifth round to sixth round
RB Taiwan Jones, Eastern Washington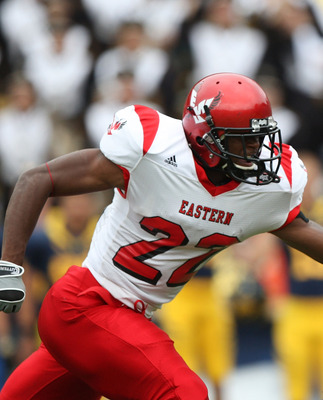 Jed Jacobsohn/Getty Images
Jones has great speed that allows him to break the big outside runs. He is very explosive when he gets out in the open. He has a lot of experience as a receiver out of the backfield, showing good hands, and running crisp routes.
He takes a lot of big hits and has some injury concerns because of it. He didn't play against top level competition, so that is a concern as well.
Jones is the home run threat that NFL teams will be looking for. He's the type of running back who could play on all three downs because of the versatility he brings with his receiving ability. That versatility could lead to him being drafted a lot higher than most people think he'll be.
2010 Stats: 1,807 rushing yards, 14 touchdowns, 7.9 yards per carry
Draft Projection: fourth round to sixth round
RB Graig Cooper, Miami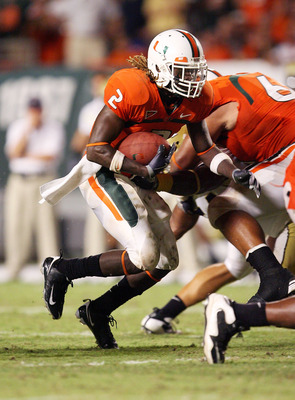 Doug Benc/Getty Images
Cooper has flown under the radar, because of his limited production in 2010 due to a loaded Miami backfield. Cooper has extremely good speed and good overall athletic ability. He's a very good pass blocker and showed solid hands out of the backfield.
Cooper may be overlooked because of his lack production this past season. He could stand to add some more bulk, because he doesn't have the biggest frame.
As I said, Cooper is being overlooked because he didn't play much in 2010, but he has great speed that could really be an asset to an NFL team. He'd make a good change of pace back that also has the ability to contribute in the return game.
2010 Stats: 165 rushing yards, one touchdown, 4.7 yards per carry
Draft Projection: sixth round or undrafted free agent
Keep Reading