2011 NFL Draft: Five Biggest Needs For New York Jets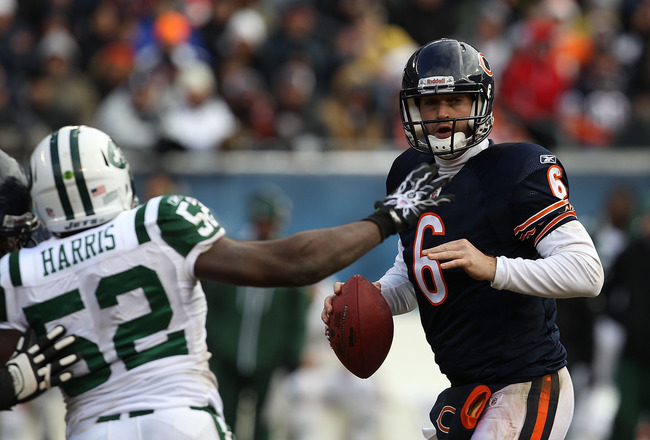 Jonathan Daniel/Getty Images
The NFL offseason is well under way, so it's of course time to take a look at the Draft. The Jets have some needs this offseason after missing the Super Bowl by one game for the second straight season.
They can go into free agency to get these players of need, but they can also make some splashes in late April.
The last two drafts for the Jets have produced mixed results. In 2009 was one of the best picks in team history, trading up to choose Mark Sanchez. Last season, the Jets chose corner back Kyle Wilson, who still has a lot of work to do in the upcoming season to prove himself.
So, what will the Jets do this time around? They have one major need, and here are the five positions the Jets must address at this year's Draft.
5. Kicker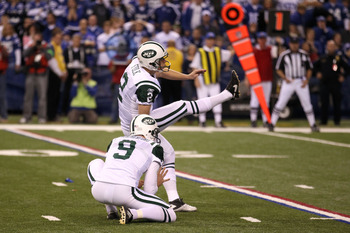 Jonathan Daniel/Getty Images
This would probably be the seventh and final pick the Jets make in the Draft, but they have to get a new kicker.
Nick Folk came over from the Dallas Cowboys last season and was a good story early on. He was making all of his field goal attempts and was actually kicking successfully from long distances. But as the season went on, he reverted back to his Cowboys ways, missing big kicks.
He's not the only kicker in the NFL that can't be trusted, as a lot of players have trouble these days, but the Jets can do much better than Folk.
4. Backup Quarterback
Al Bello/Getty Images
Last season, the Jets brought in Mark Brunell to be the team's backup quarterback to Mark Sanchez. Most of the time, the backup QB of an elite team doesn't mean much because they hardly see any playing time.
The problem is, Sanchez always seems to get hurt in some way. He doesn't miss too many games, if any, but it wouldn't hurt to have a young and mobile backup who can fill in a possible emergency role that has potential.
Brunell doesn't fit that description being he'll be 41-years-old when the season starts.
Best Draft option: Tyrod Taylor (Virginia Tech)
3. Backup Running Back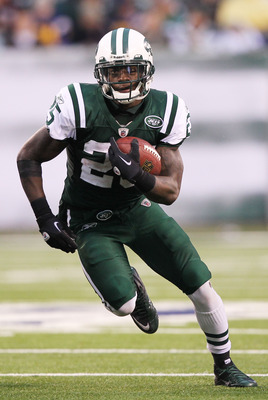 Al Bello/Getty Images
The Jets already drafted a backup running back in last season's Draft. They selected Joe McKnight out of USC in the fourth round. He had some issues earning the trust of the coaching staff in preseason and didn't appear in a game until Week 4.
His breakout game was the final week of the regular season against the Bills. In that game, McKnight carried the ball 32 times for 158 yards.
With the depth at the running back position the Jets currently have, what's the need to draft another one? It all depends on what the Jets' plans are with LaDainian Tomlinson. They'll most likely bring him back, but if they don't, a backup will be needed.
In the event that Tomlinson is let go, Shonn Greene would become the starter and McKnight would perhaps be the backup. But there's no way he'd be guaranteed a job of that importance, so competition would be needed.
Depending on Tomlinson's situation, this could be a huge decision for the Jets.
Best Draft option: Bilal Powell (Louisville)
2. Offensive Guard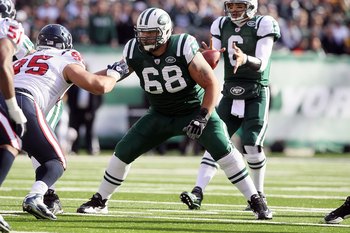 Jim McIsaac/Getty Images
The previous three needs you read about were definitely areas the Jets could improve on. These next two are the top Draft selections the Jets have to make. In the second round, they need to draft an offensive guard.
Left guard Matt Slauson started to fit in later on in the season, but didn't really do a terrific job in protecting Sanchez. The Jets have a pretty solid offensive line, but replacing Slauson wouldn't be a bad idea.
Also, if the Jets do indeed bring LaDainian Tomlinson back, they'll need a guard who can open up the holes for him to run through. Tomlinson isn't as fast and crafty as he used to be at his older age for a running back, so getting a solid guard would help complete the offensive line.
There are a bunch of speed blockers that'll be available in the early rounds for the Jets to take.
Best Draft option: Benjamin Ijalana (Villanova)
1. Defensive Linebacker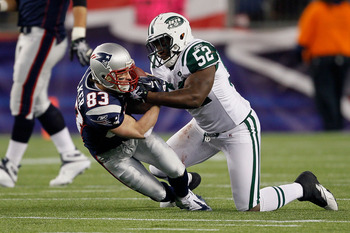 Jim Rogash/Getty Images
In the 2011 NFL Draft, the Jets first-round pick has to be a defensive linebacker. There's not even a single question about that.
It's said time and time again—the Jets don't have a pass rush. They blitz and they all go after the quarterback, but they don't have that one player that can wreck a game.
This could be a situation where the Jets go into free agency. They can sign free-agent linebacker Tamba Hali and there are some other guys that'll be available.
But specific to the Draft, the Jets should really make a smart first selection and choose a legitimate pass rusher.
They just put the franchise tag on linebacker David Harris, but he isn't the big-time guy the Jets need. He's good as long as there's help.
The Jets can't go into next season continuing to get ran on by opposing quarterbacks. For instance when Ben Roethlisberger carried the ball 11 times on his own for 21 yards in the AFC Championship game.
It can't happen and in order to finally take the next step and reach the Super Bowl, the Jets need a legitimate linebacker. It's time to go draft one.
Best Draft option: Martez Wilson (Illinois)
Keep Reading

New York Jets: Like this team?