2011 NFL Mock Draft: Projecting All 32 1st Round Picks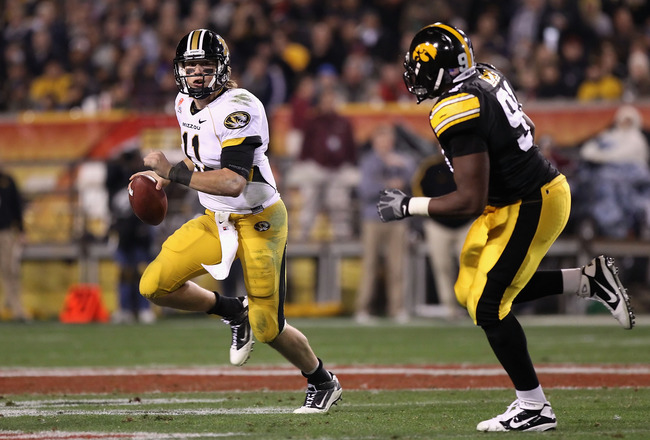 Christian Petersen/Getty Images
2011 NFL Mock Draft Mania continues as the question of who will go No. 1 overall continues to be the question that drives this topic.
Besides the question of No. 1 overall, there is the question of which quarterback is taken first. Cam Newton (Auburn) and Blaine Gabbert (Missouri) are getting most of the love at the moment, but things can change between now and the end of April.
This will be my first mock draft in more than a month, so expect a lot of changes.
Carolina gets the first pick, so we'll start there.
1. Carolina Panthers, Nick Fairley, DT Auburn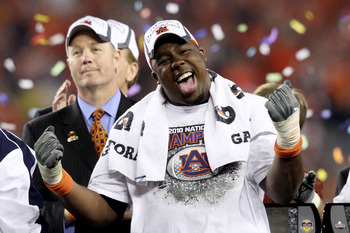 Christian Petersen/Getty Images
Why Fairley Goes Here
Andrew Luck is gone and the Panthers are going to take the best player on the board.
What Fairley's Role Will Be
Fairley can immediately be a good run stopper and he's talented enough to fit into whatever defensive scheme the team puts on the field next year.
Pick Change
Yes. A.J. Green is a great prospect, but the Panthers will go with defense on this pick.
2. Denver Broncos, Patrick Peterson, CB LSU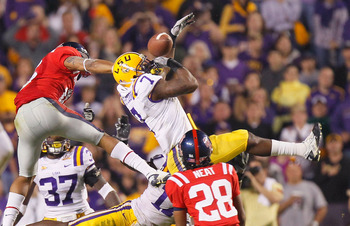 Kevin C. Cox/Getty Images
Why Peterson Goes Here
The Broncos apparently are going to give Tim Tebow a try, so the focus turns to defense, where Champ Bailey is talking about leaving and Perrish Cox may be going to jail for a very long time.
What Peterson's Role Will Be
Pick up where Champ Bailey left off.
Pick Change
No.
3. Buffalo Bills, Von Miller, OLB Texas A&M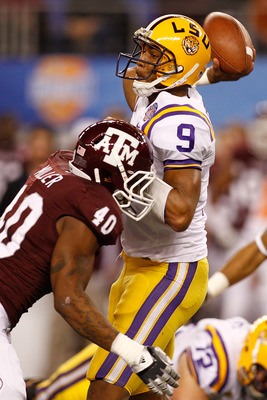 Chris Graythen/Getty Images
Why Miller Goes Here
The Bills want Nick Fairley, but they draft third. The temptation would be to take a quarterback, but why spend all that money when you're going to go with Ryan Fitzpatrick anyway?
The Bills will get their next quarterback in the second round.
What Miller's Role Will Be
Miller will be an immediate upgrade to the Bill's line and give them a real pass rusher.
Pick Change
Yes. Nick Fairley went to Carolina.
4. Cincinnati Bengals, Da'Quan Bowers, DE Clemson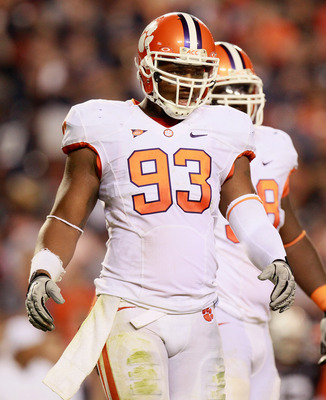 Kevin C. Cox/Getty Images
Why Bowers Goes Here
The Bengals need to generate a better pass rush, and Bowers will go a long way towards doing that. Even with the Carson Palmer problem, the Bengals won't draft a quarterback in the first round on the outside chance they can get Palmer back.
What Bowers' Role Will Be
Bowers can step in and give the Bengals some more speed and make their defense a lot better immediately.
Pick Change
No.
5. Arizona Cardinals, Robert Quinn, DE North Carolina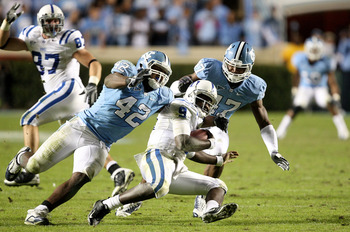 Streeter Lecka/Getty Images
Why Quinn Goes Here
The Cardinals defense was awful, and Quinn presents them with a great opportunity to begin rebuilding. The Cardinals look like they're going to solve their quarterback problem via trade or free agency and then hope John Skelton develops.
What Quinn's Role Will Be
Quinn will be expected to step in and be a starter immediately. Not sure how much the year off will affect his development, but anything is better than what the Cardinals had in 2010.
Pick Change
No.
6. Cleveland Browns, A.J. Green, WR Georgia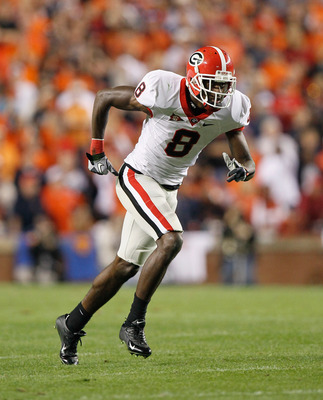 Kevin C. Cox/Getty Images
Why Green Goes Here
The Browns have no wide receivers worth talking about currently on their roster. A.J. Green now gives the Browns a legitimate downfield threat.
What Green's Role Will Be
Give the Cleveland Browns offense a spark and give Colt McCoy somebody to throw to.
Pick Change
Yes. Since Green still is on the board in this mock draft, the Browns will take him over Prince Amukamara.
7. San Francisco 49ers, Blaine Gabbert, QB Missouri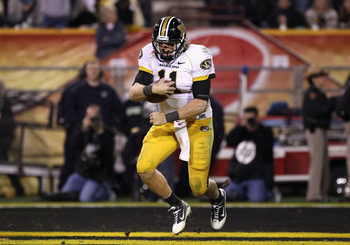 Christian Petersen/Getty Images
Why Gabbert Goes Here
New coach, new quarterback. I just don't see Alex Smith re-signing with the 49ers—it's time for him to get a change of scenery.
The 49ers may get a veteran to come in and be a starter, but Gabbert will be brought along as the quarterback of the future.
What Gabbert's Role Will Be
Bring consistency to the quarterback position.
Pick Change
No.
8. Tennessee Titans, Marcell Dareus, DT Alabama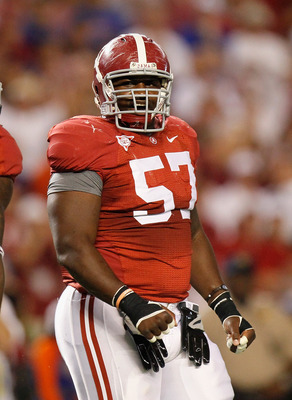 Kevin C. Cox/Getty Images
Why Dareus Goes Here
The Titans are going to end up keeping Vince Young—I'm making that bold prediction right now.
If that happens, they certainly aren't going to draft a quarterback here. Instead they'll turn to the defensive line and take Marcell Dareus.
What Dareus' Role Will Be
Dareus will be asked to bring immediate help to the defensive line and stop the running game.
Pick Change
Yes. Jake Locker starts the big plunge down the 2011 NFL Draft board.
9. Dallas Cowboys, Prince Amukamara, CB Nebraska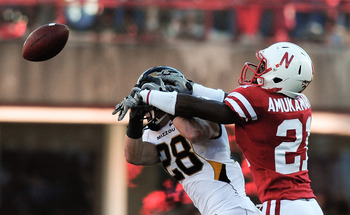 Eric Francis/Getty Images
Why Amukamara Goes Here
Mike Jenkins is a plague on the Cowboys defensive secondary. Prince Amukamara allows some pride to be restored to that unit.
What Amukamra's Role Will Be
Shutting down wide receivers and lifting the Cowboys secondary up.
Pick Change
Yes. Amukamra still is available in this mock draft, and Marcell Dareus went to the Titans in this mock draft anyway.
10. Washington Redskins, Julio Jones, WR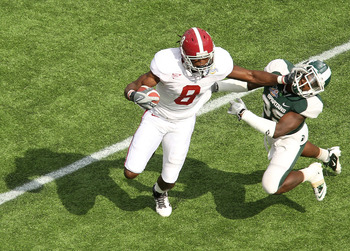 Mike Ehrmann/Getty Images
Why Jones Goes Here
The Redskins have a quarterback issue, but I just don't see any quarterback Mike Shanahan would take in the first round. They're not going to take Cam Newton, and at that point, you may as well wait until the second round. So they'll take a position of need and take Jones.
What Jones' Role Will Be
Hard to say. Jones has a reputation for drops and the Redskins have a quarterback question.
The Redskins probably trade down if all the big defensive linemen are off the board at this point. Jones will be asked to be a big-play kind of guy and leave his drops in college.
Pick Change
Yes. Von Miller is long gone by now.
11. Houston Texans, Stephen Paea, DT Oregon State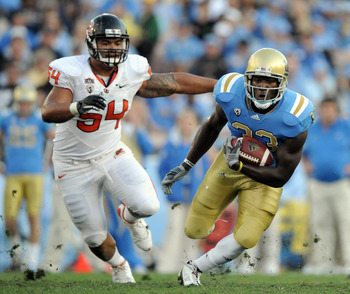 Harry How/Getty Images
Why Paea Goes Here
The Texans defense needs a complete overhaul, and Paea is the best prospect on the board at this point.
What Paea's Role Will Be
Paea will be run-stopper No. 1 on the Texans line.
Pick Change
No.
12. Minnesota Vikings, Cam Newton, QB Auburn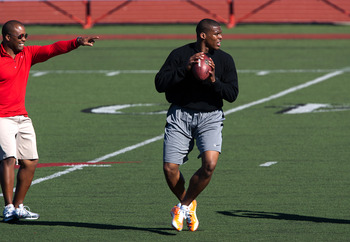 Kent Horner/Getty Images
Why Newton Goes Here
Cam Newton showcased a few flaws in the BCS Title Game, but the Vikings have a big enough need that they'll probably draft him here as a developmental project and maybe see if they can get at least a few starts out of whoever they bring in to be the starter before Newton takes over midseason.
What Newton's Role Will Be
The face of the franchise.
Pick Change
No.
13. Detroit Lions, J.J. Watt, DE Wisconsin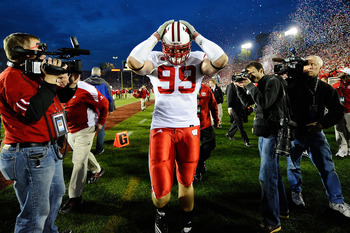 Kevork Djansezian/Getty Images
Why Watt Goes Here
The Lions could use some help on the pass rush, and Watt is a fast-rising prospect in that area.
What Watt's Role Will Be
Watt will be a very good addition to a line that already includes Ndamukong Suh.
Pick Change
No.
14. St. Louis Rams, Cameron Jordan, DE California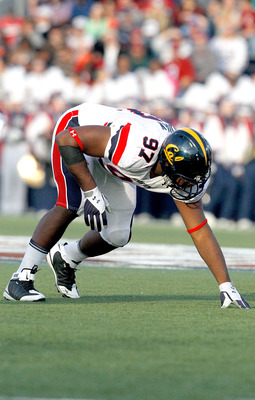 Sean Gardner/Getty Images
Why Jordan Goes Here
The Rams needed a wide receiver in the first round, but the two best prospects are off the board, so they go with a pass rusher.
What Jordan's Role Will Be
Get the Rams over the hump and into the playoffs by upgrading their pass rush.
Pick Change
Yes. Julio Jones is off the board.
15. Miami Dolphins, Mark Ingram, RB Alabama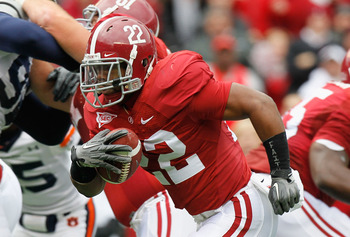 Kevin C. Cox/Getty Images
Why Ingram Goes Here
No matter what, the Dolphins backfield needs to get younger, and you don't pass up a prospect like Ingram.
What Ingram's Role Will Be
Ingram probably will be the starting running back as the season opens as Miami decides whether to keep Ronnie Brown or not.
Youth and speed will win out.
Pick Change
No.
16. Jacksonville Jaguars, Ryan Kerrigan, DE Purdue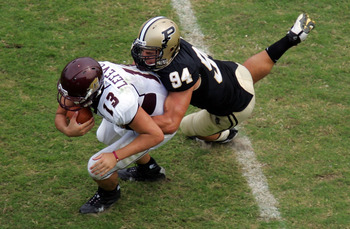 Ronald Martinez/Getty Images
Why Kerrigan Goes Here
In a division that has Peyton Manning and Matt Schaub behind center, you need a really good defensive end who can rush the passer and drop back into short coverage.
What Kerrigan's Role Will Be
Shut down the outside running lanes and put pressure on the quarterback.
Pick Change
No.
17. New England Patriots, Adrian Clayborn, DE Iowa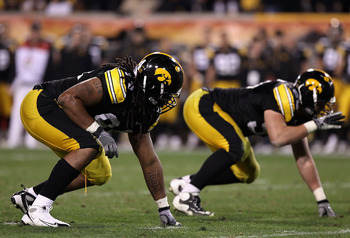 Christian Petersen/Getty Images
Why Clayborn Goes Here
Bill Belichick is a master talent evaluator and his defense needs some upgrades for pass-rushing schemes. Clayborn is built to rush the passer.
Belichick probably trades this pick away, but we can't predict trades here.
What Clayborn's Role Will Be
Destroy Mark Sanchez, Peyton Manning and anyone else who gets in Belichick's way.
Pick Change
No. (Although, I wonder if Vegas is laying odds on Belichick trading down here.)
18. San Diego Chargers, Aldon Smith, DE Missouri
Dilip Vishwanat/Getty Images
Why Smith Goes Here
The Chargers need to re-tool for the 2011 season, not rebuild, and Aldon Smith gives them a little more of an edge in their pass-rushing schemes.
What Smith's Role Will Be
Help get the Chargers back to the playoffs by keeping opposing quarterbacks on the run.
Pick Change
No.
19. New York Giants, Nate Solder, OT Colorado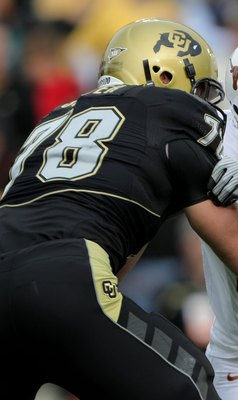 Doug Pensinger/Getty Images
Why Solder Goes Here
The Giants currently have little depth on the left side of their line. Nate Solder remedies that situation.
What Solder's Role Will Be
Help add depth and keep Eli Manning's uniform clean.
Pick Change
No.
20. Tampa Bay Buccaneers, Akeem Ayers, OLB UCLA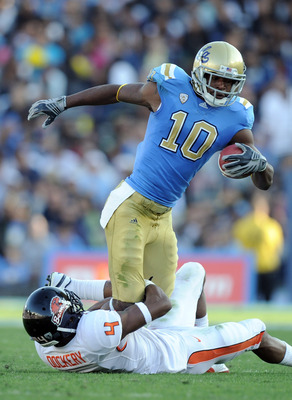 Harry How/Getty Images
Why Ayers Goes Here
The Bucs had no pass rush against the Falcons last month, and they're not going to go far in the NFC South against the Falcons and Saints if they can't get to the quarterback.
What Ayers' Role Will Be
Improve the pass rush and shut down running lanes.
Pick Change
No.
21. Kansas City Chiefs, Drake Nevis, DT LSU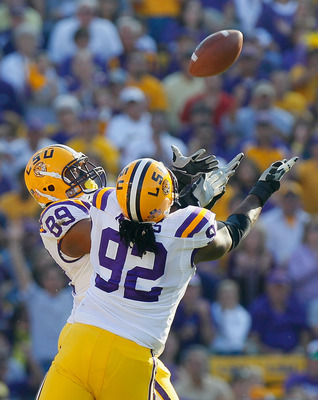 Kevin C. Cox/Getty Images
Why Nevis Goes Here
The Chiefs' offense and running game is working fine, especially with Matt Cassel improving every week, so they'll go defense with their first pick, and Nevis could develop into a fine pass rusher.
What Nevis' Role Will Be
Nevis will be a backup who emerges as a starter by midseason.
Pick Change
No.
22. Indianapolis Colts, Anthony Castonzo, OT Boston College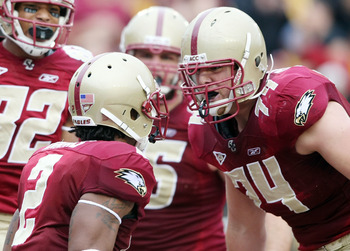 Elsa/Getty Images
Why Castonzo Goes Here
While Colts owner Bob Irsay won't address the team's biggest need—a new head coach—the second-biggest need is the offensive line.
What Castonzo's Role Will Be
Stop the bleeding and give Peyton Manning time to throw again.
Pick Change
No.
23. Philadelphia Eagles, DeMarcus Love, OT Arkansas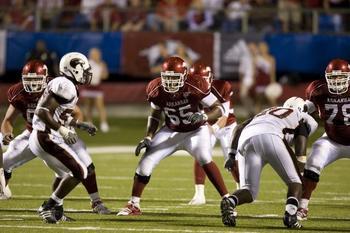 Why Love Goes Here
While Michael Vick is a mobile quarterback, he had to scramble and use his famous rushing talents far too much last season.
While Vick hasn't taken the pounding other quarterbacks have, that could change very quickly if the Eagles don't upgrade that line.
What Love's Role Will Be
Protect Michael Vick at all costs.
Pick Change
No.
24. New Orleans Saints, Cameron Heyward, DE Ohio State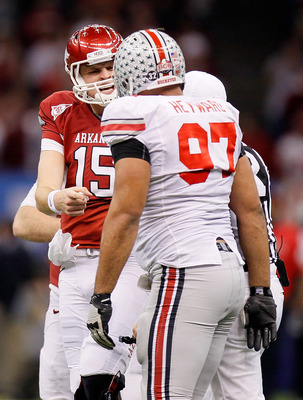 Kevin C. Cox/Getty Images
Why Heyward Goes Here
The Saints didn't have a lot of quarterback sacks last year and are in need of a pass rusher.
As evidenced by the Seahawks game, they also need someone a lot faster to catch a running back coming out of the backfield. Heyward fills that bill.
What Heyward's Role Will Be
Give the Saints a more respectable pass rush.
Pick Change
No.
25. Seattle Seahawks, Derek Sherrod, OT Mississippi State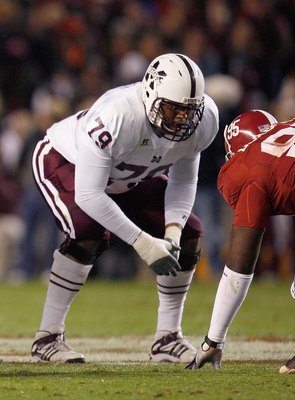 Kevin C. Cox/Getty Images
Why Sherrod Goes Here
Despite their playoff showing, the Seahawks still have a ton of needs this offseason. If they're going to keep Matt Hasselbeck one more year, they need to protect him.
What Sherrod's Role Will Be
He needs to keep Hasselbeck's jersey clean and open holes for Marshawn Lynch to run through.
Pick Change
No.
26. Baltimore Ravens, Stefan Wisniewski, C Penn State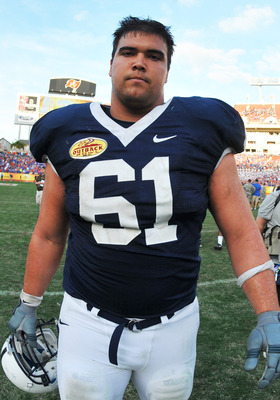 Al Messerschmidt/Getty Images
Why Wisniewski Goes Here
Ravens center Mark Birk is 34 years old. It's time to find a replacement.
What Wisniewski's Role Will Be
Wisniewski will be in a learning role his rookie year, but he'll have to be the anchor for that line for the next 10-12 years.
Pick Change
No.
27. Atlanta Falcons, Jeremy Beal, OLB Oklahoma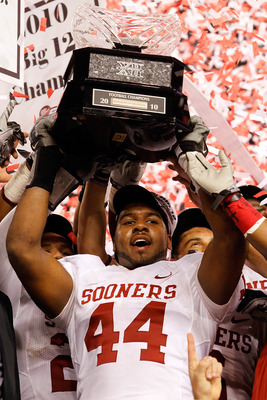 Tom Pennington/Getty Images
Why Beal Goes Here
The Falcons could use someone younger and faster on the outside of the line who could double as a defensive end if needed.
What Beal's Role Will Be
Beal is big and fast, and the Falcons will use him to shut down the run and to rush the passer.
Pick Change
No.
28. New England Patriots, Jonathan Baldwin, WR Pitt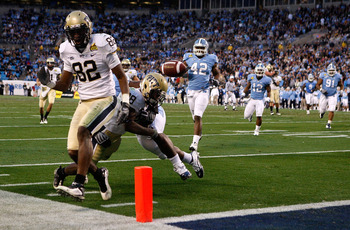 Streeter Lecka/Getty Images
Why Baldwin Goes Here
The Patriots offense needs another good wide receiver for Tom Brady to throw to. (Deion Branch just isn't going to last forever.)
Bill Belichick isn't the kind of coach to just sit back and hope this offense keeps playing like this next year without making changes.
What Baldwin's Role Will Be
In his rookie season, Baldwin's role will be to shift some of the coverage away from Wes Welker.
Pick Change
No.
29. Chicago Bears, Gabe Carimi, OT Wisconsin
Stephen Dunn/Getty Images
Why Carimi Goes Here
The Bears offensive line gives up far too many sacks for the front office not to address the situation in the 2011 NFL Draft.
What Carimi's Role Will Be
Carimi will solidify the left side of the line for years to come.
Pick Change
No.
30. New York Jets, Justin Houston, DE Georgia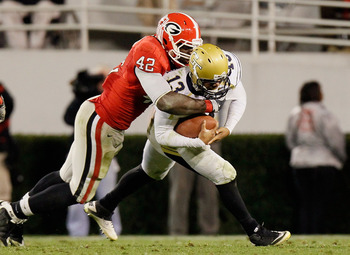 Kevin C. Cox/Getty Images
Why Houston Goes Here
The Jets need help on their defensive line in the form of younger, faster guys.
What Houston's Role Will Be
In a division that features Tom Brady, a probable young star quarterback in Miami next year and another developing passer in Buffalo, the Jets are going to want a young, hungry pass rusher.
Pick Change
Yes. Cameron Jordan is gone, so Justin Houston is next up on their depth chart.
31. Pittsburgh Steelers, Mike Pouncey, OG Florida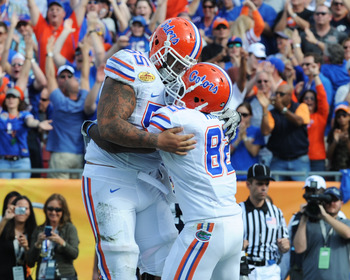 Al Messerschmidt/Getty Images
Why Pouncey Goes Here
The Steelers offensive line still is very bad, and the Steelers have to keep focusing their efforts on fixing it.
For the record, I don't think Pouncey lasts this deep into the draft, but I do think the Steelers trade up to get him, so I'm just mocking him here.
What Pouncey's Role Will Be
Rejoin his brother on the offensive line and keep Ben Roethlisberger upright.
Pick Change
No. The only way Pouncey doesn't go here is if another team takes him just to spite the Steelers. In which case, expect the Steelers to try and trade up for this guy. They don't want to risk losing him.
32. Green Bay Packers, Brandon Harris, CB Miami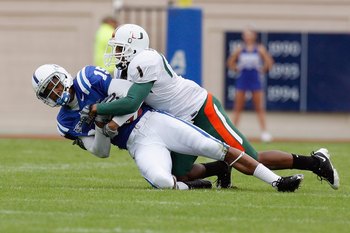 Kevin C. Cox/Getty Images
Why Harris Goes Here
The Packers secondary is going to need some upgrades and some youth this offseason. The Packers won the Super Bowl in spite of the injuries, but they did highlight where a need is.
What Harris' Role Will Be
Provide the Packers with good pass defense on both sides of the field.
Pick Change
No.
For more 2011 NFL Mock Drafts and 2011 NFL Draft coverage, check out Bleacher Report's NFL Draft Hub.
Keep Reading