2011 NFL Draft: Top 10 Centers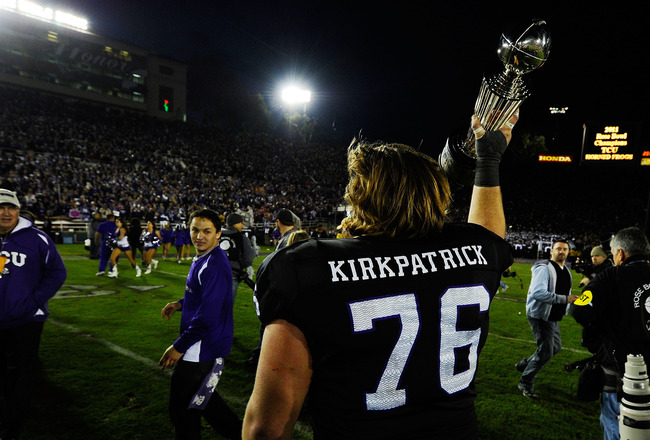 Kevork Djansezian/Getty Images
Centers are the linemen that have to let every other lineman know what he is doing. They have to be smart and make good calls in the blocking schemes. They touch the ball every play like the quarterback and are relied on to give good snaps to the quarterback. Centers need to hold their ground and drive back big defensive tackles. They have to be able to recognize inside blitzes and stunts and help out the other linemen.
A prototypical NFL center is at least 6'3'', has excellent feet, long arms, great strength, good hand placement, keeps low, is smart, takes good angles to get to his man and can move. This year's class of centers is better than those in years past.
Here are my Top 10 centers for the 2011 NFL draft.
10. Colin Baxter, Redshirt Senior: Arizona Wildcats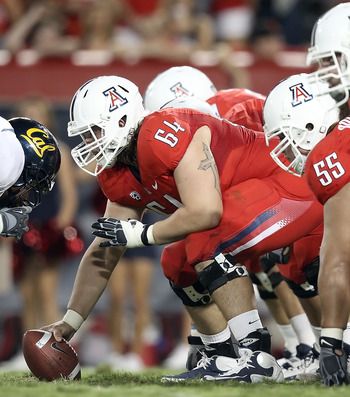 Christian Petersen/Getty Images
Height: 6'4''
Weight: 295
Pros
Baxter is an intelligent football player. He isn't a great athlete but he gives great effort. Baxter is pretty decent in pass and run blocking, and just needs to work on his technique.
Cons
Things Baxter needs to work on at the next level are his knee bend, getting stronger and his footwork. He has also had knee injuries, which is a concern for NFL teams.
9. Ryan McMahon, Redshirt Senior: Florida State Seminoles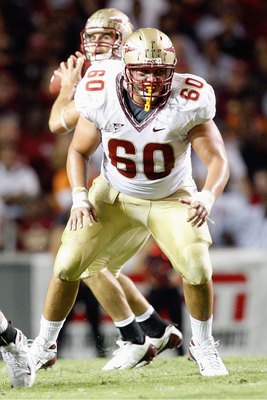 Kevin C. Cox/Getty Images
Height: 6'3''
Weight: 285
Pros
McMahon was a four-year starter at Florida State and holds the school record for most consecutive starts with 53.
He transitioned to center after being recruited as a defensive lineman. He's a very tough player who has great technique and rarely makes a mistake.
Cons
The issue with McMahon is his weight like his teammate Rodney Hudson. He needs to add weight and get stronger to hold up against bigger defensive tackles.
8. Ryan Bartholomew, Redshirt Senior: Syracuse Orange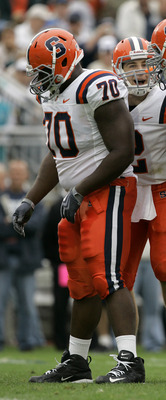 Chris Gardner/Getty Images
Height: 6'2''
Weight: 300
Pros
Bartholomew was a captain for the Orange and has played really well since he has been put in the starting lineup. He shows good power and strength blocking defenders, has a good punch and does not give up ground easily. He started 35 games so he has a lot of experience.
Cons
He needs to work on his knee bend and, at times, lunges at defenders when making a block.
7. Kevin Kowalski, Senior: Toledo Rockets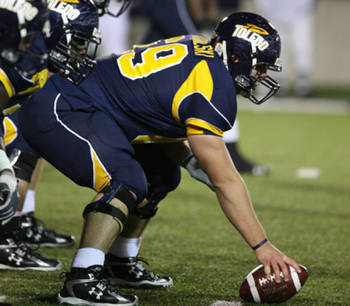 Height: 6'3''
Weight: 300
Pros
Kowalski is a smart center with good strength and power. He recognizes blitzes and stunts well, is a very technically sound center with good footwork and takes good angles.
Cons
He isn't a good athlete, plays high and has short arms. He struggled at the Senior Bowl with quicker defensive tackles and doesn't hold his blocks for very long.
6. Zane Taylor, Redshirt Senior: Utah Utes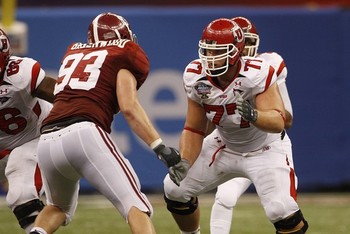 Height: 6'2''
Weight: 305
Pros
Taylor is another very smart center, who also was a former defensive lineman. He's a great run-blocker that can move defenders, has a good knee bend and moves his feet well. Taylor puts out great effort play after play and has the potential to be an NFL starter.
Cons
He sometimes gets beat by the quicker defensive tackles and leans into some blocks.
5. Brandon Fusco, Redshirt Senior: Slippery Rock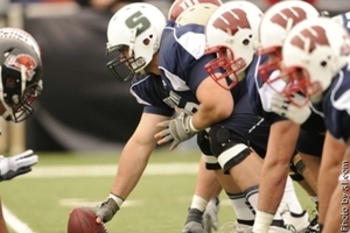 Height: 6'4''
Weight: 300
Pros
Fusco comes from a small school called "The Rock" and therefore has quite a bit of upside. He shows good knee bend and hand placement moving defenders where he wants them to go. He also has a good base and plays with a mean streak.
Cons
He isn't very strong or powerful at this point. His play is sloppy and overcompensates for his lack of strength leaning into defenders. Fusco did not have a good Senior Bowl, getting beat by stronger defenders.
4. Kristofer O'Dowd, Senior: USC Trojans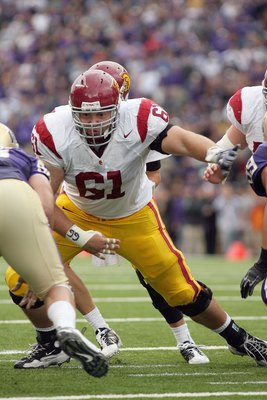 Otto Greule Jr/Getty Images
Height: 6'4''
Weight: 305
Pros
O'Dowd has played through injuries at USC. He is smart and has good awareness. He has good footwork and lateral movement, plays with good technique and is a better run-blocker than pass-blocker.
Cons
O'Dowd doesn't show a lot of explosion and lets defenders push him back while he's in pass protection. Doesn't have a mean streak and doesn't move well in space. At times he looked awful in the Senior Bowl.
3. Jake Kirkpatrick, Redshirt Senior: TCU Horned Frogs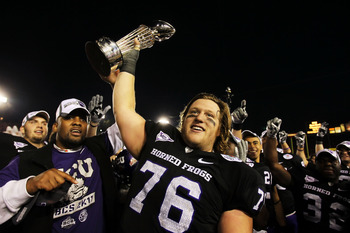 Jeff Gross/Getty Images
Height: 6'2''
Weight: 300
Pros
Kirkpatrick is a solid center with good pass and run-blocking skills. He is able to stay on blocks and is a pretty good athlete that moves well in space. Recognizes stunts and blitzes well, along with a good hand punch.
Cons
Kirkpatrick has pretty short arms so he won't be able to get separation from defenders when blocking them. He sometimes allows defenders' hands inside of him. He doesn't move his feet or drive defenders and is inconsistent blocking.
2. Tim Barnes, Senior: Missouri Tigers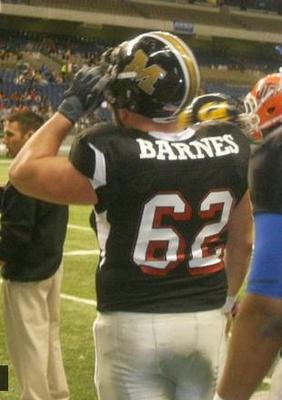 Height: 6'4''
Weight: 300
Pros
Barnes is a versatile athlete with a good football IQ. Has also played guard at Missouri. He plays with good balance and moves his feet when drive blocking. More of a finesse blocker than a mauler, Barnes can pull/trap and get to the second level maintaining blocks. Played well at the Texas vs. Nation game.
Cons
He doesn't show much power or strength. Barnes also gets too high sometimes and doesn't have a great punch.
1. Stefen Wisniewski, Senior: Penn State Nittany Lions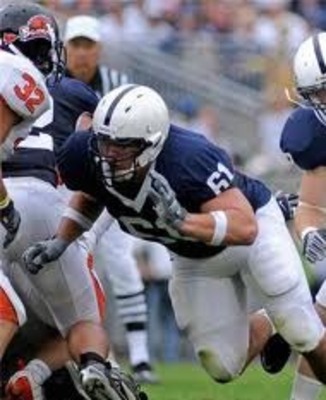 Height: 6'3''
Weight: 300
Pros
A very smart player, Wisniewski is quick in everything he does. He plays with great technique and is a very aggressive player. He gives great effort throughout games and works hard to finish defenders off. He has great knee bend, movement and gets down the field on pulls/traps. Wisniewski will be a very good starter in the NFL.
Cons
Wisniewski is a player with very few weaknesses in his game. He needs to work on his base and not lunge as much in his blocks. He has had a few injuries at Penn State.
Keep Reading