2011 MLB Predictions: Arizona Diamondbacks Opening Day Lineup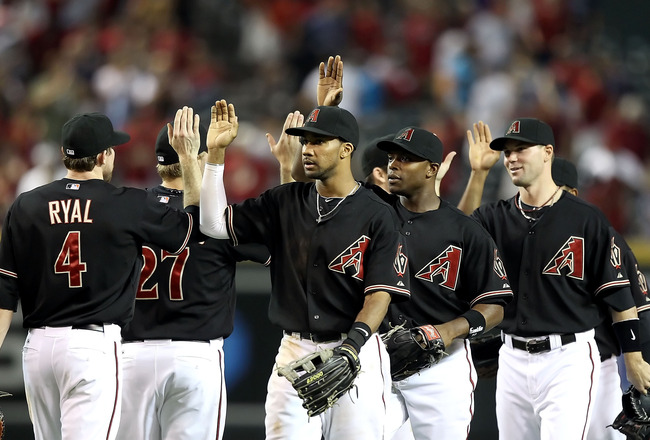 Christian Petersen/Getty Images
The Arizona Diamondbacks 2011 Major League Baseball Season couldn't be any worse than their 2010 season, could it?
The 2010 MLB Season marked the second consecutive year the Arizona Diamondbacks finished with a losing record (65-97) and in last place in the National League (NL) West.
The team's slow start resulted in manager AJ Hinch and general manager Josh Byrnes losing their jobs midway through the season on July 1st.
Hinch was replaced by the legendary Kirk Gibson while Jerry Dipoto filled in for Byrnes on an interim basis before Kevin Towers was hired in the offseason.
To make matters worse, the 2010 Arizona Diamondbacks set the all-time MLB Team Record for strikeouts by a hitters with 1,529 with Adam LaRoche (172) and Mark Reynolds (211) both leading the charge.
LaRoche was not resigned and Reynolds was traded to the Baltimore Orioles during the offseason. The Diamondbacks also made various moves for the 2011 MLB Season to improve their bullpen's league worst 5.47 ERA, including the signing of veteran closer JJ Putz.
After trading tenured veterans and fan favorites, Chad Qualls, Dan Haren and Reynolds, along with hiring Gibson and Towers, the 2011 MLB Season is certainly a new beginning for the Arizona Diamondbacks.
1. Chris Young CF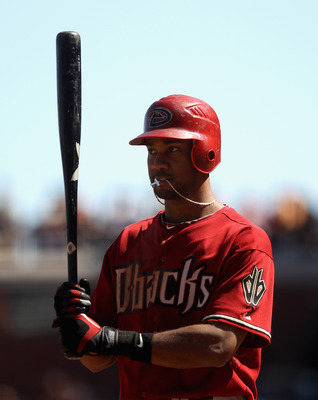 Ezra Shaw/Getty Images
Chris Young was one of the few bright spots in the Arizona Diamondbacks season.
Young set career highs in SB (28), R (94), RBI (91) and AVG (.257) while surpassing 25 HR for the first time since his 2007 rookie season.
Entering the prime of his career, expect both his SB and R to increase if he bats leadoff in 2011, while the RBI totals might tail off.
Chris Young 2011 Stat Projections
GP: 158 AVG: .260 R: 105 HR: 28 RBI: 65 SB: 34
2. Stephen Drew SS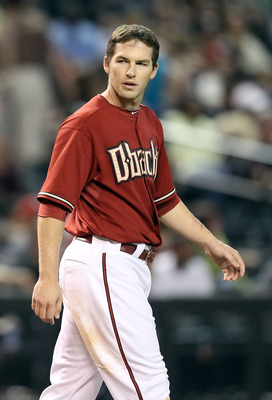 Christian Petersen/Getty Images
Stephen Drew had perhaps the best season of his career in 2010, although there is still room for improvement.
His 10 SB and 62 BB were both career highs, while his 15 HR, 61 RBI and .278 AVG failed to match his impressive 2008 stats.
If his best OBP (.352) continues to rise, Drew should fit in nicely batting second in the Diamondbacks lineup.
Stephen Drew 2011 Stat Projections
GP: 156 AVG: .280 R: 90 HR: 17 RBI: 70 SB: 8
3. Kelly Johnson 2B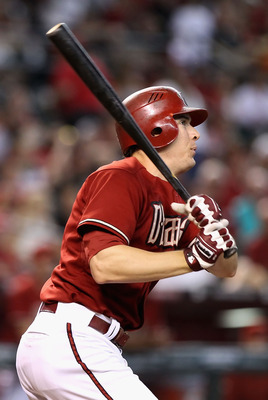 Christian Petersen/Getty Images
Kelly Johnson had the best year of his career in almost every statistical category, including R (93), HR (26), SB (13) and RBI (71), after coming to the Arizona Diamondbacks from the Atlanta Braves.
Chase Field (4th best hitters park) probably didn't hurt matters and you can expect much of the same with Johnson in the prime of his career batting third in the lineup.
Kelly Johnson 2011 Stat Projections
GP: 160 AVG: .280 R: 85 HR: 24 RBI: 90 SB: 10
4. Justin Upton RF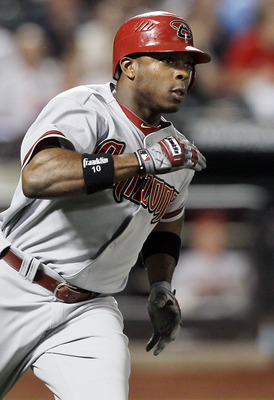 Jim McIsaac/Getty Images
Justin Upton had a disappointing, 2010 MLB Season, with every major stat besides strikeouts (152) lower than his 2009 performance.
At 23 years old, Upton is already the face of the franchise after the trades of both Haren and Reynolds.
The Diamondbacks will need a major rebound from their RF for any chance to succeed in the 2011 MLB Season.
Justin Upton 2011 Stat Projections
GP: 140 AVG: .285 R: 90 HR: 22 RBI: 96 SB: 22
5. Miguel Montero C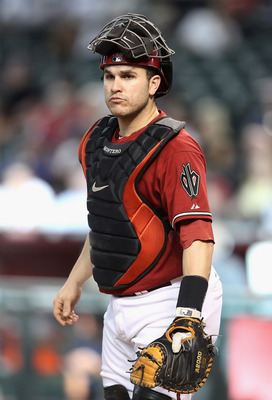 Christian Petersen/Getty Images
Miguel Montero played in only 85 games in the 2010 season, thanks in large part to a major knee injury suffered in early April.
With Chris Snyder now on the Pittsburgh Pirates, Montero should see a significant increase in ABs in the 2011 MLB Season and plenty of RBI opportunities with Drew, Johnson and Upton hitting in front of him.
Miguel Montero 2011 Stat Projections
GP: 130 AVG: .275 R: 58 HR: 22 RBI: 70 SB: 1
6. Melvin Mora 3B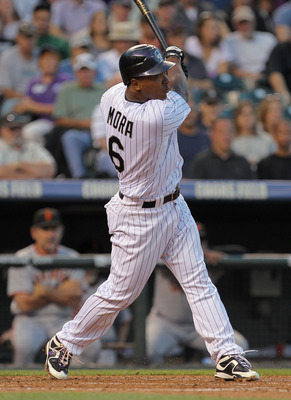 Doug Pensinger/Getty Images
Melvin Mora joined the Arizona Diamondbacks in the off-season from the Colorado Rockies where he was largely a platoon player in the 2010 season.
Mora will be the team's primary third basemen and, if healthy, could see close to 200 more ABs in the 2011 MLB Season.
At 39 years old, Mora is unlikely to have a breakout season, but he should offer solid contributions across the board.
Melvin Mora 2011 Stat Projections
GP: 140 AVG: .288 R: 62 HR: 11 RBI: 69 SB: 3
7. Brandon Allen 1B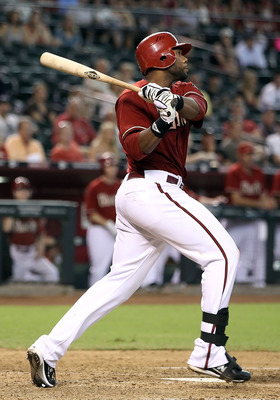 Christian Petersen/Getty Images
Brandon Allen will compete with Xavier Nady to become the starting first baseman in spring training.
2011 isn't expected to be a competitive season for the Diamondbacks and it is likely the team will give Allen every opportunity to win the job and the majority of ABs at the position.
Brandon Allen 2011 Stat Projections
GP: 115 AVG: .228 R: 44 HR: 13 RBI: 55 SB: 2
8. Gerardo Parra LF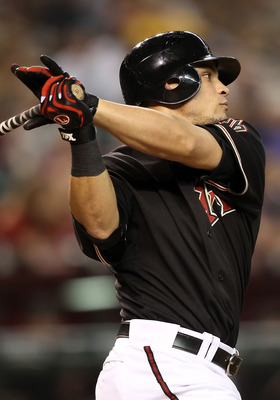 Christian Petersen/Getty Images
Gerardo Parra should face RHP throughout the season while making a majority of his starts in left field.
Parra has shown flashes of speed in his two year career, but an inability to consistently reach base or put the ball in play will hamper his SB and R opportunities.
Gerardo Parra 2011 Stat Projections
GP: 130 AVG: .272 R: 55 HR: 7 RBI: 54 SB: 9
Keep Reading

Arizona Diamondbacks: Like this team?