Vince Young Trade Rumors: 10 Teams That Are Desperate for Quarterback Help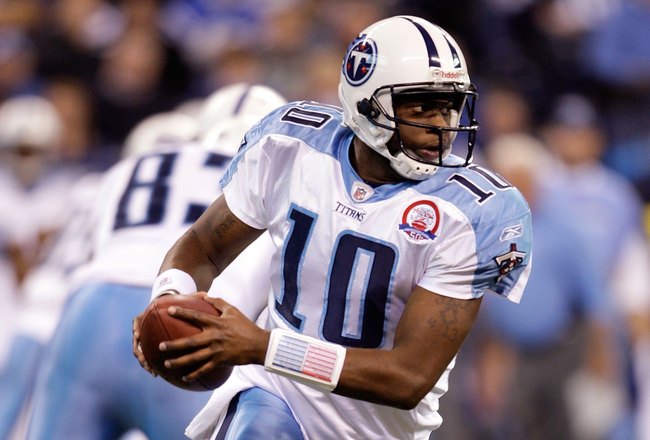 Andy Lyons/Getty Images
Throughout his five years in Tennessee, Vince Young has become an exciting player to watch, both on and off the field.
Young has played in 54 games for the Titans, thrown for over 8,000 passing yards and 42 touchdowns, and rushed for a touchdown 12 times.
He is scrambler by nature, after making that his trademark as a Texas Longhorn.
Off the field, Young has caused some problems with his coaches and fans, through various forms of dissent. Although the drama doesn't improve his resume, it is still exciting to follow.
Now that he is no longer a Titan, many teams could use a quarterback with the speed and agility Young has.
10. Miami Dolphins
Elsa/Getty Images
Injury-plagued Chad Henne and the Miami Dolphins finished at 7-9 last year.
Playing in the powerful AFC East means that you need more than a good team to compete for the division title.
Vince Young could be a good fit in Miami, and would at least compete for a job there. He might have what it takes to bring down Tom Brady and the New England Patriots.
9. Chicago Bears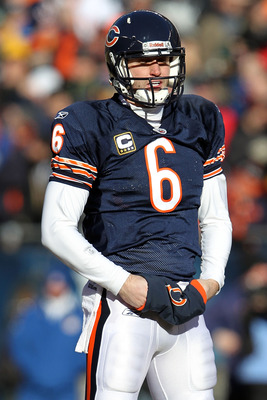 Jamie Squire/Getty Images
Talk about drama—after Jay Cutler hurt himself in the NFC championship game, all hell broke loose.
Players and coaches alike criticized Cutler on his toughness for not returning to the game. The Bears have no backups, and Cutler is probably still emotionally hurt from that experience.
While he is still the starting quarterback, Vince Young wouldn't be a bad player to bring into Chicago.
They are still a talented team, but they need to find a quarterback that they can trust.
8. Oakland Raiders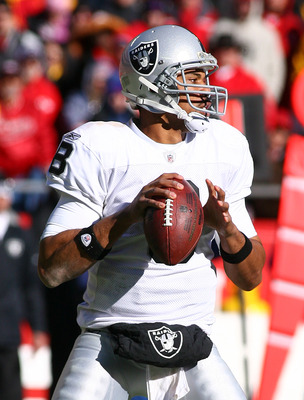 Tim Umphrey/Getty Images
It seems clear that Jason Campbell is the starter for the Oakland Raiders, and that Bruce Gradkowski is the backup.
Campbell was very inconsistent last year, though, and that led to him being benched multiple times.
That, along with constant injury concerns, makes this quarterback situation very tricky.
There is no knowing what Al Davis will do, and I could easily see him going after a player like Young to mix with the other quarterbacks.
The Raiders finished with a non-losing record for the first time since 2002, and they have high hopes for next year.
Young could take them to the next level.
7. Seattle Seahawks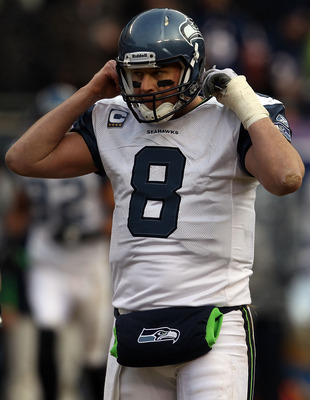 Jonathan Daniel/Getty Images
Matt Hasselbeck lead the surprising Seahawks to the playoffs in 2010, and even won against the New Orleans Saints.
Hasselbeck is only getting older though, and backup Charlie Whitehurst is not a franchise quarterback.
With Sam Bradford showing the NFL that the Rams may be a dynamite team very soon, Seattle might want to step it up and bring in Young for some help.
6. Buffalo Bills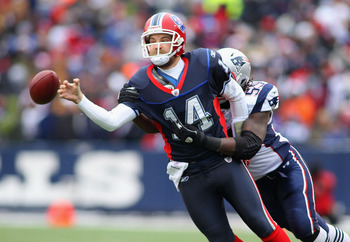 Rick Stewart/Getty Images
Year after year, the Bills have finished near the bottom of the league.
Last year, they posted a record of 4-12 and were awarded with the third overall pick in the 2011 draft for their efforts.
Ryan Fitzpatrick is not a bad quarterback, but he's not that great, either. If Young went to Buffalo, it could provide Fitzpatrick with some competition that could force him to play better, or force him out of the city.
The Bills have a talented run game and a promising receiver in Steve Johnson. Vince Young could complement that offense with the skill set that he has.
5. Washington Redskins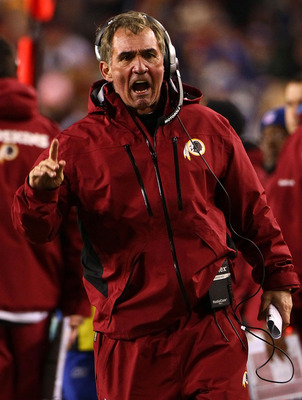 Win McNamee/Getty Images
The Washington Redskins need a quarterback, plain and simple.
Their quarterback situation is one of the most complicated in the league. They signed for Donovan McNabb in the offseason and let him start for most of the year.
Coach Mike Shanahan then benched him for Rex Grossman, and then proceeded to sign McNabb to an extension.
It is clear that neither quarterback is in the Redskins' future, and after letting franchise player Jason Campbell go to Oakland, Washington may be a suitor for Vince Young.
4. Cincinnati Bengals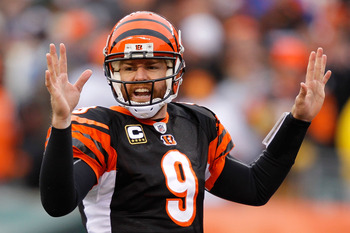 Matthew Stockman/Getty Images
After making a name for themselves in 2009, the Bengals promptly went back to their old ways by finishing last in the NFC North, behind even the Cleveland Browns.
Carson Palmer has shown a lot of promise over his career, but he just can't seem to put it all together.
This past year, the Bengals added Terrell Owens, which added more offensive prowess the Bengals, but they still finished at 4-12.
Palmer has made it publicly clear that he doesn't want to play for Cincinnati anymore, and if he left, the Bengals would be left with essentially nobody at quarterback.
He's probably more of a last option for Cincinnati, but they could bring in Vince Young if they really needed to. He would allow the Bengals to at least compete in the division and not let the team go to ruins.
3. Minnesota Vikings
Gregory Shamus/Getty Images
Brett Favre finally retired!
Wait, no he didn't.
Well, he did file for retirement after stating multiple times that this was his last year in the NFL. Minnesota started rookie quarterback Joe Webb for the final few games of the regular season last year, and he showed some promise.
While that is a good thing, it doesn't mean he is the future for the Vikings. They could easily be back in the playoff race with a good quarterback.
Adrian Peterson, Sidney Rice and Jared Allen are all great players that the Vikings still have, and with an addition like Young, they may be back in contention.
2. Arizona Cardinals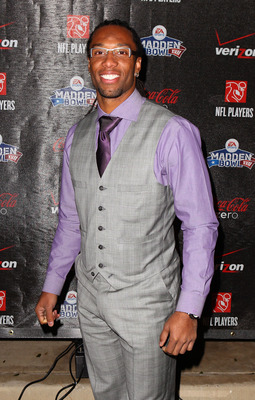 Joe Scarnici/Getty Images
The Arizona Cardinals finished in last place in the worst division in football with a record of 5-11 after they were projected to win the division by most experts.
They started out the year with quarterback Derek Anderson leading the way, and finished that way, too.
During that span, they also tried out rookies Max Hall and John Skelton, but neither showed much promise.
After letting Matt Leinart go to Houston, the Cardinals may want to take a quarterback with their fifth overall pick in the 2011 draft, but Vince Young isn't out of the question, either.
Larry Fitzgerald has to be tremendously frustrated with the lack of production he had this year, and although Young doesn't have the best arm in the NFL, he would be an upgrade over any other option.
1. San Francisco 49ers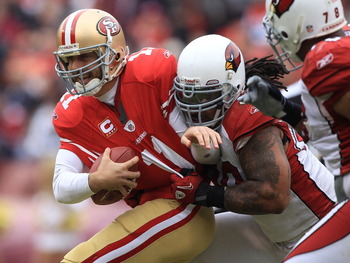 Jed Jacobsohn/Getty Images
Another NFC West team that finished its season poorly was the San Francisco 49ers.
With another year with high hopes that turned into a record of 6-11, 49ers fans are fed up with the quarterback situation they have.
It's time for first overall pick Alex Smith to be let go, because he has only hurt the team, and has proven to everyone in the nation that he is a bust.
The other quarterbacks on the Niners' roster are David Carr and Troy Smith. Neither of them are franchise quarterbacks and are no more talented than Smith.
Vince Young could provide them some speed in the pocket, but he should also be able to perform well through the air if he plays behind the talented offensive line that has formed in San Francisco.
Keep Reading