7 Key Factors That Can Save The Cincinnati Bengals
Andy Lyons/Getty Images
The Bengals are yet again on the verge of utter destruction as a franchise. The fans are in an uproar, and with the recent success of the Reds, the people of Cincinnati are through with playing with their other "professional" sports team.
As bad as things have become in the Queen City, the Bengals do have a ray of light, seven of them actually.
These seven key factors are either important players for the Bengals, or future uncertainties. And they all can be a part of the solution to help turn around one of the leagues most desperate teams.
If the Bengals want to turn it around for good and make a push for its first ever NFL championship, then these factors will be the things that get them there. Lets begin.
Honorable Mention: The 4th Overall Pick In The 2011 Draft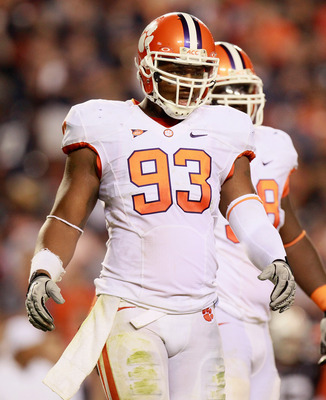 Kevin C. Cox/Getty Images
With this pick, the Bengals are guaranteed to have a shot at one of the four elite players in the draft. With Nick Fairley, Da'Quan Bowers, A.J. Green, and Patrick Peterson all filling positions of need for the Bengals, they will have no excuse for walking away with anything less than elite talent in the first round of 2011.
7. Rey Maualuga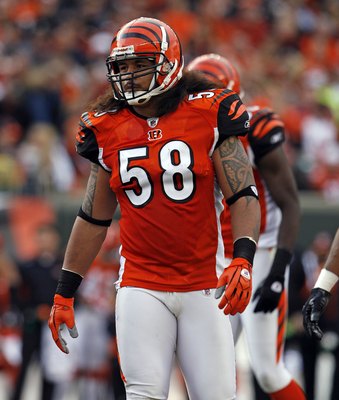 Andy Lyons/Getty Images
That's right, "Sting Rey" finds himself on the list. This outside linebacker, out of the college of Bengal players (aka the University of Southern California), finds himself on the list because of his natural talent. He has the ability to be a top linebacker in this league, but every time he enters the game he cant seem to grasp simple pass blitzes or the way to cover a running back or tight end across the middle. Rey is rumored to be on the move to his natural spot in the middle linebacker position, due to a possible Dhani Jones departure.

Basically its as simple as this: Rey needs to get his act together and prove to the Bengals and their fans that all the hype of him being an absolute steal in the second round was warranted, and that he is the player we all thought he would be.
6. Jerome Simpson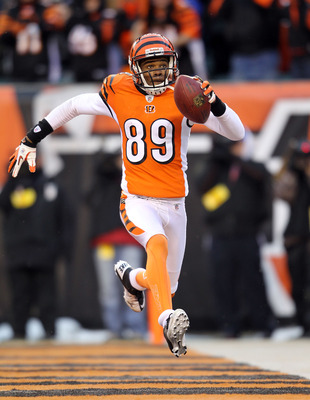 Andy Lyons/Getty Images
Ah, its the infamous Jerome Simpson, who has has been on this list longer than almost anyone else. With an aging Chad Ochocinco and a extremely young receiving core, Jerome got his chance in 2010 and finally showed the talent he had only previously shown in preseason games.
Jerome has been a target for Bengals fans for years as he struggled to even be dressed on Sundays and the All-Star player that was picked a few spots behind him in the second round, Deshawn Jackson.
Prior to 2010, Simpson only had one career start and only one career regular season catch that went for just two yards. On his way to becoming one of the biggest busts in recent history, Jerome fought hard in training camp and once again put on a show in late preseason games, earning him what many believed to be his last chance.

Well, Simpson once again struggled to dress on Sundays until Terrell Owen went down for the year and then the light switch flicked on. Jerome exploded onto the scene, starting in five games and racking up 20 receptions for 277 yards and three touchdowns.
Now the Bengals are once again under new offensive direction, and it will be interesting to see how Jerome can learn the new system. Regardless, look for Jerome to be starting in 2011 and to be a much more dedicated player. He can open up this year's draft for the Bengals as well, if he can prove to them he is No. 1 receiver material. He has already been rumored to be hanging out with his new offensive coordinator and soaking up the new West Coast offensive scheme. 2011 is Jerome Simpson's year and he needs to continue on his upward climb to become the player the Bengals hoped he would be.
5. Mike Brown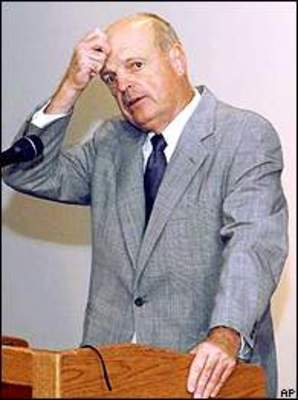 What else can be said about the fearless Mike Brown? He son of legendary coach and team creator Paul Brown, but has struggled to come close to his father's legacy. Mike Brown needs to either hand over control to Marvin Lewis or hire a GM to run team operations. However, nothing has changed in Mike's mind for years, so he will probably continue to stick to his guns and make awful decisions for his team.
Already, he is pushing his QB Carson Palmer out of the city and he rehired Marvin Lewis, who has continually made terrible mistakes in games, costing his team a few wins.
Nothing will change with Brown, as it never does, and that is why he is at No. 5 and not the undisputed top spot.
Breath, Bengals fans, and step off the ledge; there is still hope on the horizon....on to No. 4!
4. Carson Palmer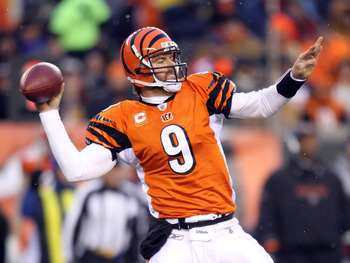 Andy Lyons/Getty Images
Yes, its the golden-boy QB who was drafted No. 1 overall in the 2003 NFL draft and has lead his team to two AFC North titles.
He has recently put his house on the market and demanded a trade, as he can no longer take the Mike Brown regime. However, the QB's threat has already made positive ripples throughout the organization, as he pushed Brown's friend Bob Bratkowski out the door.
Palmer may retire if he is not traded, and without compensation for their QB, the move might be the final nail in Mike Brown's coffin. The team is losing support quickly, and the move might help Mike Brown step down or relinquish more control of the team to others.
3. The 2010 Draft Class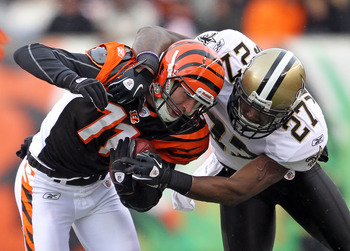 Andy Lyons/Getty Images
The brightest part of 2010 came in April for the Bengals, when they had arguably their best draft in years. Picking 21st overall, they took the tight end Jermaine Gresham out of Oklahoma, adding a dimension to this team not seen in years.
In the second round they got a absolute steal in Carlos Dunlap, defensive end out of Florida. He tallied up a Bengals record 9.5 sacks and only began to play after Week 7. This guy can be an elite rusher the Bengals have also lacked for decades.
They continued by adding the Geno Atkins, who tallied three sacks and got consistent pressure in the defensive tackle spot.
They also got their slot receiver of the future in the chain-moving Jordan Shipley, and the excellent nickle corner Brandon Ghee.
All of these players will play a significant role for the Bengals in 2011 and far into their future. The future is very bright for these young Bengals, and the team can only pray they have even half as good of a draft as they had last year.
2. The CBA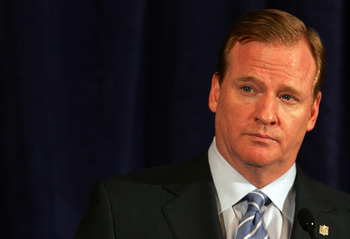 Mike Stobe/Getty Images
Yes, it's the dreaded CBA negotiations that are threatening to ruin the 2011 season. While many think the CBA is destroying football, it actually is the No.2 thing that Bengals fans can hope will remove the rain cloud over this franchise.
For example, one of the deals on the table is the owners' request for a renewed version of revenue sharing that would force them to spend a set amount on operations such as their scouting department and health department.
For teams such as the Bengals, who only have a disgraceful one paid scout on staff, it would force their stubborn owners to bring their programs up to standard.
Also, this may open the door for the construction of an indoor facility that the Bengals franchise has needed for so long.
The CBA is good for the Bengals, so root for the owners and not the players if your a fan. At worst, the Bengals might just not be able to play in 2011, which for their tired fans could come as a sad relief.
1. Katie Blackburn
John Sommers II/Getty Images
That's right, the No. 1 overall person who can save the Bengals is actually the alleged heir to the throne, Katie Blackburn. As the daughter of Mike Brown, this daughter has worked for her father's team for years, and currently holds the position of Executive Vice-President.
The Bengals may be awful under her father, but many close to the Bengals say that Katie is much more driven to win he is: many of the good moves by the Bengals lately have come from her, and she seems to be much more likely to cede some control to a GM.
It seems bleak at the time in Bengaldom, but hope is on the horizon. When Katie takes her place as owner of the team, its very possible the Bengals losing ways will become a thing of the past. Well, we can only hope.
Keep Reading

Cincinnati Bengals: Like this team?