St. Louis Cardinals: 10 MLB Teams That Might Steal Albert Pujols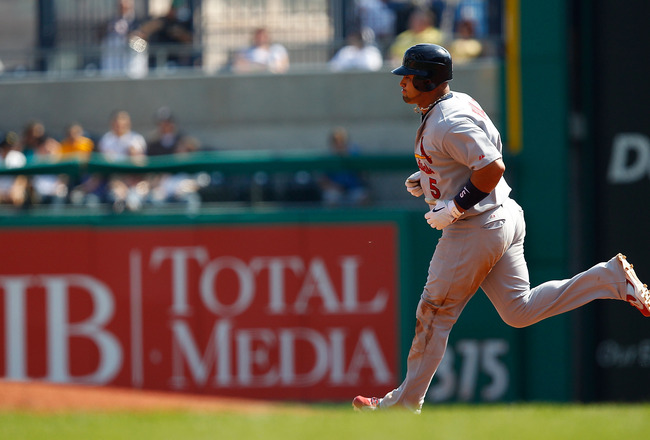 Jared Wickerham/Getty Images
Albert Pujols is arguably the best player in the MLB right now.
His contract expires at the end of the 2011 season and the St. Louis Cardinals are trying desperately to re-sign the face of their franchise.
So far, a deal has not been worked out and Pujols has set Wednesday as the negotiation deadline.
If an agreement can't be reached, Pujols is likely to test free agency next winter.
Even if a deal can't be worked out in the next two days, the likelihood that Pujols ends up in a uniform other than the Cardinals is rather slim.
Pujols is the greatest thing that's happened to Cardinals' baseball since Stan Musial. The Cardinals would be wise to lock up Pujols to a long-term, lucrative deal that keeps him in St. Louis for the rest of his career.
However, here are 10 teams that will be chomping at the bit to sign Pujols if he hits free agency.
10. Baltimore Orioles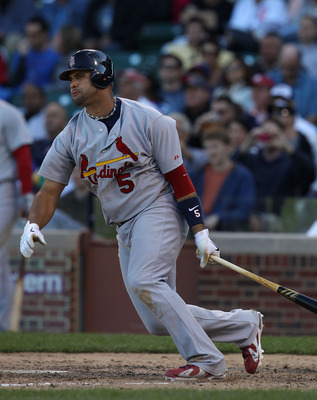 Jonathan Daniel/Getty Images
The Orioles significantly improved their offense this year with the acquisitions of Mark Reynolds, J.J. Hardy, Vladimir Guerrero and Derrek Lee.
They signed Lee to a one-year deal so that they could be players for Pujols next offseason.
The Orioles actually have money to spend. They were prepared to pay Mark Teixeira a huge contract before he signed with the Yankees.
Pujols would dominate Camden Yards.
Expect the Orioles to be competitive this year, but signing Pujols could make them legitimate contenders in the AL.
9. Washington Nationals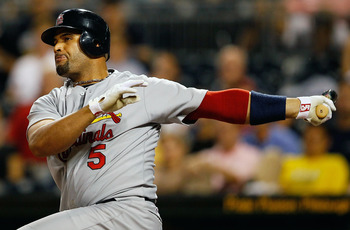 Jared Wickerham/Getty Images
The Nationals showed this winter that they aren't afraid to spend money on big-name free agents.
They signed Jayson Werth and Adam LaRoche to large contracts and will look to continue their spending spree if Pujols becomes available.
They would have to move LaRoche and most likely eat some of his salary, but for Pujols, that shouldn't be a problem.
This seems unlikely, but imagine a pitching staff led by Stephen Strasburg and a lineup consisting of Pujols, Werth and Bryce Harper.
8. Texas Rangers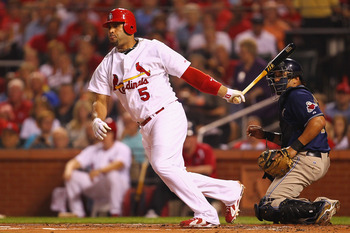 Dilip Vishwanat/Getty Images
The Rangers appear committed to giving Mitch Moreland a chance to win the everyday first baseman's job. In fact, Texas is prepared to trade their all-time hits leader in Michael Young.
If they happen to trade Young and the Moreland experiment doesn't work out, they could enter the Pujols sweepstakes.
The reigning AL-champs lost Vladimir Guerrero, so they will need to generate offense from other sources.
However, they still have Josh Hamilton and Nelson Cruz. Sandwiching Pujols in between those two would be deadly. Pitchers would have nightmares if they had to face those three in a row.
7. Los Angeles Angels Of Anaheim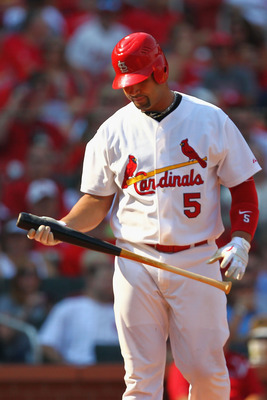 Dilip Vishwanat/Getty Images
Not only is Kendry Morales coming off a major injury, but he also could be a free agent after this season if the Angels decline him arbitration.
He had a big year in 2009, so it's going to be interesting to see what the Angels' plans are for him.
The Angels could pursue Pujols and use Morales as a fallback option.
Once again, the A.L. West pitchers better watch out. Vernon Wells, Pujols and Torii Hunter would form an impressive middle of the order as well.
6. Los Angeles Dodgers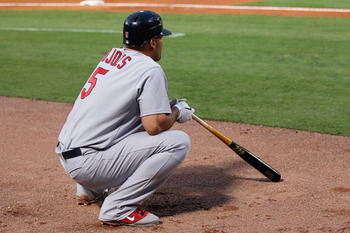 Kevin C. Cox/Getty Images
Like Morales, James Loney of the Dodgers is another first baseman who could be a free agent after this season. The Dodgers would have to decline him arbitration for him to hit the open market.
Loney has played in at least 158 games the last three seasons and has been a consistent offensive force.
However, Pujols' numbers overpower Loney's. Pujols would be a significant upgrade in the Dodgers' order.
The front office still appears to be having problems, so I wonder if they would still consider pursuing Pujols if they don't have the finances.
5. Detroit Tigers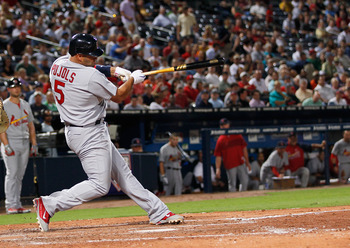 Kevin C. Cox/Getty Images
Albert Pujols, Miguel Cabrera and Victor Martinez in the same lineup; sounds like an All-Star team, right?
Well, the Tigers have the chance to make it happen if they sign Pujols.
It would require a little juggling, however.
Martinez would be forced to catch everyday. Prospect Alex Avila is expected to handle much of those duties this season.
Also, Cabrera would be moved to the full-time DH, which would not be a problem since his defense isn't great to begin with.
4. New York Mets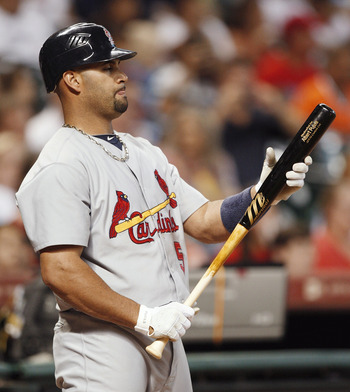 Bob Levey/Getty Images
Yeah right, the Mets signing Pujols with the financial scam they're going through; no chance, right?
Well, the Mets will have a chunk of payroll coming off the books after 2011. Oliver Perez, Luis Castillo, Carlos Beltran and maybe even Jose Reyes may call somewhere else home in 2012.
The Mets could use a move, like signing Pujols, to alert the rest of the league that they still mean business. They would then look to trade young first baseman, Ike Davis, for possibly a starting pitcher or bullpen help.
The problem here is that the Mets have several holes and throwing all their excess payroll at Pujols may not be the best idea. Rather, they can use those funds to address multiple needs.
Still, Pujols would return the Mets to credibility in the N.L. East.
3. Milwaukee Brewers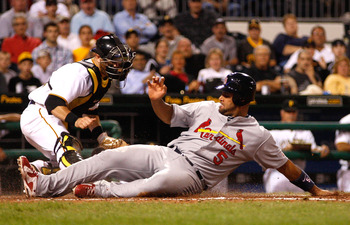 Jared Wickerham/Getty Images
Pujols in Milwaukee would devastate Cardinals' fans.
Many analysts have already picked the Brewers as the favorites in the N.L. Central. They strengthened their pitching staff with Zack Greinke and Shaun Marcum and will hope for a big contract year out of Prince Fielder.
Since Fielder is a free agent after this year, Pujols would make sense for the Brewers. However, part of the reason it seems likely that Fielder will sign elsewhere has to do with Milwaukee's payroll.
Pujols will likely get more money than Fielder, so Milwaukee may not be the right destination.
2. New York Yankees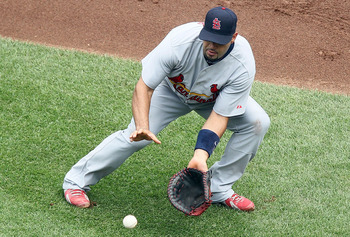 Jim McIsaac/Getty Images
Pujols in pinstripes? It's hard to picture.
However, it could happen if Pujols becomes a free agent.
The Yankees have Mark Teixeira at first base and he's signed through 2016. But when a big name like Pujols becomes a available, the Yankees are automatically considered a contender for his services.
One of the two would have to DH. Both are top-notch defenders, so it would simply be to keep the other fresh.
Pujols wants A-Rod-type money. If there is a team that can afford two $250-million contracts, it's the Evil Empire.
1. Chicago Cubs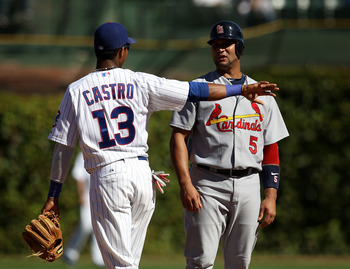 Jonathan Daniel/Getty Images
If Pujols went to the Cubs, bedlam would result in St. Louis.
The two teams are bitter rivals and Cardinals' fans would go insane every time Pujols came to town.
Extra security would have to be brought into Busch Stadium because riots would break out.
Cardinals' fans have grown accustomed to seeing Pujols wreak havoc on the Cubs, but would they be able to bear seeing Pujols return the favor as a member of the Cubs?
The Cubs signed Carlos Pena to a one-year deal for 2011. Pena has solid power, but nothing like Pujols.
The Cubs have money to spend and would make a big splash in signing Pujols.
Could Pujols be the deciding factor that breaks the Curse of the Goat? We'll find out if the unthinkable happens.
Keep Reading

St Louis Cardinals: Like this team?