Miami Dolphins: Offensive Moves Needed For 2011 and Beyond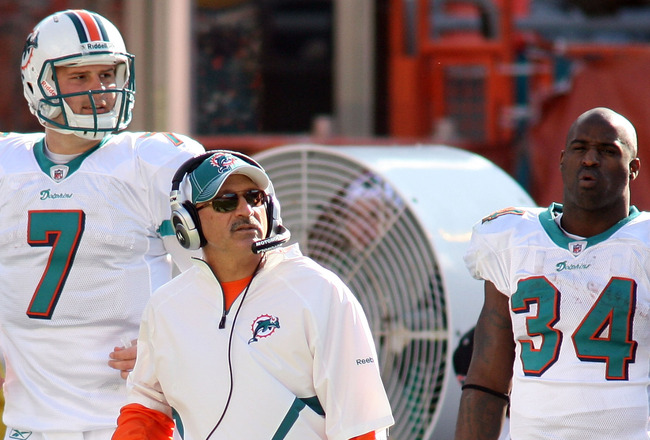 Marc Serota/Getty Images
How's everyone doing? It's been a couple of months since I last wrote an article on Bleacher Report; feels pretty good to be back.
As we know, the 2010 Miami Dolphins offense dragged… I mean it DRAGGED!
Since then, as fans are still lost in awe and disappointment, they attempt to look towards a future, rather than focusing on the recently ended campaign that will hurt as bad as the 2007 season.
I've been studying the draft boards and free agent market, and have been analyzing the available players as pertaining to Miami's scenario and how they could help improve the offense. Then I stop and look at what needs to be fixed.
Quarterback, running back, guard, center, tackle, receiver and tight end; that's just about everything!
Clearly the offensive game plan needs to be reassessed, as well as the personnel running it on the field. If Miami plans on being a contender, they will need to readdress almost every position on the team this offseason in order to compliment their already talented defense.
Bare with me; this needs to be done.
Quarterback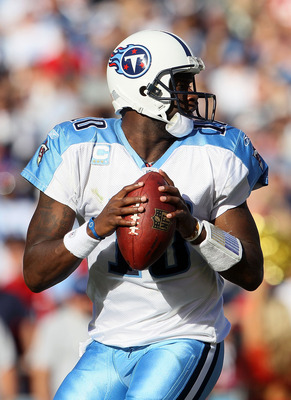 Jeff Gross/Getty Images
I still remember reading about Chad Henne; the monster 5-star prospect on Rivals.com from Pennsylvania who was slated to be one of the biggest names in football for years to come. His big body and rocket arm were going to make him a marvel in the NFL.
Well, I believe we all know how badly that's gone and how little of the short-end of the stick Miami received from it.
Henne has gone on to show very little worth for his once highly-touted name, and is now in question as to whether he is ready for the starting role at all, once again.
Second and third-stringers Chad Pennington and Tyler Thigpen would certainly take the gig off his hands, but at this point the latter still gets to antsy under pressure, while the former has a tough time keeping his body out of harm's way.
The most talented of all the quarterback options in college football, Andrew Luck, decided to hang around Stanford for at least another year, which made him a no-go. After Luck, the NFL isn't being left a whole lot to work with. Aside from the NFL-readiness-in-question Cam Newton of Auburn, this draft doesn't offer the Sam Bradford's, Tim Tebow's or Colt McCoy's of 2010.
Missouri's Blaine Gabbert is this year's top quarterback prospect, and that should be scaring people. I'm not taking anything away from him, but he would've likely never been drafted ahead of any of the other three big names mentioned above from 2010—well, unless if you threw Jimmy Clausen in there, then there'd be a possibility I would be wrong.
Chances are Gabbert and Newton will be gone a couple of picks ahead of Miami's choice, but what about Colin Kaepernick from Nevada you might be asking? Not to down the kid, but there's no way Miami would go out of their way to use a first-round choice on him. It would be insulting to the fans who know this Miami team is in a win-ready position and only lacks a couple of offensive players to be consistent contenders.
They'd be better off addressing another position, such as running back, guard, or center, which they need badly, and the best players in those respective positions would still be available.
No need to be force-feeding the animals; if it don't fit, it won't fit.
Although, if Miami were to get themselves a second-round pick and Kaepernick were available, I would not mind seeing him coming to South Florida, and even then, it'd be a stretch.
Nevertheless, Miami has a big history of throwing second-round selections away on quarterbacks who've failed horribly in the last few years. Chad Henne? Pat White? Let's not get into that…
Point is, aside from Gabbert, Newton and maybe Kaepernick in the later rounds, none of the other college passers offer the combination of great decision making, accuracy and leadership that Miami needs and desires.
One must attribute the mental aspect an athlete brings into the game before the physical, which is why the high-pick-drafting of the horribly inaccurate, yet strong-armed, QBs Ryan Mallett from Arkansas or Jake Locker from Washington will only set the Phins back.
I would say trading a pick for a QB already in the league is not an option, seeing as though Miami lacks quality depth and draft picks at that, in which the best place to groom such talent comes from drafting.
Free agency would be the staple of decisions in order to fix the quarterback woes. Trading for a Kyle Orton of the Denver Broncos would be ideal, but the picks are too valuable to give up at this point, and they should most certainly never waste it on an unproven QB such as Kevin Kolb from the Philadelphia Eagles.
Carson Palmer also wants out of the Cincinnati Bengals, but as previously stated, draft picks are a luxury Miami has few of. Not to mention, Palmer has done very little to preserve his previously-renowned name in the NFL.
Whether his drop in stats has been a product of a lack of personnel, or purely just diminishing talent, it is a debate that should not be risked by being answered with a second chance from the Phins. The team is built to win now, so the talent would have to be ready to produce at first snap.
Other notable free agents are Donovan McNabb who has the talent (but also the age "weighing" him down), and my personal choice, 2-time Pro Bowler Vince Young, who is slated to either be traded, or released by the Tennessee Titans.
Young, at 27 years old, offers the physical ability desired, but his play seemed to entangle itself with off-the-field issues in Nashville, primarily stemming from the 16-year dictatorship of former Head Coach Jeff Fisher.
Young is the only player worth trading for, but they're better off waiting for Tennessee to release him, and throw a big contract in his face for 2011.
Henne is still only approaching his fourth season, and maybe 2011 will be the year he breaks out, as did Drew Brees earlier in his career after one lack-luster and two seriously EMBARRASSING campaigns. I just hope Miami gives each and every quarterback on the roster an honest chance before declaring someone the starter simply because they are due for it, rather than earning it.
I would think by now the Miami brass has learned their lesson of letting a player earn their position, rather than gifting it to them.
Three cheers for TRYOUTS!
Free Agent Choice: Vince Young (Tennessee Titans)
Trade Choice: Kyle Orton (Denver Broncos)
1st-Round Draft Choice: Cam Newton (Auburn Tigers)
2nd or 3rd-Round Draft Choice: Colin Kaepernick (Nevada Wolf Pack)
Best Choice: Vince Young
Vince Young is the best choice because chances are the Titans will more than likely cut him, and he has at least proven more of himself than Chad Henne has in the last three years.
By also signing him from free agency, you don't lose draft picks by either trading for him or selecting one in the draft. His move to another franchise will only further push him into wanting to prove his worth after being at odds with his old coaching staff for so long.
Offensive Guard
Nick Laham/Getty Images
Things get complicated at this point. The original starting Guards were Richie Incognito, a free agent signee of 2010, and John Jerry, a third-round rookie, and neither really lived up to much at those spots.
The mess began when all three of the original 2009 interior linemen starters did not heal properly from past injuries coming into 2010. The Miami brass kept high-expectations, hoping Offensive Guards Justin Smiley and Donald Thomas would recuperate in time for the new year. Unfortunately for them, they would not, and Miami put all of their chips on a wish, rather than securing a back-up plan.
Before you knew it, they needed an entirely new interior offensive line, having to suffice with a back-up at center, a rookie on the right interior and the man who was considered to be the dirtiest player in the NFL on the left.
It became very apparent, as soon as the Week 1 matchup in Buffalo concluded, that the run game was nowhere to be seen, and would remain covered under a veil of non-existence for the rest of 2010. The same running backs were in place from the year before, in which one had a 1,000+ yard season in 2008 and the other in 2009, so what was wrong?
The run-blocking was getting run-off.
Incognito was drafted as a center, but had been used as a guard throughout his career, failing to do much, if anything at all, at the position. He fared well in pass coverage, but couldn't open up a lane for the life of him. His Dolphin debut as a center during the Thursday night, NFL Network bout against the Chicago Bears showed decent promise, but the scenario (and Chi-Town D) proved to be too over-baring for the offensive line as a whole for anyone to really care how well he'd transitioned.
I would keep him around, at least to tryout at center.
John Jerry also took beatings on the line. He was selected as an All-Rookie right guard, but to be honest, he was getting manhandled by the likes of Vince Wilfork, Richard Seymour, Haloti Ngata and Kyle Williams throughout the year.
Then again, those four are Pro-Bowlers and some of the best at what they do; so with that being said, let's hope Jerry took it all in as a learning experience. He is still very young and has the potential to grow and become a real-deal starter.
Regardless, Miami needs a proven, reliable, healthy left guard. The draft offers a couple of worthy candidates. Mike Pouncey of Florida, twin brother of now Pro-Bowler Maurkice Pouncey, is arguably the best college guard prospect coming into the draft, and is on many Dolphins short-list mock drafts as a first-rounder, on mine as well.
At 6'5", 320 lbs, he has the perfect build the size-happy Dolphin offensive line loves to have. Incognito was clearly smaller than what they prefer, which is a testament to their late desperateness at bringing in whoever they could.
Another sleeper, potentially as a second-rounder if available, is Danny Watkins of Baylor. The Canadian-born guard has already been drafted by the CFL as the fourth-overall pick back in 2010, but wants to give the NFL a shot, and is one of the top candidates at the position.
Problem is, he's 26 years old, but the upside is he's ready to contribute as a starter today. Standing at 6'4", 310 lbs, if he falls into the second-round, and Miami has used the first-round choice on another position, they'd be making a great move at picking up Watkins if they could manage to get themselves a pick between 33-64.
Lastly, Orlando Franklin of the Miami Hurricanes, at 6'7", 315 lbs, has the ideal enormous size the Dolphins love to have.
His criticism stems from being too slow off the line, or that he may be too tall for the interior line and would be better suited as a tackle. Thankfully, Franklin did play tackle for a few years, so anyone willing to take a chance on him would be pretty happy to know that the big boy is quite multi-faceted.
If he drops between picks 65-96, the Phins would be dumb to pass up on him if they haven't addressed guard by then. He's an enormous specimen and I doubt Tony Sparano would have many complaints of having two 6'7" monsters on his o-line.
Now, halting the hype train.
Rodney Hudson of the FSU Seminoles has the drive, stamina, persistence and will to contribute in the NFL right now, but he's only about 6'2" and is under 300 lbs as far as I know. Fact is, he won't get much respect from the big-body D-tackles in the league, and will likely get tossed around for the next few years. Miami would be better off passing up on him.
Another slightly over-rated candidate is Benjamin Ijalana of the Villanova Wildcats. He has the body the Phins crave, but truthfully, he is a tad bit slow, and for coming out of the Colonial Athletic Association, you would think that he would've been considered God's gift to the offensive line. He was perceived as a great prospect, but even still, doesn't have the tape to be considered a top pick playing against lower echelon football programs.
Something about that makes me wonder if he's worth bringing into South Florida at all. I'll take my chances elsewhere; NAY.
Thankfully, the free agent market brings plenty of talented offensive guards to the fore! Three Pro-Bowlers are slated to be let go as their contracts expire, including Davin Joseph of the Tampa Bay Buccaneers, Carl Nicks of the New Orleans Saints and Logan Mankins of the New England Patriots.
Mankins is the ideal player to fit the left guard gap. A three-time Pro Bowler, and two-time All-Pro selection, he is arguably the best guard in the league. If Miami were smart, they would jump on acquiring him as soon as possible to save their picks for a skill-position heavy draft.
Having Logan Mankins beside Jake Long would make for the most dominant left side of an offensive line for years to come! It would immediately revamp the run game, and give unprecedented protection for whoever the quarterback turns out to be.
Carl Nicks will also become available as a restricted free agent, as he and Jahri Evans have become one of the best guard tandems in the NFL. He would definitely fit the bill… I just don't have much more to say about another guard with Mankins being available. Sorry, big guy.
There's also a fare number of aging free agents, like Alan Faneca of the Arizona Cardinals, and a few hot/cold prospects like Daryn Colledge of the Green Bay Packers, but honestly, Miami needs to think about its future and its reliability thereof. They are both great at what they do, but how long will they last?
My outlook on the situation?
Miami would be better off choosing someone from free agency before they draft anyone. Three years have gone by, and those years of development are over. The blocking/core position players should have already been dealt with, not reverting back to the beginning. Those draft picks should go towards a new, young, healthy running back, or a speed-bursting wide receiver, or an athletic tight end. Not replacing the same position for a fourth time.
1st Free Agent Choice: Logan Mankins (New England Patriots)
2nd Free Agent Choice: Carl Nicks (New Orleans Saints)
1st Round Draft Choice: Mike Pouncey (Florida Gators)
2nd Round Draft Choice: Danny Watkins (Baylor Bears)
3rd Round Draft Choice: Orlando Franklin (Miami Hurricanes)
Best Choice: Logan Mankins
Logan Mankins has been uncomfortable with his situation in New England for over a year now and has been wanting out since. He's arguably the best guard in the league, and would prove to be the best left-side tandem in the NFL with Jake Long.
The running backs weren't the slackers as those players did not change and cause the ensuing drop in rushing stats during 2010. By revamping the line, you bring back the rush that once was. In fact, I would go as far as to say Mankins is the single most important player the Dolphins should go for in free agency.
Center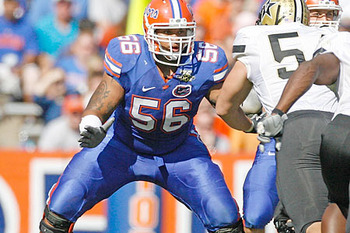 The situation at center is looking pretty grim. At this point, the 2010 left guard has a better chance of playing center than the guy who was there before!
Joe Berger was the replacement for the now defunct Jake Grove. Berger has struggled, in too many ways to count. He's gotten beat up down the middle, struggling to create running lanes and rarely makes it over fast enough on a shift to move up and block for the slant.
Sure, he flashes out of nowhere with some nice contributions at times, but for the most part, his 2010 campaign was more of an acknowledgment to the fact that Berger can and will be nothing more than a reliable back-up.
Time to scour the free agent market and the draft boards.
The draft offers very little talent at center. Stefen Wisniewski from Penn State is 2011's top center prospect, and even then I'd still say he was a couple miles away from becoming a Maurkice Pouncey or Nick Mangold.
Miami has a lot of issues to address, and as I've mentioned time and time again, too many skill-position players are available at this point, and going for Wisniewski in the first or second round would be a waste.
It would all have to come down to who they go for in free agency or if they draft Mike Pouncey in the first round, who played center for a couple of years as well.
They'd be better off picking a center in the third-fifth rounds, maybe someone like Kristofer O'Dowd of USC or Jake Kirkpatrick of TCU. Although, personally, O'Dowd struggled greatly through his Senior Bowl week, so I'd scratch that name off my list if I were you.
This year's free agents also offer very little to be desired. Two names stick out: Pro Bowl Center Ryan Kalil of the Carolina Panthers and 2010 Pro Bowl reserve Jonathan Goodwin of the New Orleans Saints.
Kalil is the staple of the Carolina o-line. I'll end this quickly: the Panthers ARE NOT letting go of Kalil any time soon. They know the pains of what it's like to let a star player hit the free agency market, how much better it made a team (i.e. Julius Peppers with the Bears) and how badly it effected them. Scratch him off the list.
Miami will have to make a big decision in 2011; keep Berger (which we will pray will NOT happen), move Incognito over to center (which would be cheap, semi-reliable, but a risk), draft either Jake Kirkpatrick of Texas Christian University in the later rounds, OG Mike Pouncey early on who can play anywhere in the interior, or pick-up Goodwin from the Saints.
I'm not sure what Miami will do.
Everyone east of Jake Long needs to either be replaced or given more time to develop. Incognito is not the answer as a left guard but has potential to play center, as John Jerry needs more time to prove he will evolve into a reliable player.
Berger needs to go; end of story. Vernon Carey has lost a major amount of touch, and is just not the consistent right tackle he used to be, which hurts coming from a Canes fan.
Let's see where this goes.
Realistic Free Agent Choice: Jonathan Goodwin (New Orleans Saints)
1st/2nd Round Draft Choice: Mike Pouncey (Florida Gators)
3rd-5th Round Draft Choice: Jake Kirkpatrick (Texas Christian Horned Frogs)
Best Choice: Mike Pouncey
Mike Pouncey played a few years as a guard in Gainesville, but played center after replacing his brother throughout last season. What does that mean? He still gets first-round respect even after switching positions. He is the real deal, just like his brother. Reinserting a strong offensive line would bring the running game back to Miami.
Offensive Tackle
Ronald Martinez/Getty Images
Thankfully, the Phins have secured the left end of the offensive line with a future Hall of Fame tackle in Jake Long. He is the absolute most dominant player on the offensive line in Miami and the premier o-line athlete in the NFL.
Now that the praising is done, let's get back to addressing the problems.
Vernon Carey was a first-round pick in 2004 from the University of Miami Hurricanes. He was a great addition on the right side for years, but since then has been slacking a bit. I love the guy and all he's given to the team, but there were moments in 2010 where I saw him get completely blown off.
This is his seventh season with the Phins, and it may be time to say goodbye.
At this point, Miami would not need to draft a first-round tackle, as a suitable right tackle can be found in the second or third rounds. With that being said, Anthony Castonzo, Tyron Smith, Nate Solder, Derek Sherrod and Gabe Carimi are out of the question.
It would be smart if they went for a tackle in the third-round or even the fourth, much like they did last year with John Jerry in the third in 2010 for a right guard, and select someone like Joseph Barksdale from the LSU Tigers or Marcus Gilbert of the Florida Gators.
Barksdale would be the smarter choice, as he is probably one the best tackles coming out of this draft class as far as complete mechanics go. At 6'5", 335 lbs, he has the body to get the job done. If he continues to keep his body work in check as he's done, he will be able to instantly start on the Dolphins o-line on the opposite pole of Jake Long.
The majority of the "better" players hitting free agency are not the most reliable. Jared Gaither, Jamaal Brown and Willie Colon may all be contract-less in 2011, but it's due to their nagging injuries.
Pro Bowler Matt Light of the New England Patriots is 33 years old and is coming off his worst season to date.
Putting them aside, the only reliable right tackle prospect is Atlanta's Tyson Clabo, a 2011 Pro Bowl reserve. Chances are the Falcons will go out of their way to keep him on the team in order to keep their franchise QB Matt Ryan on his feet. It will all depend on whether Head Coach Mike Smith and the Atlanta brass decide to re-sign the offensive tackle.
Keep in mind: Clabo was an undrafted free agent, and has panned out to be one of the best players on the far right end of the offensive line around the league. Chances are he will be looking for big money come 2011.
Free Agent Choice: Tyson Clabo (Atlanta Falcons)
3rd/4th Round Choice: Joseph Barksdale (Louisiana State Tigers)
3rd/4th Round Choice: Marcus Gilbert (Florida Gators)
Best Choice: Joseph Barksdale
The blind side is covered, which is particularly relieving considered it's the most important end of the line. Right tackle isn't the biggest need, but could be addressed in the third or fourth. I've loved me some Vernon Carey over the years, but it's just about that time.
Joseph Barksdale will be a steal, as all he would need to do is continue on the path he is on now. He is a great student of the game, and will need to keep growing in that same light in order to become an effective blocker at the pro level.
Running Back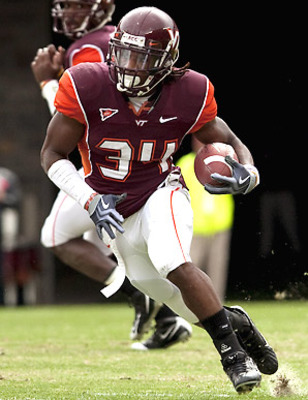 Here's when things get tricky.
All four of Miami's current running backs are up for free agency. As it's looking right now, there's a slim chance any of them will be returning.
With just a single 1,000+ yard season, and an injury stricken career, it is highly unlikely the Dolphins will re-sign Ronnie Brown. The former 2005 second-overall pick has done very little to make a name for himself in the NFL. He has struggled to stay healthy and has rarely been able to start all 16 games of any one of his six seasons. With that being said, chances are the one time Pro Bowler will probably be traded, or let go.
Ricky Williams will be 34 years old by the start of the upcoming season. He has already expressed a great deal of discomfort and disapproval of the way the current coaching staff has treated the players on the team, and despite saying he has not entirely ruled out returning to Miami, I would probably say enough is enough, and it's time to part ways.
Aside from those two, Lex Hilliard has offered very little since being signed to the Phins and Patrick Cobbs only really offers being a good backfield receiver and a great leader on the roster.
At this point, I can see both Ricky Williams and Lex Hilliard gone, while Patrick Cobbs may have a better chance of staying than Ronnie Brown. That leaves at least a two-player gap on the roster.
This year offers big running back talent for at least the first three rounds.
Mark Ingram from the Alabama Crimson Tide sits at the top of the pile. The 2009 Heisman Trophy winner is arguably the best prospect heading to the draft. He is 5'10", 215 lbs of head-on horse power, as he uses speed and strength to burst through offensive lines, as well as is a deadly runner coming around the edges.
He is probably the most complete running back prospect to go into the NFL since Adrian Peterson in 2007.
At 6'0", 230 lbs, Mikel LeShoure would be the second best biggest prospect in 2011. The junior from the Illinois Fighting Illini has big potential to become a power back in the NFL. He has great size with a decent speed to match, and could start on a couple of different teams in the league right now.
I'm almost certain he could be a late first-rounder, so the question is, will Miami be willing to use a first-round pick on a running back, and will it be Mikel LeShoure?
Virginia Tech's Ryan Williams will be one of the fastest backfield prospects of the year. He's not the bulkiest kid heading out, but he's got unprecedented speed. The Hokies aren't necessarily respected for their offensive line, so you could imagine how much work Williams put in at 5'10", 205 lbs.
The last player I'm pushing for is Jordan Todman from the UConn Huskies. He will probably be the fastest running back at the combine, and will more than likely shoot up the draft boards by the next month.
His biggest issue would be his size. Yes, he's as fast as they'll come, but he's only 5'9", 195 lbs. I like him, but considering the fact that he'll be up against some big-body tackles and linebackers, I would probably pass up on him if LeShoure or Williams are still available in the second round.
There's a few other highly-touted players coming out in 2011, but each have running style or body type issues I can't get over.
Daniel Thomas of Kansas State is considered to be the power back of the pack, but he runs dangerously upright, which could end his career very fast. Shane Vereen from California isn't the biggest, the strongest or the fastest, but he fares well in each of the three categories, although he seems to be best as a backfield receiver, and that just won't do.
DeMarco Murray from Oklahoma, has the ideal size, but isn't the fastest runner, nor does he possess those pure running back mechanics, so with that being said, I don't see him becoming a premier tailback in the NFL anytime soon.
That really only leaves Kendall Hunter from the Oklahoma State Cowboys. He has all of the technical attributes a running back should have, which include great footwork, cutting agility, strength, ball security, speed and burst. Despite all of that, he's very short at 5'7" and pretty stout at 199 lbs.
The only other successful running back in the NFL that I know of with this particular build is Maurice Jones-Drew of the Jaguars. It's a big gamble, and I don't know if Miami should run into taking it upon themselves to prove Hunter's case.
Moving along, things look pretty quiet in free agency. Two names jump at you immediately and those are DeAngelo Williams and Arian Foster. The Texans are NOT letting go of Foster, so let's keep it moving.
Williams of the Carolina Panthers was an All-Pro selection in 2008, and a Pro Bowler in 2009, but 2010 was cut short by a mid-foot sprain injury in late October, and he'd already notched up 381 yards at that point. He's a strong power back with speed and burst, and could easily replace either Ricky or Ronnie as an immediate starter.
There are a few other notable free agents, but none really worth Miami's attention.
Ahmad Bradshaw's contract is expiring, but he led the league in fumbles in 2010, so let's put a nice black stripe over his name with our markers. Cedric Benson has proven to be a re-one-and-done after his great 2009 comeback season and falling dramatically statistically in 2010.
Benjarvis Green-Ellis of the New England Patriots is also up for free agency, but let's face it: every time a Patriot leaves New England, 90 percent of them fail to produce at their new homes. Just ask Mike Vrabel, Corey Dillon, Kevin Faulk, Deion Branch, Ty Law, Rodney Harrison, Ellis Hobbs and countless others.
The only exceptions are Matt Cassel, Asante Samuel and Richard Seymour.
Darren Sproles from the San Diego Chargers is the only real "maybe" out there. He's a bit of a little guy, but he can run deep and beat out most of the competition, and is also a great return man. Still, like previously mentioned, he is small and isn't really a first or second option running back.
This would all depend on what Miami does during the free agency period. If they were smart, in which at times they prove not to be, Miami will go for two running backs this offseason, one in free agency and the other in the draft.
If they land a guy like DeAngelo Williams, or re-sign Ronnie Brown, then they should get an offensive lineman in the first, then a running back in the second if they manage to get a pick in that round.
Free Agent Choice: DeAngelo Williams (Carolina Panthers)
1st-Round Choice: Mark Ingram (Alabama Crimson Tide)
1st-Round Choice if moved back: Mikel LeShoure (Illinois Fighting Illini)
2nd-Round Choice: Ryan Williams (Virginia Tech Hokies)
2nd/3rd-Round Choice: Jordan Todman (Connecticut Huskies)
My Choices: Re-sign Brown & Cobbs and select Williams in the second.
At this stage in his career, Brown will sign for whatever money he is offered if he plans on staying with Miami, which chances are the Dolphins will make a deal with him.
Cobbs is seen as a staple of leadership in Miami, so I don't see him going anywhere either. All they would need to do is groom a young speedster like Ryan Williams, or maybe even Jordan Todman, and the offensive line will take care of the rest if it is put together properly in 2011.
Ryan Williams is actually be entering the combine with just about the same measurables as DeAngelo Williams did in 2006, so maybe the Phins could save themselves the money by developing their own college standout.
Wide Receiver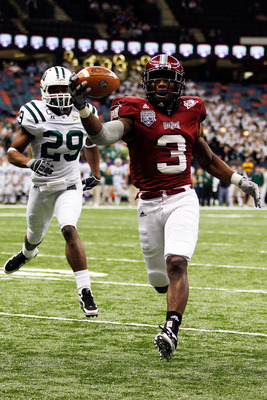 Chris Graythen/Getty Images
Miami doesn't desperately need a receiver, seeing as though they have two of the three kinds of receivers already; slot and possession. What do they need now? A speed receiver!
He doesn't need to be the fastest, nor the best, but he needs to be reliable. Brian Hartline is the fastest guy on Miami's roster, and by a league-wide standard, it's pretty embarrassing.
There are times where I see balls thrown right at the center of his chest and he drops them. NOTE: this is not a direct bashing of all dropped Hartline passes, as we are fully aware of who was throwing to him in 2010.
Miami needs a faster deep threat, as Hartline is not cutting it. Brandon Marshall wasn't as dominant as he'd been in Denver in his previous seasons, but he still had over 86 catches, including four 100+ yard games on a run-first team, which is very respectable. Davone Bess continued to be a reliable slot player, so this all leaves that killer deep out as a need for the Phins.
A.J. Green from the Georgia Bulldogs is the top prospect in 2011, but let's face it; he won't be around very long for Miami to even take a glance at him. Julio Jones of the Alabama Crimson Tide is considered to be the second best with his big, stocky body, but as a first-round prospect, Miami would be better off waiting later on in the draft weekend for a different receiver.
Jonathan Baldwin of Pittsburgh and Leonard Hankerson of Miami have the ideal size, mechanics and physical dominance, but are they the speed demons the Phins need?
At 6'5", Baldwin offers a big body over the majority of the league's best defensive backs with a projected under-4.50 40 time, while the 6'2" Hankerson had the best offensive Senior Bowl of 2011. At this point, Baldwin is seen coming in at the first round, while Hankerson's latest performance may have just propelled him into the first as well. The combine will make their fate.
The speedsters this year round up with the following gentlemen: Jerrel Jernigan of the Troy Trojans, the Maryland Terrapins' Torrey Smith and Titus Young of the Boise State Broncos.
I like Jernigan, but just to look at the situation realistically, he played in the Sun Belt Conference. He has some decent talent, but if I were choosing for Miami, I'd say Jernigan isn't worth much more than a third, if not fourth-round selection. He's deadly fast, but he wasn't necessarily burning top tier talent in his conference, but at least he offers kick return ability for the Phins' atrocious return game on special teams.
Torrey Smith has major potential. He may not be the best out there, but he can definitely hang on his own. I would personally take him myself, but Miami has bigger needs in the first two rounds and Torrey will be gone by any time after then.
Last is Titus Young. There's so much more I'd like to say, but his consistently rising stock will be courted before the Dolphins even get to blink.
Then there's the guys offered in free agency.
It starts with the biggest name, and that's Vincent Jackson.
HOLD ON. No, this guy is looking for money, and he doesn't offer much more than what Brandon Marshall already does for Miami. It would be nice for Miami to have two freakishly huge receivers, but if money is going to be thrown around (just like it was at $8 million a year for a head coach who has never led a team at the pro level), I'd rather it be for those positions addressed earlier.
Miami doesn't necessarily need Larry Fitzgerald, just someone who can compliment a short passing game with an occasional bomb.
Sidney Rice is good, but I don't see him coming to Miami, especially having a history of injuries. Regardless, he's a big part of the Minnesota franchise, so I doubt they are planning on letting him go.
Before anyone asks: THE JETS ARE NOT LETTING GO OF EITHER BRAYLON EDWARDS OR SANTONIO HOLMES.
Besides a bunch of other older guys, the last prospect who has that big play ability and burst is James Jones of the Green Bay Packers. He's not exactly ultra-reliable, as he does a good job of dropping passes, but he is faster than Hartline and would at least offer a major thing the team needs, and that is speed.
He will come less expensive than the rest, as he doesn't need to be a No. 1 receiver with the other players already on the roster.
Free Agent Selection: James Jones (Green Bay Packers)
2nd/3rd-Round Selection: Leonard Hankerson (Miami Hurricanes)
3rd/4th-Round Selection: Jerrel Jernigan (Troy Trojans)
Best Choice: Jerrel Jernigan
This isn't the most impacting decision for the Phins to make come draft weekend. To be quite honest, the receiver corps is probably one of the spots where Miami should feel most comfortable at on the offensive side of the ball, so snagging themselves a solid player with wheels in the third would suffice. Jernigan fits the description, and doesn't require an early pick to be selected.
Tight End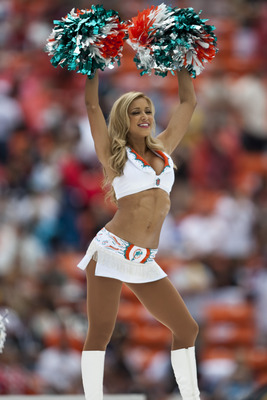 Kent Nishimura/Getty Images
Dallas Clark, Dustin Keller, Rob Gronkowski, Antonio Gates, Jeremy Shockey, Bo Scaife; those are the names of a few tight ends who managed to burn the Dolphins on several occasions in the last few years.
Wouldn't it be nice to have someone of that caliber on the roster?
Anthony Fasano is a sufficient player when it comes to downfield blocking as well as short slant passes. Still though, he lacks the explosiveness so many of the Phins adversaries have used against them.
The draft brings a few guys with pro-level talent, but seeing as though this isn't the most vital position Miami needs to cover, I'll keep it short.
Kyle Rudolph at 6'5", 265 lbs from Notre Dame is bar-none the best tight end in the draft. He has no "tweener" aspect about him, as you can clearly identify which kind of tight end he will be with his great speed, strength, arm length and reliable hands. He also has the body size to pound defensive backs away to cover for receivers, so there is no doubt in my mind this kid has the potential to be a premier tight end in the future.
As wonderful as that all sounds, some lucky franchise will have this kid on their roster, and it won't be Miami. He'll be gone way too early on, and Miami has other needs they need to desperately address.
Other than him, there is no other tight end that offers what the Phins are looking for, and so, they might take a look into free agency to see what useful players are available.
Even then, there really aren't very many top quality tight ends available for the 2011 market; the only two studs being Marcedes Lewis of the Jacksonville Jaguars and Zach Miller of the Oakland Raiders.
While Miller is the most viable option, he will be heavily courted and it will be done quickly, as Miami has other players they should have on their radar ahead of him. As for Lewis, he's more of what Anthony Fasano already is, or a lack thereof.
Told ya folks; short and sweet.
Free Agent Choice: Zach Miller (Oakland Raiders)
Draft Choice: Someone in the later rounds
My Choice: N/A
It's honestly not the most relevant position Miami needs to address. Fasano already covers half of it on his own, while the other half could wait a bit longer. If the Phins choose to go for someone, it might as well be in the later rounds, as resolving the issue or not is almost inconsequential.
In Conclusion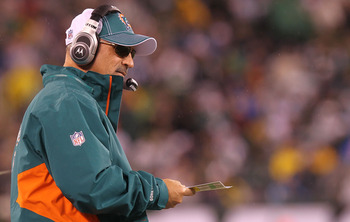 Nick Laham/Getty Images
So there you have it folks.
Chad Henne is clearly underperforming, but if he's ever known he only has one last shot to prove himself, it'll come in his final contract season next year. Could Miami end up getting themselves someone in the free agent market? Maybe, I would prefer they do, but personally, knowing the gents running the show, I doubt it.
Will they draft yet another second-round quarterback? They very well could, and probably will, in a way that will almost seem as though they are spiting me.
The offensive line needs all the help it can get, and the unsigned market offers an immense deal of talent which is too great to pass up. Logan Mankins must become a priority to sign, as he is a monster who can split the line at will. Clearly, it wasn't that the running backs had regressed, but that they just weren't getting any help from the boys on the line.
All four of Miami's beloved running backs are on the chopping block, and it seems as though at least two of them aren't coming back. While I don't see them making a big splash at a running back outside of the draft, selecting one will be a great look for the future, particularly in a speedster like Ryan Williams or Jordan Todman.
Miami should feel safe with their receiver situation; the bigger problem would be the passing situation. They are better than every offensive position on the roster, and really just need that fast, break out guy who can smoke cornerbacks with reliable hands to get the ball moving down field. This could also be someone with the potential to be a major factor in the return game, just like Jerrel Jernigan could do.
Tight end… we've been through this. Wouldn't hurt, but the lungs would keep breathing and the blood would keep flowing without them.
If I had Jeff Ireland's power as General Manager, I would first go all out to sign Logan Mankins, and then get Vince Young if I could after, because after all, at least it would be salvaging the running game the Miami coaching staff is so persistent on making its forte.
I would then head into the draft, move back if I could into the 20's for acquiring a second-round selection, select Mike Pouncey if available as a center first, choose Ryan Williams, if not Jordan Todman, as a running back in the second round, then try to go for Jerrel Jernigan and Joseph Barksdale in the later rounds.
Miami fans have to accept the lethal combination that was Chad Henne and Dan Henning set the Phins back a good year or two, and they need to redevelop a few spots they didn't accurately assess.
At least Miami would be able to fix the rushing issue on both the blocking and running aspect of it, and even give special teams the return man it needs while addressing the offensive need for a speed receiver.
This may or may not fix everything, but it's a good start. Miami needs a base, a foundation, and they've lost that over the years. I don't necessarily believe Tony Sparano is the greatest head coach, but Miami needs that stability in order to continue working with the same system, as opposed to hiring/firing guys every few years, putting the team in a constant state of redevelopment.
At the end of the day, there are pieces of the puzzles that can still be put together, and if the right decisions are made, they will be.
Keep Reading

Miami Dolphins: Like this team?