2011 NFL Mock Draft: New York Giants All Rounds (Post-Senior Bowl Update)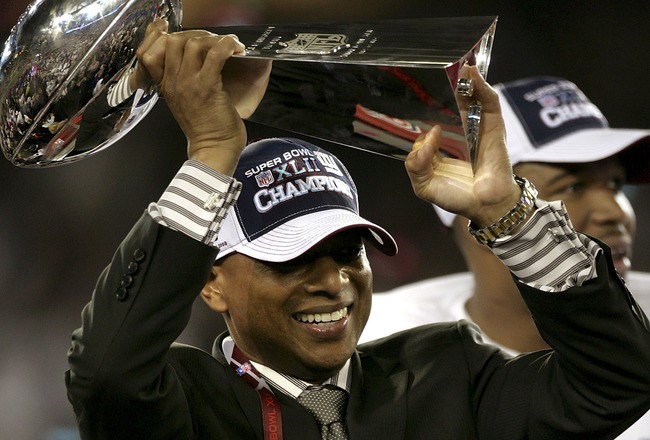 Donald Miralle/Getty Images
This is an updated version of my mock draft for the New York Giants with minor changes after the Senior Bowl.
Many guys at the Senior Bowl improved, while others hurt their draft stock, including one in particular that I had the Giants selecting.
The Giants have some holes to fill along the offensive line and at outside linebacker, so they will do what they've always done and look to get those players in the draft.
They also might have to find a replacement for Ahmad Bradshaw or Brandon Jacobs, as it's becoming evident that the Giants might not be able to justify keeping them both for financial reasons.
Feel free to comment on any of the selections and I'll be sure to elaborate on anything I didn't make clear in the slideshow.
Find Jeff covering the Giants on NY Giants Central, a product of Rant Sports.
Follow him on Twitter @NYG_Central
Round 1, Pick 19: Mike Pouncey, Guard/Center, University Of Florida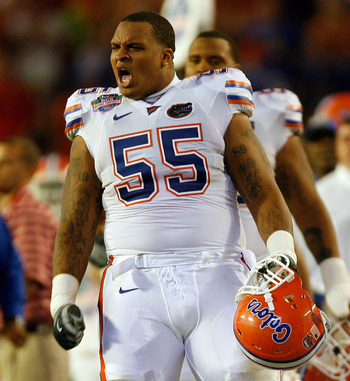 Eliot J. Schechter/Getty Images
Round 2, Pick 20: Ryan Williams, Running Back, Virginia Tech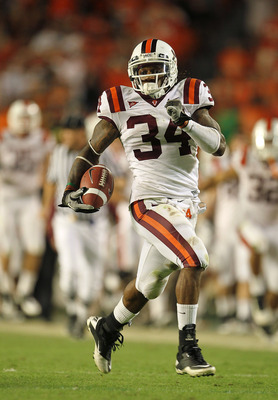 Mike Ehrmann/Getty Images
The days of Brandon Jacobs in the Giants' backfield could be numbered. His up and down season was well chronicled and it ended on a down note, despite him having a terrific second half of the season as the starter.
He cussed out reporters as he was cleaning his locker and the Giants organization, known for its desire to rid the team of guys who don't want to be there, may have to oblige Jacobs if he wants to leave.
If they happen to hold onto Jacobs, then they have the task of signing Ahmad Bradshaw to a new contract, which could prove to be difficult with how great his season was. The Giants already have a ton of money invested in other franchise players, so if it is about money, the Giants might not be able to match offers from other teams.
Either way, the Giants will more than likely be looking for a running back—DJ Ware is not the answer.
Ryan Williams had an amazing 2009 season as the sole back for the Hokies (1,655 yards, 21 touchdowns), but he split time in his final season. He will have to impress scouts at the combine if he wants to be considered a first round prospect, but at this point it's not out of the realm of possibility that he falls to this selection.
Round 3, Pick 19: Joseph Barksdale, Tackle, Louisiana State University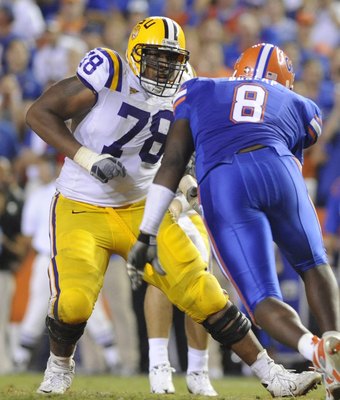 Al Messerschmidt/Getty Images
The reason I have updated this mock draft is mainly due to DeMarcus Love having a terrible Senior Bowl.
I originally thought the Giants could mold him into a starting left tackle because of his athleticism, but he just doesn't have the skills necessary to play tackle in the NFL.
The Giants are getting old all along the offensive line and if they select Barksdale they will have two young, talented tackles to build on with he and William Beatty, second round pick in 2009.
I originally had the Giants taking an outside linebacker here, but I thought they could still get that player in the fourth round or someone comparable to him if he is not there. There is only a couple of elite and talented outside linebackers and indications are that they will be gone by the beginning of the third round.
This pick all depends on how much they value Shawn Andrews as a viable option at left tackle. He protected Eli Manning well when he had the opportunity, but his run blocking was very bad.
Round 4, Pick 20: Casey Matthews, Linebacker, Oregon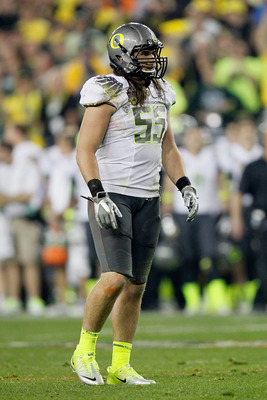 Kevin C. Cox/Getty Images
I could be expecting too much here because Matthews played great in the national championship game and had a good Senior Bowl, so whether or not he would be available here is still up in the air.
As of right now, people have him slated as high as a third rounder and as low as a fifth rounder, so we'll have to wait and see what people think after the combine.
He is listed at 232 pounds right now, so I believe he projects better as an outside linebacker than an inside linebacker like he is currently slated as. He is also very smart and has a good football pedigree, with almost every male in his family playing or having played in the NFL.
It's a dangerous game to pick someone based on who their brother or father is, but we got a Super Bowl MVP that way, so who knows.
Round 6, Pick 20: Ronald Johnson, WR/KR, Southern California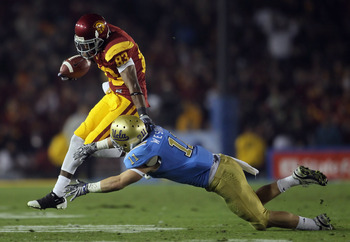 Jeff Gross/Getty Images
The Giants' return game was atrocious this season. They need to find someone whose job in college was to return punts because Darius Reynaud was an absolute bust and will probably be cut this offseason.
Ronald Johnson not only provides a solid option in the return game, but he could eventually be used as a slot receiver. He has great speed and quickness and does a good job of reading zone coverages.
He had 64 catches for 692 yards and eight touchdowns in 2010 to go along with 14.18 yards per return on punts with one score.
Round 7, Pick 19: Shaun Chapas, FB, Georgia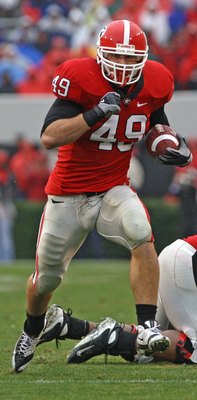 Mike Zarrilli/Getty Images
The Giants were forced to use a tight end as the fullback with Madison Hedgecock dealing with injuries (although he wasn't all that great even while he was healthy). Bear Pascoe did not disappoint, but the Giants would like to have him more as a blocking tight end and use his hands in the passing game at times.
If they choose to go in another direction, Shaun Chapas is a fine selection. He is a typical fullback for the NFL in that he was rarely used to carry the ball, but has good enough hands to be a threat in the receiving game.
Keep Reading

New York Giants: Like this team?