MLB Preview 2011: What Each AL Team Is Looking To Find Out This Spring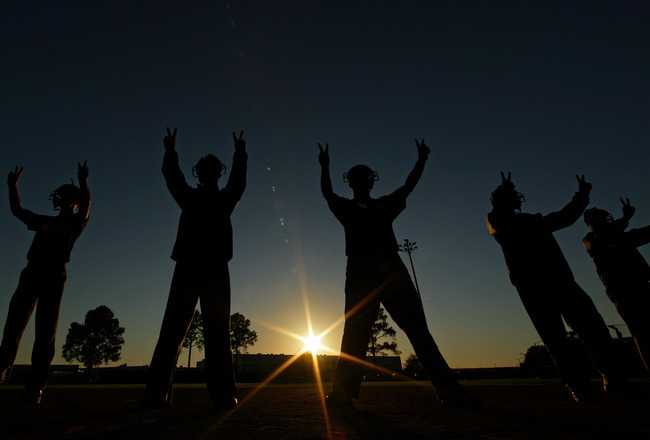 Al Bello/Getty Images
Every MLB team is coming to spring training with questions. No one knows exactly what their team will do. After all, the Phillies and Pirates are tied for the division lead on Opening Day. But let's try and uncover the single most nagging question in the minds of each American League organization as the sun rises on the 2011 baseball season, and players begin to arrive.
New York Yankees: Rotation?
Nick Laham/Getty Images
Everyone knows the Yankees' biggest question is their rotation. CC Sabathia is the ace. Phil Hughes is a young No. 2. AJ Burnett has the third spot. whether Bronx fans like it or not. They brought in washed-up stars Mark Prior, Bartolo Colon and Freddy Garcia to see if one can recapture past glory. They also have Ivan Nova, Sergio Mitre and (whether they want to admit it or not) Joba Chamberlain.
Personally, I think one of Prior, Garcia and Colon will have an awakening. Fantasy owners, no I don't know which one. If I was a Yankees fan, I'd be rooting for Prior and Chamberlain to get the four and five spots. But I expect Nova to get one, and Garcia to get the other.
Boston Red Sox: See Yankees
Mike Stobe/Getty Images
The Red Sox are in much the same place as their hated rivals. They have a bona fide ace in Jon Lester, an up-and-comer in Clay Buchholz, a has-been member of the 2003 Marlins championship team in Josh Beckett (Burnett was also on that team).
While the four and five spots for Boston seem to be locked down, John Lackey is coming off a 4.40 ERA and 1.419 WHIP. And Daisuke Matsuzaka has had ERAs of 5.76 and 4.69 in the last two seasons, with less than 10 wins each and 213 innings combined. With all the money they invested in the lineup this offseason, they failed to address the iceberg in front of the Titanic.
Tampa Bay Rays: How Much Can DamRam Contribute?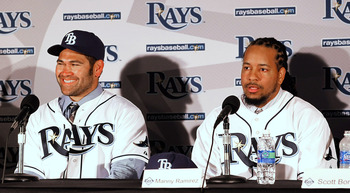 J. Meric/Getty Images
Manny Ramirez joked with Johnny Damon at the press conference announcing their signing with the Rays "I'll play 62 games, you play 100." How much can they help a team that lost Carlos Pena, Jason Bartlett, Matt Garza and Carl Crawford? I think Ramirez will do more than people expect, and can be had at a comparative bargain for fantasy owners. Damon will need to develop consistent power, as his legs are not what they used to be.
Baltimore Orioles: Is Brian Matusz Ready To Be an Ace?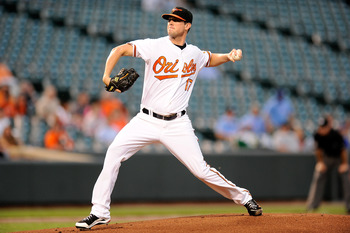 Greg Fiume/Getty Images
Baltimore went out and spent for a flashy new lineup, but that will mean nothing if their pitching can't keep the ball in the ball park. Brian Matusz had a 4.77 ERA going into the All-Star break. But over his last 11 starts, he had a 2.18 ERA and 1.03 WHIP plus seven wins. If he is still that guy, then he could win 15 games because the offense will score runs. Matusz heads a group of young stars-in-the-making with Adam Jones, Matt Wieters and Felix Pie.
Toronto Blue Jays: Who Will Score Runs?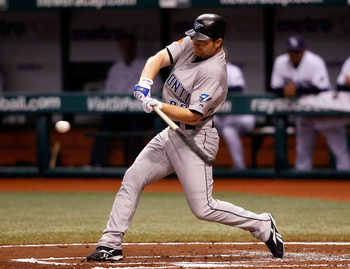 J. Meric/Getty Images
Jose Bautista will not approach 50 HR this season, or 100 RBI. I'd be stunned if he touched 40 or 90. With the trade of Vernon Wells and then the subsequent dealing of Mike Napoli, who will knock in runs? Expect Aaron Hill and Adam Lind to both be significantly better than their 2010 numbers. Both have 30 HR, 100 RBI within reach. The pitching looks good enough to keep them in ball games, if the hitters can give them run support.
Minnesota Twins: Is Justin Morneau Healthy?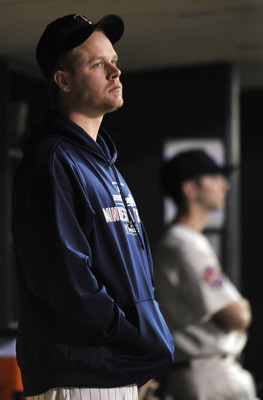 Hannah Foslien/Getty Images
Concussions are unpredictable. Some guys come back without any problem, and some are ruined for life. Morneau was on an MVP pace before going down. If he stays healthy, the Twins and White Sox will be battling for the AL Central all the way into October. If he isn't right, there just won't be enough thump in the lineup to get past Chicago and into the playoffs. Right now, reports out of Minnesota are that he is 100 percent and ready to get back to work. So take that, Twins fans, and keep praying.
Chicago White Sox: What To Do with Chris Sale?
Jonathan Daniel/Getty Images
The lefty phenom is expected to break camp with the major league club after a 1.93 ERA after 21.1 innings. He struck out 32, for a 12.3 K/9. There are people in Chicago clamoring for him to get a rotation spot, but with Gavin Floyd, John Danks, Mark Buehrle, Jake Peavy and Edwin Jackson, who gets the boot? He is more likely to start as the setup man, and likely move to the closer role at Matt Thronton's first sign of trouble.
Detroit Tigets: Which Rick Porcello Will They Get?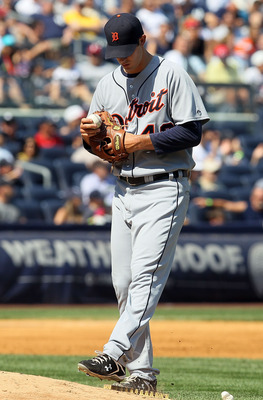 Jim McIsaac/Getty Images
Justin Verlander is an ace, and Max Scherzer looks like the solid No. 2 they've been looking for, but the Tigers could really become a force in the AL Central if Rick Porcello grows from his 2010 struggles.
In 2009, 20-year-old Porcello burst onto the scene with a 14-9 record and 3.96 ERA. Last season, he struggled mightily, was sent to AAA and then returned to at least make his numbers more respectable, at 10-12 with a 4.92 ERA. He's only 22 years old. There is 15-win, 3.50 ERA potential here.
Cleveland Indians: Can They Get a Full Season out of Grady Sizemore?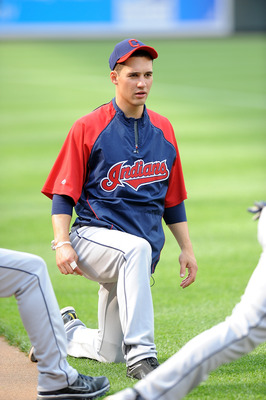 Greg Fiume/Getty Images
Contrary to popular belief, Grady Sizemore is only 28 years old, and therefore young. Between ages 22-25, he recorded four 20/20 seasons, including one massive 33/38 season at 25 years old. Cleveland is saying he is 100 percent healthy. If that's true, and stays true for 140-plus games, there is no reason to think he can't return to the rarefied 30/30 air. Considering the rest of Cleveland's organizational situation, he could make an interesting trade deadline rumor.
Kansas City Royals: When Will the Prospects Be Ready?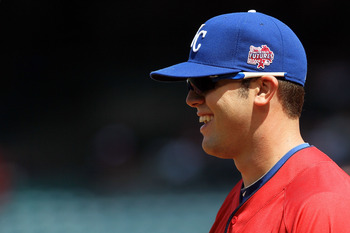 Stephen Dunn/Getty Images
The Royals minor league system is loaded. Mike Moustakas is the top third base prospect in baseball. John Lamb is one of the top five pitching arms in the minors. Eric Hosmer is largely considered the top first base prospect. The list goes on, but with Greinke shipped off, the question is when will they be ready? The people of Kansas City are ready to usher in the new generation, but it may be 2012 before the patience begins to pay off.
Texas Rangers: Where Can They Get the Most for Michael Young?
Ronald Martinez/Getty Images
The answer is looking like "nowhere." Ultimately, this isn't the NBA where a player can demand a trade and be so destructive to a team's success that they must be traded. Young isn't important enough to Texas for him to force a trade. They are more likely to deal him at the All-Star break. If the Rangers are in the race, they might be able to get a pitcher for him. If they are out of it, they should gather a prospect or two.
Oakland A's: Who Will Knock In Runs?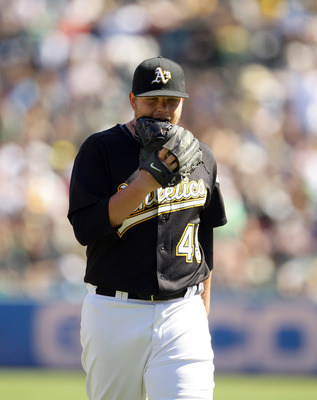 Ezra Shaw/Getty Images
Brett Anderson, Trevor Cahill, Gio Gonzalez and Dallas Braden are a nice 1-4 combo, but where will the offense come from? There isn't a single scary bat on the projected Opening Day lineup. This might be a situation that cannot be solved within the organization. There are still bats on the trading block, like Michael Young, who could be attractive.
Los Angeles Angels: Who Will Protect Kendry Morales?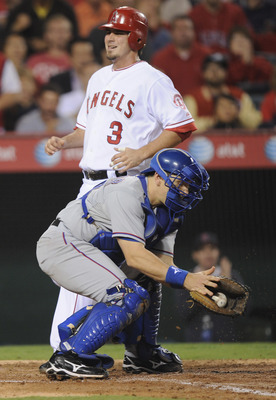 Harry How/Getty Images
They've been waiting for Brandon Wood to arrive for three years. Every time they bring him up, he hits like a scared little boy. He might get one more chance to erupt, with the rest of the lineup lacking significant thump, and Torii Hunter aging beyond his mid-30s. I was a buyer on Wood last season...I'm a seller this year.
Seattle Mariners: When Will Pineda, Ackley and Smoak Be Ready?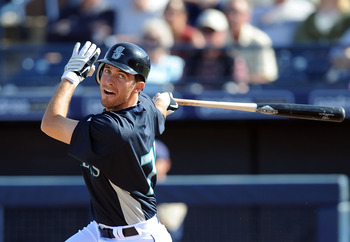 Lisa Blumenfeld/Getty Images
The Mariners are loaded with youth that might be ready to make an impact. Justin Smoak struggled with his first cup of coffee in the majors, but has some pop and might mature into a run-producer. Michael Pineda is expected to serve as Felix Hernandez' No. 2 for the next decade, and, while he might start in AAA, he should ascend to the middle of the rotation by the end of 2011. Dustin Ackley is considered the top second base prospect in baseball. He could steal the starting job by midseason.
Keep Reading