MLB Power Rankings: Cliff Lee and the 20 Best No. 2 Starters in MLB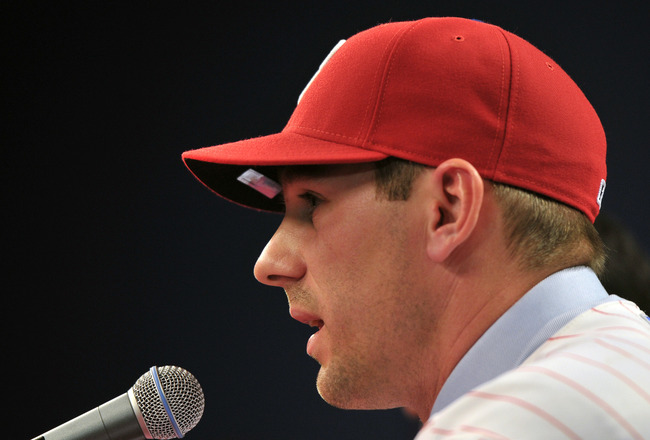 Drew Hallowell/Getty Images
Much of the off season pitching buzz has revolved around the return of Cliff Lee to Philadelphia. Normally a staff ace, Lee will be in unusual territory with the Phillies as the No. 2 starter.
The move to the No. 2 spot is necessary as the Phillies already have a No. 1 pitcher. Roy Halladay is the current National League Cy Young winner and will fill that role.
The following list comprises the 20 best projected No. 2 starters in baseball for the 2011 season.
No. 20: James Shields, Tampa Bay Rays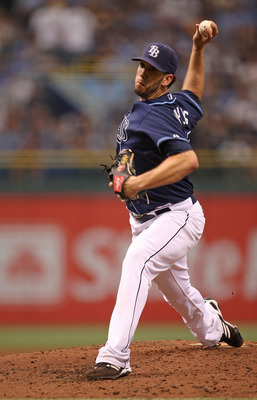 Mike Ehrmann/Getty Images
2010 was not the best year for James Shields. He saw his ERA rise to a career high 5.18 while posting a 13-15 losing record.
Shields tried too hard to strike batters out and, as a result, gave up 34 home runs. That ranks as second most in all of baseball.
So 2010 should serve as a learning experience for the 29-year-old pitcher. In 2011, the Rays should see Shields bounce back to form.
No. 19: Ricky Nolasco, Florida Marlins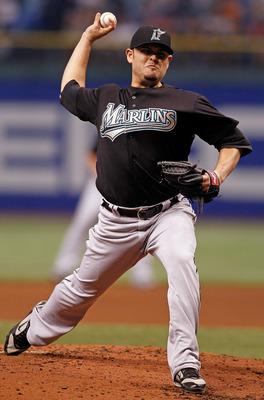 J. Meric/Getty Images
Ricky Nolasco had an interesting season for the Marlins in 2010. His walk to strike-out ratio was an amazing 4.45. Despite that statistic, Nolasco struggled to keep runs off the board and ended his season with a 4.51 ERA.
The season ended prematurely for Nolasco when he tore the meniscus in his right knee. He underwent surgery and missed the final month of the year.
However, it appears Nolasco's recovery has gone well, and he should be ready for spring training. If healthy, Nolasco should be a solid No. 2 starter for the Marlins in 2011.
No. 18: Edison Volquez, Cincinnati Reds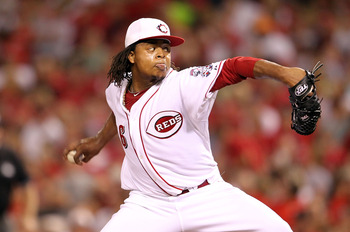 Andy Lyons/Getty Images
At the start of spring training, Edison Volquez will be nearly two years removed from a Tommy John surgery that shut him down for most of 2009 and part of 2010. In 12 games last season, Volquez posted a 4.31 ERA.
Just recently, it was revealed that Volquez turned down a four-year contract offer from the Reds and opted instead to sign for just one year. But there is a method behind his madness.
If Volquez can repeat a performance like he had in 2008, where he recorded a 3.21 ERA and 17 wins, he stands to earn a lot more money starting in 2012.
While this is a risk for Volquez, it does give him enormous incentive to pitch well in 2011.
No. 17: Jorge De La Rosa, Colorado Rockies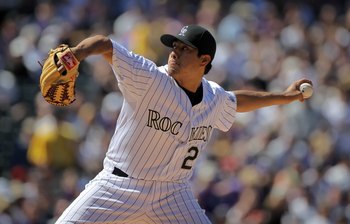 Doug Pensinger/Getty Images
With a fresh two-year deal under his belt, Jorge De La Rosa will enter the 2011 season relaxed and sure of his role with the Rockies. While De La Rosa pitched only 20 games in 2010 due to a finger injury, he still posted a career best 4.22 ERA and a 1.32 WHIP.
The two-year deal shows the Rockies' confidence in the young pitcher. They obviously see potential for improvement with De La Rosa, who still has some work to do with his pitch control.
If De La Rosa can build upon the foundation he has set and stay healthy, 2011 should be a productive year for him.
No. 16: Gavin Floyd, Chicago White Sox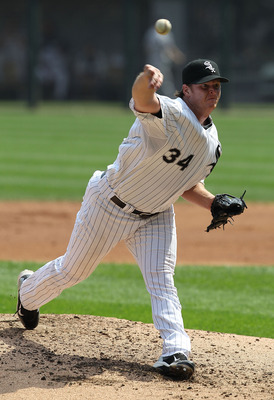 Jonathan Daniel/Getty Images
At 28 years of age, Gavin Floyd is still developing . Amidst many ups and downs during the 2010 season, Floyd persisted and wound up with a 1.37 WHIP and a 4.08 ERA.
After a horrible couple of months in April and May, the fact that Floyd was able to pull it together is a good sign for the White Sox. However, he did tire at the end of the season and was shut down early with shoulder soreness.
If Floyd can stay healthy and prepare well for the season, this should be a break-out year for him.
No. 15: Dan Haren, Los Angeles Angels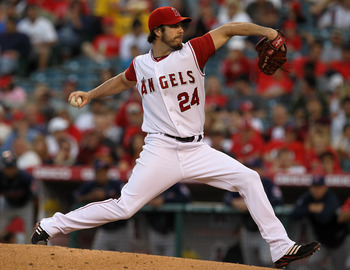 Stephen Dunn/Getty Images
A three-time All-Star, Dan Haren struggled at the start of the 2010 season with Arizona. But after a midseason trade to the Angels, Haren regained his form.
Pitching second behind Jered Weaver, Haren will be anxious to build on his second-half performance last year. The American League West hosts several pitcher-friendly parks, which should also help.
Haren should be able to tear through the AL West, including his former team, in 2011.
No. 14: Derek Lowe, Atlanta Braves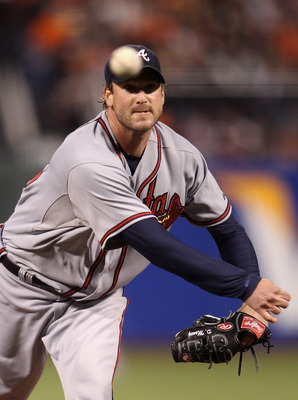 Ezra Shaw/Getty Images
Entering his 14th full season, veteran Derek Lowe should still have some spring in his 37-year old step. In 2010, Lowe was a integral part of the Braves pitching staff as he collected 16 wins.
Lowe is known as a workhorse. He is one of only two active players through the 2010 season who has played more than 12 seasons without a trip to the disabled list. The other player is Livan Hernandez.
There is no reason to think that streak will not continue. Lowe will be a solid second starter for an already powerful Braves rotation.
No. 13: Wandy Rodriguez, Houston Astros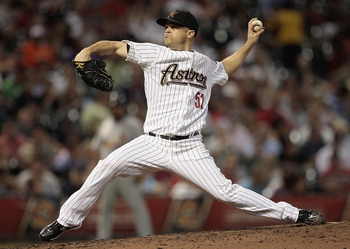 Bob Levey/Getty Images
This offseason, the Astros decided to lock up their No. 2 starter for three more years. The team has been happy with the performance of Wandy Rodriguez and hope to see him build on his recent success.
Although he ended with a losing record of 11-12, Rodriguez ended the 2010 season with a 3.60 ERA and 1.29 WHIP. The losing record was mostly due to a lack of offensive support.
This should be an interesting season for the Astros with Brett Myers, former closer and sometimes hot-head, as the No. 1 and Rodriguez as the No. 2 J.A. Happ rounds out the top three, and he should also have a good season.
No. 12: Yovani Gallardo, Milwaukee Brewers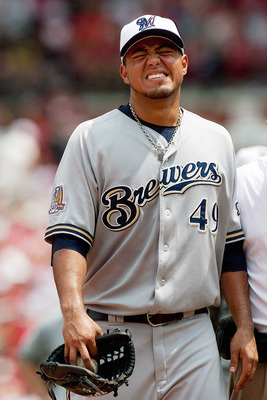 Dilip Vishwanat/Getty Images
With the pick up of Zack Greinke this offseason, the Brewers will likely place Yovani Gallardo in the second spot in the rotation which also includes Shaun Marcum, Randy Wolf and Chris Narveson.
Gallardo posted a 14-7 record with a 3.84 ERA in 2010. The win total was a career best for him.
During spring training, Gallardo will turn 25 years old and still has his best years ahead of him. And Gallardo is a double threat.
For the 2010 season, Gallardo picked up his first career Silver Slugger award after batting .254 with four home runs and 10 RBI. No other pitcher hit more than one homer that season.
This young player has a ton of potential and will be fun to watch in 2011.
No. 11: Daniel Hudson, Arizona Diamondbacks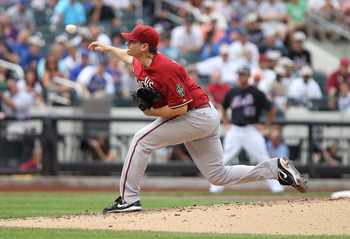 Nick Laham/Getty Images
Righty Daniel Hudson had an outstanding rookie campaign, splitting time between the White Sox and the Diamondbacks. In 11 starts after being traded, Hudson posted a 7-1 record with a 1.69 ERA.
While it is not etched in stone, Hudson will likely be named the No. 2 starter by the start of the season. As a young player, he is not ready to carry the weight of a No. 1 just yet.
The only question is will Hudson continue where he left off or fall victim to the sophomore slump? The D-Backs are hoping it is not the latter of the two outcomes.
No. 10: Clayton Richard, San Diego Padres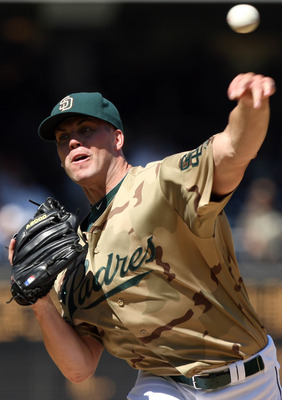 Donald Miralle/Getty Images
Overall, Clayton Richard had a solid 2010 season, posting a 14-9 record and 3.75 ERA. However, he was on a bit of a downhill slide after the All-Star break.
The Padres will be counting on Richard to remain consistent throughout the year. Still young and battling control issues, Richard has some things to work on.
Matt Latos will take the No. 1 slot in the rotation with Richard pitching behind him. If Richard can improve against right-handers and stay even-keeled, he should be a very effective No. 2.
No. 9: Colby Lewis, Texas Rangers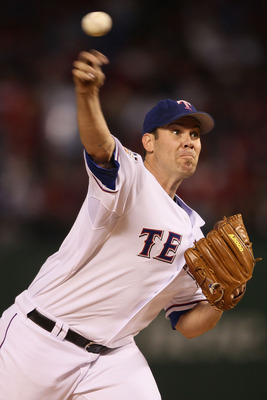 Elsa/Getty Images
After spending two years pitching in Japan, the Rangers were not sure what they were getting in Colby Lewis last season. Surprising many, Lewis ended the season ranked among the AL's top 10 in strikeouts and WHIP.
In the postseason, Lewis further cemented his position with the Rangers by going 3-0 with a 1.71 ERA.
Lewis' comeback was improbable after spending parts of five seasons from 2002 to 2007 in the majors with little success. But the Rangers are now sold on Lewis who should start the season as their No. 2 starter.
No. 8: Francisco Liriano, Minnesota Twins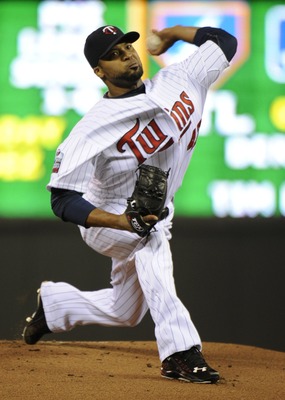 Hannah Foslien/Getty Images
Despite recent trade rumors, Francisco Liriano is still in line to be the Twins' second starter in 2011. After going 14-10 with a 3.62 ERA last season, the Twins should probably hang on to this talented lefty.
Liriano's career was off to a shaky start when he underwent Tommy John surgery in 2006. But at only 27 years of age and after a good 2010 season, it appears that Liriano is on his way up.
If the trend continues, Liriano will be a formidable number starter.
No. 7: Phil Hughes, New York Yankees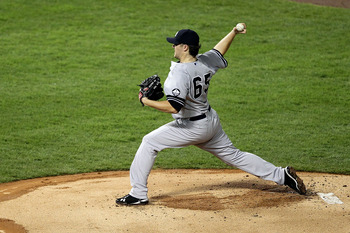 Ronald Martinez/Getty Images
In his first full season as a starter, Phil Hughes impressed with 18 wins and a 1.25 WHIP. Pitching behind C.C. Sabathia is no small feat, but Hughes should be able to pull it off.
And with the departure of Andy Pettitte and the downward spiral of A.J. Burnett, the Yankees need Hughes to step up and dominate. The biggest concern for Hughes will be staying healthy and in shape.
As this 24-year-old develops more arm strength and is able to go further into a season without wearing down, Hughes should have a bright career ahead of him.
No. 6: Chad Billingsley, Los Angeles Dodgers
Stephen Dunn/Getty Images
Twenty-five-year-old Chad Billingsley showed much improvement in 2010. While his 12-11 record was identical to his 2009 record, Billingsley lowered his ERA to 3.57 and also improved with a 1.28 WHIP.
The only major issue Billingsley ran into was going deep into games. In only 11- of- 31 starts did Billingsley go past six innings.
Pitching behind the younger Clayton Kershaw should be incentive enough for Billingsley to build on his 2010 performance.
No. 5: Max Scherzer, Detroit Tigers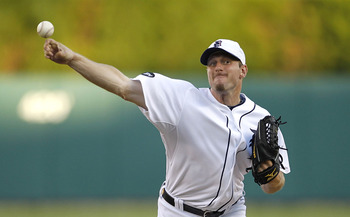 Leon Halip/Getty Images
Sometimes a little incentive is all a player needs to break out of a slump. Demoted to the minors after an awful April and May in 2010, Max Scherzer came back with a vengeance after only two weeks.
Thumbing his nose at the critics, Scherzer proved he is a major league pitcher by posting a 2.46 ERA in his final 23 starts of the season. Not only did Scherzer show he belongs, but he has also earned himself a promotion in the rotation.
Scherzer should start the 2011 season in the second spot of the rotation behind staff ace, Justin Verlander.
No. 4: Chris Carpenter, St. Louis Cardinals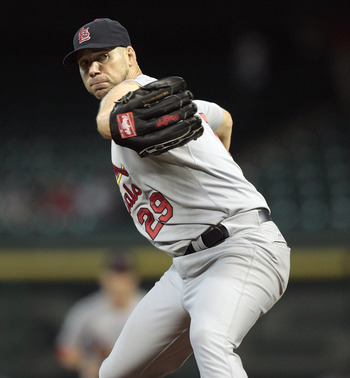 Bob Levey/Getty Images
Chris Carpenter started the 2010 season as the No. 1 pitcher but was eventually displaced after Adam Wainwright surpassed his performance.
But while Carpenter may start the year as the No. 2 starter, this is still good news for the Cardinals. With a 16-9 record and 3.22 ERA last season, Carpenter is still an amazing pitcher.
And of course, there is nothing better than a little competition to keep a pitcher on his toes. The one-two punch of Wainwright and Carpenter can be nothing but positive for the Cards.
No. 3: Matt Cain, San Francisco Giants
Ezra Shaw/Getty Images
On a different team, Matt Cain might be your staff ace. But with the Giants' Tim Lincecum leading the pack, Cain is the perfect No. 2.
At only 26 years of age, Cain looks like a seasoned veteran on the mound. His stingy 3.14 ERA and 1.08 WHIP are part of what brought the Giants a World Championship last year.
Cain has also pitched at least 200 innings each year for the past four seasons. His durability and youth are just two more reasons Cain is an indisputable No. 2 starter.
No. 2: Clay Buchholz, Boston Red Sox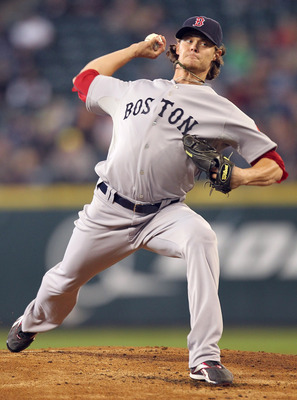 Otto Greule Jr/Getty Images
Earlier this off-season, Clay Buchholz was named the Red Sox's co-Pitcher of the Year, along with No. 1 starter Jon Lester, by the Boston Chapter of the Baseball Writers of America. So while he is the No. 2 starter, some may think of him more as No. 1-B.
With 17 wins and a miniscule 2.33 ERA last season, Buchholz is part of the reason why the Red Sox have one of the most dominant pitching staffs in the majors.
Buchholz has a rare arsenal of four different pitches, making him difficult for hitters to read. Going into only his fourth major league season, Buchholz still has time to improve upon an already impressive resume.
No. 1: Cliff Lee, Philadelphia Phillies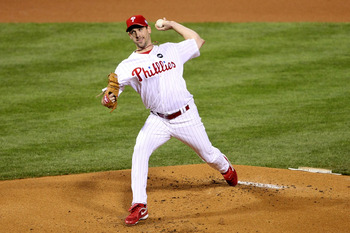 Al Bello/Getty Images
Nothing has warmed the hearts of Phillies fans this offseason quite like the passing mention of Cliff Lee's name. Thrilled to bring back the fan-favorite after foolishly trading him before the 2010 season, the Phillies are sure to reap the rewards of their efforts.
Normally considered a staff ace, Lee will have to settle for second fiddle in 2011 behind multi-Cy Young winner Roy Halladay. But neither Lee nor Halladay find this to be an issue.
Lee had a tough start in 2010 after the shock of being traded, being falsely accused of purposely throwing over a batter's head in spring training and then and injury which delayed his start of the season. Lee was later traded from the Mariners to the Rangers and ended the year with a 3.18 ERA and a superb 1.00 WHIP.
Lee is very happy to be back in Philadelphia where he feels most at home. And as part of a rotation that boasts Halladay, Roy Oswalt and Cole Hamels, Lee and his fellow pitchers are sure to strike fear into the hearts of their opponents in 2011.
Keep Reading