MLB Trade Talk: Why Philadelphia Phillies Should Ponder Jimmy Rollins Move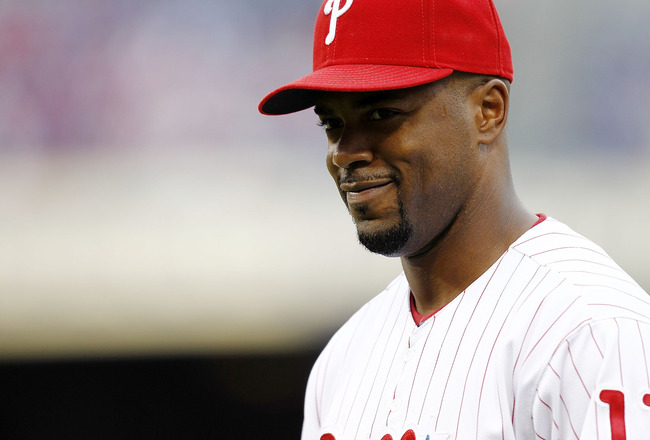 Jeff Zelevansky/Getty Images
Many believe Jimmy Rollins just doesn't have it anymore and has not constructed a good season in a couple years. Sometimes it seems as though Rollins isn't interested in sticking around in Philadelphia.
But as Phillies fans, we worry about the situation. We think, "What is the best thing to do here?"
Rollins has been a fan favorite for quite some time and has developed a pedigree as one of the best shortstops in the league here.
So I ask you, Phillies fans, should the team trade Rollins?
I have decided to analyze the situation and look at both sides of the spectrum. We will look at the reasons why it is beneficial and reasons why it's not. In the end, we'll see if the pros outweigh the cons.
10. He Is a Great Fielder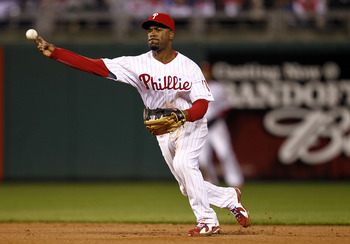 Jeff Zelevansky/Getty Images
One thing that Rollins flourishes in is fielding. He is a three-time Gold Glove winner in his career with the Phillies.
His fielding also plays a huge effect in every game the Phillies play. There are very few shortstops in the league who's fielding ability is as good as Rollins.
Barely any.
Rollins is also a smart fielder. He does all the right things when he's on the field.
He knows what do no matter what the case is. For example, with runners on first and third, does he go to home or second base? Better yet, does he get the double play because he is just that good?
If he were to leave Philadelphia, his fielding will be missed.
9. We Would Miss His Base Running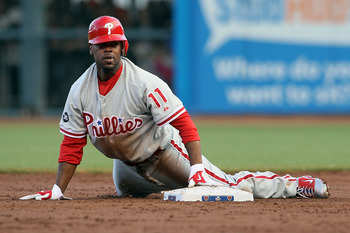 Justin Sullivan/Getty Images
Rollins is arguably the best base runner in the league. He may not record the most steals every season, but he is almost perfect when attempting to steal.
His great speed certainly helps.
Rollins has been in the league for 10 years and is now 32 years old, yet he still holds the speed as if he were 20. But the main thing is, he always knows when to go.
If you watch closely, he's watching the pitcher's elbow. The second it moves, he's off to the races. He makes it out to be much easier than it is.
Excluding last year, when he only played 88 games, and his rookie season, Rollins has recorded at least 30 stolen bases all but once. Four of those times he broke 40.
His base running comes in handy all of the time. A perfect example is when there are two outs and he's the only runner at first base. He steals second and once the batter hits a single, Rollins is strolling on home.
He does this all of the time. His base running is very helpful and will be missed if the Phillies trade him.
8. Playoff Experience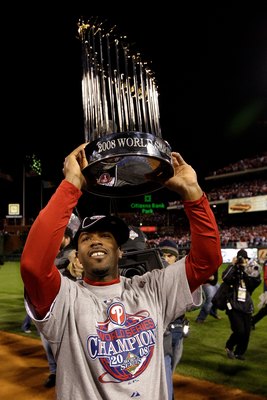 Pool/Getty Images
It feels as if it were just yesterday that the Phillies won the World Series. As a Phillies fan, I want this to happen again and it better happen again this season (anything else is a disappointment).
During the 2008 World Series, Rollins hit two doubles, recorded five hits and scored four runs (second most behind Chase Utley).
He has also came up clutch in other situations.
His postseason stats may not be the greatest, but we can't say that he doesn't know what is coming his way.
7. He Hasn't Had Time To Get Into a Groove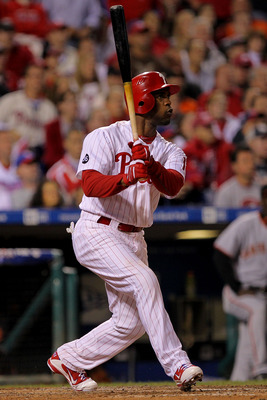 Doug Pensinger/Getty Images
In baseball, every player needs a good span of time to get into a groove.
Unfortunately, Rollins has been hit with several injuries over the years. Therefore, he hasn't played for a big enough span of time to enter his groove and play as good as he is capable.
Rollins hasn't played a full season since 2007. During that year, he hit just under .300, had 30 home runs, and 94 RBI.
That same year he also put himself among the ranks of players like Willie Mays, by recording at least 30 doubles, 20 triples, 30 home runs and 30 stolen bases.
Over the years, he has established himself as an extremely versatile player.
6. He's a Fan Favorite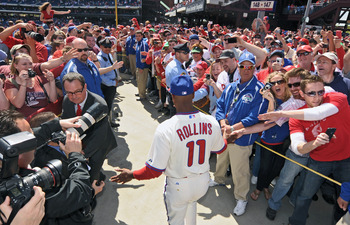 Drew Hallowell/Getty Images
What can I say?
He's loved by almost every single Phillies fan out there.
5. He's On The Decline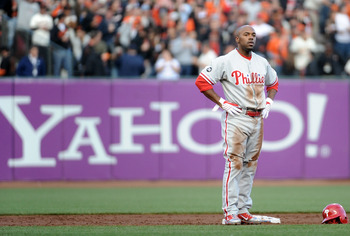 Harry How/Getty Images
Now we will transition into reasons why the Phillies should trade him. Let's get started.
Rollins has been on the decline over the past years of his career.
Although he has been hurt, you can see signs in parts of the game where he has simply lost a step.
Last season, Rollins hit for an average of .243, hit just eight home runs and just 41 RBI. Again, he did play just 88 games because of injury, but let's take a look at a full month in which he played.
In the month of August, Rollins played the entire month and hit .236.
As a leadoff guy, you need to have a high average to put runners in scoring position early on in the game.
4. He's Getting Old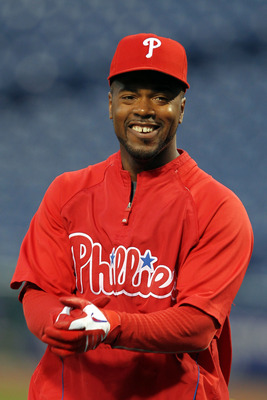 Al Bello/Getty Images
Like I stated earlier, Rollins is 32 years old and entering his 11th season in the league.
He is a man of experience, but a man whose ability is slowly escaping from him.
There comes a point in a player's career when it's time to stop. Now, I don't think he will be like Jamie Moyer, so Rollins time is definitely up soon.
3. He Is Inconsistent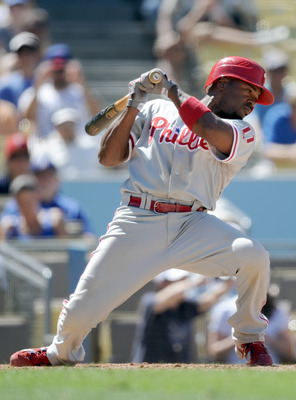 Harry How/Getty Images
Not only is he inconsistent playing wise, but he is also inconsistent in staying healthy.
Last season, Rollins missed almost half of the season and was out for five different spans of time. He was always off and on, off and on, off and on.
It got kind of annoying.
If he wants to remain a Phillie, he has to show some consistency. He always has super hot streaks, but then it's followed by a super cold streak.
For an everyday leadoff hitter, that is not something you want.
2. He Will Demand Too Much Money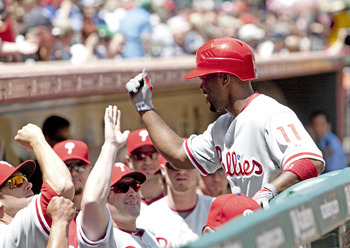 Bob Levey/Getty Images
Rollins has spent his entire career as a Phillie. He has developed a pedigree as one the best in the game at his position.
Because of this, he may demand too much money.
After being with the team for so long and developing long relationships, he will want a raise despite the fact he is getting old.
It may not be a huge raise, or any big upgrade at all, but either way, he will be asking for money that the Phillies may not be willing to spend.
1. Will They Be Able to Re-Sign Cole Hamels?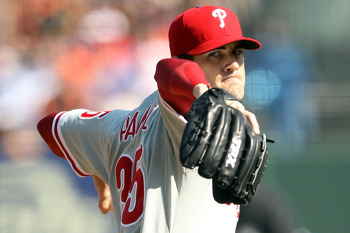 Ezra Shaw/Getty Images
This is by far the biggest reason on why they would get rid of Rollins.
Although the Phillies have aces in Roy Halladay, Cliff Lee and Roy Oswalt, securing Cole Hamels is a must. Just take a look at the other pitchers' ages.
Halladay: 33
Lee: 32
Oswalt: 33
All of these guys are at least 32 years of age. As one can tell, they are getting up there in age. In just a couple years, their time will be up and the only one they will have left is Hamels.
For this reason, the Phillies must re-sign Hamels long term and for this reason, it may just tempt Ruben Amaro and the front office to trade Rollins.
Should The Phillies Trade Rollins?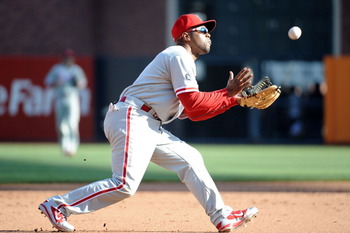 Harry How/Getty Images
The Phillies have clearly put themselves in an awkward situation here.
If it were up to me, I would give Rollins one more season to see if he still has it. However, the Hamels situation is what really sparks the controversy.
I'm a huge fan of Rollins, but since Hamels is the only young pitcher, he is the higher priority.
Having said that, the Phillies should attempt to trade Blanton in order to free up some money. The fifth starter could be a competition with Kyle Kendrick and Vance Worley.
That should be enough to keep both players.
It will be interesting to see how things pan out with all of these rumors lately. But Phillies fans and the players should be focused on one thing and one thing only.
And that is bringing home another World Series.
Keep Reading

Philadelphia Phillies: Like this team?