Albert Pujols Contract All-Stars: A Full Lineup for Less Than $30 Million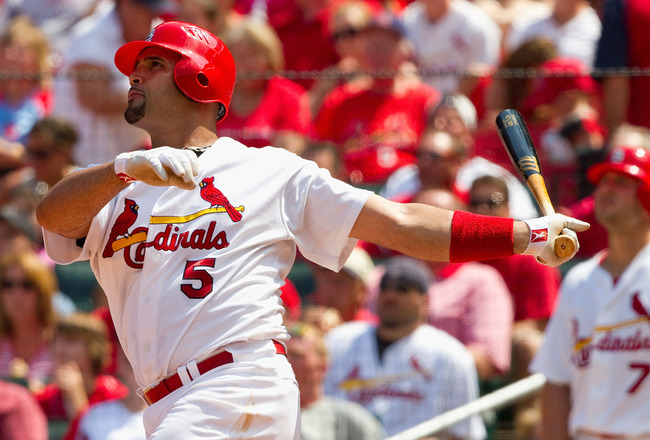 Dilip Vishwanat/Getty Images
Albert Pujols plays his home games in the shadow of the gateway to the American West, but with only a few days left before the deadlin, Pujols imposed upon negotiations for a contract extension, he and the St. Louis Cardinals are as far apart as the East is from the West.
That gulf likely will leave Pujols without a contract for 2012 entering the season, and could well make him a free agent next winter.
If he makes it to those greener pastures, Pujols has a real chance at some very real green—
$30 million annually over a minimum of eight years is the asking price that has set him so much at odds with his longtime employer. Pujols is the best hitter of his generation and may be the best all-around player of the past two decades.
Still, is he worth the rough equivalent of the Kansas City Royals' projected 2011 payroll?
Obviously, that question distorts the real issue: Pujols is the best player in the game, and in the modern baseball economy, that means he has the right to pursue the league's richest contract. Since Alex Rodriguez (10 years and $275 million) set that bar pretty high in 2007, Pujols will at least approach $30 million as an average annual salary.
Still, if that number doesn't pop your eyes enough in isolation, consider this lineup of nine players who can be had in 2011 for less than $30 million.
A Procedural Note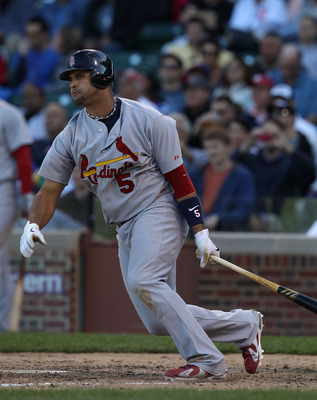 Jonathan Daniel/Getty Images
The goal is to construct the best possible offensive lineup for less than $30 million entering 2011. The players' salaries for this season only went into the equation; many of these guys will make more in average annual value over the lives of their current contracts. Still, for 2011 anyway, all of them can be had for less than what Pujols wants per annum.
To keep things interesting, I limited myself in the following ways:
1. Only two players (one infielder and one outfielder) could earn league-minimum salaries—
one in the field and one in the outfield.
2. Though Pujols plays in the National League, I formulated a nine-man lineup including a DH.
Is what follows the best such lineup to be had? Is Pujols worth his asking price? Use the comments thread to voice your opinion on either issue.
1. Dustin Pedroia, 2B, $5.5 Million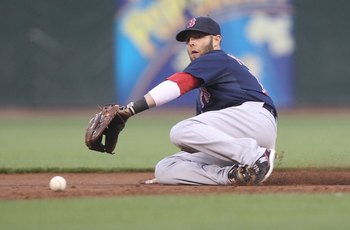 Jed Jacobsohn/Getty Images
He won the AL Rookie of the Year in 2007 and the AL MVP in 2008. When healthy, Pedroia is the best second baseman on the junior circuit and one of the two best in baseball.
He may score 120 runs in the spectacular Boston batting order this season, but he will earn only $5.5 million for his effort.
2. Jason Heyward, RF, $0.45 Million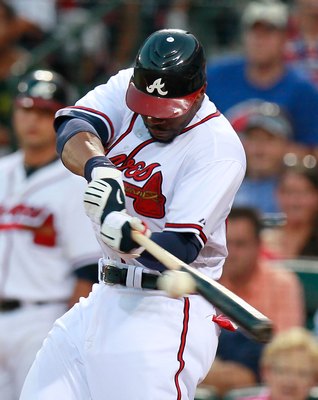 Kevin C. Cox/Getty Images
All Heyward did as a rookie was walk 91 times, post a .393 on-base percentage and finish sixth in the league in Win Probability Added. He earns the nod as the minimum-salary outfielder thanks to his huge power potential and supernal plate discipline.
He didn't burst onto the scene quite the way Pujols did, but if Pujols has an heir apparent in the game today, Heyward is the man.
3. Ryan Braun, LF, $4 Million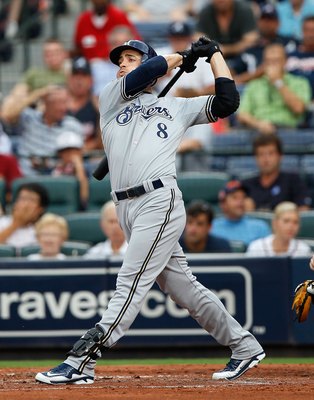 Kevin C. Cox/Getty Images
Few players at any salary level provide Braun's healthy mix of the ability to hit to all fields for average, good speed, a strong outfield throwing arm and elite power. Braun might be the best all-around left fielder in baseball.
Matt Holliday and Carl Crawford are probably better players, but each makes over $15 million per season. Braun will make $4 million in 2011.
4. Joey Votto, 1B, $5.5 Million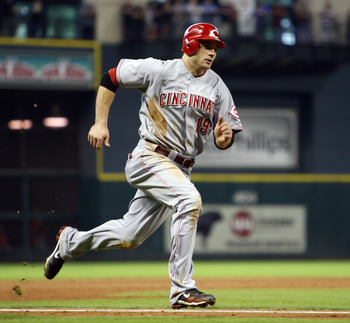 Bob Levey/Getty Images
Among first basemen, only Pujols himself is more complete than Votto. The 2010 NL MVP has terrific power and plate discipline, but he also brings two rare elements to the table for Cincinnati: He runs the bases really well and fields his position exceptionally well.
His three-year extension gets player-friendly in a hurry, but in 2011, he makes just $5.5 million.
5. Evan Longoria, 3B. $2.5 Million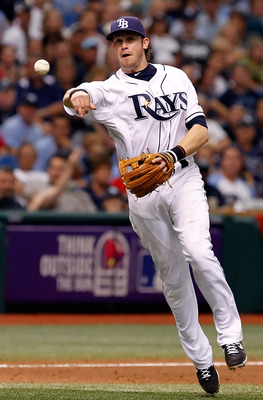 J. Meric/Getty Images
That Longoria's agent Paul Cohen still has a job is unfathomable: Before Longoria even made his big-league debut, Cohen allowed his client to sign a deal whereby the Rays control Longoria through 2016 at a maximum cost of $45.1 million, or roughly $5 million per year. In 2011, Longoria will make only $2.5 million, even after unexpectedly qualifying as a Super Two player.
For perspective, that figure is roughly equal to nine percent of AL East counterpart Alex Rodriguez's 2011 earnings, and Rodriguez will not even make what Pujols wants in any season over the remainder of his deal. Few players anywhere in baseball are more valuable than Longoria, and none is a bigger bargain.
6. Nelson Cruz, DH, $3.65 Million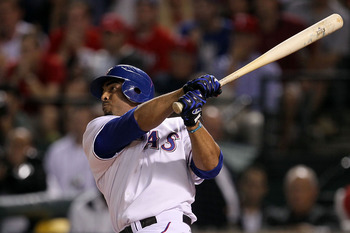 Stephen Dunn/Getty Images
Cruz's huge, powerful frame belies great athleticism and good speed. He has never stayed healthy over a full season in the big leagues, but he is extraordinarily talented and has all the tools to launch 40 homers and steal 20 bases.
Although he would DH for this scary lineup, Cruz is also a good defensive outfielder.
7. Troy Tulowitzki, SS, $5.5 Million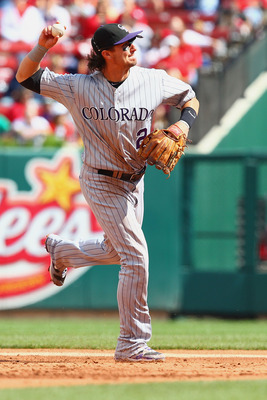 Dilip Vishwanat/Getty Images
Tulowitzki's massive contract extension garnered big headlines this winter, but for a shortstop who has it all defensively and shows elite power at the plate, he remains a steal for the Rockies in 2011: He stands to make just $5.5 million.
Tulowitzki shares Cruz's struggles to stay healthy, but when he is on the field, his value is unmatched by any shortstop in baseball.
8. Buster Posey, C, $0.50 Million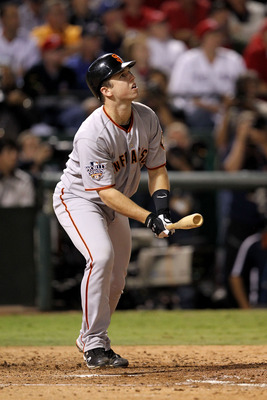 Ronald Martinez/Getty Images
Posey did not deserve the Rookie of the Year award, but that is no knock on him: Heyward merely had an even better year than did the supremely talented Posey.
The name Joe Mauer comes up in conversations about Posey an awful lot, and while that is not fair—Mauer is an unmatched offensive talent at catcher, with plate discipline far better than Posey's ever will be—it illustrates the point: This kid is the next great thing behind the plate.
All that adds up to the nomination as the minimum-salary infielder on this peculiar All-Star squad.
9. Carlos Gonzalez, CF, $1 Million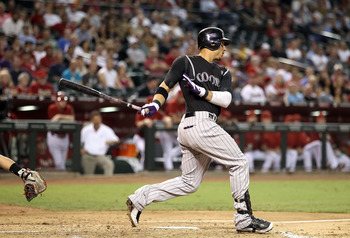 Christian Petersen/Getty Images
Colorado opened wide its franchise wallet this winter, as it spent big to lock up the services of Tulowitzki, Gonzalez and Jorge de la Rosa for multiple years. Even so, Gonzalez—who swatted 34 homers and won the batting title in 2010—will earn only $1 million this season.
His game has very rough edges, but Gonzalez is one of the three or four best raw talents in baseball today.
Keep Reading