Positions the San Diego Chargers Should Focus On in the 2011 NFL Draft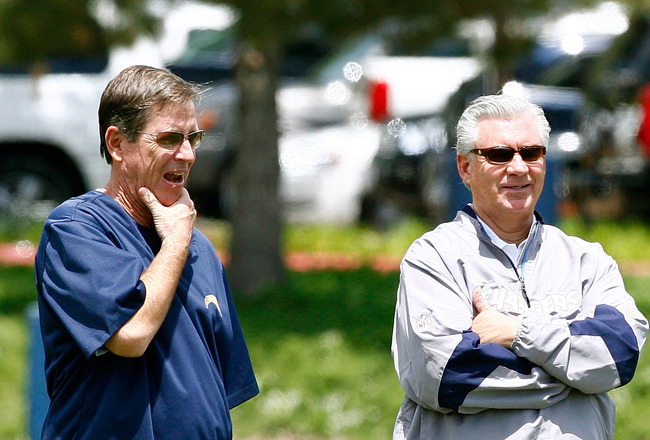 GM A.J. Smith (right) has a lot of choices to make in regards to the upcoming draft
Kevin Terrell/Getty Images
While the possibility of a lockout looms, the NFL Draft will happen in April regardless. Here is a breakdown of positions the Chargers will most likely concentrate on.
Defensive End
Last year it was Luis Castillo and Jacques Cesaire starting on the ends. Cesaire is a free agent.
Castillo hasn't been the difference maker the Chargers hoped for, but in general has been a solid presence.
Even if the Chargers do bring Cesaire back, drafting a DE high would seem a priority. That would allow Cesaire to return to the role of super-sub he occupied for many years. It would also provide depth to Castillo, who has struggled staying healthy for a full season.
Outside Linebacker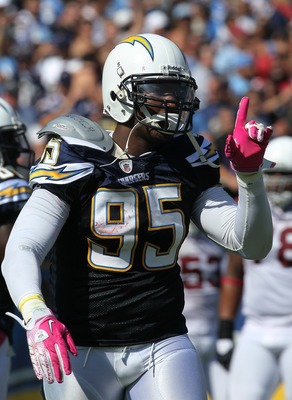 OLB Shaun Phillips just made his first Pro Bowl appearance
Stephen Dunn/Getty Images
While Shaun Phillips made the Pro Bowl this year, the Chargers need more contributors at this position. Larry English isn't a bust (he was a defensive end in college and was mostly hurt in 2010), however he hasn't proven himself either.
Antwan Applewhite is a restricted free agent, but isn't more than a solid backup and special teams standout. Antwan Barnes was brilliant at times after being signed towards the end of the season and could be kept as a pass-rushing specialist.
What the Chargers need here is someone to complement Phillips and English, who are both gifted pass-rushers but would be more effective if they were allowed to play less downs.
Safety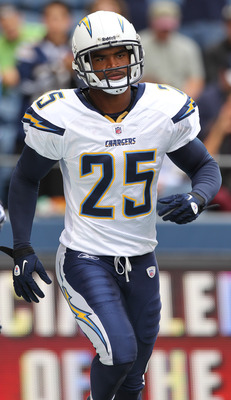 Darrell Stuckey will be give the opportunity to start in the 2011 season
Otto Greule Jr/Getty Images
This depends a lot on if the Chargers are able to retain Eric Weddle. However, even if they do, a pick would still be wisely-spent here.
Paul Oliver will likely be gone.
Steve Gregory is returning, and while a smart player, he isn't a playmaker the Chargers could use here.
Darrell Stuckey, drafted in the fourth round last year, will be given his shot after an injury slowed his progression in 2010, but at this point he only has potential on his side.
Wide Reciever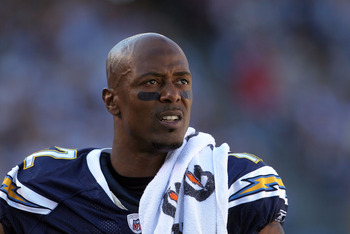 Patrick Crayton was a huge asset for the Chargers in 2010
Jeff Gross/Getty Images
The only wide receivers the Chargers employ at the moment are Seyi Ajirotutu, Patrick Crayton, and Buster Davis.
Reports are that Buster Davis has probably seen his last action as a Charger after various injuries.
Ajirotutu was exciting to watch but is still raw and unproven.
Crayton will be a consistent presence for Philip Rivers, but the Chargers really will be looking for the next Vincent Jackson or Malcom Floyd here.
Trust in AJ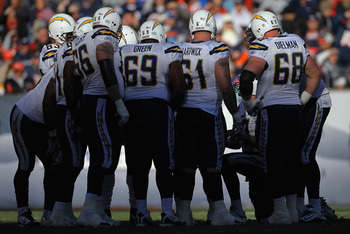 Doug Pensinger/Getty Images
Luckily, the Chargers have five picks in the first three rounds—the second most in the NFL—and will have a good chance of filling lots of these holes.
It also doesn't hurt to know you will still have Philip Rivers and Antonio Gates if you are a Chargers fan.
Keep Reading

San Diego Chargers: Like this team?