NFL Draft 2011: Top 10 Prospects From the State of Ohio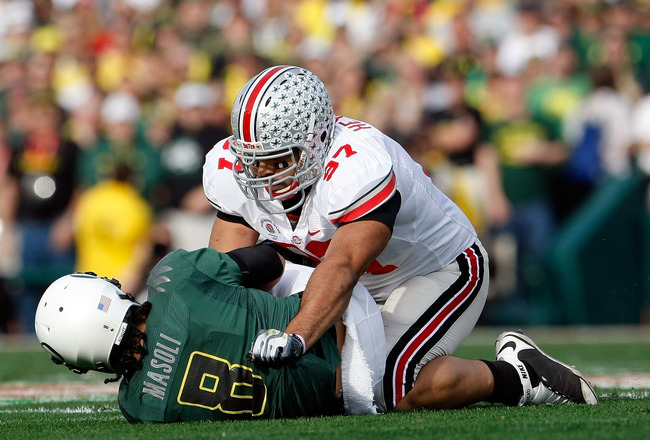 Jeff Gross/Getty Images
Ohio has a rich football tradition. For starters, the Pro Football Hall of Fame is located in Canton. Secondly, Ohio is home to many prospects who dream of making their own mark on the NFL.
The following ten players are the finest prospects Ohio has to offer. Interested to see which Buckeyes made the list? Read on to find out.
10. CB Chris Rucker
Mike Ehrmann/Getty Images
Ohio Connection: Warren G. Harding High School (Warren)
Scouting Report: Rucker is known for his antics off the field.
He served eight days in jail for violating probation. Back in March, he also plead guilty to misdemeanor assault.
However, that doesn't take away from the fact that Rucker is a decent corner with NFL size (6'2, 200 lb). He started all four years for Michigan State and was decent if unspectacular.
Unfortunately, his problems off the field will have NFL teams shying away from him until the late rounds.
Projected Round: Sixth-Seventh
9. WR Cecil Shorts III
Ohio Connection: University of Mount Union and Collinwood High School (Cleveland)
Scouting Report: Shorts III leaves Mount Union as one of the most prolific receivers in school history with 3,509 career receiving yards (first), 189 receptions (third) and 45 touchdowns (second).
Of course, the competition in Division III is second-rate compared to Division I but that should not disqualify Shorts III from draft consideration.
The Indianapolis Colts' Pierre Garcon, also a Mount Union graduate, proves that D-III players can be successful NFL players. With 11 receptions against the New York Jets on January 24, 2010, Garcon broke the record for most receptions in an AFC Championship Game.
Projected Round: Fifth-Sixth
8. LB Ross Homan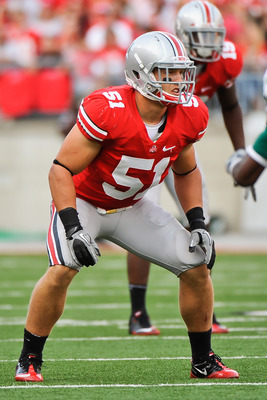 Jamie Sabau/Getty Images
Ohio Connection: The Ohio State University and Coldwater High School (Coldwater)
Scouting Report: Homan has a good nose for the ball and a high football IQ.
The knock on Homan is his lack of height and athleticism. At 6'0", 227, he is an undersized linebacker, yet runs just a 4.75 40.
He is tough so that could make up for some athletic deficiency.
Projected Round: Fourth-Fifth
7. CB Chimdi Chekwa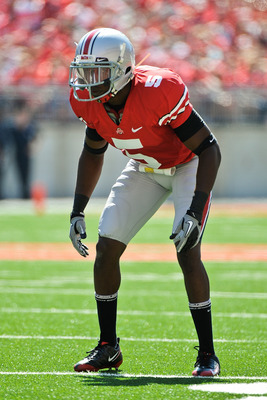 Jamie Sabau/Getty Images
Ohio Connection: The Ohio State University
Scouting Report: Chekwa is a great athlete with occasional erratic play. In that respect he is a 180 from Homan, a smart player who lacks athleticism.
The Jim Thorpe Award finalist turned in a great 2010 campaign, helping shed the erratic label. In the process, he was named a first team All-American by the FWAA and College Football News.
Chekwa did suffer a wrist injury during the Sugar Bowl but that shouldn't affect his draft status.
Projected Round: Third-Fourth
6. RB Delone Carter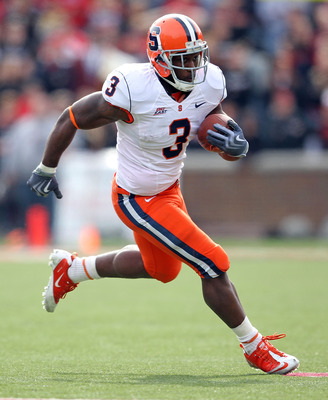 Andy Lyons/Getty Images
Ohio Connection: Copley Senior High School (Copley)
Scouting Report: Carter is not well known but he is a good running back.
Over the past two seasons, he has rushed for over 1000 yards and averaged 10 touchdowns. In the 2010 Pinstripe Bowl, Carter rushed for 198 yards and three touchdowns in a winning effort over the Kansas State Wildcats.
At 5'10, 215 lb., Carter has NFL size and speed.
Projected Round: Second-Fourth
5. WR Dane Sanzenbacher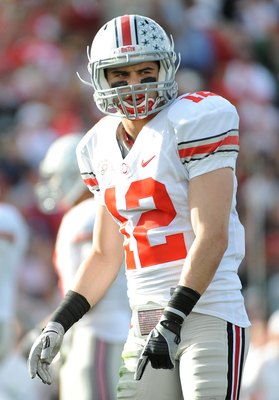 Harry How/Getty Images
Ohio Connection: The Ohio State University and Central Catholic High School (Toledo)
Scouting Report: Sanzenbacher is a tough receiver with great route-running ability. Due to these attributes, he was able to make an impact at the Senior Bowl with five receptions for 62 yards despite being a late add.
Sanzenbacher's biggest flaw is his speed, or lack thereof. For a wide receiver, a 4.55 40 isn't going to cut it. However, the importance of measurables is exaggerated and pales in comparison with actual production. Despite being somewhat slow for a potential NFL wideout, Sanzenbacher has a slew of tough catches and touchdowns to his name.
On a team like the Indianapolis Colts or New England Patriots, Sanzenbacher could have a very successful career.
Unfortunately, NFL teams will most likely be fixated on his 40 time and shy away from taking Sanzenbacher until late in the draft.
Projected Round: Fifth to Seventh
4. OG Justin Boren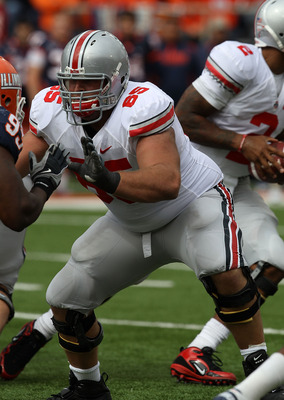 Jonathan Daniel/Getty Images
Ohio Connection: The Ohio State University, Pickerington Central and Pickerington North High School (Pickerington)
Scouting Report: Throughout his college career, Boren has racked up accolades which include selections on All Big-Ten and All-America teams. His mean streak and run-blocking skills set him apart.
His lack of quickness, however, could be exploited by NFL-caliber linemen.
Despite this, he will find a home in the NFL. He has NFL-ready size, power and has been recognized for stellar play. If he works on his pass blocking, he could develop into a very good offensive guard.
Projected Round: Second-Third
3. LB Greg Jones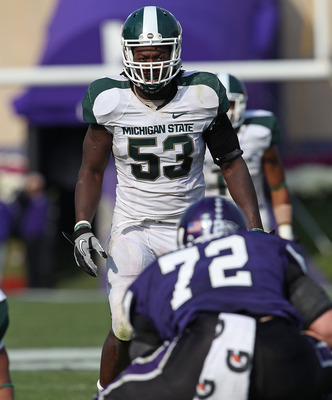 Jonathan Daniel/Getty Images
Ohio Connection: Moeller High School (Cincinnati)
Scouting Report: Jones is one of the top linebacker prospects in the NFL Draft.
He will be remembered as one of the best if not the best linebacker in Michigan State history. He earned three consecutive first team All-Big Ten selections and two consecutive first team All-American selections.
Despite his accomplishments, NFL teams are hesitant due to his size or lack thereof. At 6'1, he lacks ideal height for a linebacker.
Still, height doesn't mean as much as NFL scouts like to intimate. Just ask Drew Brees.
Projected Round: Second-Third
2. TE Kyle Rudolph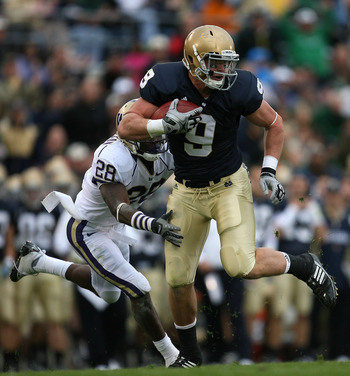 Jonathan Daniel/Getty Images
Ohio Connection: Elder High School (Cincinnati)
Scouting Report: Rudolph is considered by some to be the best TE in the draft.
He has been impressive in his time at Notre Dame. As a freshman, he became the first tight end in Notre Dame history to start every game.
What makes Rudolph special is his great hands. He rarely drops passes and catches most everything in his vicinity. For a tight end, he is a unique threat.
Rudolph did suffer a season-ending hamstring injury last season but it doesn't seem like it will unduly affect his draft position.
Projected Round: First-Second
1. DL Cameron Heyward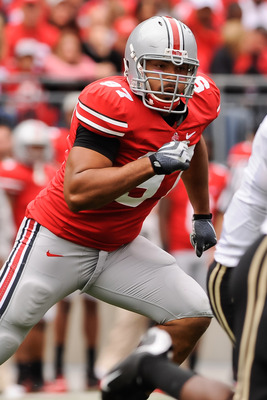 Jamie Sabau/Getty Images
Ohio Connection: The Ohio State University
Scouting Report: Heyward is the best Ohio prospect in this year's NFL draft.
He has NFL-ready size and appears to be a good fit as a 3-4 defensive end.
In the most important games, Heyward came up big. Against Penn State in 2009, he made 11 tackles, three for loss and two sacks in a dominating performance. In this year's Sugar Bowl, Heyward had 1.5 sacks on Ryan Mallett and arguably deserved to be named MVP.
However, Heyward pulled a disappearing act at times this year, something that could make NFL teams wary. Though a strong run-stopper, his pass rush could use improvement.
Heyward would be very successful on a team like the Pittsburgh Steelers, where the main responsibility of linemen is run-stopping instead of pass rushing.
Projected Round: First-Second
Keep Reading