2011 NFL Mock Draft: How Far Does Julio Jones Fall in the Second Half?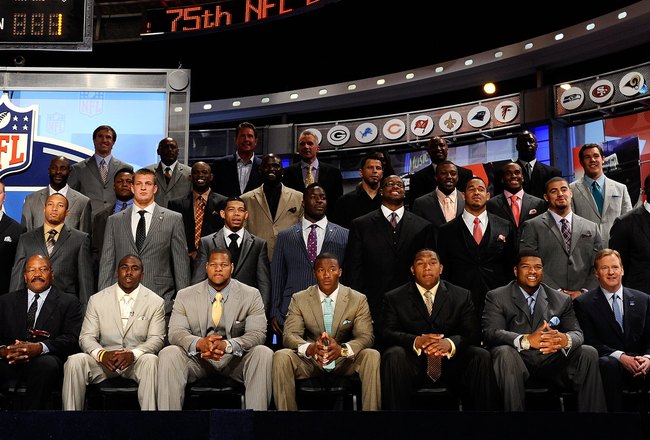 Jeff Zelevansky/Getty Images
In the second half of my two-part NFL Mock Draft, there are a lot of twists and turns, and I'm bound to get blasted for some of the picks. If you haven't read the first half of my mock, you can view it here: http://bleacherreport.com/articles/601245-2011-nfl-mock-draft-where-do-cam-newton-and-von-miller-end-up
Last year, top ranked prospects of the likes of offensive tackle, Bryan Bulaga, and wide receiver, Dez Bryant, slipped down to the bottom of the first round, as will many players in the 2011 NFL Draft.
Read on, and feel free to comment with any changes you would make!
No. 16 Jacksonville Jaguars- CB Brandon Harris, Miami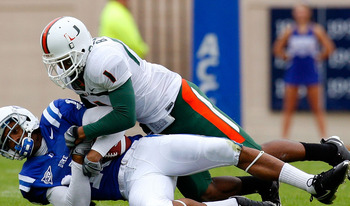 Kevin C. Cox/Getty Images
The Jaguars do need help at the linebacker position, with veteran inside backer Kirk Morrison becoming an unrestricted free agent this year, and are pretty weak on the defensive line. However, they invested their first four draft picks of last year into defensive tackles and ends.
Washington quarterback, Jake Locker, may make a strong case for the Jaguars, but I beleive they jump at the chance to grab Brandon Harris, to eventually take over veteran cornerback Reshean Mathis' spot opposite Derek Cox.
The 5'11" 195 pounder out of the University of Miami has great ball skills, and is solid in his pass coverage. With Tyson Alualu and Austin Lane gunning for opposing quarterbacks, Harris will be a perfect fit alongside Derek Cox to lock down the big time receivers in the AFC South, such as Reggie Wayne and Andre Johnson.
No. 17 New England Patriots (From Oakland)- DE/DT Adrian Clayborn, Iowa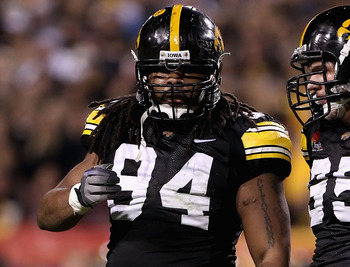 Christian Petersen/Getty Images
The New England Patriots pass on a first round wide receiver Julio Jones to select Iowa defensive end Adrian Clayborn, who can instantly start from day one in the 3-4 front.
Clayborn wreaked havoc on Big 10 quarterbacks, making 184 tackles, forcing a fumble, and getting the to quarterback 19 times.
Alongside Vince Wilfork, the Pats will have a huge line that will be extremely difficult to penetrate.
No. 18 San Diego Chargers- WR Julio Jones, Alabama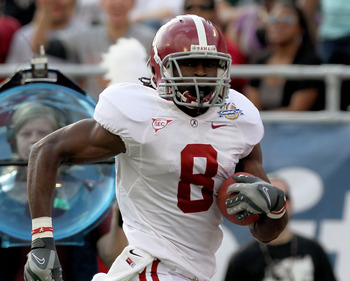 Mike Ehrmann/Getty Images
Finally, Alabama's star wide receiver finds a home in sunny San Diego. After dealing with a disgruntled Vincent Jackson nearly all year long, V-Jax and the Bolts don't appear to be on the same page.
The Chargers find his replacement in Jones, a 6'4" 220 pound physical receiver with great hands and blazing speed. Playing against dominant SEC defenses, Jones manged go grab 179 receptions for 2,653 yards, scoring 15 times in his three years as a member of the Crimson Tide.
No. 19 New York Giants- OLB Akeem Ayers, UCLA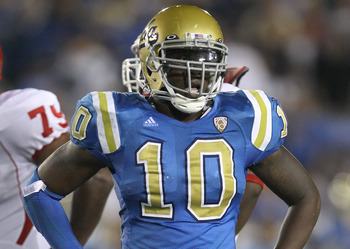 Stephen Dunn/Getty Images
The Giants will take a hard look at Anthony Costanzo or Mike Pouncey to bolster their inconsistent offensive line, but will jump at UCLA's Akeem Ayers, as he is still on the board at No. 19 overall.
Keith Bullock is too old, and Ayers will be a solid pick, after the Giants bolstered their defense in last year's draft adding South Florida's Jason Pierre-Paul, and defensive tackle Linval Joseph.
No. 20 Tampa Bay Buccaneers- DE J.J. Watt, Wisconsin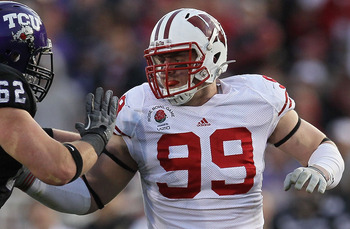 Stephen Dunn/Getty Images
The Tampa Bay Buccaneers will continue to build one of the strongest defensive lines in the National Football League, by selecting defensive end J.J. Watt, out of Wisconsin.
The Bucs used their No. 2 overall pick on defensive tackle Gerald McCoy, and their second rounder on tackle Brian Price to clog the interior defensive line, yet they lacked a consistent pass rusher to keep them out of third-and short situations.
At Wisconsin, Watt was a disruptive playmaker, and will thrive in Tampa, as McCoy and Price both can require double teams. As a Badger, Watt made 106 tackles, sacking the quarterback 13 times, forcing two fumbles, and even intercepted a pass.
No. 21 Kansas City Chiefs- NT Stephen Paea, Oregon State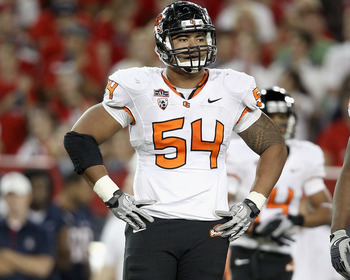 Christian Petersen/Getty Images
Kansas City loaded up on playmakers last year, adding safety Eric Berry, cornerback Javier Arenas, utility man Dexter McCluster, and tight end Tony Moeaki.
This year, the Chiefs will add an anchor to their defensive line in Stephen Paea, to line up inside of Glenn Dorsey and Tyson Jackson.
At 6'1" 311 pounds, Paea will be a great fit for the two-gap nose tackle to take over for 31-year old Ron Edwards.
Paea was a stud at Oregon State, racking up 106 tackles and 13 sacks.
No. 22 Indianapolis Colts- OT Anthony Castonzo.
Elsa/Getty Images
The Colts offensive line is aging and struggling to protect Peyton Manning. Left tackle Charlie Johnson is adequate at best, and is set to become a free agent.
Boston College tackle Anthony Castonzo has drawn rave reviews all year long for his excellent pass protection, and will be a solid tackle for the Colts for time to come.
No. 23 Philadelphia Eagles- T Gabe Carimi, Wisconsin
Stephen Dunn/Getty Images
Wisconsin left tackle Gabe Carimi was highly touted throughout the year as a top tier tackle in this year's draft, however throughout the Senior Bowl week, scouts have begun to see him as a better fit on the right side.
The Eagles are loaded at almost every position except offensive line, and adding Carimi as a bookend opposite Pro Bowl left tackle, Jason Peters, will help keep Michael Vick healthy, and allow LeSean McCoy to flourish.
No. 24 New Orleans Saints- DE/DT Cameron Heyward, Ohio State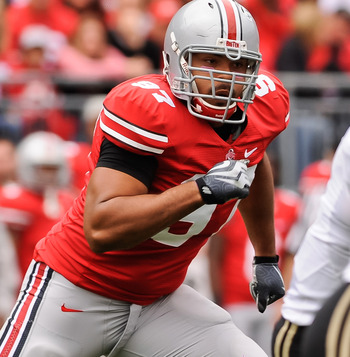 Jamie Sabau/Getty Images
The New Orleans Saints are a team with very few holes to fill, but adding a strong and versatile defensive end like Cameron Heyward will be a great improvement to their 16th ranked rush defense.
Heyward is relentless in his pursuit and has great leadership, and defensive coordinator Gregg Williams will love to have him on his defensive line.
At Ohio State, Heyward made 162 tackles and had 15 sacks.
No. 25 Seattle Seahawks- QB Jake Locker, Washington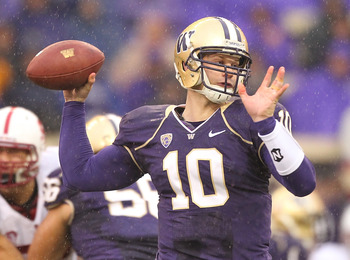 Otto Greule Jr/Getty Images
Washington Huskies senior quarterback, Jake Locker, would've been the No. 1 overall pick in the 2010 NFL Draft had he declared, but instead, he stayed in school and had a disappointing season.
Locker was bashed for his two terrible games against Nebraska, but his wide receivers dropped a lot of passes, and he still has what it takes to become a starting quarterback in the NFL.
At 6'3" 230 pounds, Locker has prototypical pocket-passer size, and can make plays with his legs when he needs to. Seattle's quarterback Matt Hasselback's career is coming to an end, and Charlie Whitehurst certainly doesn't seem to be the answer.
In his four years at Washington, Locker passed for 7,639 yards, tossing 53 touchdowns to 36 interceptions, while adding 454 rushes for 1,939 yards, adding another 29 touchdowns, without fumbling once.
No. 26 Baltimore Ravens- CB Aaron Williams, Texas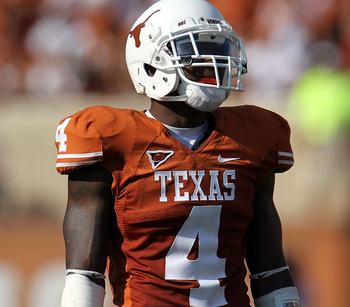 Ronald Martinez/Getty Images
The Ravens are set at every position across the board, except for cornerback, where they were plagued by injury throughout the year. Aaron Williams is a solid cover corner that has great speed and ball hawking skills.
At Texas, he made 89 tackles, forced five fumbles, and picked off four passes in three years.
Williams will be a solid addition to a group already featuring Ladarius Webb, Chris Carr, and Fabian Washington, with safety Ed Reed right behind them.
No. 27 Atlanta Falcons- TE Kyle Rudolph, Notre Dame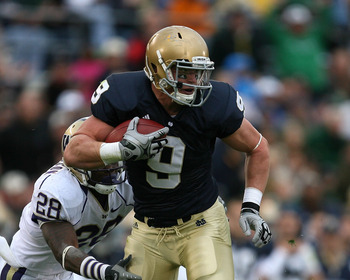 Jonathan Daniel/Getty Images
Notre Dame tight end Kyle Rudolph was a hot name early in the year, before his season was cut short due to injury. The Falcons have the best tight end to play the game in Tony Gonzalez, and have needs at linebacker and the defensive line, but Rudolph makes sense in the long run.
Solid in receiving and run blocking, Rudolph could learn from Gonzalez, and become just another weapon in Matty Ice's arsenal.
at Notre Dame, Rudolph caught 90 passes for 1,032 yards, and eight touchdowns.
Mississippi State's Derek Sherrod may be an option here as well, as right tackle Tyson Clabo is set to become an unrestricted free agent.
No. 28 New England Patriots- G/C Mike Pouncey, Florida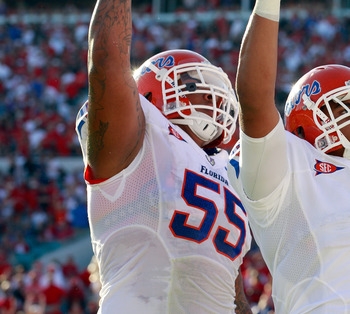 Sam Greenwood/Getty Images
With the New England Patriots second pick in the first round, they select center Mike Pouncey out of Florida, before the Steelers can reunite him with his brother, Maurkice.
Prospects inclusing Ryan Mallett, Justin Houston, Mikel Leshoure, and Torrey Smith are still on the board, but head coach Bill Belichik often fins a way to find solid skill position players in the later rounds.
Pouncey will eventually take over for Dan Koppen or Logan Mangkins, and is a solid selection for the Pats, who have the first pick in the second round of the 2011 NFL Draft as well.
No. 29 Chicago Bears- OLB Justin Houston, Georgia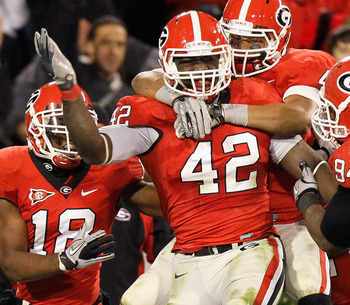 Kevin C. Cox/Getty Images
Chicago is in dire need of offensive line help, but with no sure-fire options left on the board, the Bears select linebacker/defensive end Justin Houston out of Georgia.
Brian Urlacher and Lance Briggs are aging fast, and bringing in Houston will add youth and energy to a team that desperately needs it after suffering a brutal loss in the NFC Championship game.
Houston, at 6'5" 258 pounds, made 110 tackles, 19 sacks, and an interception at Georgia.
No. 30 New York Jets- NT Coey Liuget, Illinois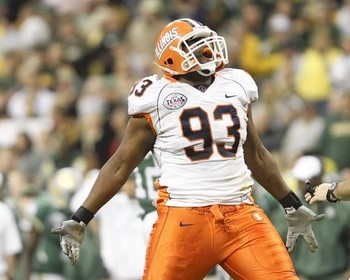 Illinois' defensive tackle Corey Liuget is the perfect pick for the Jets, who will need to replace current starter Shaun Ellis, who is 34 and a free agent.
Liuget is stout in stopping the run, and can command two gaps, allowing others around him to make plays.
While being double teamed his entire career at Illinois, Liuget still managed to record 125 tackles, eight sacks, and a forced fumble.
No. 31 Pittsburgh Steelers- OT Tyron Smith, Southern California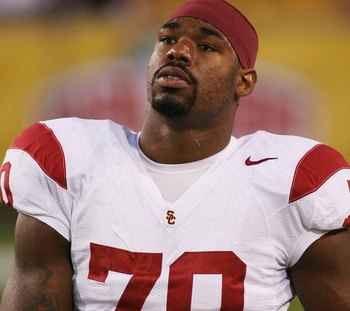 Jeff Golden/Getty Images
With Flozell Adams at the back end of his career, and the rest of the Steelers line aging, Southern California's Tyron Smith would be an excellent addition to the Pittsburgh Steelers offense.
Smith has been getting a ton of press lately as scouts review his tape, and at just 20 years of age, he is still raw and full of potential.
He is just 280 pounds, so he can add some bulk to his frame, but at 6'5", he has great length to get in the way of pass rushers.
Green Bay Packers- NT Phil Taylor, Baylor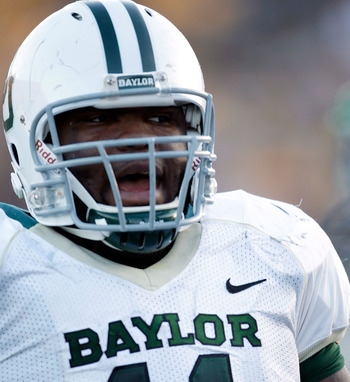 Jamie Squire/Getty Images
To most, Phil Taylor was an unknown commodity until Senior Bowl week, when he drew tons of positive reviews from scouts all around the NFL. At 6'4" 340 pounds, he can stop the run like no other, and has insane strength to take on blockers.
Now, Green Bay used a first round pick on nose tackle B.J. Raji just a two years ago, and he has been a focal point in the Packers defense, but Dom Capers likes to rotate his tackles in his versatile zone-blitz, 3-4 front.
Taylor and Raji next to each other on a defensive line would bring hell to any offensive line who stands in their way.
Keep Reading