Top 10 Sports Road Trip Destinations in the Midwest
Jim McIsaac/Getty Images
"Road trippin', road trippin', we're not happy unless we're road trippin'."
The above should be the official anthem for any adventurous sports fanatic.
Yeah, spectating at games locally is a delight, but there's a whole nation out there, filled with wildly entertaining and historically significant venues that dot the landscape from coast to coast and everywhere in-between.
So, get out there and find them. But before departure, use the following as your guide.
There are any number of great sports road trip destinations that await you, but we had to draw the line somewhere.
For us, 100 seemed like a nice, round number, including 10 apiece from 10 distinct regions around the U.S.
We now extend ourselves to the banks of the Mississippi, where on the west side lies a gaggle of destinations brimming with nostalgia and lore.
10. Mount Union Stadium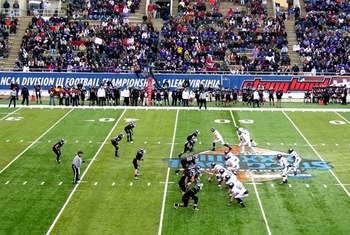 Photo © 2010 Patriarca12 (CC-BY-3.0)
Erected in 1913, Mount Union Stadium is the oldest college football stadium in the state of Ohio.
The stage for soccer and track & field at Mount Union, a Division III school, the capacity of the stadium is modest, but the notoriety earned by its other inhabitant, the Purple Raider football program, is anything but.
Led by longtime head coach Larry Kehres, Mount Union is the owner of a record 10 national championships, all of which have been won in the last 18 seasons.
9. Busch Stadium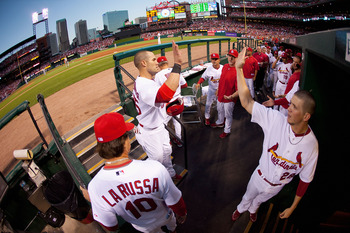 Dilip Vishwanat/Getty Images
The Cardinals could play 82 games a season in a landfill, and the team would still draw three million.
More of a tip of the cap to St. Louisans, that's not to disparage the Cards' downtown gem of a home, which is now the third Busch Stadium in franchise history and is everything the previous two were not.
And that's a good thing. If there's one drawback it's this: Already higher than in previous seasons, beer prices at Busch will soar if the front office pays potential free agent Albert Pujols his deemed worth.
8. Target Field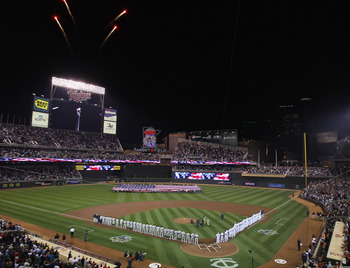 Elsa/Getty Images
Barely a year old, Target Field is what happens when a professional franchise works in harmony with an architecture firm to create something completely perfect.
Of course, any park in comparison appears superior to the decrepit Metrodome, with its trash-liner for a roof and outfield walls and an ambiance that bordered upon dingy and stale.
But the modern bliss of the Twins' new home allows Minnesota fans to once again watch their team in an open-air environment—this time in enviable style and with the most modern conveniences.
7. Indianapolis Motor Speedway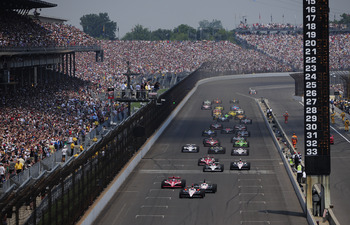 Robert Laberge/Getty Images
Odds are you know somebody who knows somebody who knows somebody who's been to Indianapolis Motor Speedway.
That lineage seems lengthy, but not when you consider the fact a crowd roughly a small fraction of the population of Texas attends each Indianapolis 500, just one of the track's many annual races.
More than a century old, IMS has become ingrained in American history, and its vastness is stuff of legend, capable of fitting the Wimbledon campus, Churchill Downs, Yankee Stadium, the Rose Bowl, the Roman Colosseum, and Vatican City within its 253-acre infield.
As the largest spectator sporting facility in the world, it has more than 250,000 permanent seats, but tentative estimates at past races that have featured temporary seating have calculated crowds in excess of 400,000.
This makes it entirely possible your friend's cousin's boyfriend's brother-in-law was at the Brickyard 400 last year.
6. Pro Football Hall of Fame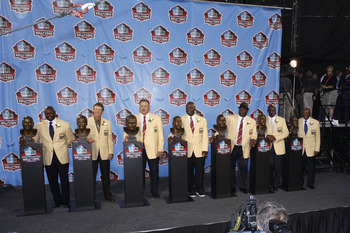 Joe Robbins/Getty Images
Canton, Ohio has a population of about 78,500. But that census doesn't include the modest-sized Midwestern city's 267 most-popular citizens. And they're not hard to miss, each one coated in bronze and visible only from the neck up.
They are the esteemed members of the Pro Football Hall of Fame, a distinguished fraternity of football royalty that has attracted more than eight million visitors over the past four decades.
Tours of the Hall are self-guided, so enjoy strolling unencumbered through displays remembering professional football's past glories, dating back to the days when the NFL was but an 11-team startup.
And don't worry if a trip to Canton isn't in the cards: The Hall of Fame puts on a number of traveling exhibits throughout the calendar year.
5. Ohio Stadium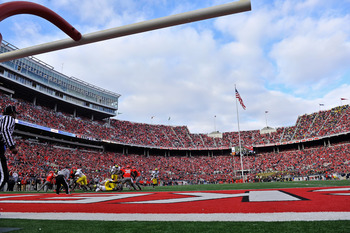 Jamie Sabau/Getty Images
It's hard to imagine the pomp and pageantry of college football being personified more at any one stadium across America than it is at The Shoe, where tradition saturates fall Saturdays and permeates throughout the Middle America landscape.
Among the most treasured of gameday rituals is the dotting of the "I" in the Script Ohio, sometimes performed by a famous alumnus of The Ohio State University or an esteemed celebrity with ties to the state.
4. Michigan Stadium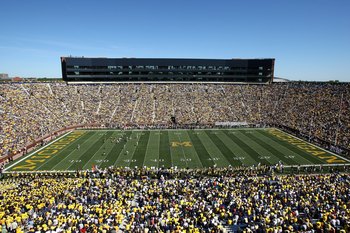 Stephen Dunn/Getty Images
They say the Big House, with its antiquated bowl shape, doesn't hold the noise well, but I have a hard time believing that.
Squawking created by nearly 110,000 people doesn't dissipate without a knockdown, drag-out fight. And if Michigan Stadium isn't the loudest place in the land, who cares? As long as they keep playing "Hail To The Victors," the best fight song ever composed, I'm good.
If you yourself want to judge, shoot for Sept. 10 of this year, when Michigan will plays rival Notre Dame in the stadium's first-ever night game.
3. Wrigley Field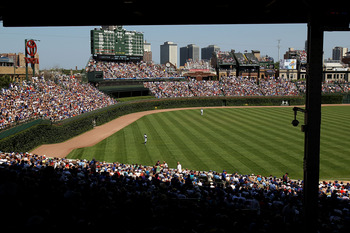 Jonathan Daniel/Getty Images
The ivy-lined walls, rooftop bleachers, and abnormally high number of day games are all trademarks of baseball's second-oldest park.
Still, it's the subtle nuances, the very things that go unnoticed, that make Wrigley what it is.
If you're brave enough—and, let's face it, you may not have a choice—to venture deep within the stadium's crumbling concourses, you'll come across the most primal of men's restrooms, where the stench reeks of Old Style and humidity and a single two-row trough serves as a group urinal.
2. Notre Dame Stadium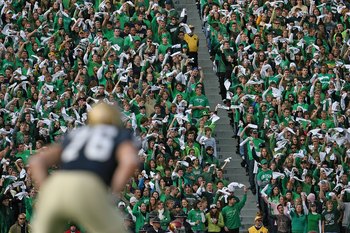 Jonathan Daniel/Getty Images
Touchdown Jesus is calling you to South Bend, my son. Actually, that's the spirit of Knute Rockne. Or is it Joe Montana?
A bucket list item for any avid sports fan, Notre Dame Stadium is a no-frills approach at football immortality: No crazy midfield or end zone logos. No triple-decker seating terrace designs. Scoreboards barely legible from any section, no matter how clear the day.
It is addition by subtraction, except for the 21,000 seats added in 1997.
And it could not be any more awesome.
1. Lambeau Field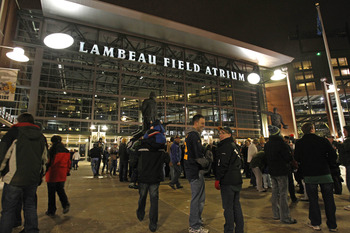 Matt Ludtke/Getty Images
What is there to say about the most cherished and beloved grounds in the NFL that hasn't already been said?
The place is nearly rife with enough tradition and nostalgia to be designated its own hall of fame.
But perhaps cooler than any one thing that has taken place on the Frozen Tundra in the last half-century is the fact the building is owned by the citizens of Green Bay, allowing fans themselves to determine everything, from the source of funding for renovations to naming rights.
Keep Reading

Green Bay Packers: Like this team?