New England Patriots: Top 5 Offseason Needs To Help Tom Brady Get Back on Top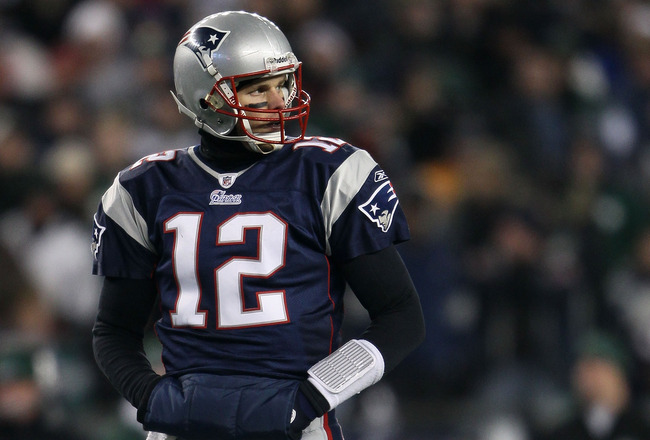 Elsa/Getty Images
The Patriots and Tom Brady have been in a playoff slump since their last Super Bowl win in 2004.
The main problem is that they have been lacking outright talent on both sides of the ball. However, they will be able to regain form with a few simple, yet important, offseason moves.
I am going to tell you the necessary moves to get the Patriots back on top in 2011.
5. Re-Sign Logan Mankins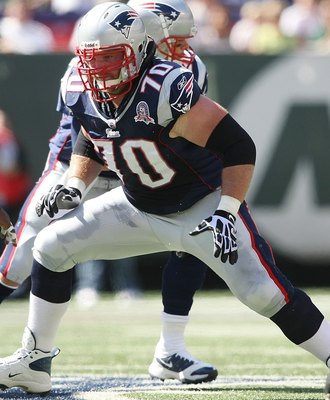 Nick Laham/Getty Images
Whether the Patriots like it or not, Mankins is one of the premiere guards in the NFL, and the Patriots would be dumb not to re-sign him.
When he returned this year, the Patriots saw an immediate impact in their run game, and he played well enough that he was able to earn a trip to the Pro Bowl. He provides brute force and toughness to the Patriots offensive line.
This is considered a strong position for the Patriots, and if he is allowed to leave, the line will be left with a gaping hole.
4. Find a Premiere Running Back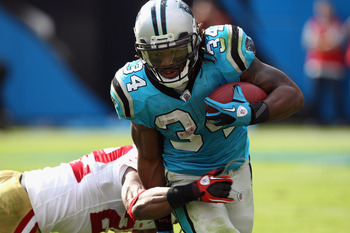 Streeter Lecka/Getty Images
The Patriots haven't had a great running back since Corey Dillon. Last season, Danny Woodhead and BenJarvis-Green-Ellis were good, but what the Patriots really need is a player who can take the ball to the end zone on any given play.
One player who instantly jumps into mind is Jamaal Charles. He is slated to be a free agent this year, but it isn't clear whether or not he will be restricted or unrestricted because of the fact that there is no CBA.
Other running backs that also stand out include Ronnie Brown, DeAngelo Williams and Cedric Benson.
If the Patriots aren't able to bring in a running back through free agency, they should highly consider drafting one with one of their two picks in the first round. The Patriots could conceivably take Mark Ingram or Mikel Leshoure.
Whichever route the Patriots choose to take, one thing is clear, the Patriots need a back with the ability to take it to the hole.
3. Finding a Cornerback to Play Opposite of Devin McCourty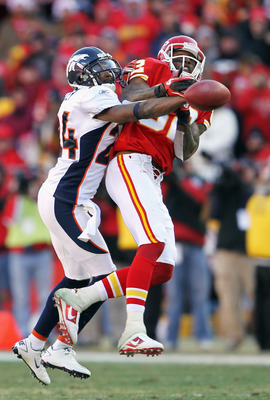 Jamie Squire/Getty Images
Devin McCourty was a huge surprise this year, and established himself as a great corner on the New England Patriots. What comes next is finding another shutdown corner to play across from him.
Kyle Arrington played well throughout the year, but showed he lacked the skills that other top corners have. Nnamdi Asomugha is the big name this year, but it seems unlikely the Patriots are willing to give up the type of money Asomugha will be asking for.
Next up is Champ Bailey. Bailey is a strong player, but is entering the final years of his career. This being said, he could be a nice addition to the Patriots squad.
However, the Patriots will most likely upgrade this position through the draft. Brandon Harris sticks out as the guy that could be around when the Patriots go asking for a cornerback. He could be their guy.
2. Finding a Deep Threat to Replace Randy Moss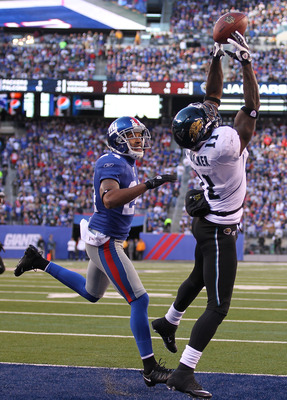 Al Bello/Getty Images
With Moss gone, the Patriots are looking for a game-changer. The biggest names on the market are Santonio Holmes and Braylon Edwards, but it seems unlikely that either of them would ever make their way down to New England.
One fairly unknown name that could make a huge impact is Mike Sims-Walker. Sims-Walker is a good player, but has lacked a good quarterback to get him the ball. He could make a huge impact if he were to sign with the Patriots.
The Patriots could also pursue Titus Young in the draft. He is a player with an already huge following and has often been compared to DeSean Jackson. Either way, the Patriots need a deep threat badly.
1. A Formidable Pass Rush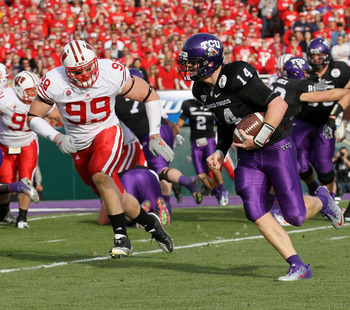 Stephen Dunn/Getty Images
The Patriots have not found a way to replace Richard Seymour, and it is hurting them badly. The free agency pool is fairly week at the position, so the best way to upgrade would be the draft.
There are a number of players who could help the Patriots, but some of the most reasonable players are Adrian Clayborn, Von Miller, J.J. Watt, Ryan Kerrigan and Jeremy Beal. Each player would be able to contribute in a significant way to help get the Patriots back on top.
This is the most important need because the defense hasn't been able to get to the QB, and has in turn, not allowed them to get off the field. If the Patriots are able to upgrade their pass rush, they will be a fierce opponent come January next year.
Keep Reading

New England Patriots: Like this team?