2011 NFL Draft: Power Ranking Your Mock Draft Sources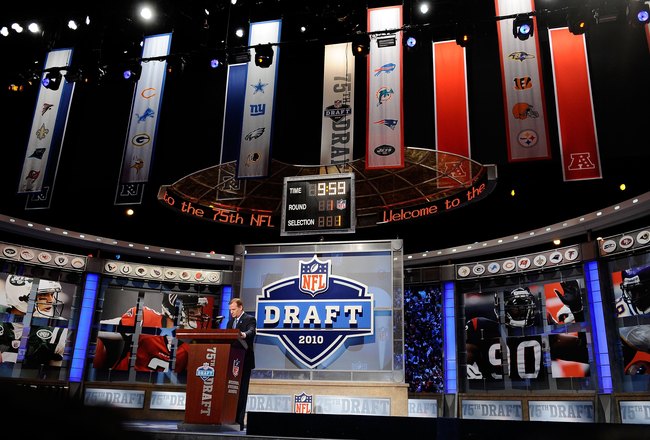 Jeff Zelevansky/Getty Images
Now that that pesky distraction known as the Super Bowl is finally behind us, we can turn our attention 100 percent to what we really care about: mocking the upcoming draft.
Never mind the fact that there might not be a season. At least the powers that be in the NFL are wise enough to ensure that whatever happens come fall, there will still be a draft in the spring.
By now, the mock draft season is already well underway, and most sports sources have weighed in on the subject. Here, I'll weigh what the usual suspects have to say before weighing in with my latest predictions for Round 1.
Are you ready for some football?
1) Carolina Panthers: Da'Quan Bowers, DE, Clemson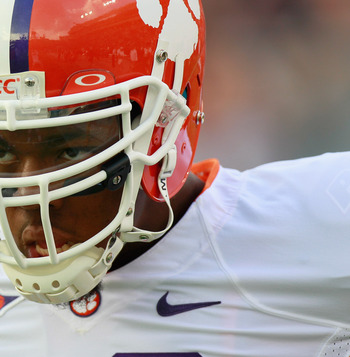 Kevin C. Cox/Getty Images
Let's take a quick look around the web at who others think the top pick should be.
Mel Kiper's first mock, which is admittedly a bit outdated now, had Auburn's Nick Fairley in the top spot.
Todd McShay's, the latest of which was just released today, had Da'Quan Bowers.
CBS Sports' Rob Rang went with Patrick Peterson a couple of days ago, while Chad Reuter picked Bowers.
Finally, Fox's Peter Schrager, in a post-Super Bowl update, also went with Bowers.
I've previously leaned towards Fairley, but I'll give in to the majority here, as it seems to be the way the tide is turning and peg Bowers for the top spot now, as well. Fairley's been more consistent in college, but Bowers seems like he might have a higher potential upside.
2) Denver Broncos: Nick Fairley, DT, Auburn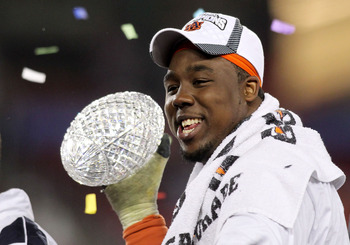 Jonathan Ferrey/Getty Images
Kiper: Patrick Peterson
McShay: Nick Fairley
Rang: Fairley
Reuter: Peterson
Schrager: Peterson
I'll go Fairley. He was so dominant last season, especially in the biggest games. He owned the National Title game. He can blow up the running game or rush the passer with the best of them.
Peterson is a great prospect, but the tone of your defense is set up front. I'll take the top defensive lineman over the top defensive back most days, including this one.
3) Buffalo Bills: Robert Quinn, DE, North Carolina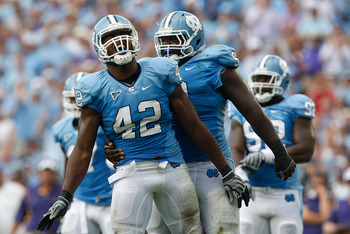 Streeter Lecka/Getty Images
Kiper: Marcell Dareus
McShay: Von Miller
Rang: Dareus
Reuter: Blaine Gabbert
Schrager: Dareus
I know I'm going a bit off the map, but I'm in the mood to shake things up a bit in this mock.
Quinn didn't play last season, but I have a feeling if he had played, more people would be putting him this high. He's an athletic pass rusher in the mold of a Bowers and can really make an impact right away if he's in shape. All indications are that he's in shape.
Count on a good showing at the combine and other pre-draft workouts forcing others to re-evaluate Quinn at this level.
4) Cincinnati Bengals: A.J. Green, WR, Georgia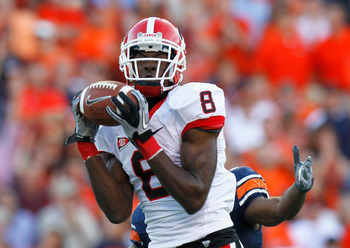 Kevin C. Cox/Getty Images
Kiper: Da'Quan Bowers
McShay: A.J. Green
Rang: Green
Reuter: Nick Fairley
Schrager: Fairley
With Bowers and Fairley both already off the board in this mock for me, I'll peg A.J. Green to the Bengals.
This pick makes a lot of sense for them. Cincinnati is known to covet Green's skills, and they can use him to replace one or both of the T. Ocho cast members next season. Owens is most likely gone, and Ochocinco could be as well.
Maybe that chain of events will make Carson Palmer satisfied enough to calm down and play football again on the banks of the Ohio.
5) Arizona Cardinals: Von Miller, OLB, Texas A&M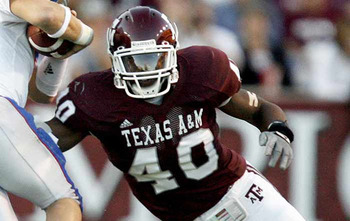 Kiper: Blaine Gabbert
McShay: Gabbert
Rang: Von Miller
Reuter: Miller
Schrager: Cam Newton
Yes, Arizona could look to grab a quarterback here, but I'm not sold on either Gabbert or Newton being the answer here at number five. They're both projects, while Miller, on the other hand, is less of one.
Miller should move up boards as we get closer to April. He's experienced, he's disciplined, and he's got intangible leadership qualities that should serve him well at the next level. The Cardinals need help on the defensive side of the ball as much as they need a better QB.
6) Cleveland Browns: Julio Jones, WR, Alabama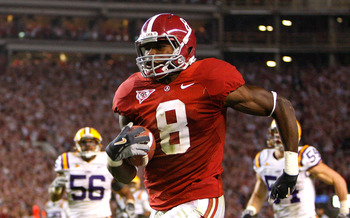 Kevin C. Cox/Getty Images
Kiper: A.J. Green
McShay: Marcell Dareus
Rang: Da'Quan Bowers
Reuter: Green
Schrager: Green
As much as anything, the Browns want, and could use, a bona fide playmaker at the wideout position to help budding quarterback Colt McCoy get this offense firing on all cylinders next season.
I know this is probably very high for Jones, but I have Green off the board already, and at this point, I'm saying what the hey. Yes, they have other needs too, but Jones has the potential to develop into a real number one receiver, so why should Cleveland pass that up here?
7) San Francisco 49ers: Patrick Peterson, CB, LSU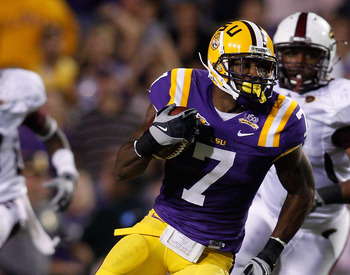 Chris Graythen/Getty Images
Kiper: Robert Quinn
McShay: Patrick Peterson
Rang: Quinn
Reuter: Prince Amukamara
Schrager: Von Miller
I've had the Niners taking Blaine Gabbert here before, but it seems like the feelings on him vary wildly, and signs out of San Francisco have them not sold on him as the future.
Peterson may very well be off the board by the time they pick, but in this mock of mine, he's not, and so he's a solid choice at number seven. The top defensive back in the draft, he'll solidify a 49er secondary that has looked a bit like a house of cards of late. It's there, but it could fall apart at any time.
He'll be a star right out of the gate in the Bay.
8) Tennessee Titans: Blaine Gabbert, QB, Missouri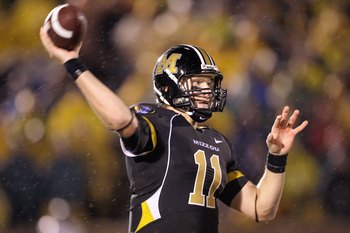 Jamie Squire/Getty Images
Kiper: Von Miller
McShay: Prince Amukamara
Rang: Blaine Gabbert
Reuter: Robert Quinn
Schrager: Blaine Gabbert
If neither the Cardinals or the 49ers take Gabbert, I can see the Titans being tempted enough to call his name at number eight.
His pros and cons have already been debated ad nauseum. The fact is, he's still the top rated QB, and he's got the tools and the potential upside to warrant a top 10 selection. Tennessee still needs a new man under center, and Gabbert is as good a choice as any at this point to be that guy.
9) Dallas Cowboys: Prince Amukamara, CB, Nebraska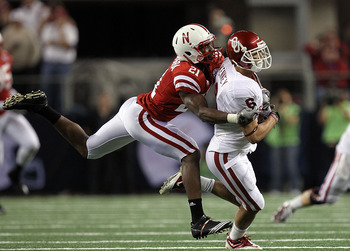 Ronald Martinez/Getty Images
Kiper: Prince Amukamara
McShay: J.J. Watt
Rang: Tyron Smith
Reuter: Anthony Castonzo
Schrager: Amukamara
There seems to be a chorus on this pick echoing Amukamara's name, and I'm one of them. The alternative chorus wants an offensive lineman, but I think it's a stretch to take any of the tackles this high.
Amukamara is a blanket in the secondary and makes it easier to plan defensive schemes because more often than not, he makes opposing QB's avoid his side of the field. If Peterson is the No. 1 cornerback, Amukamara is 1a.
10) Washington Redskins: Cam Newton, QB, Auburn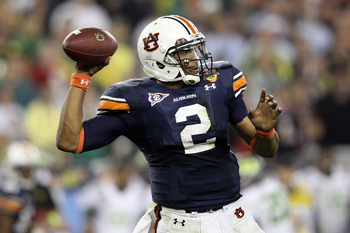 Christian Petersen/Getty Images
Kiper: Cam Newton
McShay: Newton
Rang: Newton
Reuter: Julio Jones
Schrager: Jake Locker
Again, I'm going with the consensus and calling Newton's name at No. 10.
He seems to be rising in scouts eyes as we get closer to the draft, and it's believed he'll impress at the combine enough to solidify a top 10 spot.
Washington still desperately needs a quarterback of the future, and Newton could be that guy. He's big, he's strong, he's mobile, and he's on a mission to prove that he's more than just a one year college wonder.
11) Houston Texans: Marcell Dareus, DT, Alabama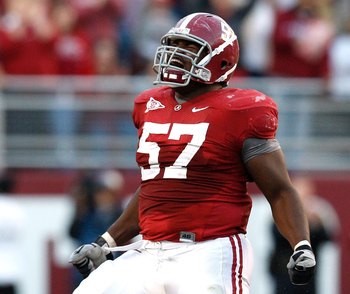 Kevin C. Cox/Getty Images
Kiper: Aldon Smith
McShay: Jimmy Smith
Rang: Prince Amukamara
Reuter: Marcell Dareus
Schrager: Robert Quinn
As you can see, there's not much consensus about this pick, other than that it will come from the defensive side of the ball.
Marcell Dareus has flown under the radar a bit of late, not getting the buzz of guys like Fairley, but he's still a solid NFL prospect from a top flight program who could contribute right away in Houston's new 3-4 defense under Wade Phillips.
He'll be a popular pick in South Texas.
12) Minnesota Vikings: Cameron Jordan, DE, California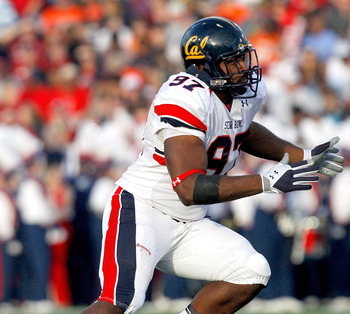 Sean Gardner/Getty Images
Kiper: Nate Solder
McShay: Robert Quinn
Rang: Adrian Clayborn
Reuter: Cam Newton
Schrager: Ryan Mallett
The Vikings have a diversity of needs, as reflected by the various projections for their top pick.
I'm going to go in a different direction and say they choose Cameron Jordan. Jordan was a revelation during Senior Bowl week and really impressed many scouts. He's got the size and speed to disrupt any opposing offensive line.
They could go QB here, but with both Gabbert and Newton off the board in my projection here, I don't think they roll the dice with Mallett or Locker.
13) Detroit Lions: Nate Solder, OT, Colorado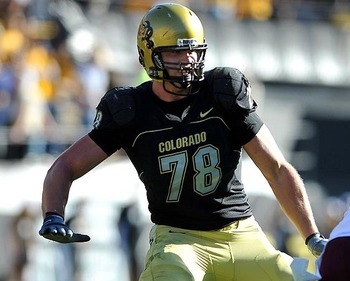 Kiper: Akeem Ayers
McShay: Nate Solder
Rang: Ayers
Reuter: Brandon Harris
Schrager: Ayers
As you can see, UCLA's Akeem Ayers is a popular choice here, and he'll certainly warrant consideration.
I see the offensive line as a big priority for Detroit, though. Even though it wasn't as bad as it has been in the past, protecting Matthew Stafford is key for the Lions to continue their forward progress.
Nate Solder performed well at the Senior Bowl and has the best combination of size and skills of any of the first round offensive line prospects.
14) St. Louis Rams: Ryan Kerrigan, DE, Purdue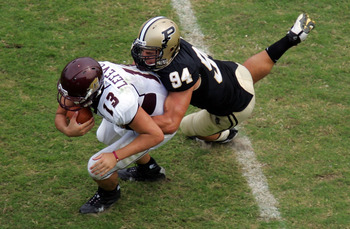 Ronald Martinez/Getty Images
Kiper: Julio Jones
McShay: Jones
Rang: Jones
Reuter: Cameron Jordan
Schrager: Jones
I've been among the majority that has the Rams taking Jones here in the past, but this time, I have him as already off the board. With no other receiver warranting consideration here, the Rams will go in a different direction.
Ryan Kerrigan was another player who impressed in Mobile and solidified his draft stock. He was insanely productive in college and should help a young and rapidly improving defensive front really come into form next year.
15) Miami Dolphins: Mark Ingram, RB, Alabama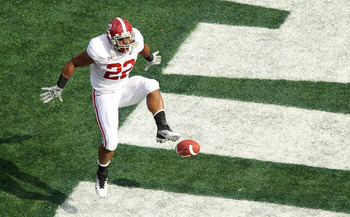 Mike Ehrmann/Getty Images
Kiper: Mark Ingram
McShay: Ingram
Rang: Ingram
Reuter: Ingram
Schrager: Ingram
Who am I to be contrary here with such a unanimous show of support for the Alabama running back?
I've had him here all along too. Some in South Florida will be clamoring for a QB, but they stay away from one for the same reason Minnesota does.
Their running game can certainly use fresh blood, especially with Ricky Williams likely gone. Running backs may be a dime a dozen, but if any of them deserve to be taken this high, Ingram does.
16) Jacksonville Jaguars: Aldon Smith, DE, Missouri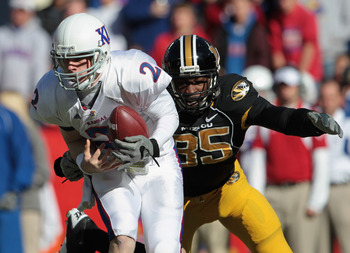 Jamie Squire/Getty Images
Kiper: Adrian Clayborn
McShay: Clayborn
Rang: Ryan Kerrigan
Reuter: Kerrigan
Schrager: Rahim Moore
This isn't the biggest area of need for the Jags, but to me, no QB's or DB's really warrant consideration here, so the safest bet is to make their defensive line more of a strength.
We can quibble over the names (Clayborn, Kerrigan, Smith), but I'll say they go for the athletic freak who might be a little raw, but nonetheless has tremendous instincts that, if honed properly, could yield real rewards.
17) New England Patriots (from Oakland): Akeem Ayers, OLB, UCLA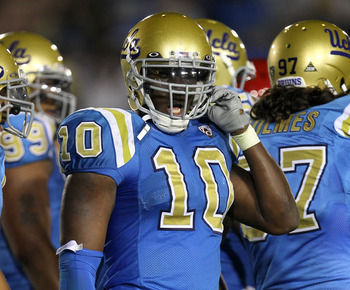 Stephen Dunn/Getty Images
Kiper: J.J. Watt
McShay: Cameron Jordan
Rang: Aldon Smith
Reuter: Smith
Schrager: Jordan
There's just a plethora of talented defensive linemen and linebackers who will be clogging up the first round. Ayers is another one.
He's gotten increased attention recently and should show well at the combine. He's quick and athletic and versatile enough to play in any number of different defensive fronts.
The Patriots definitely could use a more fearsome pass rush, and Ayers will be able to help in that regard.
18) San Diego Chargers: Adrian Clayborn, DE, Iowa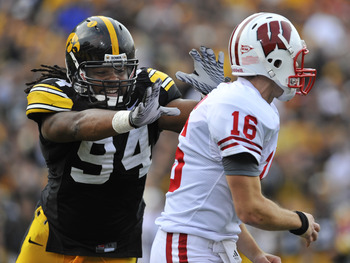 David Purdy/Getty Images
Kiper: Cameron Jordan
McShay: Aldon Smith
Rang: Jordan
Reuter: Akeem Ayers
Schrager: Smith
Notice a trend here in the mid-teens? Some combination of Jordan, Ayers, Smith, and Clayborn will be populating this part of the draft board.
I'll pull Clayborn's name out of the magic hat for the Chargers, as I have the others being off the board at this point. Much has been made of his down year in 2010, but that can be partially blamed on the increased attention he faced from opposing teams, and he shouldn't have a problem maintaining a first round standing.
He can step in and be the new Shawne Merriman in San Diego. A top notch pass rusher with a bit of an attitude.
19) New York Giants: Tyron Smith, OT, USC
Jeff Golden/Getty Images
Kiper: Mike Pouncey
McShay: Tyron Smith
Rang: Nate Solder
Reuter: Smith
Schrager: Smith
Yep, offensive line is as good a place as any for the Giants to look to improve in 2011. They've been a strong unit, but they're starting to show their age, and other areas of need aren't as great.
Smith should continue to rise with a good showing in pre-draft workouts, as he is expected to have. He can add bulk to his frame, and scouts like his athleticism as both a run and a pass blocker. Very coachable.
20) Tampa Bay Buccaneers: J.J.Watt, DE, Wisconsin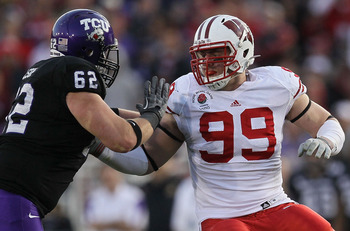 Stephen Dunn/Getty Images
Kiper: Ryan Kerrigan
McShay: Kerrigan
Rang: Brandon Harris
Reuter: Adrian Clayborn
Schrager: Clayborn
I have Kerrigan and Clayborn already off the board here, and I don't see them picking a defensive back unless Peterson or Amukamara are still available (which they won't be).
J.J. Watt is a refined player who can fill either defensive end position. He's perhaps more effective against the run than as a pass rusher, but either way, he'll be an upgrade for a unit that didn't give offensive lines too many sleepless nights in 2010.
21) Kansas City Chiefs: Stephen Paea, DT, Oregon State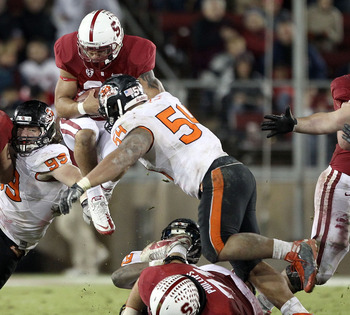 Ezra Shaw/Getty Images
Kiper: Stephen Paea
McShay: Akeem Ayers
Rang: Anthony Castonzo
Reuter: Justin Houston
Schrager: Houston
The Chiefs were a revelation in 2010, as was top pass rusher Tamba Hali. But they still could use help in that department to take some of the pressure off of him to be a one-man show.
Paea isn't a sack machine, but he could be a good compliment in the middle of the defensive line as a run stopper. He takes up space with the best of them, and fills gaps very well.
It's not the sexiest pick, but Paea would be a solid pickup late in the first round.
22) Indianapolis Colts: Gabe Carimi, OT, Wisconsin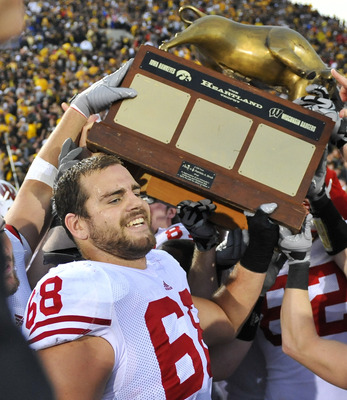 David Purdy/Getty Images
Kiper: Anthony Castonzo
McShay: Castonzo
Rang: Corey Liuget
Reuter: Nate Solder
Schrager: Brandon Harris
The Colts don't usually take an offensive lineman this high, but their needs in that area are undeniable, and Peyton Manning remains the post important asset in the league.
Gabe Carimi played well a couple of weeks ago at the Senior Bowl and would be a good fit to slide into a spot on either side of the line. Coming from the Big Ten, he'll help the Colts running game as well.
23) Philadelphia Eagles: Derek Sherrod, OT, Mississippi State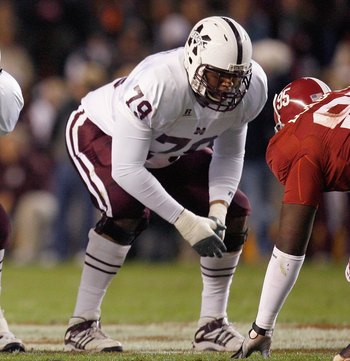 Kevin C. Cox/Getty Images
Kiper: Gabe Carimi
McShay: Carimi
Rang: Jimmy Smith
Reuter: Derrek Sherrod
Schrager: Muhammad Wilkerson
The Eagles could go in a number of different directions here, but they did give up one of the highest sack totals in the league last year, even with a mobile QB at the helm, so offensive line is certainly a squeaky wheel.
It'll get the grease at number 23 with the next tackle in the pecking order, Mississippi State's Derrek Sherrod. He's a little more raw than some of the other top prospects at this position, but his potential his huge. Holding his own in the brutal SEC doesn't hurt his appeal.
24) New Orleans Saints: Corey Liuget, DT, Illinois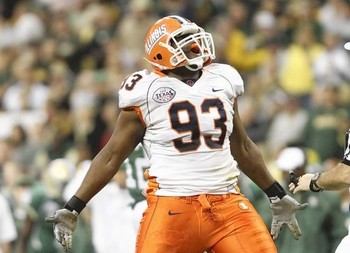 Kiper: Justin Houston
McShay: Houston
Rang: Muhammad Wilkerson
Reuter: Mikel LeShoure
Schrager: Corey Liuget
The Saints don't have too many glaring weaknesses, but the obvious area of concern is the defense after they were torched by the Seahawks in the stunning playoff upset during Wild Card weekend.
Liuget isn't getting the most hype, but he acquitted himself well in the Big Ten, and at 310 pounds, will ensure that beastly runs are few and far between. He's a nice fit to complement what the Saints already have along their defensive front.
25) Seattle Seahawks: Jake Locker, QB, Washington
Otto Greule Jr/Getty Images
Kiper: Ryan Mallett
McShay: Jake Locker
Rang: Mike Pouncey
Reuter: Corey Liuget
Schrager: Jimmy Smith
Yeah, yeah, I know, it's the stereotypical pick because he's from Washington.
Well maybe that's true, but it doesn't mean it can't still happen. Perhaps the Seahawks can get one more good year out of Matt Hasselbeck, but what then? Locker may have shown some flaws in 2010, but he's still got great tools, experience in a pro style offense, and a big upside.
Let him learn for a year and refine his accuracy and footwork, and he could still develop into a capable NFL signal caller. Seattle could do worse at number 25.
26) Baltimore Ravens: Brandon Harris, CB, Miami
Kiper: Brandon Harris
McShay: Randall Cobb
Rang: Torrey Smith
Reuter: Mike Pouncey
Schrager: Aaron Williams
I previously had the Ravens grabbing an offensive lineman here, but with most of the top names off the board at this point, they'll turn their attention to repairing their patchwork secondary instead.
Harris isn't Peterson or Amukamara, but he's closer than you might think and a good value at number 26. His development may have been stunted at Miami, but he should blossom in the NFL.
27) Atlanta Falcons: Mike Pouncey, G, Florida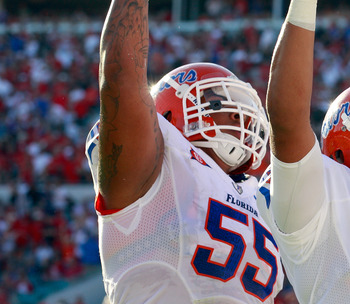 Sam Greenwood/Getty Images
Kiper: Torrey Smith
McShay: Mike Pouncey
Rang: Kyle Rudolph
Reuter: Jimmy Smith
Schrager: Ryan Kerrigan
Things get dicey from a consensus standpoint as we approach the end of the first round. Meaning there is none anymore.
The Falcons might be tempted if a wide receiver really wows at the combine, but with Tony Gonzalez due back next season, they're more likely to look elsewhere, like the offensive line.
Mike Pouncey has the bloodlines (brother Maurkice was a Pro Bowler as a rookie for the Steelers), the instincts, and the talent to play either center or guard. The Falcons are high on him, and he'll be a boon for both the running game and passing game.
28) New England Patriots: Anthony Castonzo, OT, Boston College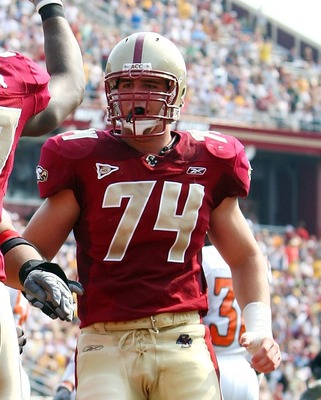 Elsa/Getty Images
Kiper: Mikel LeShoure
McShay: Dan Watkins
Rang: LeShoure
Reuter: Cameron Heyward
Schrager: Anthony Castonzo
After addressing their defensive front with the 17th pick, New England can turn its attention to its offensive line here at No. 28.
Anthony Castonzo went to a local program at Boston College and is a four year starter who is very mature and refined at his position. He knows his role and revels in doing the dirty work in the trenches.
A perfect fit for Bill Belichick's system.
29) Chicago Bears: Benjamin Ijalana, OT, Villanova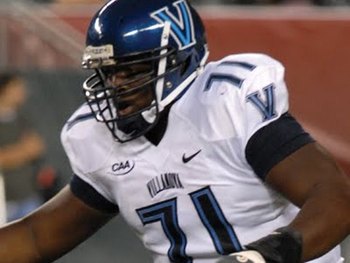 Kiper: Aaron Williams
McShay: Corey Liuget
Rang: Gabe Carimi
Reuter: Carimi
Schrager: Nate Solder
Everyone knows the struggles that the Bears had on the offensive line in 2010. It became a running joke early in the season. While things did improve incrementally down the stretch, it remains a position where they could use an upgrade in 2011.
With all of the other top lineman prospects off the board in this mock, I have Chicago turning to a bit of an off-the-radar prospect. Ben Ijalana comes from Villanova in what used to be known as Division 1-AA, but deserves real consideration here. He's big, he's active, and he's talented.
As anyone coming from this far off the map would be, he's a bit raw and untested, but the tools are all there to be a great tackle in the NFL. A bit of a stretch? Sure. But he could pay dividends down the line.
30) New York Jets: Drake Nevis, DT, LSU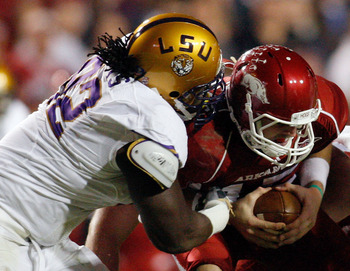 Chris Graythen/Getty Images
Kiper: Muhammad Wilkerson
McShay: Phil Taylor
Rang: Taylor
Reuter: Torrey Smith
Schrager: Taylor
Baylor's behemoth of a defensive tackle, Phil Taylor has come on strong lately and could indeed be the pick here, but I'll switch things up and say the Jets go with the more pedigreed prospect.
Drake Nevis has fallen a bit on many draft boards, but I believe he could have a landing spot here. The Jets have had inconsistent production at nose tackle, and Nevis, while somewhat undersized, makes up for that shortcoming with effort and intensity.
Those are two qualities that Rex Ryan likes his defenders to have.
31) Pittsburgh Steelers: Clint Boling, G, Georgia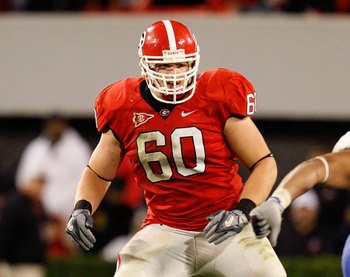 Kevin C. Cox/Getty Images
Kiper: Tyron Smith
McShay: Benjamin Ijalana
Rang: Danny Watkins
Reuter: J.J. Watt
Schrager: Derek Sherrod
The Steelers can certainly use further reinforcements on the offensive line, as theirs was held together this season by string and duct tape. Maurkice Pouncey's injury didn't hurt them too badly, but it could have.
Hurt a bit by their low draft position, Pittsburgh can turn to Clint Boling, a high-upside guard out of Georgia. Playing in the SEC will have sped up his development, and he can learn for a while in the Steelers' excellent system before being tasked with starting full-time.
32) Green Bay Packers: Justin Houston, OLB, Georgia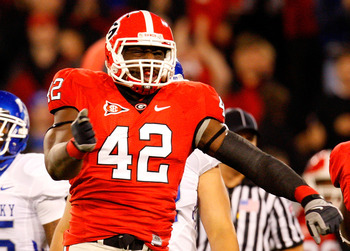 Kevin C. Cox/Getty Images
Kiper: Christian Ballard
McShay: Muhamad Wilkerson
Rang: Derrek Sherrod
Reuter: Danny Watkins
Schrager: Gabe Carimi
Houston has been getting increased buzz of late and may just find his name called before the Packers get to pick him.
But if he's still available, Green Bay won't hesitate to snatch him up. He's a talented linebacker who might also be able to fill in at defensive end, and his versatility to rush the passer or drop back in coverage will serve to round out the Pack's defense nicely.
We saw in the Super Bowl how losing a few key pieces changed the game. Houston can be a new key piece to tilt the scales back towards Titletown.
Keep Reading