Top 10 Sports Road Trip Destinations in the West
Stephen Dunn/Getty Images
"Road trippin', road trippin', we're not happy unless we're road trippin'."
The above should be the official anthem for any adventurous sports fanatic.
Yeah, spectating at games locally is a delight, but there's a whole nation out there, filled with wildly entertaining and historically significant venues that dot the landscape from coast to coast and everywhere in-between.
So, get out there and find them. But before departure, use the following as your guide.
There are any number of great sports road trip destinations that await you, but we had to draw the line somewhere.
For us, 100 seemed like a nice, round number, including 10 apiece from 10 distinct regions around the U.S.
This particular slideshow is dedicated to the West Region, where Golden Bears, Giants, two of the best courses in California, and even a Black Hole take a back seat to one of the most famous boxing venues around.
Begin Slideshow

»
Taube Tennis Center (Photo: marcofoelz -- http://sports.webshots.com)
Arguably the most obscure locale on this list, Stanford's Taube Tennis Center is not without historical merit.
With 17 courts and room for more than 3,500 fans between its two main sites, Taube has hosted several professional tournaments throughout the years, as well as the first-ever combined men's and women's NCAA Championships in 2006, won fittingly enough by the Cardinal women for one of the school's 35 total tennis national titles.
Stuart Franklin/Getty Images

At Spyglass Hill, owned and operated by Pebble Beach Resorts, if the first five holes don't ravage your psyche, you should be toast after the final 13.
A mix of oceanfront property and woodland treachery, "The Glass" is widely known as one of the toughest courses in the nation. Sand dunes and rugged beach terrain dot the first half of the front nine, before giving way to the sentinel-like pines that stand guard over the narrow fairways and undulating greens that await you after the turn.
It's a melting pot of links bliss, but things can go awry in a blink, if not sooner.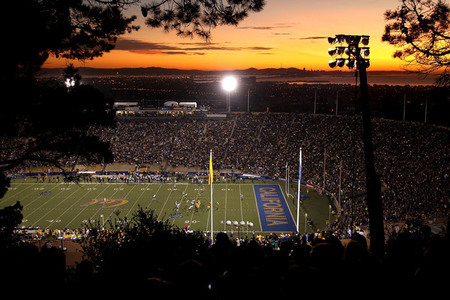 Ezra Shaw/Getty Images
Named in honor of Californians who bravely lost their lives in World War I, Memorial Stadium at the University of California was completed in 1923 at a cost of more than $1.4 million, a figure suspiciously high for the times.
But those darned expansion joints aren't cheap, used to prevent the stadium from slipping into the crevice that is the Hayward Fault, which runs directly beneath the playing surface and causes the structure to shift 1.2 millimeters per year.
A massive renovation scheduled for completion for in 2012 will sure things up, but if you're still wary of paying the price of a ticket for a little seismic activity, there are options. Situated to the east is Tightwad Hill, an aptly named piece of real estate where UC students and faculty have forgone the price of admission for a bird's-eye view of the game, albeit with the San Francisco Bay in the background.
Not yet in existence, this particular destination is lauded for all that it could be, which, if given the green light, would not only house Runnin' Rebel football and serve as a technological marvel for the UNLV campus, but potentially make way for the first-ever professional sports franchise in Las Vegas history.
The price of the project is still vague, but the development, which is centered around a multipurpose arena that would replace both Sam Boyd Stadium and the Thomas & Mack Center (UNLV basketball), also calls for the construction of retail space, dorms, and restaurants over a 150-acre plot, instantly turning the university from a commuter school to a residential oasis of epic envy.
Donald Miralle/Getty Images

If you already knew that prior to becoming one of the country's most popular venues for motor sports, the 720 acres that comprises Infineon Raceway was actually a working dairy farm in the early 1900s, you have a little too much time on your hands.
Either that, or you're way into your racing, in which case you probably also know that this 12-turn track in California's Sonoma Valley is revered for its quick quarter-mile drag strip, as well as being the host of 340 days of racing per year between NASCAR, NHRA, and IZOD IndyCar events.
Ethan Miller/Getty Images

It's going to be a big summer at the MGM Grand, where there's never a shortage of interesting and diverse options for live entertainment. In a matter of three weeks beginning on May 7, the Garden Arena will welcome two of the more anticipated events of the season, first with the WBO welterweight title fight between Manny Pacquiao and Shane Mosley.
On the 28th, UFC 130: Destiny hits town, reportedly to include a heavyweight bout between Frank Mir and Roy Nelson, and Quinton Jackson and Thiago Silva in the light heavyweight division.
If blood and sweat don't whet your fancy, perhaps the MGM Grand's spring schedule will, including musical acts ranging from Linkin Park and Eric Clapton to Bon Jovi and Lady Gaga, all of which will hit the stage before April.
Jed Jacobsohn/Getty Images
The Black Hole, as the Raiders' home is affectionately known, seems like a place the whole family could enjoy. That is if you, as the patriarch, insist on raising your children as loyal minions of Satan.
This is not to disparage the throngs who visit Oakland-Alameda County Coliseum; it's simply a nod to the fan base's, ahem, spirited choice of gameday decorum and attire, which includes a flattering array of spiked shoulder pads, black face paint, and skeleton noggins.
Doug Pensinger/Getty Images
The oversized, fiberglass four-fingered glove and toppled Coca-Cola Superslide in left-center. Levi's Landing and McCovey's Cove in right. It's corporate-funded gimmickry at its finest, but the elements, together with the soothing San Francisco Bay's China Basin, blend to create an old-school atmosphere worthy of adoration.
AT&T Park, like any other ballpark today, is a modern twist on a shout-out to the charm of yesteryear, but there's something to be said about it being the only field in baseball that doesn't need a crazy pattern mowed into the outfield and infield grass.
Stephen Dunn/Getty Images
A true splendor that only God-given beauty and man-driven engineering can combine to produce, Pebble Beach has enraptured golfers of all skills levels since 1919.
Host to five U.S. Opens, with a sixth scheduled for 2019, this child of designers Jack Neville and Douglas Grant, in 2001, became the first-ever public course to be named the nation's best course by Golf Digest.
Yes, you too could have the same left-to-right 40-footer as Tiger or a chance to replicate Tom Watson's delicate chip from the '83 Open.
Just don't go throwing any clubs in the Monterey Peninsula if you don't break 120: That would only bloat the $495 price tag, which, thankfully, includes a cart if you are a resort guest.
Ethan Miller/Getty Images
For much of the 1980s, if you were involved in a prize fight, you laid it on the line at Caesars Palace Outdoor Arena. Away from the glittering lights of the slots and general bustle of the casino floor, yet completely and totally quintessential Vegas, the arena has been the setting for a handful of the sport's most memorable bouts, some for reasons completely unrelated to boxing.
The 1982 heavyweight fight between Larry Holmes and Gerry Cooney, one of the highest-grossing matches in the sport's history, took place at Ceasars. As did the infamous "Fan Man" match between Evander Holyfield and Riddick Bowe, in which a man attempted to land a fan-operated parachute in the ring but was left flailing upon getting entangled in the lights above.