2011 NFL Mock Draft: Will Cam Newton's Stock Continue To Rise into the Top 5?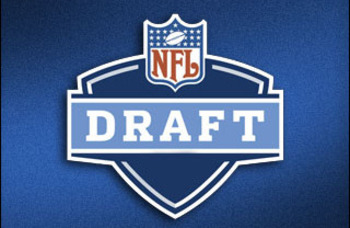 As a Cleveland Browns fan, I know drafts. I've been focused on this draft since the last draft ended. And while my team and I have once again found ourselves near reverse pole position, draft weekend is legitimately my favorite weekend of the year. (Or now, my favorite extended weekend of the year because Roger Goodell either knows marketing or how to sap every last penny out of a good thing.) But I digress…if there's one thing I've learned while hanging on the edge of my seat, beyond ecstatic at each individual drafting of a disproportionate number of top-10 draft picks, it's this…for one weekend a year, in late April, it's actually pretty cool to have stunk.
So without further ado…we're three months away and I'm pretty sure this is entirely accurate.
1. Carolina Panthers – Patrick Peterson, CB, LSU.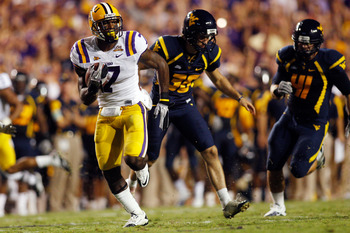 Chris Graythen/Getty Images
Has anyone checked up on Jerry Richardson lately? No news is good news, but I'd still love to hear that he's okay. After the Panthers finish cursing higher education and familial stability, I think they hunker down to business and pick the best athlete in the draft; as you do when you're not staring a franchise quarterback in the face. And while I'll admit that part of me picks Peterson here as a devil's advocate, the LSU CB is the best athlete in the draft, and a legitimate number one talent. At 6'1", 215, he is verifiably huge for a corner, which is all the more impressive when considering his skills as a cover man. Peterson is remarkably fluid for his size, excellent in man coverage and able to mirror even the sharpest of route runners. He's not quite as adept in zone, but with his physical tools, that can be taught. And while I personally don't think a CB of his caliber should be returning kicks in the NFL, he can do that too. A cornerback has never been selected with the 1st pick in the NFL draft before, but consider now that the only other likely options are AJ Green and Nick Fairley. Then consider that the last wide receiver and defensive tackle to go number one overall were picked fifteen and seventeen years ago, respectively (Keyshawn Johnson and Big Daddy Wilkinson). Without Andrew Luck, the top of this draft has no status quo. One more note re: Peterson/Fairley: While I in no way believe Peterson is another Revis (that'd be Joe Haden), if the choice was between Darrelle Revis or Ndamukong Suh, who would you pick? It's a tough call, but I'd take Revis.
2. Denver Broncos – Nick Fairley, DT, Auburn.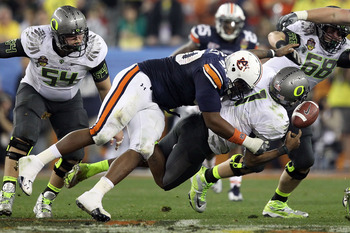 Christian Petersen/Getty Images
The last time John Fox had the number two pick in the draft, he selected Julius Peppers. Now, nine years later, he inherits a team with the same pick and perhaps the worst pass rush in the NFL (which is high praise coming from a Browns fan). It would seem a safe bet that one of JF's first priorities would be to bolster said rush with Da'Quan Bowers, who looks to be one of the better, more complete pass rushers to enter the league in recent years. So why isn't he the pick? I think partly because Fairley's stock has just caught fire since the BCS Championship game, and partly because Fairley seems to be a more reliable player. I wasn't so much won over by Fairley's dominant title game performance as I was by watching him the rest of the season. The guy never had a lull. His motor is non-stop, his feet are very good, and he was able to get consistent pressure from the DT position against a lot of pro-caliber talent in the SEC. Perhaps the biggest questions left with both Fairley and Bowers have to do with their respective demeanors, which have manifested issues in completely different ways. Bowers' unabashed reliance on his athleticism is often a worry, while Fairley is just really, really mean. (Type 'Nick Fairley' into Google and the first qualifier that pops up is 'Dirty.') I hate to promote that as an admirable quality, but the fact remains, it is for football. So while Nick Fairley may not be the guy you want dating your daughter (unless your daughter is really mean and built like a truck), chances are he'll make a hellacious NFL defensive lineman. Buoyed by his timely dominance and Ndamukong Suh's rookie season, I think Fairley is the pick here.
3. Buffalo Bills – Da'Quan Bowers, DE, Clemson.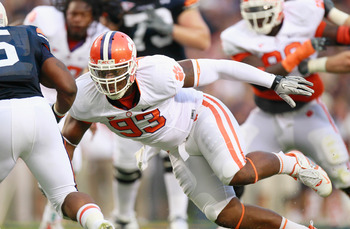 Kevin C. Cox/Getty Images
Full disclosure- I'm not crazy about Da'Quan Bowers, and wouldn't want him for the Browns (at least not at the expense of some of the other options available), but I'd have to think that he's the Bills' pick. The Bills biggest needs are probably at quarterback and along the offensive-line, but Blaine Gabbert is not an elite prospect and there's no top-5 offensive lineman in this draft. AJ Green is quite likely the best talent still on the board, but he too makes little sense. Not for a team with no quarterback, a weak line, and a stadium lease in Buffalo. The Bills are thin at DE, and lack an elite pass-rusher at any position. Dave Wannstedt has been hired to shore up many such inadequacies on the Buffalo defense, and I think Bowers would be a good place to start. DQB led the nation with 16 sacks, and also had 26 tackles for loss. He blends good (but not elite) quickness and snap anticipation with great size and power. At 6'4", 280, Bowers has displayed a dominant bull rush, and is strong enough to move inside on passing downs. The biggest downside with Bowers is his inconsistency prior to this year (just four sacks in the previous two seasons). That said, everything else about Bowers appears to be legit, and he'll be heading to Buffalo with the third pick. (One more note: Last season, Buffalo transitioned to a 3-4, but DW has always used a 4-3 scheme. I personally think Bowers is a far better fit as a 4-3 DE. His strength is his strength, and that will be partially nullified the further you play him off the line. So we'll see…)
4. Cincinnati Bengals – AJ Green, WR, Georgia.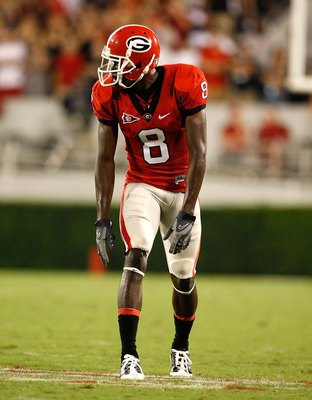 Kevin C. Cox/Getty Images
This pains me. I wanted him for the Browns…but hard as I try, I can't find a way to justify anyone other than AJ Green as the pick here. A DE might've been plausible, but even that is stretching it. In Cincinnati, this has been the off-season of placating Carson Palmer. Bob Bratkowski is gone, at Carson's presumed behest, and Chad Johnson might be the next one out the door. The Bengals had some young receiving talent languishing behind Johnson and TO, but nobody in the caliber of AJ Green. Green is the best WR prospect to enter the draft since Calvin Johnson. The Georgia Bulldog is 6'4", 210, and that rarest of receiver who seems to rely more on technique and route running then actual athleticism. And that's not to say he's not athletic. Green has very good speed, exceptional leaping ability, and fantastic hands. He's like a young Randy Moss in terms of pure talent. He may not quite have Randy's 4.2 speed (I'd expect him to run in the 4.4 range), but he also doesn't have Randy's attitude. The only question mark on Green is his durability. He's still thin and has been banged up on occasion, but he's only once missed a substantial amount of time due to injury (3 games in 2009). Short of something far more substantive befalling him by April, AJ Green is headed to Cincinnati. Damn you, Bengals.
5. Arizona Cardinals – Blaine Gabbert, QB, Missouri.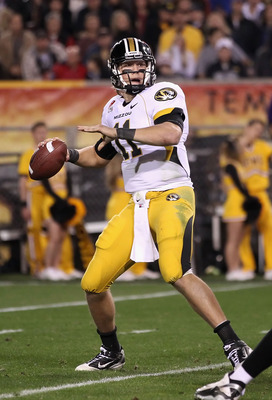 Christian Petersen/Getty Images
In my mind, the first wildcard pick of the draft. Here we have a coach on the hot seat who may not want to spend a top-5 pick on a redshirt rookie, and a face of the franchise-receiver who needs appeasing in order to sign a contract extension. In the end, I think the QB-chest in Arizona is so devoid of starting-caliber talent that they feel obligated to make this pick. Gabbert has prototypical size at 6'5", 240, a very strong arm, and good mobility for a man his size. So why am I not crazy about him? He's spent nearly his entire career in a shotgun formation, and so many of his spread-offense brethren have failed to transition to the pro-style game. And while Gabbert is a legitimate prospect, I can't help but feel like he's riding in the wake of Andrew Luck's decision to go back to school. He's got really nice tools, but his production has never been elite (16 TD-9 INT this year, 24 TD-9 INT the year before). He'll be a solid player, but I'm not sure Gabbert has any business being in the top-10 of this draft.
6. Cleveland Browns – Robert Quinn, DE, North Carolina.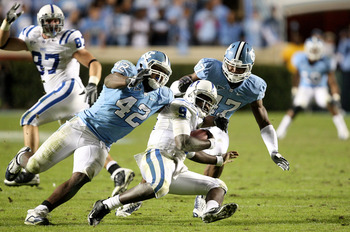 Streeter Lecka/Getty Images
These are my guys, and I honestly feel like Tom Heckert knows what he's doing. Most signs seem to indicate Marcell Dareus, to begin shoring up a porous defensive front. Or Prince Amukamara, perhaps the safest pick at this point, and a guy who seems to have the ball skills to thrive across from Joe Haden in Dick Jauron's 4-3 defense. But all of that said…I just have a feeling that Robert Quinn is the pick. Like this hidden Dwight Freeney in a haystack made of illegally procured jewelry. Pass rush is our number one need (by far), and if Robert Quinn were coming off a 16-sack season, he wouldn't even be here as an option. RQ has an exceptional first step, is tenacious in pursuit, and probably the biggest question mark I see on Quinn is regarding his size and whether he'll be capable of matching up with NFL-level tackles in the running game. I don't have a definitive answer for that, but my hope would be that as a three-time-state wrestling champion in high school, he'd be coming in with a good understanding of leverage. It's a risky pick, to be sure, but Quinn has the biggest upside of anyone left on the board.
7. San Francisco 49ers – Prince Amukamara, CB, Nebraska.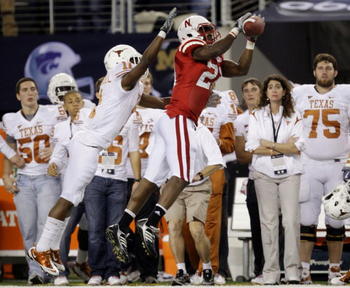 Jamie Squire/Getty Images
San Francisco could use a quarterback, but I don't think Jim Harbaugh goes back on his 'Alex Smith is a winner' declaration within four months. At least not by way of the 7th pick in the draft. They could also use a cornerback, and that's where I think they're headed. I love Amukamara. You know how every year there are 3-4 guys you wish you could draft, and then you get one and you're thrilled but still heartbroken to watch the other three go? Well, Amukamara's one of my three. He's like a less bionic Patrick Peterson. Not quite the athlete PP is, but very fluid, very smart, and his ball skills are at the top of this class. He can be beaten by double moves, but his recovery speed is excellent. He can be outrun by the faster of wide-outs, but he's a monster in press coverage. Prince Amukamara is not without limitation, but employed correctly he's well worth the 7th pick in the draft.
8. Tennessee Titans – Marcell Dareus, DL, Alabama.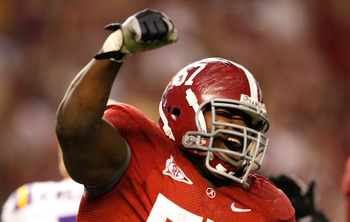 Kevin C. Cox/Getty Images
This would be the first, and most interesting, place for Cam Newton to land. But let me put this bluntly: There is a better chance of Vince Young catching a gig as Peyton Manning's quarterback coach then the Titans taking a shot on anyone who even resembles the aforementioned third pick in the draft. New coach, new era? Perhaps. But by all accounts, Bud Adams had a heavy hand in getting Vince Young to Tennessee in the first place, and I suspect he'll have a heavy hand in keeping Cam Newton out. The Titans need corners and they need defensive-ends. They had the 4th worst pass defense in the league last year, and Marcell Dareus would go a long way toward rectifying that. While there are several more pure DE prospects left on the board, none of them is as talented as Dareus. His combination strength and agility is remarkable for a man his size, and he will be effective early particularly with his pass rush. The Titans can pair him with Jason Jones on the interior of their line, and take the first step toward rebuilding a once ferocious defense.
9. Dallas Cowboys – Tyron Smith, OT, USC.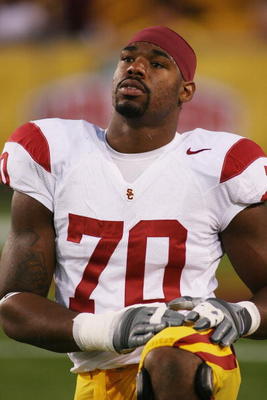 Jeff Golden/Getty Images
Somewhere, Jerry Jones just had a conniption. This is truly a need pick for a guy who may or may not be aware that offensive lineman are eligible in the first round of the draft. Tyron Smith is 6'6", 290, with plenty of room to add bulk. He's also a relatively young player (he won't be 21 until December of this year), which would be a timely find for the Cowboys; last season they trotted out an offensive line with an average age of just under 31. And while that unit only allowed 31 sacks (11th best in the league), their actual production was far less palatable. Not coincidentally, Tony Romo struggled through the worst season of his career, and ended up on injured reserve. Smith played at RT for the entirety of his USC career, which I actually think is a boon to the Cowboys. While Smith certainly has the potential to end up at LT at some point in his career, Doug Free was pretty solid for Dallas in that spot last season. Smith is an excellent athlete with great feet and good quickness off the snap. He's at his best in handling the speedier ends, and while he will occasionally struggle against a bull rush or in driving defenders off the ball, he's not weak. Smith is undersized, and adding weight will be a focal point of his development, but he's got the functional strength to be able to play immediately at 290 pounds. And that strength will only improve, which is why I believe he'll ultimately become the best tackle in this class. Smith's body will develop, but his athleticism can't be taught.
10. Washington Redskins – Julio Jones, WR, Alabama.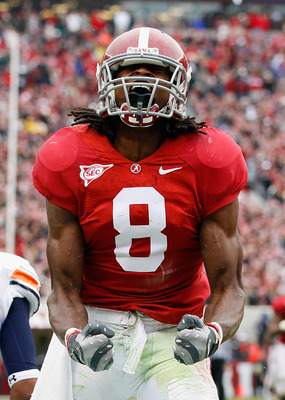 Kevin C. Cox/Getty Images
This is potential landing spot for Cam Newton number two…but I just can't see it happening here either. Mike Shanahan has been having enough trouble with established, reputable quarterbacks populating his backfields. Is he really going to hand the reigns over to Newton? If so, I feel sorry for Cam. I think the pick here is Julio Jones. Santana Moss is 31, a free agent, and far and away the most productive receiver on last year's roster. Jones is a physical specimen. 6'4", 220, and monstrously tough. He is a terror after the catch, and as good a downfield blocker as you're likely to see. If he has one downside, and it is a downside, it's that his hands are inconsistent (and after four years with Braylon Edwards, just typing that designation feels like I'm administering the kiss of death). Just like with Braylon, or TO, or quite frankly a surprising number of the more athletic receivers in the league…it's not so much about ability as it as about focus. Jones is as capable of making the spectacular catch as he is of dropping the easy one. But so much about what he brings to the table is elite. Jones is a tenacious player, and just a notch behind AJ Green as the best receiver in the draft.
11. Houston Texans – Von Miller, OLB, Texas A&M.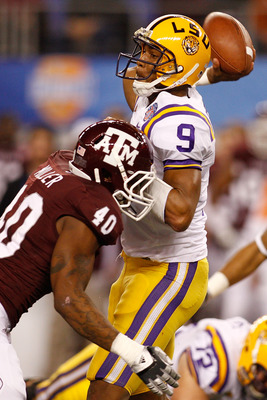 Chris Graythen/Getty Images
I have some reservations about Von Miller in general, most eloquently articulated by Brent Sobleski, a terrific writer/scout at both Cleveland's Orange and Brown Report (my favorite site on the internet) and draftinsider.net. A few weeks ago he posted a great article at the former address, and without divulging too much of it, BS painted Miller as an incredible speed rusher with legitimately elite athleticism, but ultimately an unfinished product who has never shown great ability for shedding blocks. And that would be my biggest worry with him in a 3-4, which Wade Phillips will be running in Houston. He'll be able to rush off the edge, but 3-4 OLB tend to be bigger then 6'3", 240 for a reason…so they aren't engulfed in the running game. If protected, Von Miller will be a force at the next level, and I think his performance at the Senior Bowl will keep his stock rising for a while. Ultimately, I think he settles in here come draft day.
12. Minnesota Vikings – Ryan Mallett, QB, Arkansas.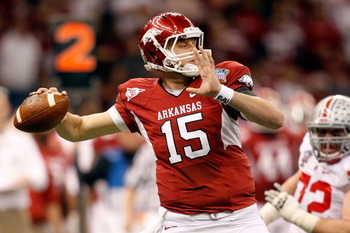 Matthew Stockman/Getty Images
Well, no Cam Newton yet, but I suspect this is equally surprising. My thinking is that the Vikings see a chance to grab a guy who has the potential to throw the ball at an elite level, and find that to be a more palatable complementary piece to Adrian Peterson's particular style of ground attack. It's a risky pick at 12, but the payoff with Mallett could be, quite appropriately, large. He's had his struggles in the uber-competitive SEC, but as statuesque pocket passers go, he's got all the tools you want to see. RM has a canon for an arm, is exotically tall (6'7", 250), and has played in a pro-style offense his entire career. He excels at play action, and throws the type of deep ball that can force a safety off the line. Or burn one badly when he's worried about Adrian Peterson. There's not so much in way of mobility, but if Mallett can develop into a threat from the pocket, I think the Vikings can live with that limitation.
13. Detroit Lions – Nate Solder, OT, Colorado.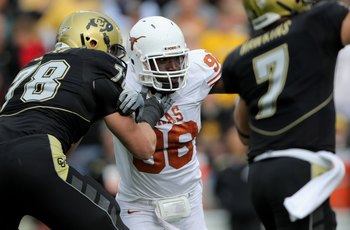 Doug Pensinger/Getty Images
This one's for Stafford. Detroit's young signal-caller has never made it through a full 16, and Solder would represent a sizable obstacle between the QB and future harm. A former tight end, NS now stands 6'8", 315, and has retained impressive agility for a man his size. He's very flexible, able to pull and land blocks in space, and has very long arms to direct speed rushers wide. Solder has improved his strength throughout his college career, and has room to add substantially more bulk to that already enormous frame. At this point in his development, Solder's biggest detriment perhaps stems from the source of so many of his attributes- he's still learning the tackle position. His technique is inconsistent, and he can, at times, lose leverage because of his height. None of which is to say he won't contribute immediately. Solder will be a starter from day one, and will challenge Tyron Smith for OT supremacy in this class.
14. St. Louis Rams – Cameron Jordan, DE, Cal.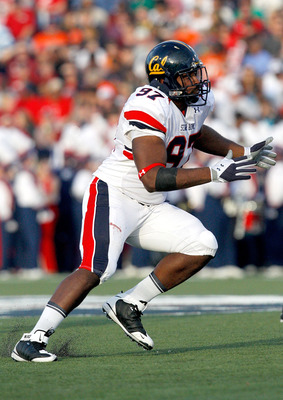 Sean Gardner/Getty Images
Most of the mocks I see have Julio Jones going here. Great pick, but I don't think he gets that far. While not necessarily at their position of greatest need, Cam Jordan would be a great value in this spot for the Rams. Jordan is big, stout (6'4", 285), and easy to under-appreciate (as indicated by the size of his paragraph). He is strong against the run, and, though not particular explosive, effective against the pass. More solid then spectacular, Jordan is versatile enough to play in a 4-3 or 3-4, and would provide a nice complement to Chris Long. Low risk here, with substantial reward.
15. Miami Dolphins – Cam Newton, QB, Auburn.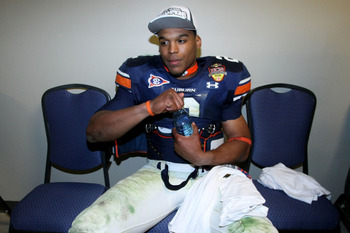 Jonathan Ferrey/Getty Images
I almost went with Mark Ingram here. Would've been a good pick, too. But this is precisely the point where reward dwarfs risk. It also helps that Chad Henne did a really nice Derek Anderson impression over the second half of last season. Just enough to hint to the staff that he wants out of the starting role. With Ronnie Brown and Ricky Williams both hitting free agency, the Dolphins appear to be entering something of a transition period. And while I realize this might sound sardonic…that's exactly the type of place Cam Newton needs to go. Cam Newton is such a unique talent that I think it would be doing him a disservice to approach his development traditionally. The Dolphins now have an opportunity to create something from the ground up. They've shown a willingness to be experimental, and there's already some key talent on that offense…now tailor it to CN. Newton has a rifle of an arm, and is a far more accurate passer then most people realize (he completed 67% of his passes last year while amassing 30 TD-7 INT, and rushing for 20 TD more). And while it's true that he was not often required to throw into NFL-sized windows, I don't think he's done his evolution as a passer either. His required reads were simplistic, and his footwork isn't quite there, but physically, he has every tool necessary to be successful as a passer. Plus, he's 6'6", 250, and can run. There's always going to be a risk with investing in something different, but that's why a guy this talented is here at 15. At the very worst, this'll be interesting to watch.
16. Jacksonville Jaguars – Ryan Kerrigan, DE, Purdue.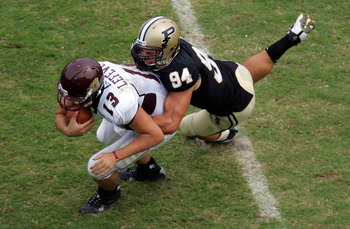 Ronald Martinez/Getty Images
The Jaguars are looking to sure up their pass rush, and Kerrigan is a 6'4", 263-pound, football junkie who plays with a great motor. His production this past year was elite (70 tackles, 13 sacks, 26 tackle for loss, 5 forced fumbles), and his weight lifting abilities are legendary ('legendary' might be a bit of hyperbole, but apparently the guy can bench press a lot.). Not remarkably explosive, but relentless in pursuit, RK is the type of three-down, versatile end that all teams love to get their hands on, but are often passed up for sexier picks. His intangibles are off the charts. Team Captain and Academic All-American, the Jaguars would not regret selecting him here.
17. New England Patriots (via Oakland) – Aldon Smith, DE/OLB, Missouri.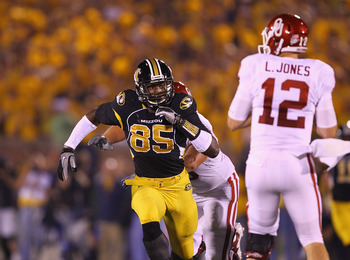 Dilip Vishwanat/Getty Images
This is the 'welcome to my neuroses' portion of the slideshow. I'm literally now looking at every mock draft on the internet in an effort not to directly copy anybody. So sorry Rob Rang and Chad Reuter for the last two selections. (You made good picks!) For New England, the selection of Aldon Smith is about improving the pass rush, and perhaps eventually, finding a young, impactful presence at defensive end. Coincidentally, this is the pick NE acquired in the Richard Seymour trade. Smith is a project (he's only been playing football since his junior year of high school), but the tools are there to make him elite. 6'5", 260 with great explosion off the snap, AS registered 11.5 sacks and 19 tackles for loss as a redshirt freshman, and then, dealing with substantially more attention, 5.5 sacks with 10 tackles for loss this past year. He needs to add weight, but he has the frame to do it. He plays hard, shows great versatility, and those are the staples of a Belichick defender.
18. San Diego Chargers – Cameron Heyward, DL, Ohio State.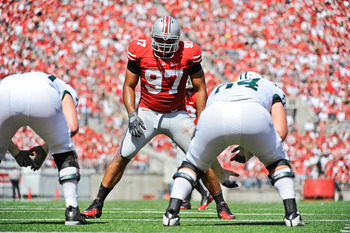 Jamie Sabau/Getty Images
One of my favorite guys in the draft. Had I no responsibility, I would tailor my mock to make him available for the Browns at the top of the second. But alas, good teams have needs too. The Chargers are in the market for 3-4 ends and 3-4 linebackers, and Heyward edges out Akeem Ayers here because he plays a position that's tougher to fill. Heyward represents another solid, versatile end in a class chock-full of them. 6'5", 288, with an excellent motor, Heyward has tremendous pedigree as a four-year started at Ohio State, and is a more impressive athlete then both Kerrigan and Cameron Jordan. Heyward has quick feet, long arms, and room to grow further into his already solid frame. He could one day end up playing inside, but in my mind, CH projects as the prototypical 3-4 end. Much to the Chargers' good fortune.
19. New York Giants – Derek Sherrod, OT, Mississippi St.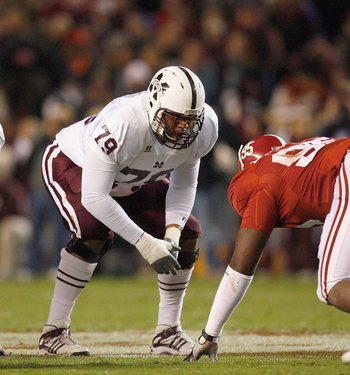 Kevin C. Cox/Getty Images
The Giants desperately need a tackle here, and I like Sherrod better then most. He's 6'6", just a shade under 315, and has great, great feet for such a big man. He's very fluid, and rarely gets beat on a speed rush. Just an exceptional pass blocker. His biggest weakness right now is his power game. Sherrod is not tremendously strong. He will struggle against a bull rush and has difficulty moving defenders off the ball. But his athleticism is rare, and his flaws are things he can improve. Sherrod has played three full seasons in the SEC, blocking for a capable Mississippi St. attack. He will now find himself a day one starter protecting Eli Manning.
20. Tampa Bay Buccaneers – Adrian Clayborn, DE, Iowa.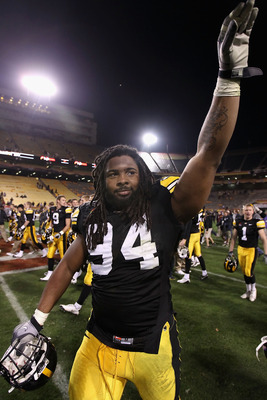 Christian Petersen/Getty Images
Tampa Bay's defense was much improved last season, but they were able to register only 26 sacks (tied for second worst in the league). By pairing Clayborn with Gerald McCoy, the Bucs would be aiming to improve on that number. Clayborn, 6'3", 285, is light on his feet, tenacious in fighting off blocks, but shows only decent initial burst. He had a dominant 2009 season, totaling 70 tackles, 11.5 sacks, and 20.5 tackles for loss, but his numbers dropped across the board this year as offenses began to focus solely on him. With Gerald McCoy next to him, that shouldn't be a problem.
21. Kansas City Chiefs – Mike Pouncey, OG, Florida.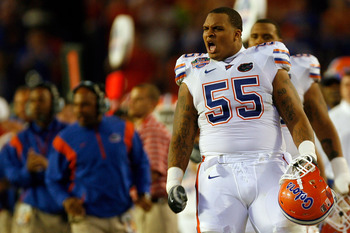 Eliot J. Schechter/Getty Images
Just keep him away from the Steelers. Receiver could be an option here, but I say the Chiefs continue to invest in their running game with the twin brother of the best young center in the league (Editor's note: Did you know Mike Pouncey is actually Alex Mack's brother?). For that reason (displaced athletic nepotism), I think Pouncey will end up getting over-drafted a bit. But that's not to say he's a bad pick. Pouncey is a powerful interior lineman, with experience at both guard and center, capable of holding his own against even the largest of defensive tackles (He himself is 6'5", 320…not an easy guy to move.). And while he's not an elite athlete, he is a three-year starter on the Florida offensive line who has proven himself time and again against top-tier NFL talent. Pouncey has the look of a 10-year starter in the league.
22. Indianapolis Colts – Anthony Castonzo, OT, Boston College.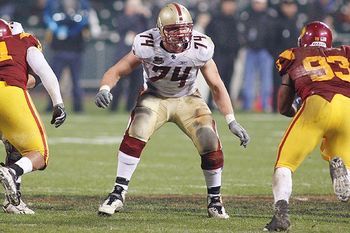 pathtothedraft.com
He's not quite a franchise tackle, but I'm not sure the Colts are in a position to be selective. The Colts had the no. 1 ranked passing offense in the NFL last year, but if you watched the them play even once, it was astonishing how much of that was accomplished through smoke and mirrors by Peyton Manning. The Colts were roughed up, and they finished the season behind a patchwork line, unable to run the ball. Having not drafted a first-round offensive lineman since 1997, this is the year they start to reload. 6'7", 295 pound Anthony Castonzo is a four-year starter at Boston College, with experience at both tackle positions. Not overly athletic, but very smart, Castonzo is a high character guy who plays with sound technique and phenomenal positioning. AC is not a powerful run blocker, and he may have trouble handling some of the NFL's elite edge rushers, but it won't be for lack of effort. He seems like a Peyton Manning-style lineman to me.
23. Philadelphia Eagles – Brandon Harris, CB, Miami.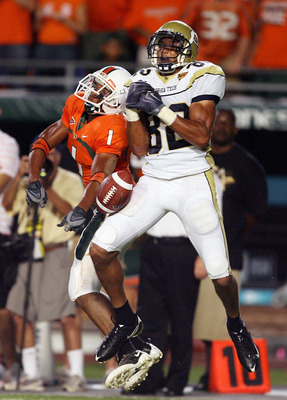 Doug Benc/Getty Images
The Eagles most glaring need is on the offensive line, but they could use some help in the secondary too, and I think Brandon Harris might end up being a better football player than he seemed to be at Miami (and he seemed pretty good at Miami!). BH is not huge, at 5'11", 195, but he's a tough and physical player, with exceptional speed. He shows great instincts when playing the ball in the air, and by all accounts he is a good kid who loves to play football. We're a long way from Peterson and Amukamara, but in similar fashion, Harris shows great ability to mirror a receiver while struggling more in zone coverage. The most substantive reason he's down here is his lack of statistical production, which isn't always the worst thing for a corner.
24. New Orleans Saints – Stephen Paea, DT, Oregon State.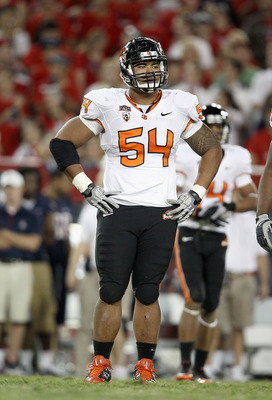 Christian Petersen/Getty Images
New Orleans may have more pressing needs elsewhere, but I think the prospect of pairing Stephen Paea with Sedrick Ellis will prove two enticing to pass up. Paea is a workout warrior with tremendous lower body strength, which allows him to plant against the run better then anyone in this class. He's not the most versatile lineman, but he does what he does very well: anchor, and bull rush. There's potentially more to uncover in Paea too, as he's only been playing the game for six years. 6'1", 311, and the dimensions of a tree stump. He's sure to be a fan favorite.
25. Seattle Seahawks – J.J. Watt, DE, Wisconsin.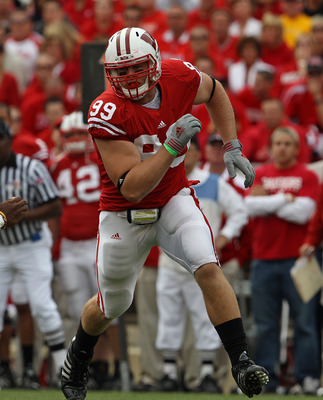 Jonathan Daniel/Getty Images
The first priority for Pete Carroll here is upgrading the secondary, but with all applicable names off the board, I think Seattle turns their attention toward upgrading their pass rush. For that, J.J. Watt is the best option on the board. (The Seahawks may consider Akeem Ayers, who, believe me, I'm trying to find a place for…but they will settle on the end, a greater position of need.) At 6'6", 290 pounds, Watt is a versatile DE strong enough to play inside on a 4-3 front, and quick enough to make an impact off the edge. Not overly athletic, Watt wears down offensive lineman with a relentless motor that never seems to wane throughout a game. He ended last season with seven sacks, 21 tackles for loss, and three forced fumbles. The Seahawks will need him to produce at that level if they have any hopes of replicating last season's success by default.
26. Baltimore Ravens – Gabe Carimi, OT, Wisconsin.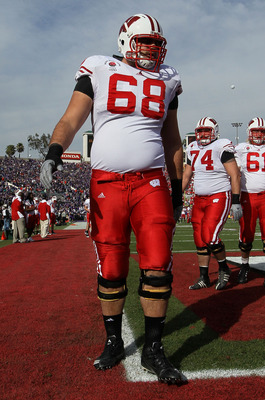 Stephen Dunn/Getty Images
I think the Ravens too were looking for a corner here, but with Harris off the board, they settle in on Carimi as Jared Gaither insurance. Like Gaither, Carimi is huge, at 6'7", 327 pounds, and he projects to be an excellent run blocker in the NFL. Unlike Gaither, Carimi's pass blocking is a major question mark. Carimi does not have great lateral agility, and his feet are slower then would be ideal for a LT. Rarely, if ever, did Wisconsin require much of him in that regard either. Which is why I suspect the Ravens would be plan accordingly. If Jared Gaither leaves, Michael Oher would take over LT duty full-time (as he did last year to mixed results), leaving Oher's old spot open to Carimi.
27. Atlanta Falcons – Kyle Rudolph, TE, Notre Dame.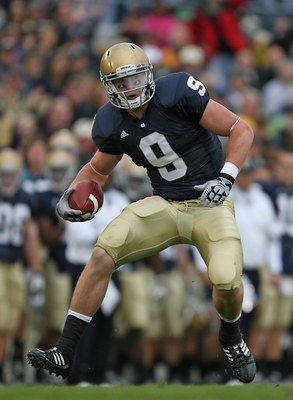 Jonathan Daniel/Getty Images
Tony Gonzalez's numbers still appear solid, but his play has been falling off in recent years. At 6'6", 265 pounds, Kyle Rudolph has all the tools to become a top-flight replacement. That said, he hadn't put together an accordant level of production until this year. Rudolph has great hands, catches the ball away from his body, and is exceptionally speedy for a guy his size. He should, and can be, dominant. The biggest areas of concern with Rudolph are his route running, and his blocking technique. But literally every knock on KR is correctable, and he is purportedly willing to work on correcting them. He's the pick at twenty-seven, and this could be a heist.
28. New England Patriots – Mark Ingram, RB, Alabama.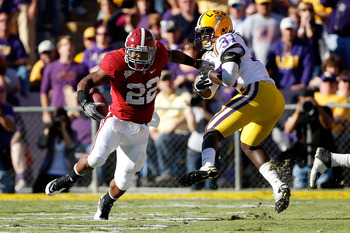 Chris Graythen/Getty Images
And this is the point in the mock where I realize I'm not Mel Kiper. Or Todd McShay. Or whoever is left standing after the two of them participate in their annual, nationally televised death match of opinion. (On McShay and Kiper competing for head guru status: Does anybody else feel like that's ESPN injecting too raw a slice of Darwinism into their programming? I feel uncomfortable watching it.) Mark Ingram is too good of a player to end up at twenty-eight. On the other hand, the fact that he falls to the Patriots seems more than plausible. Ingram (5'10", 215) runs with vision, balance, and in summation his strengths read a lot like those of a young Emmitt Smith. There's not a whole heck of a lot to dislike about him. He shouldn't be here at twenty-eight.
29. Chicago Bears – Corey Liuget, DT, Illinois.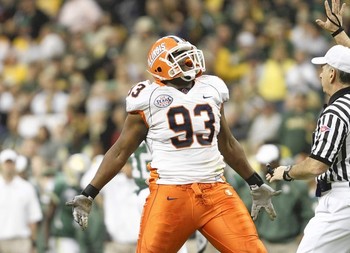 Thomas Campbell/US PRESSWIRE
The Bears need an OT, but according to my mock, there's just no one worthy of the pick here. Lucky for them, GBN's 23rd ranked prospect is still on the board (my mocks give, and my mocks take away), and the Bears could use some help along the defensive front as well. Liuget is a 6'3", 300-pound junior who spent his first full season on the starting line this past year. He is very athletic for a man his size, and CL accentuates that ability with good footwork. He'll need to work on his technique as a pro (his best move is his bull rush), but his stock is rising, and the talent is there.
30. New York Jets – Phil Taylor, DT, Baylor.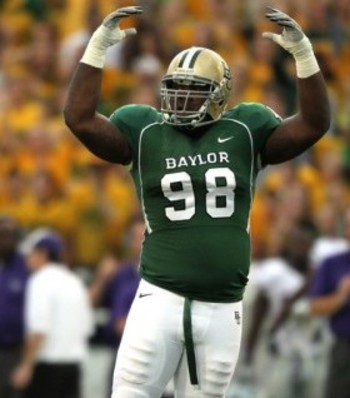 baylor.edu
This pick is either WR Jonathan Baldwin, WR Torrey Smith…or this big guy listed above. My guess would be that Rex Ryan continues to remember who the Jets are, and drafts a replacement for Kris Jenkins. Braylon Edwards may walk, but again, I'm a Browns fan…screw Braylon Edwards. Phil Taylor is a load, at 6'3", 337 pounds, who seems destined to anchor the middle of a defensive line. He plays with a strong base, good balance, and projects as a classic space eating NT in a 3-4 scheme. The downside with Taylor is that that's about it. He doesn't have great mobility, and at times, hasn't given consistent effort. But his size can't be taught, and on a fiery defense like that of the Jets, I can't imagine the rookie just going through the motions.
31. Pittsburgh Steelers – Jimmy Smith, CB, Colorado.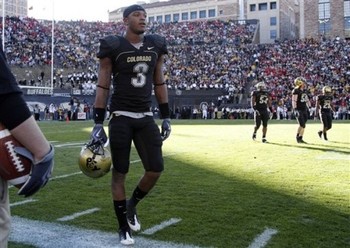 footballsfuture.com
Probably a bit too simplistic of a pick, but god do the Steelers need a corner. And this is a good one. Jimmy Smith is a big CB (6'2", 210) with tremendous speed (4.4). And as seems to be the case with every corner in this draft, JS is far more comfortable in press coverage where he can use his physicality and size to consistently reroute receivers. In fact, the more I read up on him, the more worried I am about the Steelers getting him. He's allowed 11 completions over the past two years. I hope I'm overreacting, but all of a sudden I feel completely uneasy about what I've done with this mock.
32. Green Bay Packers: Muhammad Wilkerson, DT, Temple.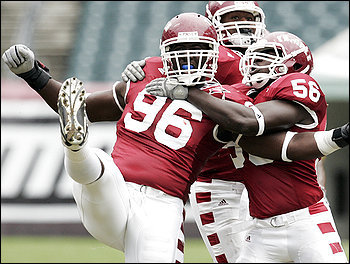 Tom Mihalek/Associated Press
I think the Packers will initially be looking for a youth infusion along the offensive line. But with all the applicable names off the board, they continue to load up at a position of passable strength while providing themselves insurance in case Cullen Jenkins leaves for less green pastures. "Big Daddy" Wilkerson (I just made that up) is a versatile lineman, capable of playing anywhere on a defensive front. He was Temple's MVP for the 2010 season, registering 70 tackles, 9.5 sacks, and 13 tackles for loss. And he's been productive consistently. In 2009, he registered 7 sacks, and 10.5 tackles for loss. MW is inappropriately athletic for a 6'5", 305-pound man, regarded as a tenacious run defender, and the Packers will be looking to find someone other then Clay Matthews for whom defenses have to account. Wilkerson will be a good place to start.
Thank You So Much!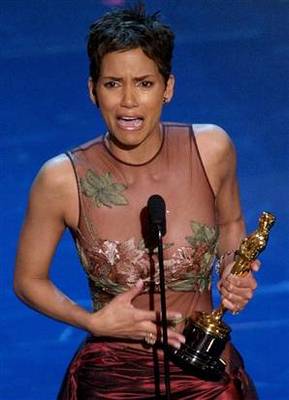 Getty Images
And now, with complete and inappropriate sincerity, I want to take this opportunity to interpret the platform I'm typing on as endowing me with awards speech-type capability by thanking the ridiculous assortment of talented web writers whose work I scavenged and pilfered in compiling this list. It is thorough, it is accurate, and it is ultimately derivative of just about every mock draft and scouting report available on the internet. Thank you all for allowing a young man in Los Angeles to act like he's scouting the combine while eating ice cream in his living room.
Keep Reading

Cleveland Browns: Like this team?