NFL Predictions: Donvan McNabb and 10 Veterans With The Most To Prove This Year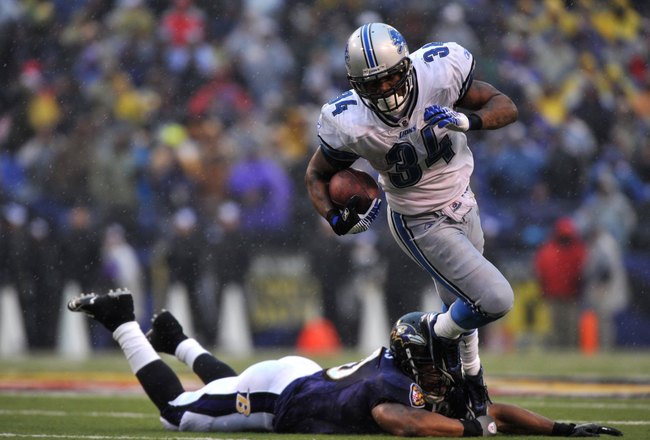 Larry French/Getty Images
Even though the football season just ended on Sunday, it's never too early to speculate on next year (if there is a next year).
There were plenty of guys who broke out in 2010, and even more who went into the shadows.
In a league where a player's career expectancy keeps shrinking, it is very important to play your best every opportunity you get.
Guys are getting cut and waived at a much higher rate, making their time in the NFL that much more precious.
Unfortunately for players with last names Smith and Williams, this was not their year.
Here is a look at 10 players who have a lot to prove next season.
10. Joey Porter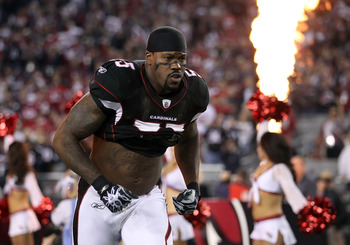 Joey Porter has been a fire-ball type of player his whole career
Christian Petersen/Getty Images
Joey Porter has been a menacing force in the NFL for years.
He has been known to hit hard, talk tons of trash and explode on tackles at any time in the game.
Unfortunately, Porter and the Cardinals had a bad year in 2010.
Over the past two years, Porter went for 26.5 sacks combined. In his first year with the Cardinals, he had just five.
Maybe the Cardinals don't use Porter on blitzes like the Dolphins did, but they need to.
Porter showed in Miami how relentless he can be on the pass rush, easily getting into the backfield and blowing up plays.
Porter did have more tackles this year than the last two seasons, but when you're not blitzing nearly as much that will happen.
Now 33 years old, Porter isn't getting any younger.
With the Cardinals in no position to start winning any time soon, it will be interesting to see how they use the aging linebacker next year.
9. Alex Smith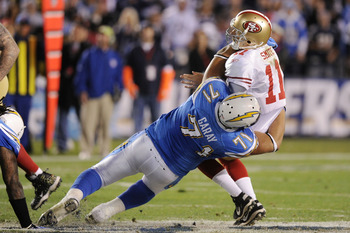 Alex Smith has had a forgettable run so far in San Fran
Harry How/Getty Images
The former No. 1 overall pick is already being grouped with busts like Ryan Leaf, JaMarcus Russell, and Tim Couch. If your name is in the same conversation as those guys, something is going terribly wrong.
Smith and the 49ers started off terribly in 2010.
The team started 0-5, losing each matchup by an average of 10.8 points.
Smith also posted a ridiculous nine interceptions through the first five games, a terrible feat to accomplish.
The 49ers eventually picked up a few quality wins, but could never get a win streak going to build momentum.
Smith and then-head coach, Mike Singletary, were even seen exchanging harsh words on the sidelines during a game.
Smith was subsequently benched for five games during the regular season, adding to the disaster.
However, things are already looking up for Smith and San Francisco.
The 49ers fired Mike Singletary and brought in the heavily touted Jim Harbaugh.
Harbaugh has long been regarded as a "players coach," so reviving Smith's career is certainly possible.
2011 will be a defining year for Smith, who will be going into his sixth year in the league.
Keep an eye on Smith next season, he was drafted No. 1 overall for a reason.
8. Ricky Williams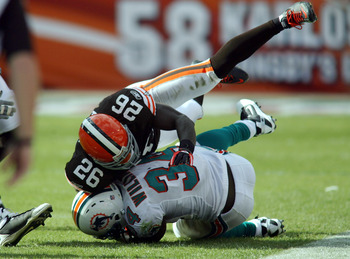 Ricky Williams went down early and often in 2010
Marc Serota/Getty Images
Ricky and the Dolphins had a very frustrating year.
After posting a 1,000-plus-yard season in '09-'10, Ricky did not even come close this year. Williams went for just 673 yards on 159 carries, a very mediocre stat line.
The worst part about his numbers were his touchdowns.
Ricky only saw the end zone twice this season.
This was easily the worst season Ricky has seen in his whole career. For a running back now 33 years old, that is a very bad sign.
Apparently the "Run, Ricky, Run" special that was aired about Williams did not help him on the field.
If Ricky can't rebound, he will most certainly be at a crossroad in 2012.
There is barely any demand for running backs in their mid-30s, especially when the age shows in their running.
2011 will be a big season for Ricky and the Dolphins, and with the constant questions at quarterback, it won't get any easier in the immediate future.
7. Steve Smith
Smith will be hungry for football in 2011
Otto Greule Jr/Getty Images
Another guy who plays for a terrible team, Steve Smith had a very bad year in 2010.
It started off with Smith breaking his arm playing flag football before the season, and things did not brighten up afterwards.
The Panthers were bad in just about every facet of football. However, they were probably the worst at quarterback.
When you don't have a good quarterback throwing you the ball, it's very hard to make catches and plays down the field.
Smith finished the season with 46 catches for 554 yards. Both of those totals were his lowest since 2004, when he played just one game that year.
Adding insult to injury, Smith killed his fantasy owners. He only caught two touchdowns, and his longest reception of the season was only 39 yards.
Unless the Panthers can acquire a legitimate quarterback, Smith will suffer again in 2011.
6. Cadillac Williams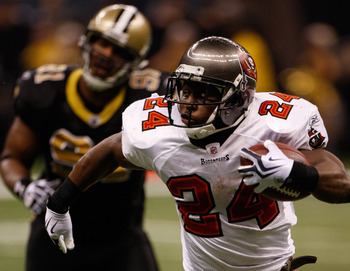 Chris Graythen/Getty Images
Cadillac might be the only guy on this list who does not have a chance to redeem himself next season.
The 28-year-old product out of Auburn has underachieved wildly in his career. With tons of hype coming out of college, most fans wonder what happened to Cadillac.
Many Bucs fans believed this would be the year Cadillac finally made a name for himself in the NFL. Unfortunately, that did not happen.
The Bucs started off the year with Williams as the lead back.
However, that only lasted two weeks.
Through the first two games, Williams had over 20 rushing attempts per outing. It would be the last time of the season, and possibly his career.
Cadillac finished the season with just 437 yards on 125 carries.
Rookie running back LeGarrette Blount burst onto the scene in a big way for the Bucs.
Blount eclipsed the 100-yard mark four times this year, most of them towards the end of the season.
Blount even trumped the 1,000-yard mark, which is very impressive for just 201 rushing attempts.
Expect Blount to get the bulk of the carries next year, with Cadillac on the sidelines watching.
5. The Williamses (Pat and Kevin)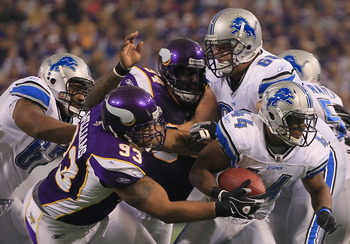 Kevin and Pat Williams have traditionally been loads to handle in the middle, but 2010 was just the opposite
Jeff Gross/Getty Images
Let's start with Kevin Williams first.
Just by watching Kevin you can tell the explosiveness and dominating power he used to have seems to be dwindling.
Two years removed from recording 60 tackles and 8.5 sacks, Kevin had 39 tackles to go along with just one sack in 2010.
For a defensive tackle that was known to be pretty nimble on his feet, Kevin has lost a step or two.
Now let's discuss Pat Williams.
Pat just completed his 14th year in the NFL, and weighing in at over 310 pounds, the weight is certainly taking a toll on him.
Pat posted just 30 tackles in 2010, the lowest since his rookie season. Not only did he only have 30 tackles, he did not record a single sack for the Vikings.
The bigger Williams will be going into his 15th season in the NFL, making him one of the oldest defensive linemen in the NFL at 38 years old.
Not only do the Williamses have age working against them, a possible suspension could be on their way.
They both failed a drug test back in 2008, but haven't been suspended for it yet because of the controversy behind it.
Recently, the court of appeals announced that the NFL can indeed suspend the Williamses, adding to their growing list of problems.
4. Ronnie Brown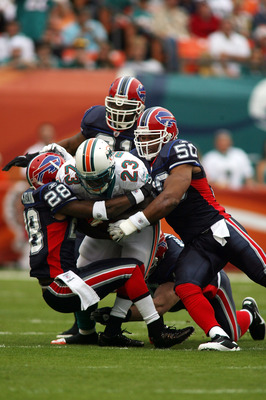 Ronnie Brown was ganged up on repeatedly in 2010, even by the Bills
Marc Serota/Getty Images
Like his teammate Ricky Williams, Ronnie Brown had a bad year in Miami.
Not only did Ronnie have a bad year for the Dolphins, fantasy owners (like me) had to watch and cry, as Ronnie did not record big numbers once.
Being very un-Ronnie-like, Brown did not eclipse the 100-yard mark once in the whole season.
Ronnie saw double-digit carries 12 times in 2010, but never even got to 90 yards in one game.
If Ronnie and Ricky are going to get back on track next year, they will need stability at the quarterback position.
The Dolphins could never find a guy to consistently lead the offense, and after acquiring a receiving threat like Brandon Marshall, that's inexcusable.
Watch out for the 'Phins to be active in trade talks this offseason, and maybe even trade up to draft a quarterback.
Ronnie and Ricky are a good duo in the backfield, but they are not exactly youthful. Ronnie has now played six years in the pros to Ricky's 10, making them vulnerable every time they touch the ball.
If the Dolphins can get more consistent play out of their quarterback (whoever that may be), Ronnie and Ricky could have a big year in 2011.
3. Kevin Smith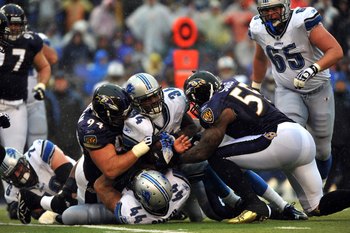 Larry French/Getty Images
To put it in the nicest way possible, Kevin Smith got screwed.
As a rookie, Smith put up just under 1,000 yards on an efficient 238 carries.
The following season everything was going fine for Smith. He was still Detroit's lead back and was doing a better job at it than people expected.
Then it happened.
The worst thing that can happen to an NFL running back: Smith tore his ACL and required season-ending surgery.
Smith tried to keep a positive attitude about it and get ready for 2010, but the Lions pretty much gave up on him.
They drafted Jahvid Best out of California in the first round, showing they wanted to go in a new direction.
Not only did they give the nod to Best as starting running back, they placed Maurice Morris second on the depth chart, one spot ahead of Smith.
Smith only got carries in six games this season, and totaled a mere 133 yards on 34 carries.
Don't be surprised if Smith can work his way back into the Lions rotation in 2011.
Not just in football, but players who require major surgery can sometimes have big seasons two or three years after.
Smith is a highly motivated guy, and is not OK with just riding the pine.
2. Carson Palmer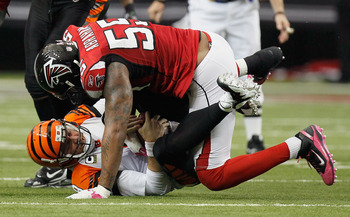 Carson Palmer was taken down time and time again in 2010
Kevin C. Cox/Getty Images
2010 was easily a forgettable year for Carson Palmer and the Bengals.
After signing Terrell Owens to go along with Chad Ochocinco in the offseason, many fans believed that the Bengals could be a dark horse-type of team.
To say the least, the master plan did not work out at all.
At one point during the core part of the season, the Palmer-led Bengals lost 10 games in a row.
Palmer easily had one of his worst seasons in the NFL.
He threw as many touchdowns as times he was sacked, at 26. For a quarterback, that is a terrible stat to have the same numbers in.
He also threw an un-Palmer-like 20 interceptions, tied with the most in his career.
After the season, rumors spread that Palmer had requested the team for a trade. This would be great for Carson, but terrible for the Bengals.
A change of scenery would be awesome for Palmer. His run in Cincinnati has never gone as expected, so a new team could spark him to play at the level he is used to.
Who knows, maybe Carson could team up with Steve Smith in North Carolina and they could both have the big bounce-back years they are looking for.
1. Donovan McNabb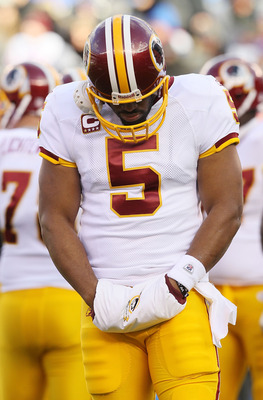 There was not much for McNabb to be happy about in Washington in 2010
Jim McIsaac/Getty Images
McNabb's first year in Washington has been disastrous to say the least.
It started off on a high note, when the Redskins signed him to a five-year deal worth approximately $70 million.
That was about the only good thing that happened to Donovan all season.
McNabb passed for 3,377 yards, the lowest since his rookie season 11 years ago.
He also had 15 interceptions along with seven fumbles, both career highs.
After watching McNabb struggle all throughout the season, head coach Mike Shanahan eventually benched Donovan for the last three games.
This move by Shanahan did not make things better.
McNabb was visibly frustrated on the sidelines, showing that he wanted to be out there playing.
If McNabb is going to prove to his doubters that Washington made a good move by signing him to a five-year deal, he will have to start off 2011 in a big way.
Being that he is 34 years old, he can't run around like he used to. So Donovan will have to change his playing style a little and beat teams with his arm.
Watch out for Donovan next year, as he tries to prove to the world how much football he really has left in him.
Keep Reading

Washington Redskins: Like this team?