NFL: Brett Favre and 10 Retired Athletes We Want on 'Dancing With the Stars'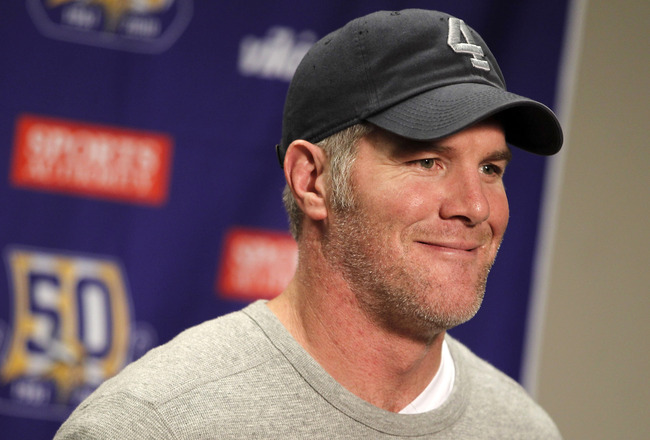 Gregory Shamus/Getty Images
At the end of the NFL's regular season, Brett Favre retired once again. This time, it sounded like it would be for good.
Favre's post-retirement options are wide. He owns a restaurant, runs a charity, and could most likely score a front office or broadcasting job anywhere he wanted. Still, there is one other opportunity Favre could pursue.
Recently, rumors swirled that Favre would be cast on ABC's hit show, "Dancing With The Stars." Were he to become a part of that, he would join the likes of Michael Irvin and Emmitt Smith as retired athletes to appear on the program.
Producers have denied reports that Favre has been cast on the show, but it would still be a good idea to include him on the upcoming season! In fact, why not have him and these 10 other retired athletes?
No. 10: Muggsy Bogues, Retired NBA Point Guard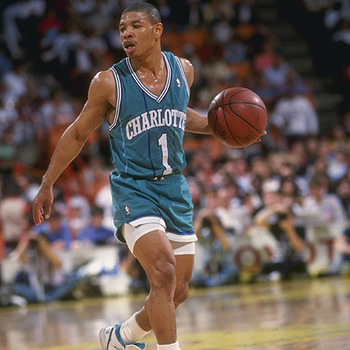 Muggsy Bogues initially made a name for himself as a star point guard for the Charlotte Hornets. Besides being a great passer, he also held (and still does hold) the title of shortest player in NBA history, standing at five feet, three inches tall.
Given the height of some of the professional dancers on DWTS and the outfits they wear, chances are that they would tower over Bogues in some cases. Still, with his charisma and great sense of humor, Bogues would be a great addition to the upcoming season's cast.
No. 9: Picabo Street, Retired Olympic Skier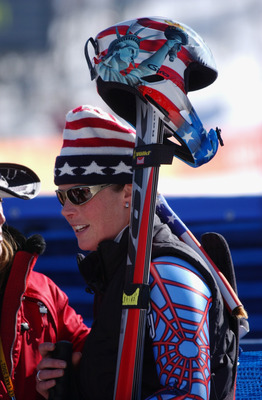 Doug Pensinger/Getty Images
In her prime, Picabo Street was a top skier on the U.S. National Team. She won a silver medal in the downhill event at the 1994 Lillehammer games, and won gold in 1998 at Nagano.
Sadly, after 1998, she was never the same. She crashed on a course in Switzerland shortly after her gold medal win, breaking her left leg and tearing a knee ligament in the process. Street was never the same afterwards.
Besides having one of the most interesting names in all of sports, Street's athleticism is the reason she should be on DWTS. She made a living utilizing the athletic abilities of her lower body, so who is to say that she won't have any rhythm on the dance floor?
No. 8: Rickey Henderson, Retired Outfielder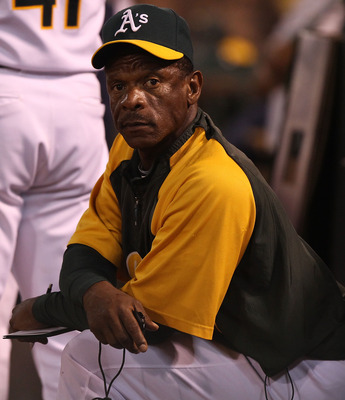 Jed Jacobsohn/Getty Images
As a baseball player, Rickey Henderson could do it all. He hit well for average, had decent power, and was a good fielder. However, what made him a Hall of Famer was his lightning-fast speed.
Upon his retirement in 2003 after a career that lasted 25 seasons, Henderson was baseball's all-time leader in career stolen bases with an incredible 1,406! This man had legs, and he knew how to use them. Let him get on base, and he'd steal a base as though he were taking candy from a baby.
With wheels like that, Henderson must have some rhythm. Combine that with his joyful trash-talking, and he would be a great addition to the cast.
No. 7: Marion Jones, Former Track and Field Athlete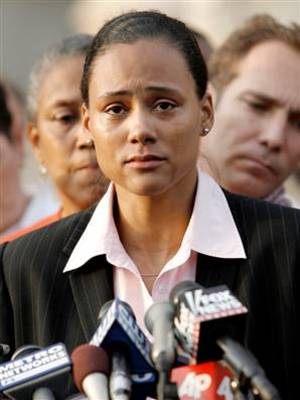 It's been a rough few years for Marion Jones. At one point, she was on top of the world having won five medals at the 2000 Sydney Games. Yet, in 2007, she forfeited them all after admitting to using performance-enhancing drugs.
On top of that, she admitted lying to federal investigators during the BALCO investigation. In January 2008, she was sentenced to six months in jail. She is out of jail now, but not out of the dark yet.
Given all she has been through, Jones is in need of a pick-me-up. What better way to get one than have fun on DWTS and laughing at some of her fellow retired athletes?
Plus, I doubt that ABC would care if she took PEDs to make her a better dancer...
No. 6: Kareem Abdul-Jabbar, Retired NBA Center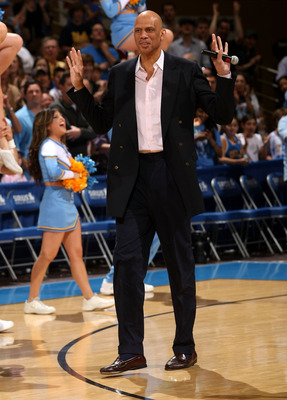 Stephen Dunn/Getty Images
The list of Kareem Abdul-Jabbar's accomplishments is near-endless. He won six NBA Championships, six MVP Awards, and retired as the NBA's all-time leading scorer.
When he wasn't flashing his skills on the hardwood, Abdul-Jabbar could be seen on the silver screen in films like "Game of Death" and "Airplane." He's used to the spotlight, so the 7'2" Hall-of-Famer would be a perfect candidate for the show.
He's just defeated cancer and may need a little extra recovery time, but appearing on DWTS would be a great comeback move for Abdul-Jabbar. Plus, who doesn't want to see him in one of those crazy outfits?
No. 5: Jennifer Capriati, Retired Tennis Player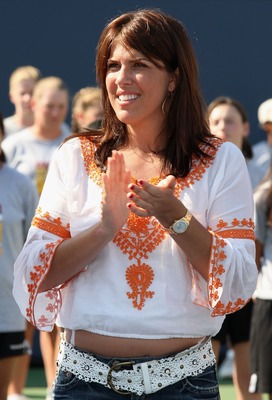 Lisa Blumenfeld/Getty Images
She was never as dominant as the Williams sisters or Steffi Graf, but Jennifer Capriati was always fun to watch. She won the Australian Open twice (2001-2002) and the French Open once (2001), but never got past the semi-finals in any major tournament after those victories.
Thus, why should Jennifer Capriati be on DWTS? The answer is simple. She's got the look.
In her prime, Jennifer Capriati was easily the sex symbol of the professional tennis circuit. She had a beautiful face and a doe-eyed smile that melted fans' hearts.
Even better, she still has them today. Those factors combined with her natural footwork could make for great ratings!
No. 4: Shannon Sharpe, Retired NFL Tight End
Joe Robbins/Getty Images
Before he was a hilarious member of the NFL on CBS, Shannon Sharpe was the best tight end in the NFL. Whenever he played, broadcasters would note that while he was built like a tight end, he played like a receiver.
Sharpe's talents on the gridiron made him a member of the Pro Football Hall of Fame's Class of 2011, and it's time to give him a congratulatory gift. Why not put him on DWTS?
He's got the legs for it, and his reputation as one of the biggest trash-talkers in NFL history.
If he and Rickey Henderson were to be part of the same cast, just imagine the sparks that would fly when they jawed at each other!
No. 3: Bo Jackson, Retired Outfielder and Running Back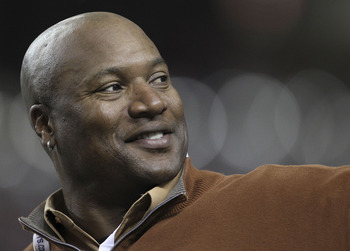 Mike Zarrilli/Getty Images
In his prime, Bo Jackson could do it all. He was a star outfielder for the Kansas City Royals, and also a Pro Bowl running back for the Los Angeles (now Oakland) Raiders.
Before he turned pro, he won the Heisman Trophy as the star running back for Auburn University.
Sadly, his athletic career was cut short by injuries. He then made a name for himself in acting, appearing in small roles in movies and on television. Recently, he has been linked to the real-estate business.
That all being said, why should Jackson be on DWTS? Well, he's simply a good media personality. He's charismatic, doesn't generate controversy, and still has some gas in that athletic tank of his.
His legs may not be what they once were, but keep your eyes peeled and don't be surprised if the producers of DWTS decide to give Bo a shot.
No. 2: Brett Favre, Retired NFL Quarterback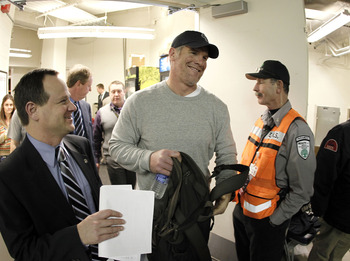 Gregory Shamus/Getty Images
Like Marion Jones, Favre has been going through a tough time as of late. After an MVP-caliber season in 2009, his 2010 was marred in controversy.
The Vikings underachieved, the Jenn Sterger fiasco was a horrible distraction, and he sat the last couple of weeks out with an injury. That all being said, Favre needs a pick-me-up!
He is no stranger to the media spotlight off the field at all. He has appeared in commercials, and even had a small cameo in the hit film, "There's Something About Mary."
As evidenced last season, Favre can still move even if he's badly hurt. He's due to be enshrined in Canton eventually, so why not tack on "DWTS Finalist" onto his list of accomplishments?
No. 1: Deion Sanders, Retired Outfielder and Defensive Back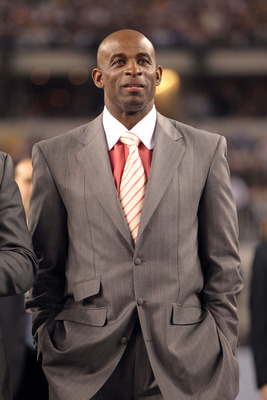 Jamie Squire/Getty Images
As was Shannon Sharpe, Deion Sanders was selected to be enshrined in the Pro Football Hall of Fame in 2011. When the time comes for him to give his induction speech, I will be extremely excited.
For years, the man known as "Prime Time" simply did it all. He was a speedy outfielder for the Atlanta Braves (among other teams), and was a top defensive back in the NFL, most notably with the Dallas Cowboys. Thus, why should he be on DWTS?
Well, who didn't like the Prime Time touchdown dance? Were Sanders to be cast on the show, it would be hilarious to see him take his dance moves to the next level. Just imagine the Prime Time dance being done in some crazy tango outfit!
Combine his natural gift of gab and the possibility of being on the same cast as Shannon Sharpe, and Sanders would be ideal on the show. It's time for Prime Time to make his return to prime-time TV, and start dancing!
Keep Reading