Albert Pujols, Michael Young and 10 Marquee MLB Players Who Could Be Moved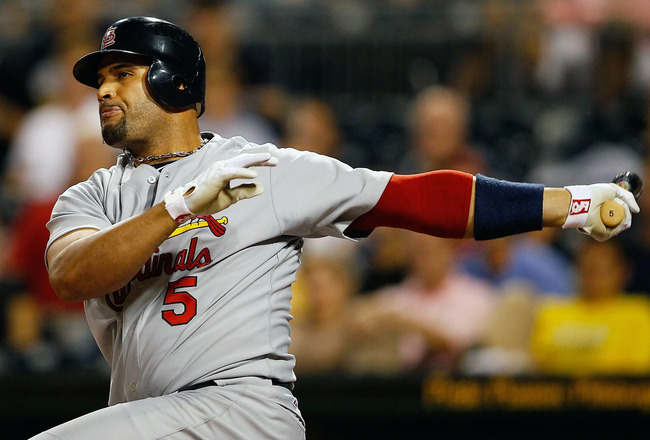 Jared Wickerham/Getty Images
Camps open up across Florida and Arizona in less than two weeks, and players and fans alike are anxious to get the 2011 MLB season underway.
But change continues to be a constant, whether it's in Texas, where Michael Young is expected to be traded sometime this week, or in St. Louis, where the Albert Pujols contract situation drags on, with each day that passes leaving the Cardinals one day closer to having to face the reality of a future without their superstar.
Before we start taking BP and shagging those fly balls under the warm sun, let's go around the horn and investigate some of the big names who might have new homes by this time next year.
10) Michael Young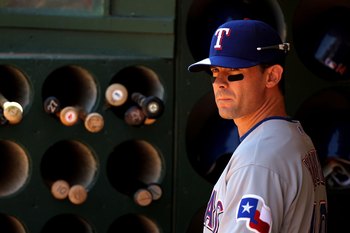 Jed Jacobsohn/Getty Images
Michael Young is obviously the hot name on everyone's lips right now.
He feels like he's been disrespected by the Texas staff this offseason, through them first signing Adrian Beltre to displace him at third base and then trading for Mike Napoli, someone else who could steal at bats from Young as a first baseman or DH. As the face of the franchise for a decade, Young should be treated better.
He's still got life in his bat, evidenced by his 21 homers and 91 RBIs last year, so he's got good value. But his contract, which has three years left for $48 million, is a roadblock. Right now, Colorado or the Angels seem like they could be fits, but nothing's happened yet.
Count on Young either being moved prior to the season, or not at all.
9) Jonathan Papelbon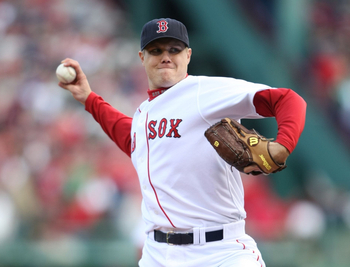 Elsa/Getty Images
Papelbon can be a free agent after the season and there have been signs this past winter that Red Sox Nation is already looking at a post-Papelbon future.
The Red Sox signed former White Sox closer Bobby Jenks to a two-year, $12 million deal in December. He'll start out as a setup man, but could easily step back into closing. Boston also has Daniel Bard, a young reliever with a live arm who thrived in the bullpen last year, sporting a 1.93 ERA in 73 appearances, and appears to be a future closer himself.
There were grumblings down the stretch last year when Papelbon's ERA and blown saves jumped, and he just might be shown the door sooner rather than later if he struggles again this year.
8) Carlos Beltran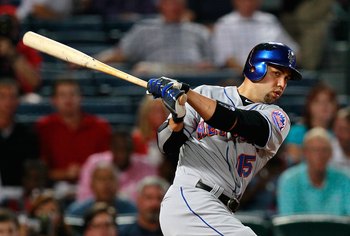 Kevin C. Cox/Getty Images
Carlos Beltran is entering the final year of the seven year, $119 million contract he signed with the Mets prior to 2005, and it's a critical one for the former superstar.
He's struggled through back-to-back injury plagued seasons and was a shell of his former self through much of his action in 2010. He looked a step slower in the outfield hampered by a bulky knee brace, and his power appeared diminished.
With the Mets high on Angel Pagan, who is five years younger, significantly cheaper and served admirably as their starting center fielder in Beltran's absence, they could look to move Beltran if they fade out of contention early this year, in order to get something in return for him before he becomes a free agent.
7) Heath Bell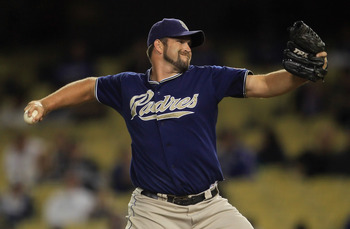 Jeff Gross/Getty Images
The Padres' closer is currently due to be a free agent after 2011 and figures to command a multi-year deal.
San Diego is traditionally among the most frugal franchises in baseball, however, and they are expected to have the lowest payroll in the league this year, just $44 million. Would they be willing to commit to Bell long term?
Bell has enjoyed a great run in Southern California, but he'll be 34 by the end of the season and how much of his success can be attributed to playing half his games in the spacious expanse of Petco Park?
If the Padres have another magical run like last season, then they'll obviously be keeping him down the stretch. But if they don't, look for Bell's name to be burning up the trade deadline chatter.
6) Chone Figgins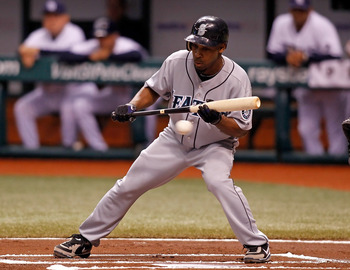 J. Meric/Getty Images
Figgins was recently rumored to have been mentioned in a possible trade that would have sent him to Oakland in exchange for Kevin Kouzmanoff.
That deal never reached fruition and he has expressed a desire to stay in Seattle. But he's due $26 million over the next three seasons and the Mariners, who have lost 101 games in two of the last three years, are looking to rebuild with youth, and older players (Figgins is 33) with large contracts might not fit in.
It doesn't help him that he had a subpar season in 2010, batting just .259, but other teams beyond the A's have also expressed interest, due to his speed (42 steals in 2010) and versatility (he can start at second base, third base or in the outfield).
If a contender comes calling at the trade deadline, the M's will be obliged to listen.
5) Carlos Zambrano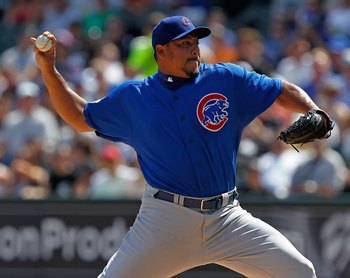 Jonathan Daniel/Getty Images
The Cubs would love to be able to dig themselves out from under the weight of Zambrano's enormous contract (two years and nearly $36 million remaining), and even bigger ego and temper.
He imploded during the first part of last season, being relegated to the bullpen for a time and then fighting in the dugout with Derrek Lee, for which he earned a suspension. Upon his return to the rotation down the stretch (with Lee shipped to Atlanta), Zambrano looked more like his old self, going 8-0 with a 1.41 ERA from August 9th on to salvage what had been a lost season.
More importantly, though, it might have restored his trade value enough to the point where the Cubs can actually get something of value in return for him once again. With Ryan Dempster and the newly acquired Matt Garza, the Cubs rotation will be able to survive the loss of Big Z.
If he, the Cubs or both struggle again this season, look for trade talk to flare up faster than Zambrano's nostrils when he's angry.
4) Carlos Lee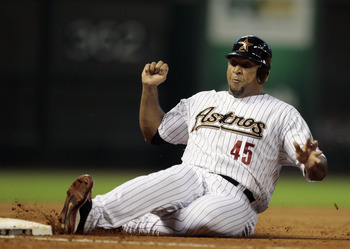 Bob Levey/Getty Images
Lee has been very productive during his four years in Houston, but he had one of his worst seasons last year, slumping to a .246 average and a .708 OPS.
He's still owed $37 million over the next two years and he'll be 35 by midseason. With the Astros not expected to contend once again, they'd be wise to explore potential suitors for El Caballo, freeing up some salary and allowing them to get some additional prospects to rebuild for the future.
There's already been chatter in some circles about swapping him for Michael Young (not exactly the youth movement I think the Astros would be going for, but the point is, the subject of moving Lee has been broached).
Plus, with Roy Oswalt and Lance Berkman both already gone, Lee probably feels like the last guy at a party that's long since ended, anyway.
3) Jose Reyes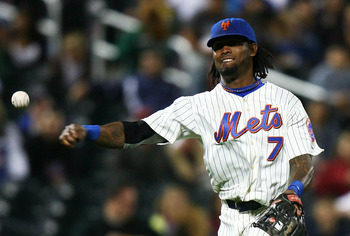 Andrew Burton/Getty Images
Reyes finds himself in a similar situation as Carlos Beltran with the Mets.
Both players were cornerstones of a talented nucleus that included David Wright that had the Mets as perennial contenders between 2006 and 2008. But injuries have hampered Reyes almost as much as Beltran in recent years and his luster has faded. Now he, like Beltran, finds himself in a walk year and at a bit of a crossroads.
The Mets are undecided on how to proceed with Reyes. If he rebounds back to his 2006 to 2008 form, they'd consider re-signing him to a multi-year deal, but even then, the uncertainty surrounding the franchise in the wake of the current ownership group being named in a billion dollar lawsuit clouds things.
If the Mets struggle to contend over the first half, Reyes will be a tantalizing trade option.
2) Prince Fielder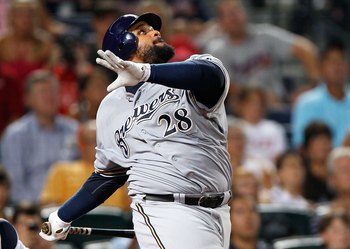 Kevin C. Cox/Getty Images
Prince Fielder is the most talked about potential free agent after 2011 not named Albert Pujols.
Small market Milwaukee has made overtures about re-signing him, but he's already said that he wants to test the free agent waters and it is widely expected that he'll be playing somewhere else in 2012. His numbers were down a bit in 2010 after an MVP caliber 2009, but he still crushed 32 home runs and led the league with 114 walks, leading to a studly .401 on-base percentage.
The Brewers look like contenders in 2011 with the addition of Zack Greinke, but if things turn south, the front office will be hard pressed to ignore the temptation of landing a prospect windfall by parting with their superstar a few months early.
1) Albert Pujols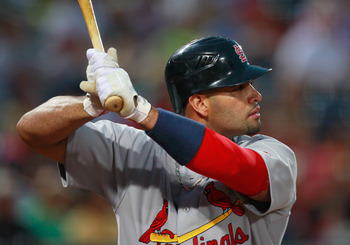 Kevin C. Cox/Getty Images
Phat Albert continues to be tight lipped about where contract extension negotiations stand with the Cardinals and GM John Mozeliak, but the start of spring training is one week away.
That's the deadline Pujols and his agent, Dan Lozano, have set to finalize negotiations and get a deal done. Otherwise, Pujols will not negotiate during the season and therefore will become a free agent in November. As hands down the best player in baseball, Pujols is floating around the idea of a $300 million contract.
It's inconceivable that St. Louis isn't doing everything in its power to retain their slugging first baseman, but the very fact that we've reached this point right now is evidence that things aren't as foregone a conclusion as perhaps most of us thought they were.
If the team becomes convinced that it won't be able to re-sign Pujols, might they consider a trade instead? They wouldn't want to be the Cleveland Cavaliers redux.
To be clear, I'm not saying a trade is likely and I still can't imagine Pujols signing anywhere else, but it has to be accepted as a possibility at this point, however painful to the Redbird faithful and however minuscule the chances.
Keep Reading