2011 NFL Mock Draft: Updated NFL Draft Top 50 Big Board
Christian Petersen/Getty Images
The 2011 NFL Draft picture is starting to become clear now that the NFL season is over. We know which order the picks will go and, barring any trades, mock drafts will now be easier to create.
Mel Kiper has continued to update his big board, with his latest change coming on February 7. He has Nick Fairley leading the group of four (Bowers, Peterson, Green), and he also has Rahim Moore and Torrey Smith cracking the top 25.
Whether you agree or disagree with Mel's big board, it's not easy to rank the top 25 players in all of college football for the draft. It's even more difficult to rank the top 50, and there are many that you will likely think I'm crazy for ranking too high or too low.
One thing is for sure, though; any team that needs a defensive lineman will be more than satisfied as a big number are in the top 50.
1. Patrick Peterson, CB, LSU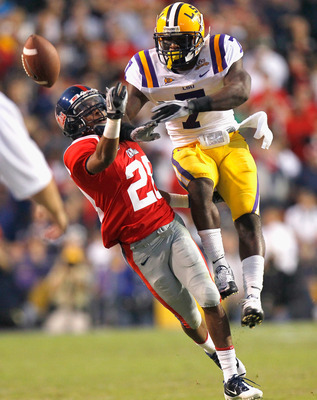 Kevin C. Cox/Getty Images
I have to put Patrick Peterson at the top of the draft list. There's no question that he's the best defensive back in the country and his confidence shows on the field. He's also the best athlete and special teams player in the draft. Peterson is one of the few players in the draft that is a shutdown playmaker.
He likely won't go first in the draft, but he has shown that he could be the player we remember five or 10 years from now.
2. Nick Fairley, DT, Auburn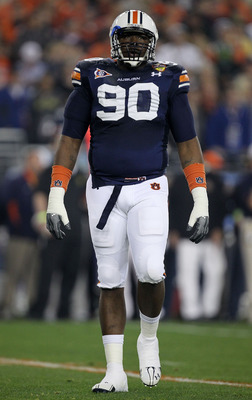 Ronald Martinez/Getty Images
Fairley is quickly becoming the consensus No. 1 pick in the draft, and it is easy to see why. Fairley is a beast on the line and was the anchor that the Tigers' defense needed so that the offense could lead the team to victory. He has a great burst on the line and can close any opening the offensive line tries to make.
I do not have him first overall, and that's because he came out of nowhere this past year. He may end up being a one-season wonder.
3. Da'Quan Bowers, DE, Clemson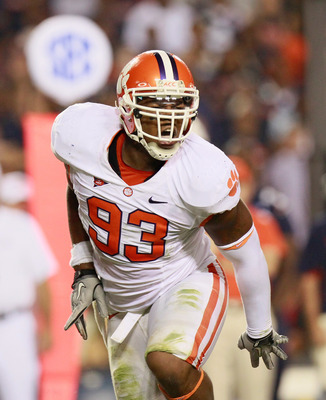 Kevin C. Cox/Getty Images
Bowers is either overrated or amazing depending on where you look. He has some bad tape and can occasionally make elementary mistakes. When he's on his game, though, he is simply dominant. He would make a great pass rusher on any team and the weaknesses he does have are easily fixable with a good coach.
I actually think he will be a better pro than Fairley, even though Fairley is looking like the better player right now.
4. A.J. Green, WR, Georgia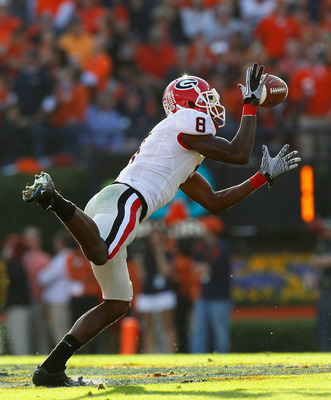 Kevin C. Cox/Getty Images
Easily the best offensive player in the draft, A.J. Green has shown flashes of greatness in his time at Georgia. He has great hands and is a great runner, and may be the only receiver near the top who I would consider explosive. He has less strength than I would have thought given his size, but that's not much of a weakness for a wideout.
Any team that needs a wideout should snag him with the first chance they get. He's the only one I would consider a sure thing this year.
5. Robert Quinn, DE, North Carolina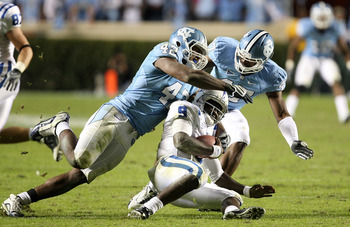 Streeter Lecka/Getty Images
Quinn is naturally going to be a bit raw since he missed the 2010 season, but I think that the season-long suspension can be discounted. Simply put, Quinn is a physical specimen and can be groomed to be dominant. He doesn't have an explosive pass rush like Bowers, but he can do a great job stopping the run.
I'm really high on him, but he is not a guy who's going to get 10 sacks his rookie year. He's a project and it will take a couple of years before he's a top player.
6. Prince Amukamara, CB, Nebraska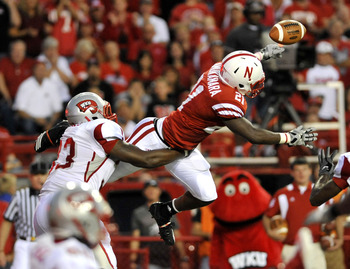 Eric Francis/Getty Images
I was unsure of where to put Amukamara on the big board originally, so I had to watch a decent amount of him on film. Namely, I had to figure out if his zero picks were because he was so good no one threw to him, or if he was a swatter and deflector rather than an interceptor. My conclusion is that he's the former.
Amukamara is an ideal man-coverage cornerback who has shutdown potential, and he can be a Day 1 starter for quite a few teams.
7. Marcell Dareus, DT, Alabama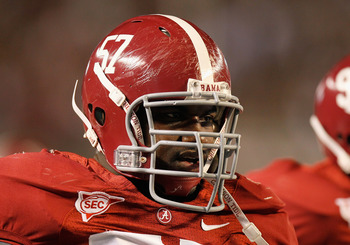 Kevin C. Cox/Getty Images
I'm not sure why Mel Kiper has him as a DE. Yes, he could play that in the pros in a 3-4 setting, but he's far more likely to be a 4-3 DT based on his build. Dareus is a big anchor who can rush the pass and is explosive in getting started, though he's not overly quick. He may not be able to make the sack, but he can definitely create an opening for someone else to.
I would hope he ends up in a 4-3 defense for reasons mentioned above, but it's possible he can be good in a 3-4 too.
8. Von Miller, OLB, Texas A&M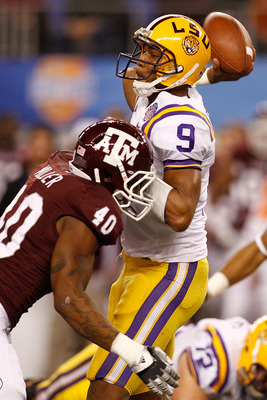 Chris Graythen/Getty Images
Von Miller emerged as the best talent from the Senior Bowl and it's easy to see why. He's raw when in a pass defense situation, but when he has ran these routes, he's been great. He's a great tackler and is an ideal person to use when blitzing. His sack numbers are no fluke; Miller should have no problem taking down NFL quarterbacks.
Just because the defensive line class is deep doesn't mean we can overlook the linebackers such as Miller, who will probably go in the top 10.
9. Julio Jones, WR, Alabama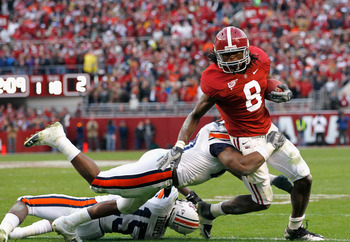 Kevin C. Cox/Getty Images
I've been critical of Jones' hands, since that can be a major problem for wide receivers. Nonetheless, he is a great route-runner and has great speed, and he can block down field for other receivers when needed. If he can work on better catching fundamentals, then he'll be great in the NFL.
I'd say players with hand issues have problems in the NFL, but Braylon Edwards and Terrell Owens have been great, and Jones has none of those character issues that they possess.
10. Akeem Ayers, OLB, UCLA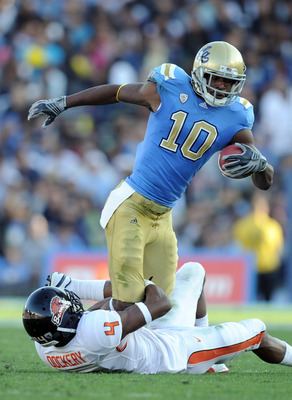 Harry How/Getty Images
Akeem Ayers is much like Von Miller, only not quite as flashy. He's a very physical outside linebacker who has no problems blitzing and can be a great tackler as well due to his physicality.
If Ayers wants to succeed, he has to be more careful about biting on playactions and improve on his instincts. That comes with being on the field, so he should be able to get a starting job without much difficulty.
11. Cameron Jordan, DE, California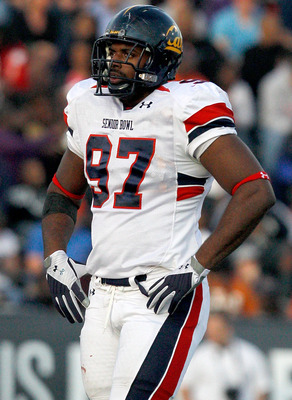 Sean Gardner/Getty Images
Like Miller, Cameron Jordan had an amazing Senior Bowl and has shown that he can be a Day 1 starter in the NFL, particularly in a 3-4 scheme. He's not the speediest player on the line, but his strength and effort make up for it.
He's not an explosive player off the line, but he can pressure the quarterback. He uses the tools he does have to his advantage, and he's a guy you know won't take a play off.
12. Nate Solder, OT, Colorado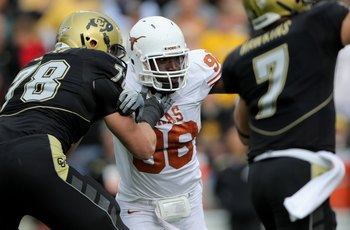 Doug Pensinger/Getty Images
The best of an unimpressive offensive line class, Nate Solder has one of the best frames we've seen on a tackle in some time. He's not great at moving off the snap, but his weaknesses are fixable and, on the right team, he could be a perennial Pro Bowler.
As scary as it sounds, he has room to build another 20 pounds of muscle onto his 300-plus pound frame, making him even tougher to stop.
13. Cam Newton, QB, Auburn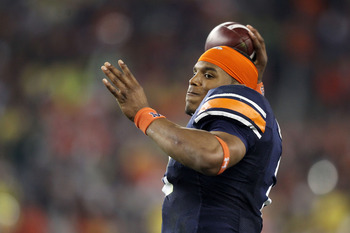 Christian Petersen/Getty Images
This year's quarterback class is either very strong or very weak, depending on the specific opinion. In my opinion, it's very weak. At best, you can compare it to the 2006 class where you had a national championship-winning scrambler (Vince Young/Newton), a guy who put up great numbers and has a sense of entitlement (Matt Leinart/Mallett) and a guy who was merely OK in college but could be good (Jay Cutler/Gabbert).
Newton is the best of this weak class, showing plenty of mobility, arm strength and accuracy. It remains to be seen how well he can read defensive adjustments and work when not using shotgun formations, and this will determine if he's a great QB or a bust at the next level.
14. Ryan Kerrigan, DE, Purdue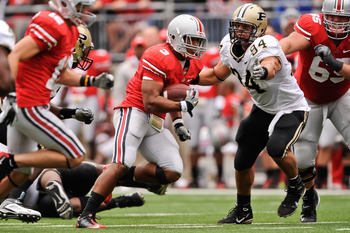 Jamie Sabau/Getty Images
Kerrigan may be the most underrated defensive end in the draft. Nate Solder was able to hold him well, but he crushed other seniors such as DeMarcus Love. He has great hustle when rushing the passer, and his sack totals say all you need to know about his ability there.
He can work well as both a pass rusher and run stopper, and he could be a steal if taken in the second half of the first round.
15. Aldon Smith, OLB, Missouri
Jamie Squire/Getty Images
Like Robert Quinn, he's raw and will need a year or two of guidance before he can be great. That's why I didn't like him declaring, I don't think he's quite NFL-ready yet.
Having said that, he's a great tackler who can knock the ball out of opponents' hands. He can work as either a DE or OLB given the team's system, which is a plus for him; he's green enough that he can be groomed and turned into a great player at either position.
16. Mark Ingram, RB, Alabama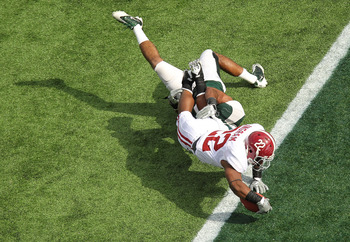 Mike Ehrmann/Getty Images
The best of an unimpressive running back class (noticing a pattern?), Ingram is not an overly big or speedy back, but he is balanced and patient enough for openings that he will be able to fit well on a team if drafted to the proper one. He will probably be more of a power running back—despite his 5'10" frame—since that's his style of running.
17. Blaine Gabbert, QB, Missouri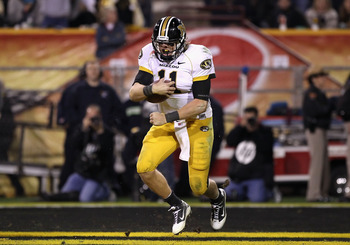 Christian Petersen/Getty Images
He's overrated. Everyone says he's the best quarterback in the draft and a guaranteed starter, but I honestly don't see it. He played in a spread offense at Missouri. He should have been able to put up far better numbers since he was a system quarterback.
He has a decent arm, but he has some accuracy issues, and who knows how effective he'll be when having to read defenses at the next level. Jay Cutler's career seems to be the best-case scenario here.
18. Gabe Carimi, OT, Wisconsin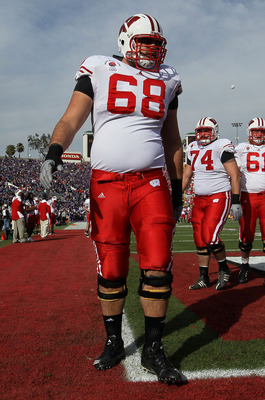 Stephen Dunn/Getty Images
Wisconsin is a great school for offensive linemen, so I'm surprised that he isn't higher in many mock drafts. He has a great build, but his footwork was an issue at the Senior Bowl. He may end up being a right tackle in the pros, but should be solid at either position. He may not be elite, but he's a safe option if you want a solid lineman.
19. Mike Pouncey, G, Florida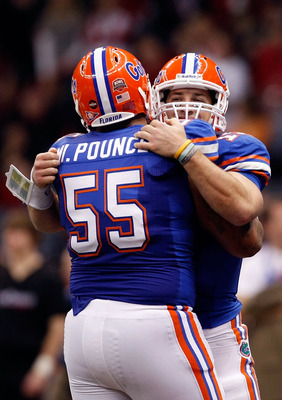 Kevin C. Cox/Getty Images
The first guy not on Mel Kiper's top 25 but on mine is Mike Pouncey, who I may be overrating a bit due to the play of his brother. Pouncey has been a force in his own right at Florida. He has proven to be very good off the snap, and anyone who needs interior line help later in the first round should grab him immediately. He won't fall to the Steelers, as much as they'd like him to.
20. Cameron Heyward, DE, Ohio State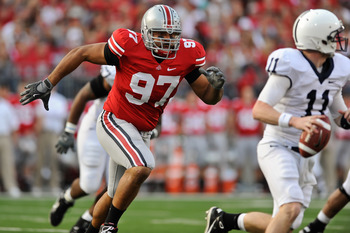 Jamie Sabau/Getty Images
Having surgery for an injured elbow and missing the Senior Bowl hurt his stock on many boards, but I think you have to look at how he was in college. He had an amazing junior year and a solid senior year, showing explosiveness and great run-stopping ability. He's not much of a pass rusher, but he can certainly do that when needed.
21. Anthony Castonzo, OT, Boston College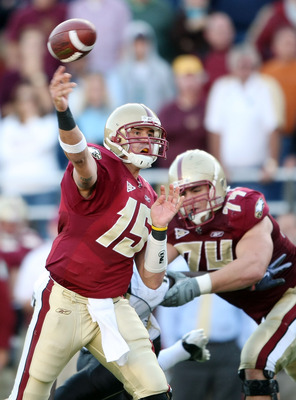 Elsa/Getty Images
Unlike Carimi and Pouncey, I think Castonzo may have a rough go in the NFL. He was great in college, and Boston College's offensive line this past season was one of college football's best-kept secrets. Nonetheless, he struggled when he tried to play guard in the Senior Bowl, so he lacks the flexibility others may have in the first round; he'd have to stay at left tackle.
He's a smart player and knows he'll need to add some lower body strength. If he's coached right, he has the opportunity to be very good.
22. Brandon Harris, CB, Miami
Doug Benc/Getty Images
Harris doesn't have the shutdown qualities of Prince Amukamara or Patrick Peterson, but can nonetheless be a solid competitor in the NFL. He has great instincts and can keep on a receiver without difficulty. It's too early to tell if he'll be a good zone defender, but he's shown he's great in man coverage.
23. Justin Houston, OLB, Georgia
Kevin C. Cox/Getty Images
I'm seeing various reports about Houston, some good and some bad. He played defensive end for most of his college career, and moving to OLB in a 3-4 ended up being a smart move, as that's where he belongs. He's explosive at times, but he's still a work in progress, especially when asked to stop the run.
24. Tyron Smith, OT, USC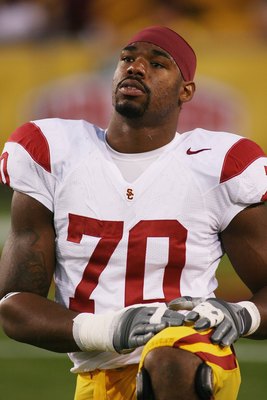 Jeff Golden/Getty Images
Tyron Smith doesn't have the height and build some other offensive tackles do, and as a result I have him lower than most other boards. He was a great blocker at USC and has great athleticism, but can have problems being quick off the snap. He is nearly ready to start, but needs to add a bit more bulk without losing his quickness.
25. Adrian Clayborn, DE, Iowa
Christian Petersen/Getty Images
I think Adrian Clayborn is another overrated player, and in fact I think he is likely to be a bust. He struggled a bit during his senior year and didn't put up great numbers. Nonetheless, he has great hands and deceptive speed to go along with his girth, and as long as he stays conditioned he could end up being a solid 3-4 defensive end.
26. Stephen Paea, DT, Oregon State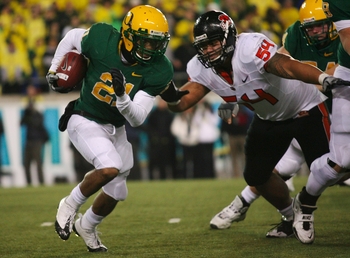 Tom Hauck/Getty Images
Despite a torn meniscus, I think that we saw enough out of Stephen Paea in the Senior Bowl that we know he'll be a solid guy in the middle. He's a great run stopper, and he can plug up any holes the offensive line tries to make. On top of that, he's very strong. It's tough to say if he'll ever be an effective pass rusher in the NFL, though.
He's one of those guys who is 15th on some mock drafts and is 45th on others, so hopefully his spot will become more consistent over time.
27. Jimmy Smith, CB, Colorado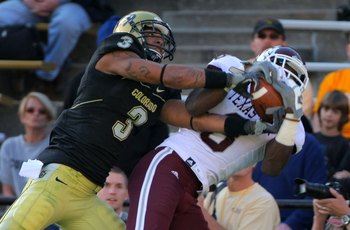 Doug Pensinger/Getty Images
Jimmy Smith has the potential to be the breakout cornerback in the draft, though a lot of that will be dependent on his 40-yard time. At 6'2", his speed has come under criticism, but he's very physical and shows great awareness. He can double as a run stopper against any outside runners, something few defensive backs in this draft are able to do.
28. Muhammad Wilkerson, DT, Temple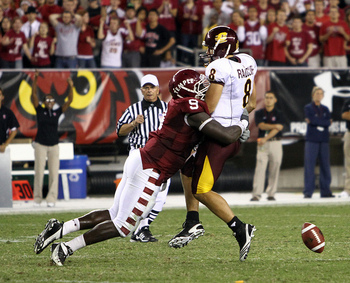 Wilkerson has been sneaking up draft boards, and I had not heard of him when Mel Kiper put him on the top 25. After looking into him, I mostly see why he was put there. He's a strong middle man who can block the run and rush the pass well. The combine will mean a lot for him, since not too many know who he is, but he could be a steal.
29. Corey Liuget, DT, Illinois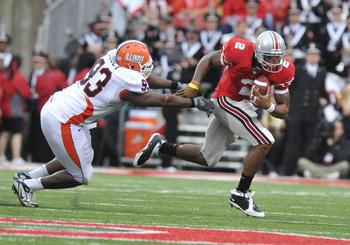 MORNING JOURNAL/NATE PARSONS
All three big names from Illinois happen to be under the radar, and Liuget is perhaps the biggest surprise. He's quick enough despite his build that he can be a great pass rusher in the middle, but he's not really fast enough to stop the run if he needs to. He's certainly strong, and he would make a solid anchor for any team.
30. Ryan Mallett, QB, Arkansas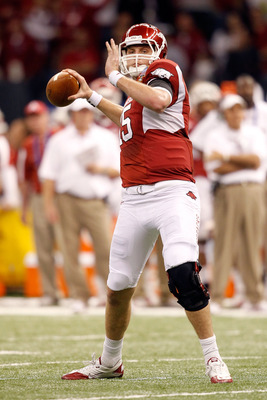 Matthew Stockman/Getty Images
There's no question that Ryan Mallett is the biggest question mark in the 2011 NFL Draft. On the one hand, he had amazing production in a pro offense in the SEC, and that can never be discounted. On the other hand, he has maturity issues, and has a mentality similar to Jimmy Clausen. Let's face it; you do not want to be compared to him.
I think Mallett will have the best career of the four main quarterbacks in this year's draft, since he seems to have the goods to be a great passer. Whether or not he's a good quarterback, however, is open to discussion.
31. Mikel Leshoure, RB, Illinois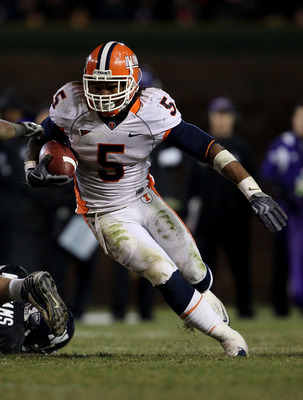 Jonathan Daniel/Getty Images
I think that Leshoure will end up being the best running back from this class. He has a great size, yet is still very speedy. He can run both inside and outside, and can also tackle if needed. If he ends up on the right team, such as the Patriots, I'll make him my pick for Offensive Rookie of the Year.
32. Torrey Smith, WR, Maryland
Torrey Smith might be the best receiver that any teams that are good hope to get. He has a lot of speed, and he showed big game potential this past season at Maryland. Smith knows exactly where to go after the catch if he needs to make a move, which is a huge plus.
33. Rahim Moore, FS, UCLA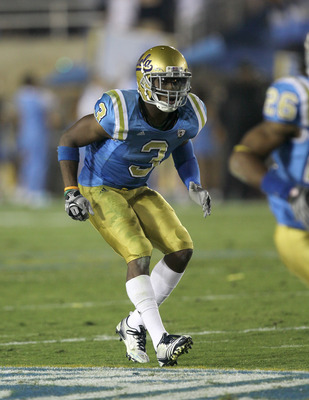 Stephen Dunn/Getty Images
Mel Kiper has him in the top 25, while NFL Draft Scout has him outside the top 60. So, how does one end up on two different ends of the spectrum? Both sides see different things, and personally, I lean towards agreeing with Kiper on this one.
Moore has great instincts, and seems to fit best as a zone defender, unlike many of the other defensive backs on here. He has some tackling issues which he needs to work on, but he's a solid player who can make a play on the ball otherwise.
34. J.J. Watt, DE, Wisconsin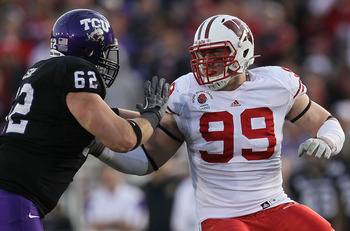 Stephen Dunn/Getty Images
There are so many first-round defensive ends that it's easy to pick a few to consider overrated, and everyone has their own opinion on that. To me, Watt is among the most overrated of the defensive line class.
He's a very big lineman and can match up in that regard, and can be good against the pass rush, but I'm concerned if he'll be able to match up against NFL offensive lineman as well as work against the run at the next level.
35. Jonathan Baldwin, WR, Pittsburgh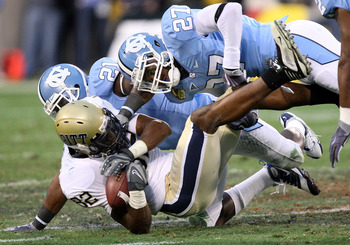 Streeter Lecka/Getty Images
The biggest and most physical wide receiver on the board is Jonathan Baldwin. He doesn't have the speed others might, and his stats this past season were not impressive. Having said that, he has great route-running ability, and if he can be more consistent when catching the pass and making a play, then he could be good.
36. Aaron Williams, CB, Texas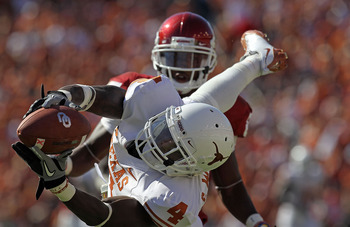 Ronald Martinez/Getty Images
Williams is one of the players on the board who will not be able to start right away. He has great size and has shown flashes of greatness, but is inconsistent when tackling and needs to be careful about overrunning a play. Better to go past a defender than under and cause a touchdown, but neither is viable with Williams. If given a year or two of guidance, he could be great.
37. Stefan Wisniewski, C/G, Penn State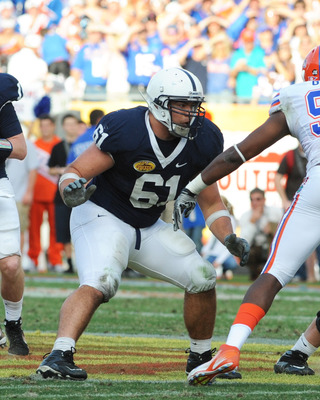 Al Messerschmidt/Getty Images
Wisniewski is one of the few people near the top of the draft that can be a center. He's had a solid four years at Penn State, and had continuously improved each year. He's not a guy who will be dominant in the NFL, but he has the tools to be a solid piece on the line for many years.
38. Christian Ponder, QB, Florida State
Mike Ehrmann/Getty Images
Yes, I have a quarterback outside the top four ranked higher than Jake Locker. Christian Ponder is an underrated quarterback that has the tools to be very good in the NFL. He has a solid arm and can be mobile when needed. His main weakness is being able to read NFL defenses, but that's the same issues everyone else on the list has. He'll be the surprise of the draft.
39. Phil Taylor, DT, Baylor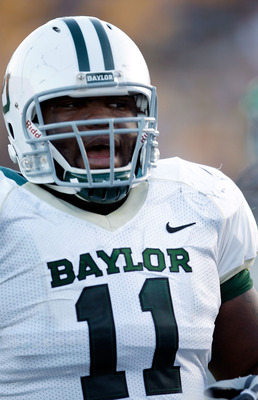 Jamie Squire/Getty Images
Phil Taylor is a very big guy who was quietly a very good anchor for Baylor this past season. He's very strong, and can block runners from trying to gain yards inside without difficulty. He has shown problems with stamina later in games, which could be a problem. After all, the NFL season is much longer than the college football season.
40. Martez Wilson, ILB, Illinois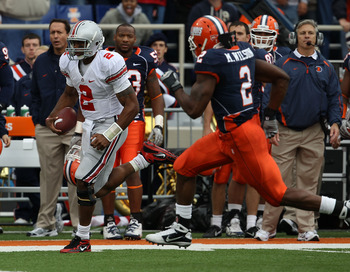 Jonathan Daniel/Getty Images
The best inside linebacker on the board, Martez Wilson is climbing up draft rankings for two reasons. First, he's easily the best inside linebacker in a draft without many outside of him and Greg Jones, who's fallen off many big boards entirely. Second, the more that scouts watch film and get a close look at him, the more that his stock rises. That's always a very good sign.
41. Derek Sherrod, OT, Mississippi State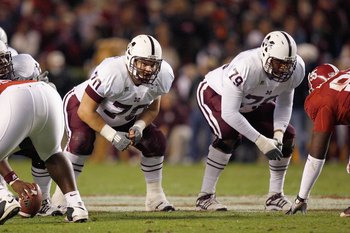 Kevin C. Cox/Getty Images
Derek Sherrod has been fluctuating greatly on draft boards, yet I cannot see him going in the first round. His scouting report shows good blocking, good speed, good initial quickness, and the like. He's solid everywhere, but he doesn't have the elite qualities that can propel him back into the first round.
42. Leonard Hankerson, WR, Miami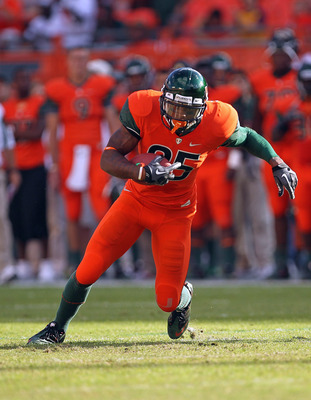 Mike Ehrmann/Getty Images
Leonard Hankerson is a solid wide receiver who has good size and speed, but isn't as much of a playmaker as he may have seemed in Miami. His main problem is dropping passes, as he tried to catch the ball with his body rather than with his hands. It's fixable, but the senior should have been able to start fixing that by now.
43. Kyle Rudolph, TE, Notre Dame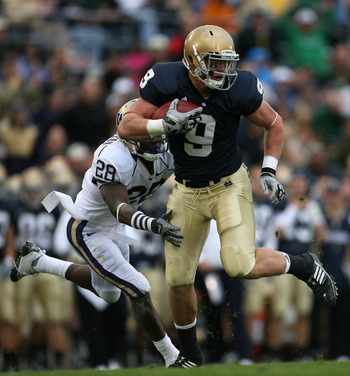 Jonathan Daniel/Getty Images
Probably the only tight end that could start right away, Rudolph was a very reliable tight end at Notre Dame, and can be very good as a receiving tight end. It's too early to tell if he'll be successful as a blocking tight end, but he has time to learn while he catches passes.
44. Quinton Carter, FS, Oklahoma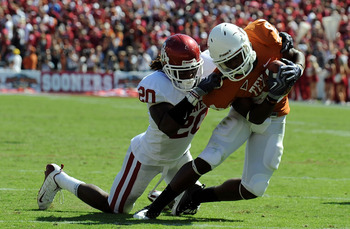 Ronald Martinez/Getty Images
Quinton Carter is not getting the recognition he reserves, as he's been a great safety at Oklahoma. He can move to man coverage on corner blitzes while also doing a great job on the zone, and he has great athleticism to boot. He does not have too much strength, but that can be worked on.
45. Colin Kaepernick, QB, Nevada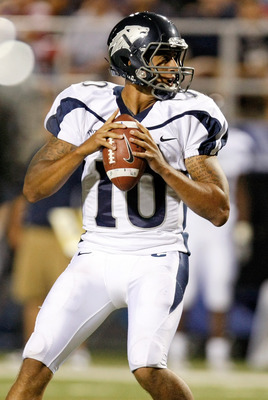 Ethan Miller/Getty Images
Kaepernick is a work in progress, as no one really thinks he can be a day one starter. Nonetheless, he has all the tools to be successful, and looked great at Nevada this past year. His windup is not very good, and he needs to learn how to take snaps from directly under center. He could either be a bust or a star, but we won't know for good until three years after the draft.
46. DeAndre McDaniel, SS, Clemson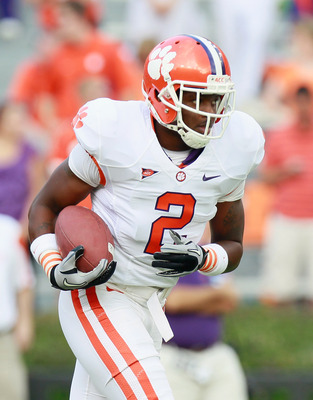 Kevin C. Cox/Getty Images
McDaniel strikes me as an all-or-nothing type safety, which can be great for a team, but can also be a risk. He had eight interceptions and over 100 tackles last year, but gave up a couple big plays as well. If he has a good combine, expect him to rocket up draft boards.
47. Titus Young, WR, Boise State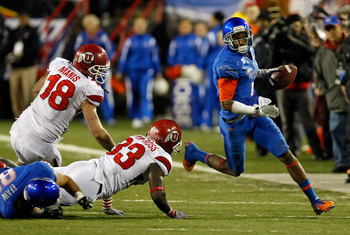 Ethan Miller/Getty Images
Titus Young was great at Boise State, and in the Senior Bowl, he proved that he can take his game to the next level as he shoots up draft boards. He is an explosive receiver who's trying to be one of the fastest players in the 40-yard dash at the combine. He may not have Kellen Moore throwing to him, but he should still be great in the NFL.
48. Ryan Williams, RB, Virginia Tech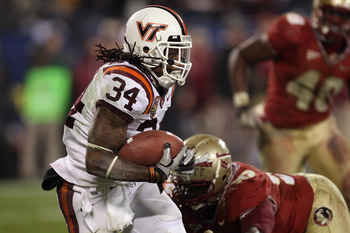 Streeter Lecka/Getty Images
A lot of people are really high on Ryan Williams as a pro, but I'm not seeing it. He wasn't that much of a factor in Virginia Tech's offense due to injury, but seems to be effective running the ball both inside and outside, which is what matters in the NFL. He speed is good, but nothing explosive, which could keep him from being an every-down back.
49. Jake Locker, QB, Washington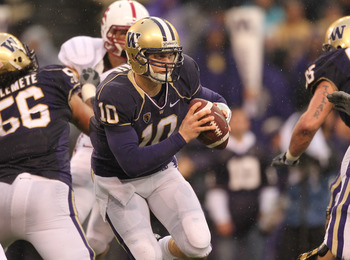 Otto Greule Jr/Getty Images
I'm going to get many people screaming at me about him being this far down. I say to those people that they should be happy I put him on the list at all. He had a poor senior year, and some of his performances were downright shoddy. He played well at times in the Senior Bowl, and he looks great when practicing, but once he's in a game that matters, he's awful.
The fact that he still struggles with accuracy is a great concern as well. You can't overthrow or underthrow passes in the NFL or you'll get eaten alive.
50. Drake Nevis, DT, LSU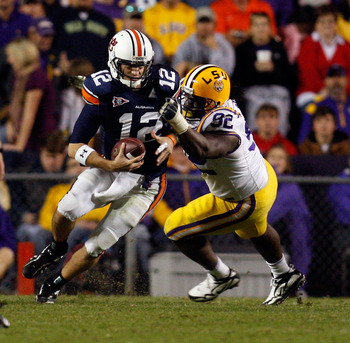 Chris Graythen/Getty Images
Drake Nevis, a man who a couple mock drafts have in the first round, rounds out our top 50. Nevis was one of the most dynamic tackles in the SEC this past season, and looks amazing on the field, though an injury kept him out of the Senior Bowl. At 6'1", Nevis is a bit short for the DT position, but he may be able to pull off a solid career.
Keep Reading