MLB 2011: Colorado Rockies Preview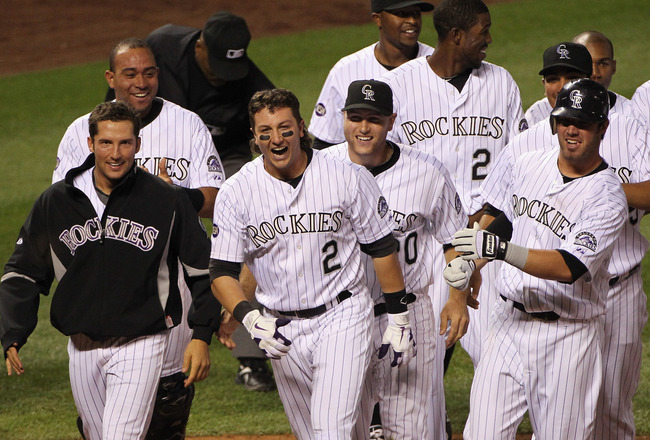 Doug Pensinger/Getty Images
Well now the Super Bowl is over (congrats, Green Bay) it's just about time for baseball season!
The countdown to Opening Day has just begun. There are 51 days left until then (as of Monday, February 7); that gives us just about a month-and-a-half to prepare.
The Rockies spent a lot of money this offseason locking up Carlos Gonzalez and Troy Tulowitzki along with getting some good infield depth.
While they have the defending World Series Champions Giants in the division, the Rockies should still give them a hard time.
Before we look ahead to this season, let's recap last year.
2010 in Review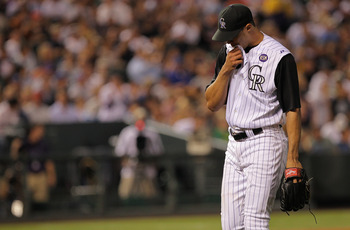 Doug Pensinger/Getty Images
Division title: Fail (almost had it)
Wild Card: Fail
The Rockies were only 4.5 games behind the Giants in the division and 4.5 behind Atlanta in the wild card when their seven-game losing streak started. They came completely out of it, and other than Tulowitzki's butt-whooping month, they sucked.
Wasn't a bad season, but we could've done better at the end of September. We also could've had a better start and less injuries.
Offseason Review: San Francisco Giants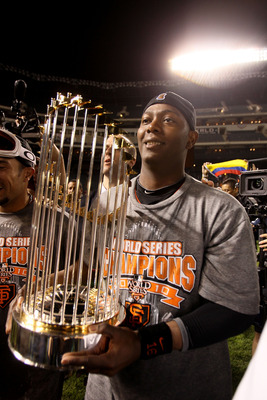 Elsa/Getty Images
Here is a list of the departed stars from last season's World Champions:
Notable Losses
Edgar Renteria: Reds
Jose Guillen: Free Agent
Juan Uribe: Dodgers
Chris Ray: Mariners
Notable Acquisitions:
This shouldn't hurt the Giants in 2011, and they should still be competing for the division and to defend their title.
Offseason Review: San Diego Padres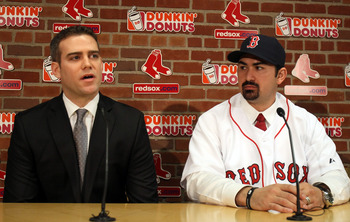 Elsa/Getty Images
The Padres surprised a lot of people with their 89 win season in 2010. However, they lost some key players this offseason.
Notable Losses
Adrian Gonzalez: Red Sox
Jon Garland: Dodgers
Chris Young: Mets
Yorvit Torrealba: Rangers
Tony Gwynn: Dodgers
Kevin Correia: Pirates
Miguel Tejada: Giants
They lost a lot of talent (most notably Adrian Gonzalez) and that should hurt them. I think they could be good again in a few seasons, but for now, they're average.
Starting Pitching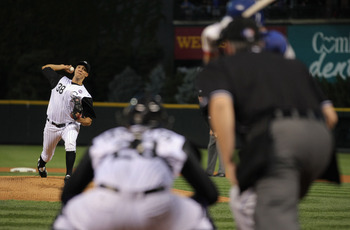 Doug Pensinger/Getty Images
The Rockies had a team ERA of 4.14, which was 20th in the MLB.
Ubaldo Jimenez had a historic first half going 15-1 with a 2.20 ERA. Jorge De La Rosa was doing pretty solid until he got hurt at the end of April and when he came back in July, he pitched horribly to a 6.53 ERA. I love the potential of Jholouis Chacin (who quietly had a great rookie season)
We could still use pitching depth, but this shouldn't be a huge weakness. But one problem I have with the rotation is that De La Rosa is our only left hander in the rotation. We'll need more than that.
Grade: C+
Bullpen
Doug Pensinger/Getty Images
The Rockies have guys in their bullpen who can get it done. Rafael Betancourt is an excellent setup man and Matt Belisle had a breakout season in 2010. Matt Lindstrom is an excellent addition who can also get saves.
Huston Street can be inconsistant, but he's a good closer who has nasty pitches and a great slider.
Colorado also has two long inning relievers in Franklin Morales and Felipe Paulino.
Grade: B
Infield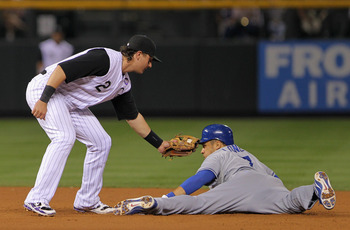 Doug Pensinger/Getty Images
First base: Todd Helton. Great glove, can get balls in the dirt, saves errors.
Second Base: THIS DEPENDS—COULD CHANGE SOON. The Rockies may be acquiring Michael Young from Texas soon. If they do, Young will be the starting second baseman. He is an excellent fielder, and actually is a very good hitter. If not, I expect Eric Young, Jr. to be the starter. He's a solid fielder, has great speed and really reminds me of his father, Eric Young.
Shortstop: Troy Tulowitzki. We all know how much of a BEAST Tulowitzki is. Best all-around shortstop in baseball.
Third Base: Ian Stewart. Solid fielder. Can make plays. Injury prone.
Notable Infield depth
Ty Wigginton
Jose Lopez (could be traded to Texas here soon)
Jason Giambi (may start in AAA)
Joe Crede (same deal as Giambi)
Grade: A+
Outfield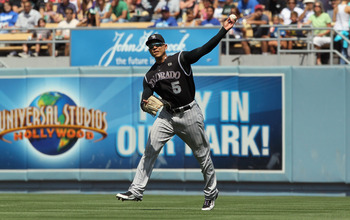 Jeff Gross/Getty Images
Left (or right): Carlos Gonzalez—speedy outfielder, has great range, makes excellent plays, has a great arm and won a Gold Glove in 2010. As a Rockies fan, I love having Gonzalez here. He's just too good.
Center: Dexter Fowler—Also a great fielder. Has AMAZING range, tough to get past him, great athlete.
Right: I can see Ryan Spilborghs starting for Colorado in 2011. (Seth Smith is just too good off the bench and he would be our only left handed bat unless Giambi is called up. Spilborghs can make errors and be inconsistant, but he played 42/76 games he started in right field.
Grade: A-
Lineup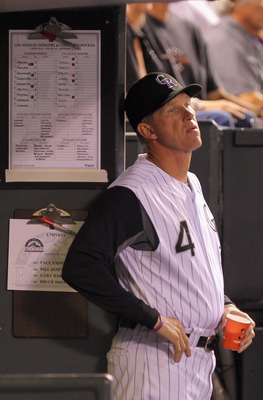 Doug Pensinger/Getty Images
(Not gonna project the exact starting lineup but I will say who's in it)
CF: Dexter Fowler—Speedy guy, can steal bases. Needs to improve hitting
2B (If Rockies get Young) Michael Young—Underrated player. Can hit homeruns. Rare from the second base position. Hits for good average.
(If Rockies don't get Young) Eric Young, Jr.—Also can steal bases. Also needs to improve hitting. Horrible Awareness on base however. Needs to be improved.
SS: Troy Tulowitzki—Excellent hitter. Got great power. Can get clutch hits. Did incredible during September of 2010.
LF: Carlos Gonzalez—Fearsome hitter. Can hit home runs very quickly. Not a very big guy, so you know for a fact he's not taking steroids. (Hell, I'm bigger than him.) Hits for very good averages. Also can steal bases (26 stolen in 2010).
1B: Todd Helton—If healthy, can hit for high average. Doesn't strike out too much. Doesn't have the power he used to, but when healthy, can still be effective.
RF: Ryan Spilborghs—Can be effective, but he's not one of our better hitters.
3B: Ian Stewart—Has solid power. Should improve with a new hitting coach. needs to improve large amount of strikeouts and average.
Catcher: Chris Ianetta—Has his moments.
Grade: A
Bench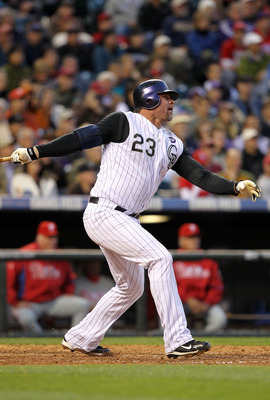 Doug Pensinger/Getty Images
The Rockies also have a great bench. You gotta play nine innings of meaningful baseball to beat this team.
Ty Wigginton—Has power. will be platooning with Helton at first. Can play any infield position.
Seth Smith—You do not want to pitch to this guy in the late innings! Not nicknamed Mr Late Night for no reason.
Jason Giambi—Very clutch in the late innings as well. Great Power.
Grade: A+
Projection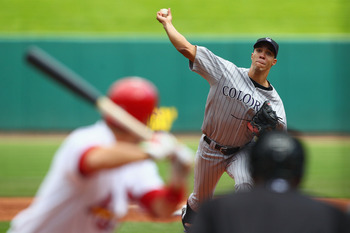 Dilip Vishwanat/Getty Images
Rockies finish second in NL West with a 93-69 record (first in NL Wild Card).
Go Rockies! Can't wait for the season!
Keep Reading

Colorado Rockies: Like this team?