NFL Draft 2011: 10 Prospects With the Most to Gain at the Scouting Combine
The Big Apple=The Big Day
Jeff Zelevansky/Getty Images
Every player who is NFL worthy waits for the opportunity to showcase their talent at the NFL combine. This is where the best of the best in the NCAA come and compete at a chance to show what kind of athlete they really are.
You could call this the day athletes cash in their lifelong dream. If they perform well, they could set themselves up financially for the rest of their life. If they don't, they got a chip on their shoulder until they get that contract they so rightfully deserve.
Regardless, this year's draft class has a lot to prove. Some of these guys showcase some rare talent that really could improve their stock at this year's scouting combine.
10. Aaron Williams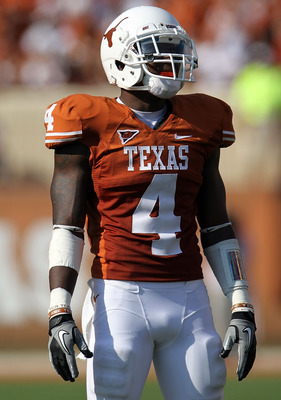 Ronald Martinez/Getty Images
Aaron Williams is 6'1, 195 and has 4.4 speed.
On paper, he's is an ideal professional cornerback. He's presented a lock-down style of play at his position, and the playmaking ability he's shown at punt returner makes him an excellent candidate at this years combine.
However, there are a couple corners in front of him that go by the names of Patrick and Prince, that Aaron has to prove he's up to speed with. Both literally, and figuratively.
9. Blaine Gabbert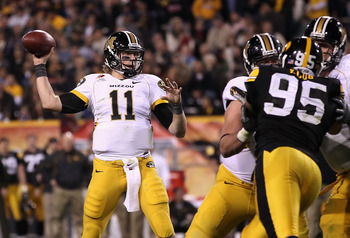 Christian Petersen/Getty Images
Blaine Gabbert was an absolute stud at Missouri. At 6'5, 235 pounds he's your NFL prototypical size at the quarterback position.
He's had tremendous success in college ending his 2010 season with 127 quarterback rating. He threw for over 6,000 yards in college and 40 touchdowns.
He's young, and scouts need to know if the quick smart decisions he made in college behind center, can translate at this years combine into NFL decision making.
Gabbert has an opportunity to prove he should be the first quarterback taken in this year's draft if his status holds true.
8. Muhammad Wilkerson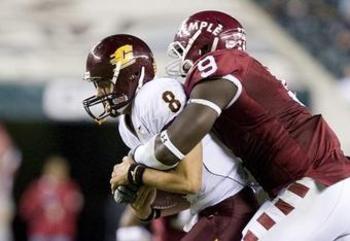 Wilkerson is a stud. He's 6'5, 305 pounds and only 21 years of age. His only problem: Not that many people know what he's capable of because he played at Temple.
Wilkerson holds himself with class on and off the field. He's got a chance at the combine to really put himself in the highly touted class of defensive lineman at this year's combine.
Expect Muhammad to come through in the clutch come March.
7. Casey Matthews
Kevin C. Cox/Getty Images
At 6'2, 235 pounds, and a last name with "Matthews", the Senior linebacker out of Oregon has a lot to gain at this year's NFL combine.
Matthews had 229 career tackles for the Ducks in his stint in the NCAA. Now, with 235 being a bit undersized at the linebacker position, Casey won't be able to prove that his opportunistic play will be a continuation from the collegiate level to the pros until he gets drafted.
First things first, he must make a splash at this year's combine.
6. Ryan Mallett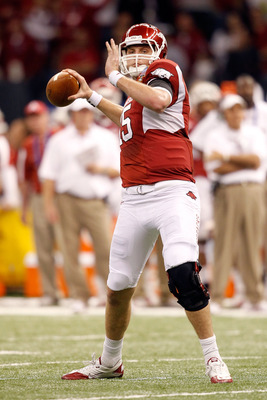 Matthew Stockman/Getty Images
Mallett going into the combine is going to be one of the most scrutinized athletes without a doubt.
Athletically he's got a chance to prove he has the strongest arm at the combine. At 6'6 238 pounds, Mallett the more and more I think about it, looks to be a modern day version of Joe Flacco.
Ryan had a 163 quarterback rating at Arkansas in 2010 and faced some of the best defensively playing in the SEC this season.
There's no doubt this guy's a gamer, we just need to know if he can hit his spots and not make bad decisions.
5. Brandon Harris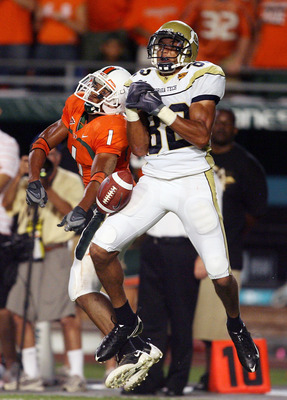 Doug Benc/Getty Images
There's always high demand at certain skill positions year in and year out come draft time. If there's one thing for certain on defense, it's that you can never have too many corners.
Brandon Harris at 5'11, 195 pounds and a Junior out of the U, has an opportunity of a lifetime at this year's combine.
If Harris can prove he's a top 3 corner in this year's draft, Brandon might be signing his name on the dotted line with first round money to compliment.
Harris has 129 career tackles, 3 forced fumbles, and 4 interceptions. If he can show he's physical at the combine, the upside for his professional career is tremendous.
4. Cameron Jordan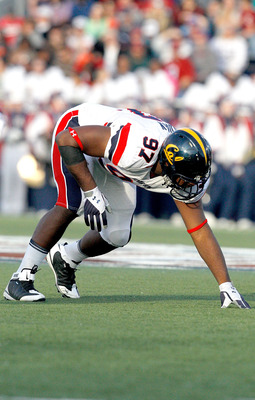 Sean Gardner/Getty Images
There's a special kind of player every once in a while that enters the draft. That special kind of player happens to be a four year starter in college. Not many guys start their freshmen year, and then start the other three.
Cameron Jordan is that special player in this year's draft. He hails from Cal, at 6'4, 283 pounds. He's not as big as some of the other defensive lineman, but the brains behind this operation have yet to be proven.
If Jordan can show at the combine that he is ready for the challenge of the NFL, expect a team to take him in the first round.
3. Jake Locker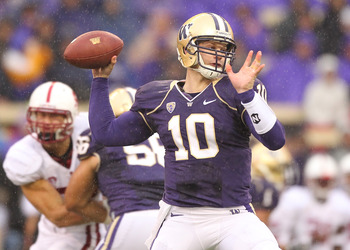 Otto Greule Jr/Getty Images
Locker if he entered the draft last year could've been the first quarterback taken. Instead, he watched Sam Bradford move on to bigger and better things and now finds himself in a highly competitive quarterback class.
Locker has an unbelievable amount of skill at his position. He's shown he has the mental and physical toughness to compete against any team he faces.
What he needs is an impressive combine to show scouts he deserves what he was most likely going to be last year, the first quarterback taken off the board.
Is this a stretch? Perhaps. But expect Locker to bring a mindset to this year's combine that may shock some NFL ownership.
2. Marcell Dareus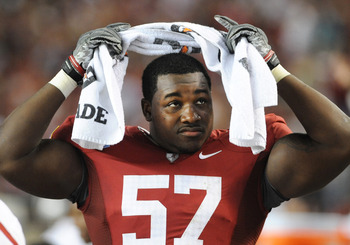 Al Messerschmidt/Getty Images
At 6'4 306 pounds, this defensive tackle from the Alabama Crimson Tide has a lot to prove. On paper, he is a dream come true for a team that needs a run stopper to plug up the middle.
However, Dareus needs to show scouts at the combine that he has the physical stamina and capability to keep up with the tempo of an NFL game.
Dareus could make some big time money in the near future if he comes through in the clutch at this year's combine.
1. Cam Newton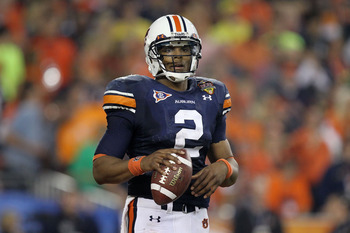 Ronald Martinez/Getty Images
Is there a more exciting player to talk about headed into the combine than Cam Newton? I don't think so.
6 foot 6, 250 pounds, and a guy who hasn't lost a game in I don't know how long. Newton had a quarterback rating of 182 this season, and won himself a Heisman trophy and a National Championship.
Newton however, remains a question mark.
People have compared his style of play to those of Vince Young's. Personally, I think Newton brings something that Young doesn't. A spiral....
If Newton can impress scouts at the combine, he may well be this year's first quarterback off the board.
Still, an impressive two months leading up to the draft hang in the balance.
Keep Reading