Super Bowl XLV: Troy Polamalu and the Steelers Secondary Disappoint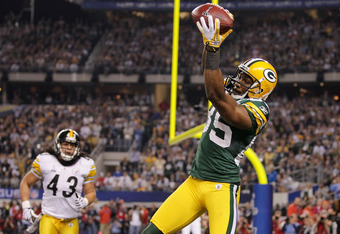 Doug Pensinger/Getty Images
The Pittsburgh Steelers had a disappointing loss to the Green Bay Packers in Super Bowl XLV. Now everyone is out blaming Ben Roethlisberger, Rashard Mendenhall and Mike Tomlin, and all three of them deserve their share of the blame.
That being said, the Steelers' horrid pass defense cost them the game and has been their Achilles heel all season.
Of course, the three turnovers were a big reason that the Steelers lost. That being said, the Packers got the ball at midfield after two of them, so the Steelers defense still had a chance to stop them or at least hold them to a field goal.
They didn't. They allowed Aaron Rodgers and the Packers to march right down the field and score two touchdowns. For the night, Rodgers posted a QB rating of 111.5 with 304 yards and three TDs when it mattered most against the league's top defense.
The Packers had little intention of running the ball, throwing it 39 times compared to just 11 runs. The Packers didn't need to run the ball to beat the Steelers. Everyone knows if you have a good quarterback that you should just come out, spread the Steelers defense out and throw the ball all night. That's exactly what the Packers did, and it worked.
The Steelers defense made Jordy Nelson look like Jerry Rice in his prime. Despite having five official drops, Nelson had nine catches for 140 yards. I know Steelers fans love cheering for the defense, but the defense didn't get it done in Super Bowl XLV either. They had chances to make plays, they had chances to stop the Packers and they didn't get it done.
Who do you blame for the loss?
If the Steelers want to compete for a Super Bowl in the near future, they're going to have to upgrade the cornerback position. William Gay is not good. I don't know why the Steelers think he is, but as soon as he's on the field, opposing quarterbacks throw his way. There's no wonder why the Arizona Cardinals parted ways with Bryant McFadden; he's slow and old and is washed-up.
The Steelers' best cornerback, Ike Taylor, is a free agent after this year. If they don't re-sign him, they're in trouble.
Troy Polamalu is a great player, but where was he Sunday night? Three tackles, zero passes defended, no big plays. Polamalu was a total non-factor against the Packers. Whether it was the way the Steelers used him, whether he's still hurt or whether he just had a bad game, you have to accept the fact that he hasn't been playing well all playoffs.
I realize that he impacts the game just by being on the field, but that wasn't enough on Sunday night. Polamalu is often viewed as the best player on this team, which I disagree with, but he hasn't been playing anywhere near that in the playoffs.
I'm not blaming Polamalu for the loss, as I don't believe in blaming one player for losing a game, but I hear people bashing other players, mostly Big Ben, so I wonder why Polamalu gets a free pass. Is it because he has great hair, because he's soft-spoken or because he doesn't play quarterback?
Why hasn't Troy Polamalu been playing better?
Polamalu is one of my favorite players, and I expected him to make some big plays in the playoffs. He failed. Not only did he not make any big plays in the Super Bowl, he flat-out played awful. The whole secondary did. I would even go as far as to say the defense as a whole played well below average.
Looking forward, I know that Polamalu will be fine, but the rest of the secondary needs upgrading. They also need to look at the tape and fix how they play against passing teams. Everyone knows how to move the ball on the Steelers now, so the Steelers have to put their egos aside and fix the obvious holes in their defense.
This article also appears on the Pittsburgh blog www.412sportstalk.net. You can follow me on Twitter at www.twitter.com/madchad1187.
This article is
What is the duplicate article?
Why is this article offensive?
Where is this article plagiarized from?
Why is this article poorly edited?

Pittsburgh Steelers: Like this team?