Carolina Panthers: Re-Signing These 5 Players Are Top Priority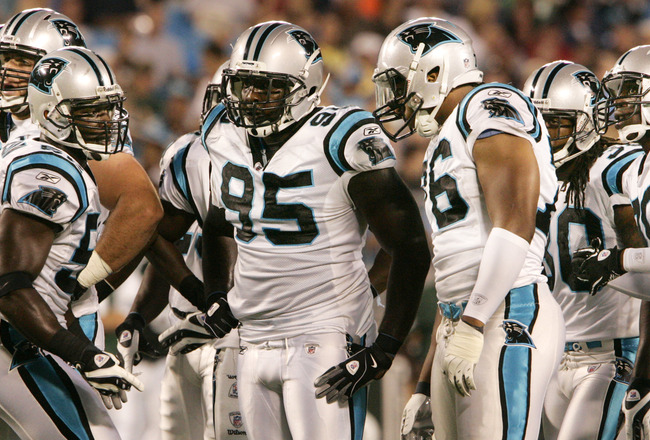 Who tops the list for the Panthers to resign?
Mary Ann Chastain/Getty Images
The Carolina Panthers suffered through a very tough 2-14 season in 2010. However, they are not a team totally devoid of talent. The Panthers have followed the model of the Pittsburgh Steelers and the Green Bay Packers by building through the draft.
If they want to continue following that model, they need to re-sign several key veterans who were all drafted by the team over the last five seasons. All five players seem headed towards free agency, but of course, that all depends on the new Collective Bargaining Agreement.
No. 5: Richard Marshall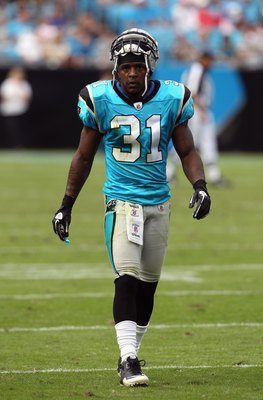 Streeter Lecka/Getty Images
Marshall publicly stated last month that he didn't think the team was going to re-sign him, but they should.
Fellow Panther cornerback Chris Gamble had his worst season as a pro in 2010, so the Panthers need Marshall back to begin to solidify their defensive backfield for 2011.
No. 4: DeAngelo Williams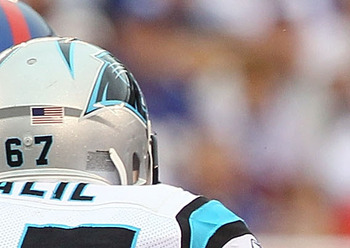 Jim McIsaac/Getty Images
My heart wanted to put Williams at the top of this list, but my head said the Panthers have more pressing needs than running back.
With Jonathan Stewart and Mike Goodson, both fully capable of carrying the load, it would be nice to re-sign Williams, but not vital for their success moving forward.
No. 3: Thomas Davis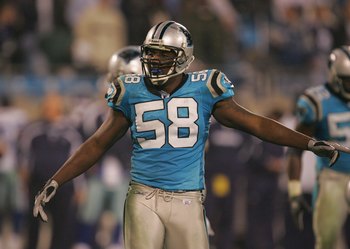 Streeter Lecka/Getty Images
Coming off of two career threatening knee injuries, Davis isn't the commodity he was shaping up to be during the 2009 season. Because of the risk involved with serious knee injuries, the Panthers should be able to sign Davis to a long-term deal for a lot less money than it would have taken two years ago.
Fortunately for the Panthers, any offer they make will likely be higher than that of any other NFL team. Locking up Davis would give the Panthers one of their strongest linebacker units in team history.
No. 2: Ryan Kalil
Kevin C. Cox/Getty Images
When Kalil was drafted in the second round of the 2008 NFL Draft, he was definitely the lesser known of the two USC Trojans the Panthers selected in that round. His play over the past three seasons has been so good that few people will even remember the disappointment that his college teammate, Dwayne Jarrett, was for the Panthers in that very same round.
Two straight Pro Bowl appearances (2009-2010) will drive his price up, but Kalil has the chance to be a very special player in Carolina.
The Panthers would be wise to lock him up long-term.
No. 1: Charles Johnson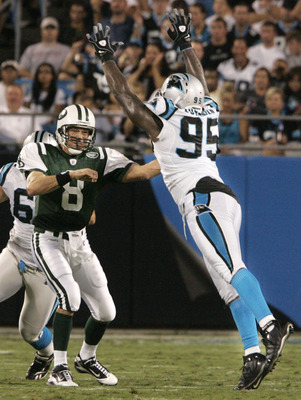 Mary Ann Chastain/Getty Images
After Julius Peppers left at the end 2009 season, the Panthers organization, as well as fans, hoped they already had Peppers' replacement on the roster. Charles Johnson wasn't the player most had pegged for that spot, but he filled the spot and filled it quite nicely.
The Panthers may never truly replace Peppers, but Johnson's team leading 11.5 sacks in 2010 was a pleasant surprise for everyone. Johnson accomplished that feat with little help on the defensive line.
If the Panthers are able to draft a defensive lineman with the first overall pick in the upcoming NFL draft in April, it could make life a lot easier on Johnson and much harder on Panthers opponents in 2011.
Keep Reading

Carolina Panthers: Like this team?