A Mystifying Monday: How Can Steelers Fans Make Sense of the Super Bowl?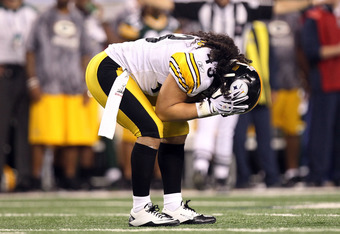 Troy must have been wondering similar things...
Ronald Martinez/Getty Images
For Steelers fans, today is a bitter, bitter Monday.
Besides the painfully disappointing result of yesterday's Superbowl, there is a gnawing sense of inadequacy trying to make mental sense of what we saw transpire at the Cowboys Stadium.
Had the Steelers continued the completely inept and error-prone display they put on for almost the entire first half, the game would have ended up as one of those typical lopsided Superbowl scores. And the truth is, that if it had, it would almost be easier to deal with today. Emotionally, it's easier to put behind you games that were out of reach so early that you never felt like you really had a chance. The reality is clear and unmistakable, and so you just move on. Mentally, it's easier to understand such games: it was just an "off-day", one of those games where nothing worked. They happen.
But then there was that last drive of the first half, and the second half, which saw the Steelers come within four points, and driving for the lead in Packers territory by the end of the third quarter. Pittsburgh had all the momentum. The defense had regained its mojo, pressuring Aaron Rodgers on every play. And suddenly the Packers defense couldn't stop the pass or the run. It was destiny. The Steelers are invincible in Superbowls. They were going to win. And then Mendenhall fumbled. The stunned defense allowed Green Bay to quickly score and restore an eleven point lead.
But there were more twists to come. A masterful Roethlisberger drive capped by a perfect touchdown pass to Mike Wallace, and a brilliantly executed 2-point conversion made it a 3-point game with almost eight minutes to play.
The Steelers defense couldn't stop the Packers outright, but it did what it needed to do, limiting Green Bay to a field goal, and leaving Ben Roethlisberger the two minutes he needed for one last patented game-winning drive. The way he always had in the past. The way he did to this very Green Bay team last December. The way you knew he would again. But it didn't happen.
Three incomplete passes-- the last in and out of the hands of Mike Wallace-- and suddenly the game that seemed like it should have been over a long time ago, and then seemed like it was just getting going, was suddenly, truly, actually over, with a result no Steeler fan expected.
You can't reasonably expect to win a game where you turn the ball over three times, and force no turnovers of your own. You can't reasonably expect to win when your all-world defensive stars, Troy Polamalu and James Harrison, are all but invisible, and your big-game quarterback throws two interceptions in the first half. You can't reasonably expect to win when your vaunted defense struggles to get to the quarterback, and your secondary is burned on big play after big play. You can't reasonably expect to win a game where at least a half-dozen key passes hit your top receiver and tight end in the hands, but land on the turf.
And yet, in spite of it all, somehow there the Steelers were, in prime position to win the game. They fumbled away the first chance, and left the second incomplete. And the worst part is trying to reconcile what transpired with the idea of the Steelers identity that you, as a Steelers fan, have: you were the team with the quarterback that fails often enough, but never in the clutch; you were the team that, on the occasions it makes a Superbowl, makes sure to win; you were the team that rarely upsets the juggernauts (as the Jets did), but wins every big game against a team it can beat. All that changed yesterday.
Part of me doesn't want to see another football game anytime soon. Part of me needs the Steelers to get back to the Superbowl, win, and restore my ability to make sense of this game and this team.
This article is
What is the duplicate article?
Why is this article offensive?
Where is this article plagiarized from?
Why is this article poorly edited?

Pittsburgh Steelers: Like this team?