Aaron Rodgers: Power Ranking the 45 Most Valuable Players in Super Bowl History
Jamie Squire/Getty Images

Aaron Rodgers Belongs on the List, but Where?
Aaron Rodgers won the Super Bowl XLV MVP thanks to one of the greatest single-game performances in the game's history.
But that was just one day's work.
What about those players who have performed their best on the biggest stage multiple times?
Inside we've chosen the 45 most valuable players in Super Bowl history.
Some won the actual Super Bowl MVP trophy, but others were just immensely important to their team's lone victory or handful of victories.
One single performance, such as Rodgers' last night, can earn a spot on this list. But players with several outstanding efforts (win or lose) in the Super Bowl will most likely earn a higher spot.
Again, this is NOT a power ranking of the 42 different men to win Super Bowl MVP, just a ranking of the 45 most valuable players and ALL their Super Bowl achievements.
Now, plenty of great players will be left off this list. For example, Michael Strahan: That Giants defense suffocated New England because of an incredible TEAM effort. How could we chose Strahan and not Justin Tuck or Osi Umenyiora?
Begin Slideshow

»
Al Bello/Getty Images

Super Bowl: XXXVII
Stats: 1 INT, 1 TD
There were several fine players on the 2002 Buccaneers team that won the Super Bowl: Warren Sapp, Simeon Rice, John Lynch, Ronde Barber. And Dexter Jackson ended up earning the game's Most Valuable Player award.
But everything revolved around Brooks: Without him at the center of the Bucs' Tampa-Two, they wouldn't be one of the greatest defenses of all time.
Fittingly, Brooks made the most important play of that season: When the Raiders cut the Bucs' huge lead to 34-21 and had the ball late in the fourth quarter, Brooks stepped in front of a Rich Gannon pass and returned it 50 yards for a touchdown to seal the win.
Donald Miralle/Getty Images

Super Bowl: XXXVIII
Stats: 16-for-33, 323 yards, 3 TD
Sure, Delhomme never won the title, but without his contributions in the 32-29 loss to New England in Super Bowl XXXVIII, the Panthers wouldn't have had a shot.
Each of Delhomme's touchdown passes (a 39-yarder to Steve Smith, an 85-yarder to Muhsin Muhammed, and a 12-yarder to Ricky Proehl) either tied the game or gave the Panthers the lead in their upset bid of the Pats.
Without John Kasay's botched kickoff following Delhomme's third touchdown, Delhomme, not Tom Brady, might have claimed that Super Bowl MVP.
Al Bello/Getty Images

Super Bowl: XXXI
Stats: 242 return yards
Howard's 99-yard kickoff at the end of the third quarter sealed the Packers win in Super Bowl XXXI and earned him the game's Most Valuable Player award.
But that wasn't the only play in which Howard gave Green Bay a leg up. He took the game's opening kickoff to near midfield, then did the same later on a punt return.
Without those returns the Packers might not have been able to get away with a scoreless fourth quarter.
Mike Ehrmann/Getty Images

Super Bowls: XLIII, XLV
Stats: 1 INT, 1 touchdown, 1 sack
Don't be fooled by what people on the internet are saying about James Harrison's performance yesterday in Super Bowl XLV. He recorded a critical sack in the second half, hit Aaron Rodgers three times, and was the main focus of the Packers' pass protection.
And we all know what he did in Super Bowl XLIII. Without his 100-yard touchdown return before halftime, the Steelers do not defeat the Cardinals. That single play was at least a 10-point swing, most likely a 14-point swing.
Jamie Squire/Getty Images

Super Bowls: XXXI, XXXII
Stats: 12 catches, 231 yards, 3 TD
Lost in the surprise of Desmond Howard's special teams MVP and the Packers' narrow loss to Denver a year later, were two incredible efforts by Green Bay's number one wide receiver.
In the win over New England, Freeman's 81-yard touchdown regained the lead for the Pack in the second quarter. He would finish the game with three catches for 105 yards.
And against Denver in Super Bowl XXXII, he was even better: He caught nine balls for 126 yards and two touchdowns, including the critical game-tying score early in the fourth quarter.
Super Bowls: I, II
Stats: 4.5 sacks
Thirty years before Reggie White dominated Packer opponents in consecutive Super Bowls from the defensive end position, Willie Davis did the same.
In addition to recording one-and-a-half sacks on Len Dawson in Super Bowl I, his pressure helped force a vital second-half interception that sent the Packers to a romp over Kansas City.
A year later, he harassed a fantastic Raiders offensive line (and Darryl Lamonica), nabbing three sacks in the Packers' crushing win over Oakland.
Rick Stewart/Getty Images

Super Bowl: XXII
Stats: 18-for-29, 340 yards, 4 TD, 1 INT
To land on this list for play in one quarter of a Super Bowl would have to take one heck of an effort, yet Doug Williams achieved one.
Down 10-0 to the Denver Broncos and nursing a hyperextended knee, Williams tossed four touchdown passes in the second quarter of Super Bowl XXII.
Although Timmy Smith opened things up for him to throw the ball, Williams' precision passing deep down the field to Ricky Sanders was a short-lived performance for the ages.
George Rose/Getty Images

Super Bowls: XI, XV, XVIII
Stats: 14 catches, 181 yards, 3 TD
Fred Biletnifoff is the only Raider wide receiver to win a Super Bowl MVP, but Branch was the key receiver to two more Oakland/LA Super Bowl triumphs.
In January 1977's win over Minnesota, Branch caught just three passes for 20 yards. Four years later, he hauled in two of Jim Plunkett's three touchdown passes in a win over Philadelphia.
And just for good measure, he hauled in a third from Plunkett, the first offensive score of Los Angeles' 38-9 thrashing of Washington in Super Bowl XVIII.
Super Bowls: IX, X, XIII, XIV
Stats: 2 sacks, 1 INT
Greene was arguably the most important member of Pittsburgh's Steel Curtain defense. His presence opened things up for Jack Ham, Jack Lambert and the front-seven, which in turn let Mel Blount, Donnie Shell and the others make plays in the secondary.
With Mean Joe anchoring the center of that defense, the Steelers allowed a grand total of 17 yards rushing and 119 total yards in their first Super Bowl win, a dominating 16-6 win over Minnesota.
Super Bowls: XI, XV
Stats: 383 yards rushing in two Super Bowls
Alongside fellow Hall of Famer Gene Upshaw, Art Shell and the Oakland Raiders offensive line dominated the famed Purple People Eaters front four in Super Bowl XI. By the end of their 32-14 victory in the Rose Bowl, the Raiders gained 266 yards rushing.
That day, the great Jim Marshall matched up one-on-one with Shell almost every play, and didn't record a single tackle or sack.
Four years later, Shell used his exceptional pass-protection skills to help lead the Raiders to a 27-10 thumping of the Eagles. The Eagles recorded just one sack for one yard lost and put almost no pressure on Super Bowl MVP Jim Plunkett.
Doug Pensinger/Getty Images

Super Bowls: XLI, XLIV
Stats: 56-for-83, 560 yards, 2 TD
Manning has a curious Super Bowl legacy. Sure he won one, and was an MVP in the process. And he put up fine numbers (333 yards) in the narrow loss to New Orleans. But his pick-six to Tracy Porter that day was the difference in the game.
And even in his victory over the Bears three years earlier, Dominic Rhodes may have been a better candidate for the game's MVP award.
Nevertheless, regardless of stats, for all he does as the Colts quarterback, he deserves tons of credit for eight offensive scores in two Super Bowl appearances.
Al Bello/Getty Images

Super Bowl: XLIII
Stats: 7 catches, 127 yards, 2 TD
No receiver ever had a better single-game performance in a losing Super Bowl effort.
His jumping ability and great hands produced a vital leaping touchdown at the start of the fourth quarter, to pull the Cardinals within a single score.
And late in the game, his 64-yard burst through the NFL's best defense brought Arizona to the brink of their first Super Bowl title.
It wasn't enough in the end, as the Steelers won 27-23, but from the wide receiver position, Fitz's performance in Tampa has few equals.
Super Bowls: IX, X, XIII, XIV
Stats: 11 catches, 268 yards, 3 TD
Although often overshadowed by teammate Lynn Swann, Stallworth was just as much a big-play threat in the 1970s Steelers dynasty's last two Super Bowl triumphs.
He hauled in an incredible 75-yard touchdown in the win over Dallas in Super Bowl XIII, and a year later, before the biggest crowd in Super Bowl history, his 73-yarder against the Rams gave Pittsburgh the lead and a record fourth title in six seasons.
Super Bowls: XV, XVIII
Stats: 29-for-46, 433 yards, 4 touchdowns
It took nearly a decade (and stops with three different franchises) but Jim Plunkett eventually became a championship quarterback.
He only completed 13 passes in the Raiders' win over Philadelphia in 1981, but he made the most of them: Three went for scores.
Three years later, Marcus Allen stole the show in the Raiders' 38-9 win over Washington, but long before Allen scored two touchdowns and his famous 73-yard scamper, Plunkett connected on a string of important passes that gave the Raiders an early lead.
Doug Benc/Getty Images

Super Bowl: XLIII
Stats: 9 catches, 131 yards, 1 TD
Holmes' stats alone would have been enough to earn the MVP of Super Bowl XLIII. But because of what he did during the game-winning drive, Holmes effort has to be considered one of the greatest of all time.
Not only did he make that incredible, acrobatic game-winner, but he caught three passes for first downs prior to that play.
It was easily the greatest single drive any wide receiver ever had in Super Bowl history.
George Rose/Getty Images

Super Bowls: XXV, XXVI, XXVII, XXVIII
Stats: 52 carries, 204 rushing yards, 4 rushing TD, 20 catches, 144 yards
Say what you will about Thurman Thomas' complete Super Bowl legacy: He forgot his helmet prior to the Bills' embarrassing blowout against Washington. And he had crippling fumbles in the two losses to Dallas.
But he did rush for touchdowns in each of those games and his performance against the Giants in Super Bowl XXV remains one of the greatest performances ever.
He scored the go-ahead touchdown in the fourth quarter, made two huge plays in the drive that set up Scott Norwood's potential game-winner, and gained 190 yards on just 20 touches in the 20-19 loss. Had Norwood's field goal sailed inside the goal post, Thomas would have been a unanimous MVP.
Andy Lyons/Getty Images

Super Bowl: XXXV
Stats: 11 tackles, 4 pass break-ups
Lewis anchored the Ravens defense in arguably the most suffocating defensive performance in Super Bowl history. Against the Giants (who had won the NFC Championship Game 41-0) Baltimore didn't surrender a single offensive point.
Lewis was all over the field, breaking up passes in down field and bringing down ball carriers.
Even if he never returns to another Super Bowl, for that one day, Lewis is a Super Bowl legend.
Rick Stewart/Getty Images

Super Bowls: XXXI, XXXII
Stats: 39-for-69, 502 yards, 5 TD
Favre's big play ability was never more apparent than in the Superdome in January 1997. He wasn't perfect, completing barely 50 percent of his passes.
But his guts and ability to heave passes down field produced two long touchdown passes that proved the difference in the Pack's first Super Bowl triumph in three decades.
A year later, Favre put up even better stats (22 completions, 256 yards, 3 touchdowns) and although his efforts for a game-tying score in the final minute came up short, he put Green Bay in position to pull even with the Broncos.
George Rose/Getty Images

Super Bowl: XXI
Stats: 22-for-25, 288 yards, 3 TD
Even if it wasn't the GREATEST single-game passing performance in Super Bowl history, it was by far the most efficient.
Simms completed a record 88 percent of his attempts and dominated the Broncos in the second half of Super Bowl XXI.
Not much else can be said about a player who threw three incompletions for an entire game.
George Rose/Getty Images

Super Bowls: XXIV, XXIX
Stats: 26-for-39, 345 yards, 6 TD
Throwing six touchdown passes in Week 1 of the NFL season is an incredible achievement: Throwing six in the Super Bowl is unheard of.
Young "got the monkey (aka Joe Montana) off his back" by carving up the Chargers in Super Bowl XXIX, and rewriting the championship game's record books.
Now, some of those throws came at a time when the 49ers were way ahead, so that one effort (he only threw two passes in mop-up duty during Super Bowl XXIV) is not enough to claim the top single-game spot on this list. But it's close.
Jamie Squire/Getty Images

Super Bowls: XL, XLIII, XLV
Stats: 55-for-91, 642 yards, 3 TD
Roethlisberger was outstanding in the Super Bowl XLIII win over Arizona, leading the Steelers 88 yards in the final two minutes for the game-winning touchdown and completing 21 of his 30 attempts.
In his first Super Bowl win back in 2006, he didn't play brilliantly, completing just nine passes and throwing two picks. And he did not play great last night in Super Bowl XLV. His two interceptions were terribly costly.
But in both of those games he still made a handful of huge plays that gave his club a chance to win, especially last night. Remember he did overcome the two picks to lead Pittsburgh to a vital score in the fourth quarter that gave Pittsburgh a chance.
Super Bowls: XVII, XVIII
Stats: 64 carries, 230 yards, 2 TD
A 33-year-old man running the way Riggins did in Super Bowl XVII was incredible: The Redskins pounded him repeatedly and by the fourth quarter it paid off with his go-ahead 43-yard touchdown.
And although it didn't produce a repeat Super Bowl triumph, he was pretty effective the next year, when the Redskins lost to Los Angeles in Super Bowl XVIII.
His six rushes on the first drive of the second half (which he ended with a short touchdown run) helped Washington cut the Raiders' lead to 21-10, before the Redskin defense let Marcus Allen run wild.
Al Bello/Getty Images

Super Bowls: XXXI, XXXVI, XXXVIII, XXXIX, XLII
Stats: 7-for-10 field goal attempts
Vinatieri made two game-winning field goals in three years.
And maybe it was a coincidence, but when he changed uniforms and replaced Mike Vanderjagt in Indianapolis, the Colts were finally able to get over the hump and claim the Lombardi Trophy.
Since he accounted for more points in that Super Bowl XLII win than MVP Peyton Manning, he deserves a prominent spot on this list.
Super Bowls: XVII, XVIII, XXII, XXVI
Stats: 771 yards rushing in four Super Bowls
Jacoby started all four title games for the Redskins dynasty of the 1980s and early 1990s and during that time opened holes for two of the greatest single-game rushing performances in Super Bowl history.
John Riggins' MVP performance in Super Bowl XVII came largely behind the backside of Jacoby, as did Timmy Smith's 204-yard effort five years later, still the game's all-time record.
Not only did the Redskins rushing game flourish with him as one book-end, he neutralized Bruce Smith in Super Bowl XXVI to the point that neither Smith nor any of the Bills' great defenders once sacked quarterback Mark Rypien.
Brian Bahr/Getty Images

Super Bowls: XXXVIII, XXXIX
Stats: 21 catches, 276 yards, 1 TD
Neither Jerry Rice nor Lynn Swann, the ultimate Super Bowl wide receiving icons, nabbed double-digit catches in their first two Super Bowl appearances. Branch did.
He followed up a great effort in the win over Carolina in Super Bowl XXXVIII with a record-tying 11-catch performance in the next year's victory over Philadelphia.
Branch only pulled in one of his 21 catches for scores, but he continually made key first-down grabs and was the most reliable Super Bowl wideout Tom Brady ever had.
Super Bowls: V, VI
Stats: 3 INT
If you know your Super Bowl history, you know that Howley was both the first defensive MVP in the game's history and is still the only player on the losing team to claim the award. In that Super Bowl V loss to Baltimore he nabbed two interceptions and recovered a fumble.
But it was his contribution a year later that helps him crack the Top 20 of this list.
In Super Bowl VI, the Cowboys absolutely suffocated Miami, allowing just 185 yards offense and three points. Howley picked off a Bob Greise pass that day and recovered a Larry Csonka fumble in Dallas' first-ever Super Bowl victory.
Rick Stewart/Getty Images

Super Bowls: XXXI, XXXII
Stats: 4 sacks
The most dominating single-game Super Bowl performance by a defensive lineman came by White in Super Bowl XXXI. Given a chance to put away the Patriots early in the fourth quarter, White overwhelmed Max Lane on three straight plays, recording two sacks of Drew Bledsoe.
A year later, he led a pass rush that limited John Elway to just 122 yards and 12 completions.
Andy Lyons/Getty Images

Super Bowl: XLIV
Stats: 32-for-39, 290 yards, 2 TD
Prior to last night, Brees owned the best single-game career of any passer in Super Bowl history.
He nearly matched Phil Simms' incredible completion percentage record (throwing the ball 14 more times in the process), threw for more yards than Simms did in Super Bowl XXI, and in a much closer game.
With the game tied at 17 early in the fourth quarter, Brees marched the Saints 59 yards in nine plays to take the lead, connected on the all-important two-point conversion, and set New Orleans in position for their first-ever NFL title.
Doug Pensinger/Getty Images

Super Bowl: XLV
Stats: 24-for-39, 304 yards, 3 TD
Yes, we all have a tendency to rank the most recent triumphs above what came before. But that isn't the case with what Aaron Rodgers did last night in Arlington.
Not only did he have stats as impressive as Drew Brees in Super Bowl XLIV, Phil Simms in Super Bowl XXI, or Doug Williams in Super Bowl XXII, but he made a handful of those completions in critical fourth-quarter moments of a nail-biter.
The Packers didn't once consider sitting on the lead and running time off the clock: Mike McCarthy had Rodgers throwing the ball down field with the game on the line because he was so precise that day.
Super Bowls: VI, VII, VIII
Stats: 57 carries, 297 yards, 2 TD
Czonk didn't get on track in January 1972's brutal loss to Dallas, but a year later with the Dolphins' perfect season on the line, he did.
He averaged just under 7.5 yards per attempt and helped the Dolphins grind out the narrow win over Washington.
And in the thumping of Minnesota, he pounded the great Vikings front four, rushing for a then-Super Bowl record 33 carries and 145 yards.
A. Messerschmidt/Getty Images

Super Bowls: XL, XLIII, XLV
Stats: 14 catches, 244 yards, 2 TD
Ward was overshadowed by his then-teammate Santonio Holmes in Super Bowl XLIII, but he was the MVP of the team's championship effort three years earlier, catching two huge passes that led to two huge touchdowns.
And last night, he came up with several critical catches in the Steelers' comeback bid against Green Bay, including the all-important touchdown just before halftime that turned a potential blowout into a thriller.
Doug Pensinger/Getty Images

Super Bowls: XXXII, XXXIII
Stats: 55 carries, 259 yards, 3 TD
Not since the early 1980s with John Riggins and Marcus Allen did a running back dominate a Super Bowl quite like Davis against the Packers did in his hometown of San Diego.
He carried the Broncos to the title on a day when John Elway completed just 12 passes.
And although Elway was the hero a year later in Miami when the Broncos repeated as champions by crushing Atlanta in Super Bowl XXXII, Davis again topped 100 yards, joining Larry Csonka and Emmitt Smith as the only men to reach triple digits twice.
George Rose/Getty Images

Super Bowls: XIX, XXIII, XXIV
Stats: 52 carries, 201 rushing yards, 2 rushing touchdowns, 20 catches, 212 receiving yards, 2 receiving TD
Craig was almost unstoppable in his first Super Bowl appearance, the 49ers' 38-16 victory over the Dolphins: There was a case to be made that three touchdowns and 135 total yards should have earned him, not Joe Montana, the game's MVP.
Four years later, he outdid himself, totaling 175 yards combined, and was a key factor in the game-winning touchdown drive that clinched Super Bowl XXIII.
And it was his rushing touchdown in the fourth quarter of Super Bowl XXIV that officially keeps the 49ers' win in January 1990 the biggest blowout in the game's history.
Super Bowls: IX, X, XIII, XIV
Stats: 101 carries, 354 yards, 4 TD
Of all the Super Bowl career records in place, Harris' mark for carries and yards seems to be the safest: In this era, teams just don't run the ball enough for someone to average 25 carries per game for four games.
A good chunk of those record figures came in Harris' Super Bowl IX performance, and he didn't break triple digits in either of the Steelers' last three triumphs. But he scored game-clinching touchdowns on the ground in the fourth quarters of both Super Bowl XIII and XIV.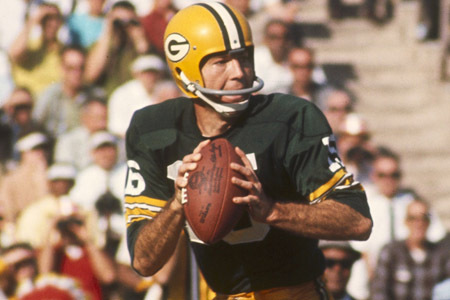 Super Bowls: I, II
Stats: 29-for-47, 452 yards, 3 TD
As great as Aaron Rodgers was last night, and as great as Brett Favre was in the mid-1990s, neither man can (yet) say that they led the Packers to TWO Super Bowl wins.
And although the stats weren't as gaudy as what Rodgers did last night, or Drew Brees and Tom Brady have done in the past, Starr was just as efficient a passer in the 1960s era.
He made several big throws to Max McGee and Boyd Dowler which stretched the Chiefs and Raiders defenses and allowed the Packers to control the clock, and ultimately, the scoreboard.
George Rose/Getty Images

Super Bowls: XXVII, XXVIII, XXX
Stats: 56-for-80, 689 yards, 5 TD
Aikman was at his finest in his first Super Bowl, tossing four touchdowns and completing nearly three-quarters of his passes as the Cowboys blew out the Bills.
He wasn't quite as sharp the next two times Dallas took the Super Bowl stage, averaging just over 200 yards a game and combining for one interception and one touchdown.
But in relatively close games against Buffalo (Super Bowl XXVIII) and Pittsburgh (XXX) he hit a string of second-half passes that set up the scores that clinched victory.
Rick Stewart/Getty Images

Super Bowls: XXI, XXII, XXIV, XXXII, XXXIII
Stats: 76-for-152, 1,128 yards, 3 TD
Heaping all of the blame for the Broncos' three Super Bowl losses on Elway just isn't fair. He was the only bona fide star on that offense and in the first two games gave valiant efforts before turnovers and poor defense doomed Denver.
And even in the first Super Bowl win for Denver (XXXII) he didn't play outstanding, completing just 12 passes and throwing a pick. But he did make that classic helicopter run and connected with Rod Smith and Shannon Sharpe on several big plays.
But it was his effort in Super Bowl XXXIII that was most indelible: He scored two touchdowns, tossed for over 300 yards, and left the game on top.
Super Bowls: VI, X, XII, XIII
Stats: 61-for-97, 734 yards, 8 TD
Staubach was brilliant in the Cowboys' Super Bowl wins over Miami and Denver, completing nearly 70 percent of his passes for three touchdowns and no interceptions.
And even though he didn't play great in the Cowboys' two losses to Pittsburgh, he lived up to his "Captain Comeback" moniker at the ends of both those four-point defeats.
In Super Bowl X, he narrowed the game to 21-17 late in the fourth quarter and had a chance to take the lead with a desperation play at the game's end.
Three years later in the rematch, he nearly overcame an even bigger deficit. Behind 35-17 late in the game, he quickly tossed two touchdowns to push the game to the final minute.
George Rose/Getty Images

Super Bowls: XXVII, XXVIII, XXX
Stats: 70 carries, 289 yards, 5 TD
Although Troy Aikman was the star of the Cowboys' first Super Bowl triumph of the 1990s, Smith broke the 100-yard mark and scored a fourth-quarter touchdown.
But it was his performance the next year that won him the Super Bowl MVP. Still nursing that sore shoulder from earlier in the season, he toted the ball 30 times for 152 yards and two critical second-half scores.
And even though he didn't get rack up many yards against Pittsburgh in Super Bowl XXX, his two second-half touchdowns on the ground (which gave him the Super Bowl record for rushing scores) helped Dallas claim a record third Super Bowl in four years.
Super Bowls: IX, X, XIII, XIV
Stats: 16 catches, 364 yards, 3 TD
Swann's performance in Super Bowl X is one of the greatest ever: He caught just four passes, but went for 164 yards and a touchdown, and three of those grabs were all-time classics.
But he proved to be more than just a one-shot Super Bowl wonder in the Steelers' next two triumphs.
In the rematch with Dallas he caught seven more passes, including one for a touchdown in the fourth quarter that proved to be the difference in Pittsburgh's 35-31 victory.
And although John Stallworth's 73-yard touchdown in Super Bowl XIV was the most electrifying play in the team's fourth Super Bowl triumph, Swann's 47-yard touchdown gave the sluggish Steeler offense the lead after halftime.
George Rose/Getty Images

Super Bowls: XXIII, XXIV, XXIX, XXXVII
Stats: 33 catches, 589 yards, 8 touchdowns
Of course Jerry Rice is the most valuable wide receiver ever to set foot on a Super Bowl field. In fact, he is the most valuable non-quarterback to ever set foot on a Super Bowl field.
So if you are going to question his spot here at number five, rest assured it's only because quarterbacks are to follow. After all, as great as Rice was, and as important as he was to each Super Bowl he played in, he never touched the ball more than 12 times in any one of those games.
Still, every time he did touch the ball, he was a threat to score. No man (and it's not even close) has as many scores as he does: Emmitt Smith is three behind Rice's eight Super Bowl scores.
Win McNamee/Getty Images

Super Bowls: XXXIV, XXXVI, XLIII
Stats: 83-for-133, 1,156 yards, 6 TD
Warner's Super Bowl numbers are truly remarkable. He has the top three passing yardage efforts in Super Bowl history, never once throwing for fewer than 365 in a single game. And despite playing in one less Super Bowl, has more career passing yards than Joe Montana.
Now, his 1-2 record in those three Super Bowls is a slight blemish on his overall resume. But in each of those Super Bowls he threw a late fourth-quarter touchdown pass to either tie or take the lead for his team.
No other quarterback in Super Bowl history can say that.
Elsa/Getty Images

Super Bowls: XXXVI, XXXVII, XXXIX, XLII
Stats: 100-for-155, 1,001 yards, 7 TD
John Elway, Troy Aikman and Roger Staubach each won at least a pair of Super Bowl titles, but none of them have a pair of game-winning, last-minute Super Bowl drives. And although Brady didn't produce touchdowns in those wins over St. Louis and Carolina, he didn't need to.
The game was in his hands to win or to lose twice, and he produced victories for the Pats.
And, the loss in Super Bowl XLII should do nothing to blemish his three triumphs (each in a supremely close game) in four seasons.
Super Bowls: IX, X, XIII, XIV
Stats: 49-for-84, 932 yards, 9 TD
Four Super Bowl appearances, four Super Bowl wins. That's Bradshaw's most oft-cited stat. Well, that and the fact that he won a pair of Super Bowl MVPs.
But don't forget this stat, either. Bradshaw threw a fourth-quarter touchdown pass in each of those wins. And without that stat, history could be much different.
Rick Stewart/Getty Images

Super Bowls: XVI, XIX, XXIII, XXIV
Stats: 83-for-122, 1,142 yards, 11 TD
Even if he wasn't the only man with three Super Bowl MVPs to his name, Joe Montana would still be the MVP of MVPs.
He won games every way.
There was the sharp, yet unspectacular effort in his debut, Super Bowl XIV.
There was the blowout of Denver in Super Bowl XXIV.
There was the triumph over seemingly his heir apparent, Dan Marino, in Super Bowl XIX.
And of course, the 92-yard touchdown drive in the final minutes of Super Bowl XXIII.
Since Montana has more touchdowns than any one else (and zero interceptions, while Brady, Warner, Bradshaw, Staubach, Elway and all the others with multiple appearances have at least one), his name is essentially synonymous with the Super Bowl.