2011 Pittsburgh Steelers: 7 Reasons the Stairway to Seven Won't Happen in 2011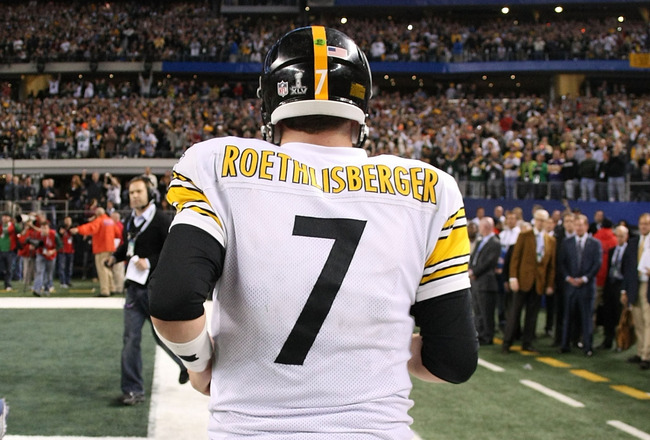 Doug Pensinger/Getty Images
For Steeler fans, the Super Bowl XLV loss cuts deeply. As an organization and a city, Pittsburgh isn't used to losing in the Super Bowl: This is only the second loss in eight attempts.
However, in football as in all sports, with immediate disappointment comes endearing hope. Steeler Nation will rebound. The sights of many fans are already set toward the draft and, barring a lockout, a successful 2011 season.
Although the Steelers may do well in 2011, the odds of them returning, let alone winning, a Super Bowl next year are highly unlikely.
Here are seven obstacles that will prevent them from enjoying a Stairway to Seven in 2011.
7. James Farrior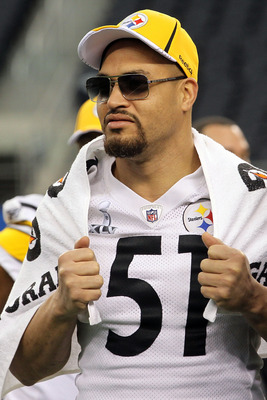 Ronald Martinez/Getty Images
James Farrior seems ageless. He is Methuselah of the NFL. But, even Methuselah had to call it quits once he lost a step, and Farrior has.
Many may argue that I don't know what I'm talking about, but if you watch Farrior during games, he can be overwhelmed at times when covering backs or certain tight ends. He is a shell of the player that was the runner-up Defensive Player of the Year in 2004.
Sure, he played better in 2010 than he did in 2009, but that is more an indictment against his 2009 performance, not a compelling reason to be optimistic for next season. He will be teetering toward 37 years old next season and the track record for football players maintaining a high level on the downward slide to 40 is pretty bleak.
Not one of Farrior's potential heirs—Larry Foote, Stevenson Sylvester or Keyaron Fox—instills fear in opposing offensive coordinators.
So, no matter if Farrior returns or retires, the Steelers defense will see a drop at the position in 2011.
6. Shaun Suisham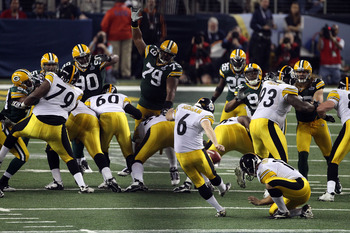 Streeter Lecka/Getty Images
The release of Jeff Reed came as a surprise. The signing of Shaun Suisham was an even bigger one.
It felt like Suisham had been cut by every team in the NFL, and for good reason. Suisham had performed erratically in his career and missed a few big kicks.
So, when the Steelers signed Suisham, it wasn't exactly met with a resounding "Yippee!" by Steeler fans.
That being said, Suisham actually performed well during the regular season, making 14 of 15 field goal attempts. His performance in the playoffs wasn't stellar, but it wasn't horrible, either.
But...
He looked completely out of his element in the Super Bowl. His missed 52-yard field goal attempt—an epic failure of the highest degree—was the epitome of a man soiling himself on the big stage. He nearly botched an extra point. Even the field goal that he made looked ugly.
Right now, Suisham has the look of a kicker that will cost the Steelers a close game or two next season.
The Steelers will likely bring someone in to compete with him.
5. The Defensive Line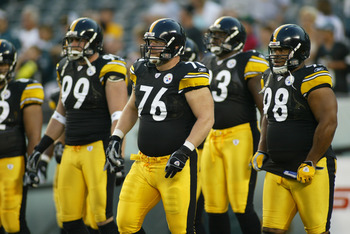 Len Redkoles/Getty Images
Saying that the Steelers defensive line is old is a gross understatement. Aside from Ziggy Hood, the rest of the line is a couple years shy of AARP membership.
Aaron Smith is having trouble staying healthy and, at 35 next season, will be coming back from a season-ending triceps surgery. Casey Hampton will be 34—advanced age is never good for a large nose tackle. And, his backup, Chris Hoke, is a year older than Hampton.
Brett Keisel doesn't just resemble Rip Van Winkle—he's nearly as old as him.
This unit needs a youth movement.
4. The Secondary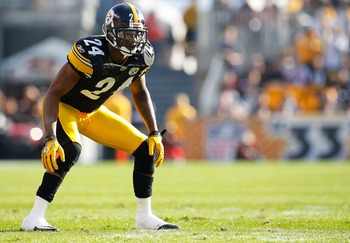 Jared Wickerham/Getty Images
This unit is ugly. And if Ike Taylor, their best corner, leaves via free agency this year, things could get uglier.
Elite quarterbacks have tormented this group.
Bryant McFadden and William Gay are respectable nickel and dime defensive backs, but as starters, their weaknesses were exploited often. The Packers made it a point to attack both of them, particularly McFadden.
Ryan Clark often tries to make the highlight film rather than just make the tackle.
Troy Polamalu is incapable of staying on the field for 16 games. And, at 30 next season, will likely continue to get banged up, unless he alters his playing style, and that's highly improbable. The Steelers need to get used to having him absent for several games a year.
Look for the Steelers to spend some draft picks upgrading this position.
3. The Offensive Line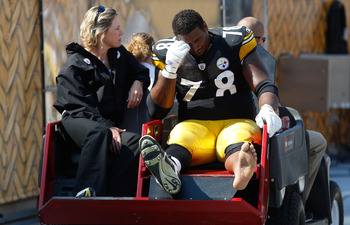 Jared Wickerham/Getty Images
The good news: The offensive line is not the main concern next year.
The bad news: It's still a major concern.
Despite all of the injuries, the offensive line performed quite admirably in the Super Bowl. Contrary to predictions, the offensive line was not the cause of the Steelers' defeat.
That doesn't mean that the unit doesn't have its share of concerns going into next year. First and foremost is the return of Max Starks and Willie Colon. If the two of them come back at 100 percent, the unit may be a pleasant surprise next year. If not...who knows?
Chris Kemoeatu needs to learn how to control himself. He committed too many foolish mistakes, mainly personal foul penalties, that could have and might have cost the team games.
Who is playing the other guard position next year? Is it Ramon Foster? Will Trai Essex return to the starting lineup? Or, has Doug Legursky made a case for himself?
Stay tuned.
2. Bruce Arians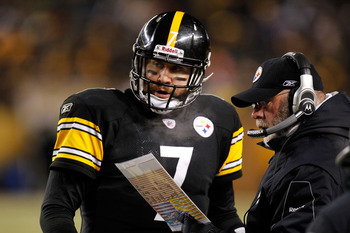 Gregory Shamus/Getty Images
Quick! What's the identity of the Steelers offense?
If "playground anarchy" comes to mind, you're not alone. Many people, including those in the national media, have no idea what the identity of the Steelers offense is.
To be quite honest with you, I don't think Bruce Arians knows, either. At least it appears that way when watching the games.
Fans have spotted Arians using the Magic 8-Ball when calling plays.
Case in point: Will the Steelers be in the shotgun with an empty backfield on 2nd-and-2?
The Magic 8-Ball answer: It is certain.
Mendenhall could be gaining six yards a pop and Arians would still call this formation.
During the Super Bowl, the Packers were in formations that begged for a running play, yet the Steelers went shotgun and four-wide. Not even a hint of play action.
Also, when was the last time you saw the Steelers run a screen play to a running back? I think Barry Foster was starting at running back.
Remarkably, the Steelers have made it to two Super Bowls with him as the offensive coordinator. The defense was able to carry the team. But, with age and scheme problems nagging the defense, the offense will need to pick up the slack.
Unfortunately, Arians is not up to the challenge.
1. Dick LeBeau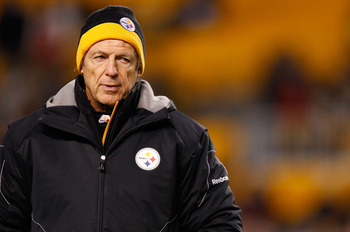 Jared Wickerham/Getty Images
There, I said it.
I can hear the collective roar of outrage from Steeler Nation for committing such heresy. Please hear me out.
I like Dick LeBeau. He's been a positive force for the organization. However, I think it's time for him to step aside and let Keith Butler take over. I don't want to see another Joe Paterno situation.
LeBeau's scheme is still effective against weaker quarterbacks, but it no longer intimidates the elite ones. Just look how Brees, Brady and Rogers shredded it. Even Mark Sanchez had some success.
The Steelers continue to have the best rushing defense in the league for two reasons: Poor offenses are incapable of exploiting the scheme flaws and great offenses don't need to run against them to succeed.
Again, look how the Saints, Patriots and Packers ran the ball sparingly (and effectively) against Pittsburgh. They have built the template for success against LeBeau.
Tomlin has already said that he wants both Arians and LeBeau to return. Arians knows that no other team would be foolish enough to hire him, so it looks like the Steelers are stuck with him
LeBeau, however, has the opportunity to do the right thing, and step aside for some new blood. Maybe Butler can implement some new wrinkles to add life to a stale scheme.
If LeBeau returns, then I fear we will be seeing Tom Brady and others lighting up the scoreboard next year.
Keep Reading

Pittsburgh Steelers: Like this team?