MLB: A Complete Breakdown With Predictions For The AL East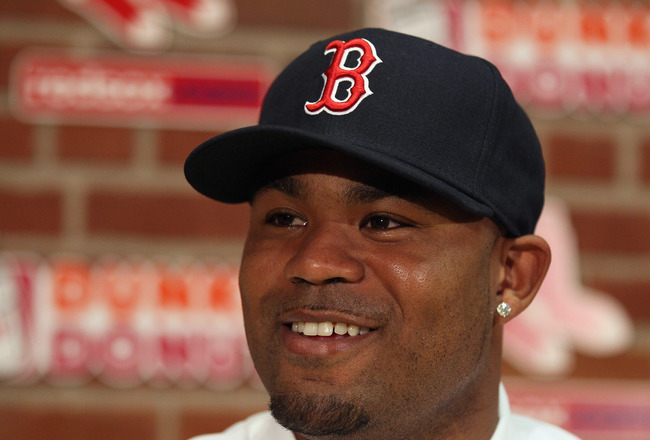 Elsa/Getty Images
It's almost the start of spring training, as another baseball season will begin. It's time to start breaking down how things may look this season.
Looking at the AL East, things might be totally different from years past with some big turnover on a few rosters. Unlike the last decade, where this division has been called the toughest in baseball, it may not be too tough in 2011.
The Red Sox made some huge moves, bringing in two star hitters, while the Yankees are searching desperately for starting pitching.
The Rays have taken what you'd think will be a step back with a loss of a bunch of key players. The Blue Jays will try to improve off their 85-win season and the Orioles will be playing under their first full season with Buck Showalter as manager.
Here's a complete breakdown of the AL East, with predictions for each team.
Baltimore Orioles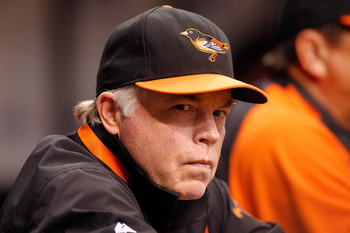 J. Meric/Getty Images
The Baltimore Orioles suffered their 13th consecutive losing season in 2010, but they showed good signs under new manager Buck Showalter. After floundering under their two previous managers during the season, the Orioles went 34-23 with Showalter as their manager.
They have some nice young talent and they will have a different look this season, improving a little more. Three-quarters of their infield was redone, with Derrek Lee at first base, J.J. Hardy at shortstop, and Mark Reynolds at third base.
The issue with Reynolds is, he strikes out way too much. He only recorded 99 hits in 499 at-bats last season (.198 average) and struck out 211 times. He may hit 50 home runs playing at Oriole Park, but he's a feast-or-famine type hitter.
The lineup, though, has a solid nucleus. Adam Jones will try and get better in his fourth season in Baltimore and Nick Markakis will try to bounce back off a tough season.
The starting rotation is led by Jeremy Guthrie, along with a bunch of young arms. The new closer will be Kevin Gregg, as he continues to bounce from team-to-team in his career.
The Orioles have potential, but at the same time, they have a lot of young players who have to come through if they want to contend in 2011.
AL East team rankings
Lineup: 4th
Starting rotation: 5th
Bullpen: 5th
2011 prediction: 76-86, 5th place
Tampa Bay Rays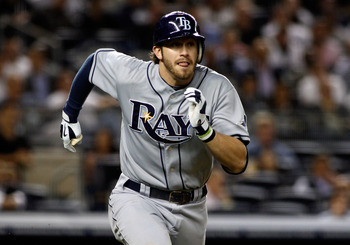 Mike Stobe/Getty Images
After three solid seasons, two of them earning postseason berths and one a trip to the World Series, the Tampa Bay Rays will take a huge step back this season.
Some people don't think they will, but if you take a look at what they lost this offseason, it's hard to imagine how they'll be as good as they were.
They lost five impact players who all helped to make some kind of difference while in Tampa Bay. Matt Garza was traded to the Cubs after winning 15 games and throwing a no-hitter. Rafael Soriano signed with the Yankees after leading the AL in saves with 45.
Although Carlos Pena had a down season, he still hit 28 home runs and is always a threat. Jason Bartlett was a pesky little hitter who's now with the Padres.
Their biggest loss was Carl Crawford, who went to the Red Sox. He hit over .300 with 19 home runs, 30 doubles, and 13 triples along with 47 stolen bases.
Now, they did go out and bring some veterans in, but not nearly enough to make up for the major loss in talent. Johnny Damon and Manny Ramirez were signed to play some outfield and DH, but they're both older players who don't have a whole lot left.
They won't combine for 47 stolen bases and neither will play with the energy of a Crawford.
The starting rotation, even with the loss of Garza, isn't terrible. The ace, David Price, did win 19 games and along with guys like James Shields, Jeff Niemann, and Wade Davis, the Rays can win some games with their starters.
Their lineup, though, doesn't have much pop in it, and they'll have to find someone to fill in Soriano's role as closer.
It's going to be a more difficult season for the Rays, especially playing in the AL East where other teams are improving.
AL East team rankings
Lineup: 3rd
Starting rotation: 4th
Bullpen: 4th
2011 prediction: 81-81, 4th place
Toronto Blue Jays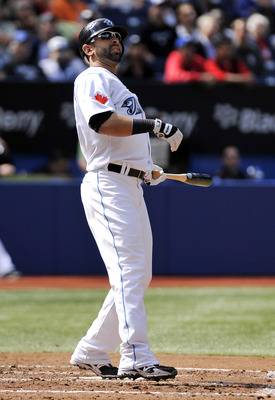 Brad White/Getty Images
Some people may not realize with the way the Rays, Yankees, and Red Sox all played last season, but the Toronto Blue Jays won 85 games. That's very impressive in a division where three teams at least won 89 games.
This season, the Blue Jays could compete for a Wild Card spot with teams taking steps back. They haven't made the playoffs since they won consecutive championships in 1992 and 1993.
The huge story last season for the Blue Jays was Jose Bautista. Who knows how he did it, but the third baseman hit 54 home runs in 2010, and although it's unlikely he'll hit that many this season, he has tremendous power.
On paper, the offense looks a little above average. It's not as powerful as it has been in recent years, but with the addition of Juan Rivera, along with Yunel Escobar who was acquired last season, there's some potential in the lineup.
However, the drop off in production from second baseman Aaron Hill last season is still a concern, as his batting average dipped more than 80 points, and he hit 10 fewer home runs while driving in 40 fewer RBI.
The Blue Jays also added veteran outfielder Rajai Davis to the fold, and he will most likely lead off after stealing 50 bases last season.
The Blue Jays' biggest strength, though, is their starting rotation. Ricky Romero will start on opening day and he's impressed in each of his first two seasons, going 27-18.
Brett Cecil had a fine season, winning 15 games. Brandon Morrow is another quality arm, and Kyle Drabek will enter his first full season as a starter.
The Blue Jays will have a new closer this season, as Frank Francisco will provide stability in a quality Toronto bullpen after spending his entire career in Texas.
If everything breaks right, the Blue Jays could win a lot of games in 2011.
AL East team rankings
Lineup: 5th
Starting rotation: 3rd
Bullpen: 3rd
2011 prediction: 84-78, third place
New York Yankees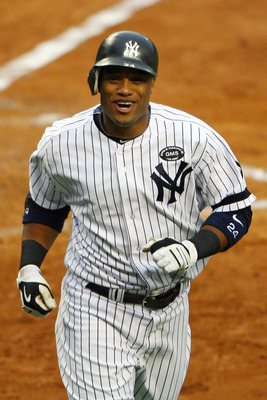 Andrew Burton/Getty Images
The New York Yankees had a sad, annoying, and disappointing offseason. They couldn't sign either of the two starting pitchers they wished to, as Cliff Lee signed with the Phillies, and Andy Pettitte retired.
This could end up being the worst season in ages for the Yankees, because right now, their starting rotation is a mess.
CC Sabathia is still the ace and won 21 games last season. Phil Hughes is still developing as a young pitcher and he won 18 games in 2010. So, what could possibly be so bad? Well, just about everything else after those two guys.
The Yankees hired pitching coach Larry Rothschild and for one big reason—A.J. Burnett. After an at least somewhat acceptable first season in the Bronx in 2009, Burnett was atrocious in 2010.
He lost 15 games for a Yankees team that won 95 games. His ERA was 5.26, and that's in a full season, having started all 33 games.
The biggest question mark concerning Burnett when the Yankees signed him two years ago was: would he be able to stay healthy? He's never missed a start as a Yankee, but his performance has been terrible.
After his spot, which is sadly third, the Yankees are basically hopeless unless they trade for a big-name pitcher immediately. They recently signed some retreads to show what they have in spring training. Guys like Freddy Garcia, Bartolo Colon, and Mark Prior.
The fourth spot will probably go to Ivan Nova. The 24-year-old showed some good stuff last season. Even so, he's still very unproven, and the fifth spot could go to Sergio Mitre or one of the other three that they signed. It's really a terrible rotation if you examine it.
The good thing is, the Yankees have a great lineup. It's the same exact one from last season, with the only addition being Russell Martin behind the plate.
Other than that, it's the normal cast of characters, with the most dangerous hitter being Robinson Cano after his breakout season.
The bullpen won't be too bad, either. The Yankees acquired two quality arms in Rafael Soriano and Pedro Feliciano.
It's going to be a strange year for the Yankees, and it may not be an easy one—for once—either.
AL East team rankings
Lineup: 2nd
Starting rotation: 2nd
Bullpen: 2nd
2011 prediction: 88-74, 2nd place
Boston Red Sox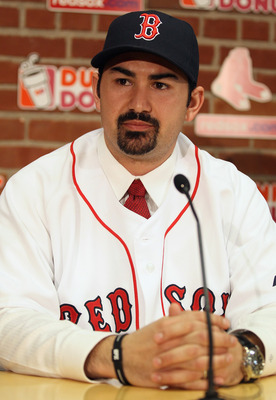 Elsa/Getty Images
Just to show you how good the Red Sox were last season, they won 89 games when basically not having their Opening Day lineup on the field at once at all during the summer.
Now, they'll enter 2011 as the favorite in the American League as they look as dominant as any team in baseball with the exception of the Phillies.
They're loaded in the lineup and in the starting rotation. Not only did they already have a decent lineup, but they went out and signed two of the best hitters in baseball. Carl Crawford is the new left fielder, bringing all of his speed and power, and Adrian Gonzalez is the new first baseman with all of his pop at a ballpark that was not hitter-friendly.
Just imagine how lethal those two will be at Fenway Park. They're both left-handed hitters, that'll be able to pull the ball down the right-field line that only measures at 302 feet deep. Using the Pesky Pole, Gonzalez could hit 45-50 home runs and Crawford could see his power production increase along with everything else he brings.
Those are only two out of nine hitters that can all bring consistency to the table. Dustin Pedroia, Kevin Youkilis, and Jacoby Ellsbury will all be back for full seasons as long as they can stay healthy after major injuries in 2010.
There are some weak spots in the offense, such as J.D. Drew, Marco Scutaro, and new catcher Jarrod Saltalamacchia, but with the other hitters around those guys, it shouldn't really hurt.
Looking at the starting rotation, it looks strong on paper, but a couple of guys have to improve off last season.
In his first year with the team, John Lackey could've been better, pitching to a high 4.40 ERA. Josh Beckett, fighting consistent injuries, had an awful season in 21 starts, with an ERA close to 6.00.
The two best pitchers going into the new season appear to be Jon Lester and Clay Buchholz, as they combined to go 37-16 in 2010.
The Red Sox bullpen is looking pretty good, as both Bobby Jenks and Dan Wheeler were added with Daniel Bard and Jonathan Papelbon being the setup man and closer, respectively.
Unless they have the same terrible injuries as they did last season, the Red Sox should easily win this division.
AL East team rankings
Lineup: 1st
Starting rotation: 1st
Bullpen: 1st
2011 prediction: 98-64, 1st place
Keep Reading

Boston Red Sox: Like this team?