2011 NFL Draft Preview: Top 10 Players the New York Giants Should Now Target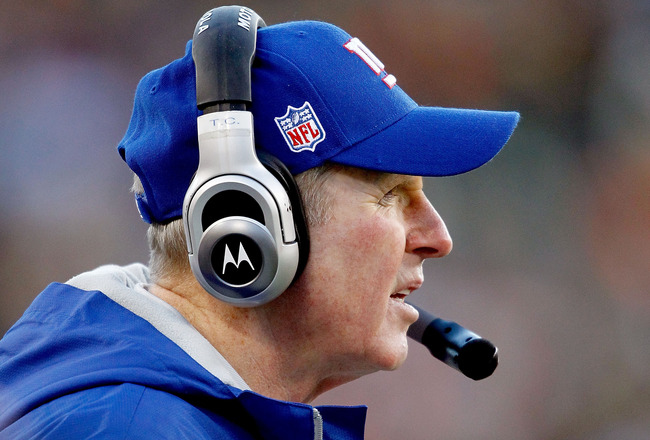 Matthew Stockman/Getty Images
The 2010 New York Giants season did not go as planned. Despite racking up 10 wins, the Giants failed to reach the playoffs after two straight heartbreaking losses to the Eagles and the Packers basically put them out of contention (the Packers then clinched their spot by defeating the Bears, although the Giants beat the Redskins).
While Tom Coughlin remains as head coach, changes must be made in order to improve this team and satisfy management and the fans. The first place to start these changes is in the 2011 NFL Draft.
Here are 10 players who the Giants should absolutely look into to improve their team, whether it be immediately or in the long run.
Travis Lewis, OLB, Oklahoma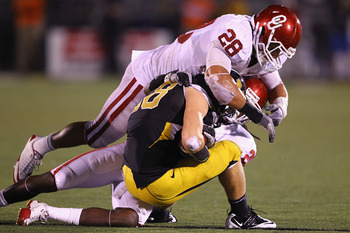 Dilip Vishwanat/Getty Images
A glaring need for the Giants is at the linebacker position. With Keith Bullock as a potential free agent (not to mention his age), the Giants will need someone to step in and perform immediately.
Lewis is the best linebacker prospect in this year's draft with size, strength and speed. He has great play-making abilities and can step in and be the heart of the Giants' linebacker corps almost immediately. Look for the Giants to pick Lewis, if available, with the 19th overall pick.
Bruce Carter, OLB, North Carolina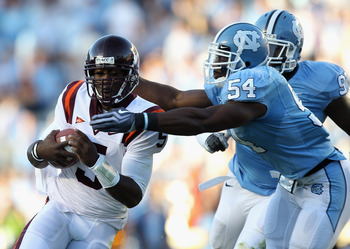 Streeter Lecka/Getty Images
The Giants once drafted an outside linebacker out of UNC, and he is considered today one of the greatest defensive players in NFL history. Lawrence Taylor set the gold standard for what makes a great linebacker, and Carter plays a similar style of football.
He is extremely fast off the edge and has great hands and size. Unfortunately, the Giants would most likely have to trade up in order to draft Carter (something that GM Jerry Reese rarely does). However, if the Giants made the investment, Carter, who has drawn comparisons to Patrick Willis, will have a great impact on the 2011 Giants defense.
Von Miller, SSLB, Texas A&M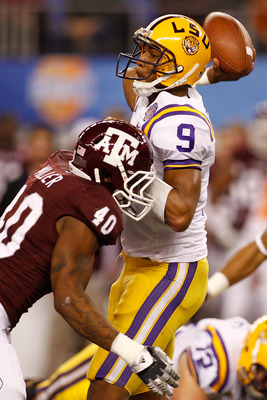 Chris Graythen/Getty Images
Two years ago, Miller led the NCAA with 17 sacks. Despite a decrease in performance this past season, Miller is still a great prospect for Perry Fewell's defense.
He is fast and strong (similar to Carter and Lewis), but can be had for a much cheaper price. Miller will probably warrant a second round pick, so if the Giants go elsewhere in the first round, look for them to go after the former Butkus award winner in the second.
Prince Amukamara, CB, Nebraska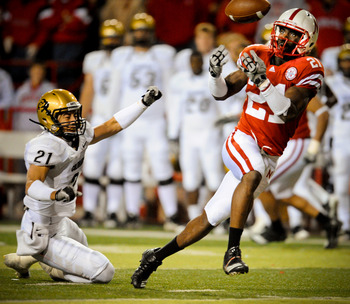 Eric Francis/Getty Images
While this might be a huge reach, the Giants need to address their secondary. Despite depth at the cornerback position (Corey Webster, Aaron Ross, and Terrell Thomas are all former first/second round picks), the Giants have had trouble staying healthy.
If the Giants want to be extremely proactive and shake up the draft, they will trade up to the top seven or eight picks and draft Amukamara (who, along with Mathias Kiwanuka and Osi Umenyiora, would give New York sports writers a pain in the rear end trying to type up). Prince is one of the biggest play-makers in the draft and would immediately step in and cover number one wide receivers. Although he might not have the speed, Prince is 6-1 and will have no problem covering the tallest receivers in the league.
Brandon Harris, CB, Miami
Kevin C. Cox/Getty Images
While Reese might not want to trade up to draft Prince Amukamara, another cornerback can be had at a much cheaper price. Brandon Harris (who, if drafted, would play alongside fellow Hurricanes Kenny Phillips and Antrel Rolle) is a solid cornerback prospect who has great speed.
His 4.41 40 yard dash time translates well to the NFL game, where he could also contribute in the return game (an area of the game that the Giants struggled in last year without Domenik Hixon).
Derrell Johnson-Koulianos, WR/KR, Iowa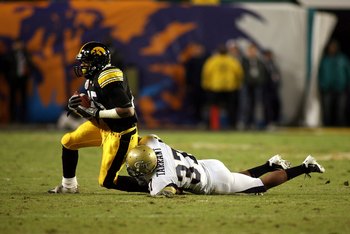 Marc Serota/Getty Images
Derrell Johnson-Koulianos (another mouthful) is another player who could immediately impact the returning game for the Giants. He runs a 4.43 and can be had in the later rounds of the draft. Look for Reese to snag him if the Giants have not already addressed the return game.
DeMarco Murray, RB, Oklahoma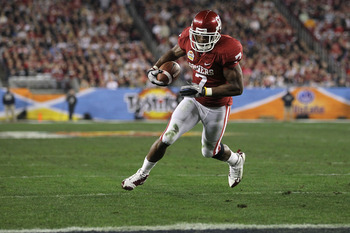 Ronald Martinez/Getty Images
With both Brandon Jacobs and Ahmad Bradshaw potential free agents, the Giants will need to add to their running back depth, as it is unlikely that both will return.
Although he is one of the most successful college running backs ever (most touchdowns in Oklahoma history), there are questions about if Murray's game will convert well to the pro game.
Simply stated, Murray has the best hands out of the backfield in this draft, and if he is available in the third/fourth round, he would be an excellent depth pick for the Giants' backfield
Anthony Costanzo, OT, Boston College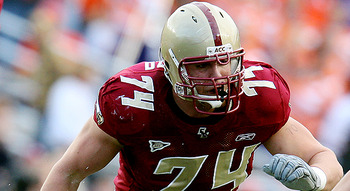 While this year's draft does not have as many surefire offensive tackle picks as the past few drafts, Costanzo could be an adequate tackle for years to come. He can play on either side of the line and has great size (6'7", 295).
The Giants might want to give their aging line some young depth, and Costanzo would be a smart pick if the Giants decide to address this need in the first round.
Titus Young, WR, Boise State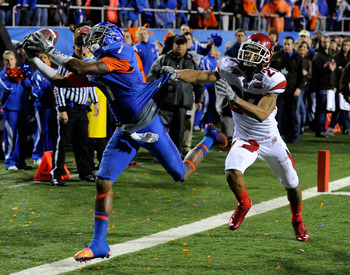 Ethan Miller/Getty Images
With rumors circulating about a possible Plaxico Burress/New York Giants reunion, wide receiver would not be a need in this year's draft. However, if Burress does not return, and Steve Smith does not heal from his injuries, wide receiver could become a need.
Young was a great college wide receiver and could perform well as a slot receiver for the Giants, as he has great hands and great speed. He would also become the Giants' kick returner. This would be an amazing pick for Jerry Reese, who has a knack for finding value in late rounds.
James Rodgers, WR/RB/KR, Oregon State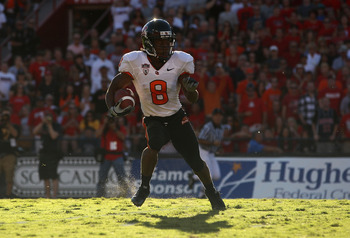 Christian Petersen/Getty Images
Rodgers could serve as a late round pick who could provide depth to almost all aspects of the offensive game. With great speed, good hands, and a good knowledge of the game, Rodgers could help out running the ball, running routes as a slot receiver, or returning the football.
Bonus: Tyrod Taylor, QB, Virginia Tech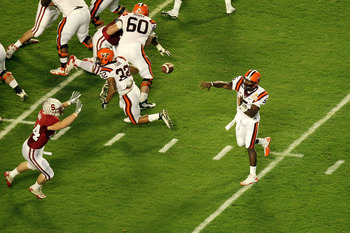 Mike Ehrmann/Getty Images
After getting burned by Michael Vick twice this season, the Giants (as well as the rest of the league) must accept the fact that a running quarterback could serve a great purpose for their team. Taylor, a four-year starter for VT, has a great knowledge of the game.
Although his skills are very raw, Taylor could serve as a decent backup to Eli Manning and could even run a few wildcat style plays, either running or throwing the ball.
This pick is very unlike Jerry Reese, but this might be a gut reaction after the heartbreaking losses at the heels of Michael Vick.
Keep Reading

New York Giants: Like this team?