Super Bowl 2011: 10 Big Predictions for the Big Game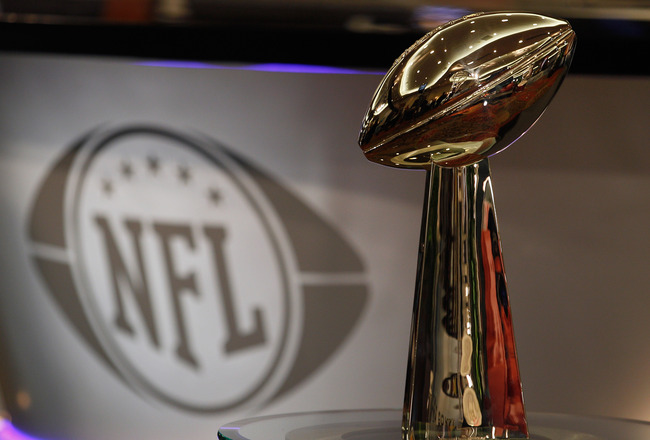 Scott Halleran/Getty Images
The big game is approaching and fans are scrambling to make last-minute party plans. The casual football fans are reading up, so they don't look like an idiot talking football on Sunday.
This has been one of the most hyped Super Bowls in recent years, and rightfully so. The Green Bay Packers, led by red-hot quarterback Aaron Rodgers, are set to meet the experienced Pittsburgh Steelers, led by an unrelenting defense.
The following are 10 things that will happen in Super Bowl XLV.
10. This Will Be the Loudest Super Bowl Ever
Greg Fiume/Getty Images
Not only are two great teams squaring off in Super Bowl XLV, but arguably the best fanbases in all of football are squaring off. The Terrible Towels vs. the Cheeseheads. Both sides are known for being especially rowdy and loud.
Putting both fanbases in the same building just seems dangerous. No matter what the score is, you can always count on at least half of the stadium to be losing their mind.
So my advice for people going to the game is to invest in some earplugs and enjoying being able to hear while you still can.
9. Ben Roethlisberger's Reputation As a "Bad Role Model" Will Not Change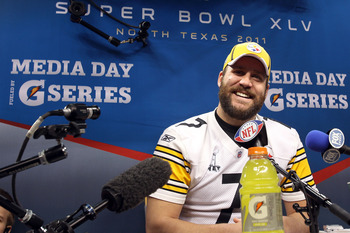 Ronald Martinez/Getty Images
All this week the sports media has been buzzing about whether or not Big Ben can ever be seen as a positive role model for kids. Roethlisberger thinks he can, but the fans seem to be answering back with a resounding no. Viewers of ESPN's hit show SportsNation answered 73 percent no when asked if Big Ben can be a positive role model in a recent poll.
It seems like the fans have made their opinion pretty clear. So now people are asking, would he be considered a better role model if he wins his third Super Bowl? I don't see it happening.
It would make him a great quarterback. Maybe Big Ben should take a page out of Charles Barkley's book and just say "I am not a role model."
8. Maurkice Pouncey Will Not Play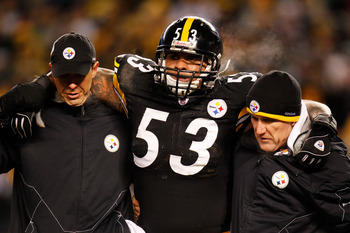 Gregory Shamus/Getty Images
On media day, Steelers starting center Maurkice Pouncey seemed pretty confident that he will see action in Super Bowl XLV. At this point it looks doubtful.
Mike Tomlin has said that Pouncey will not play if he does not practice this week, and as of Thursday night, Pouncey has not participated in any practices.
I think this is very bad news for the Steelers and specifically running back Rashard Mendenhall, who loves to run behind the Pro Bowl center. Pouncey has been the strongest Steelers lineman all season.
The starter at center will probably end up being Doug Legursky. A third year reserve lineman, with one of my favorite big man last names in all of football.
7. The Packers Will Have a Slow Start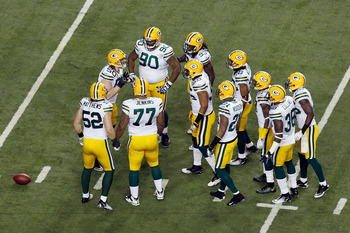 Kevin C. Cox/Getty Images
The biggest difference between the Packers and the Steelers is experience. Almost all of the Packers are playing in their first Super Bowl, while almost all of the Steelers already have won rings.
Don't be surprised if the Packers take the field over-hyped and get off to a slow start. This team reminds me of the Cardinals team that lost in the Super Bowl a couple years ago against the Steelers.
The Cardinals came out of the tunnel over-hyped. The Packers don't want this to happen to them. Mike McCarthy needs to do a good job of keeping his team's mindset in the right place. The Packers must approach this just like any other game.
6. The Steelers Will Score First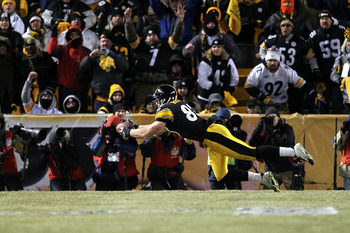 Al Bello/Getty Images
This prediction is mostly due to the same reasons as the previous slide. I expect the Steelers to start the game off strong because they have been there before.
Mike Tomlin is great at keeping his team under control, not letting emotions of the big game get the best of them. I predict Ben Roethlisberger and Heath Miller hooking up on their second drive of the game to give the Steelers the first lead of Super Bowl XLV.
5. James Starks Will Rush for At Least 80 Yards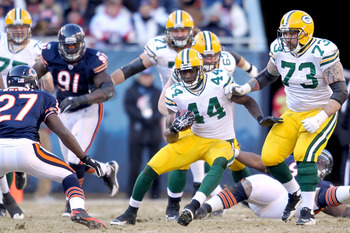 Andy Lyons/Getty Images
In the first round of the playoffs, James Starks stole the show, rushing for 123 yards against the Philadelphia Eagles. The next two weeks were dominated by quarterback Aaron Rodgers.
Due to the recent Rodgers hype, James Starks has a golden opportunity to surprise some people.
The Steelers defense should be geared to stop the pass. Expect a lot of pass rush and linebackers dropping back into zones.
If the Packers line can make holes for Starks, he might be able to break off a few big runs.
4. Tramon Williams Will Get an Interception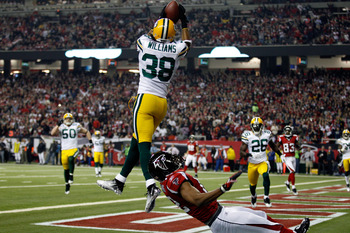 Chris Graythen/Getty Images
Tramon Williams has a playoff-leading three interceptions thus far. Expect that number to jump to at least four by the end of the big game on Sunday. Roethlisberger is guilty of taking a lot of risks downfield; Tramon Williams needs capitalize by making some big plays.
Two key Roethlisberger interceptions helped the Jets' comeback against the Steelers in the AFC conference championship game.
I expect the same this week. Look for Williams to get his clutch interception(s) sometime in the second half when his team is down. Every Super Bowl is defined by one or two key plays, maybe this is it.
3.Ike Taylor Will Shut Down Greg Jennings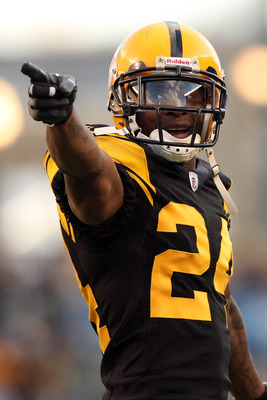 Karl Walter/Getty Images
In the last two games Packers wide receiver Greg Jennings has been unstoppable. Steelers cornerback Ike Taylor will have the tall task of trying to slow him down this week.
Jennings is undoubtedly Aaron Rodgers's favorite target, and he will look for him often. If the Steelers want to slow down the Packers potent offense, they will need to keep the ball out of Jennings's hands.
I think that this matchup will ultimately decide the game. When Rodgers can't hit his favorite target, he gets frustrated. That is when he will start making mistakes.
2. The Game Will Be Decided in the Last Two Minutes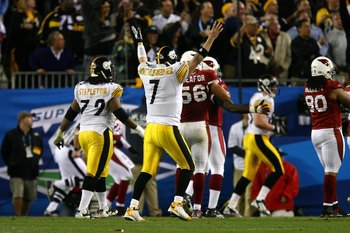 Al Bello/Getty Images
Vegas has had the line on this game somewhere around Steelers +2.5 all week. They're spot on.
This game will go down to the wire and will be decided in the last two minutes of the game. Which quarterback can will their team to victory in the final moments of the Super Bowl XLV?
Both Rodgers and Roethlisberger have the reputation of being heroes in the end of big games, but only one can win in Super Bowl XLV.
1. The Steelers Will Win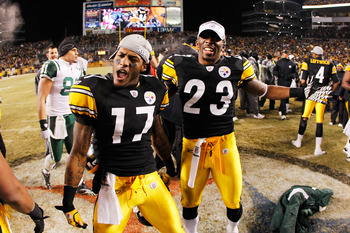 Gregory Shamus/Getty Images
Most of the "experts" seem to be taking the Packers, but it is hard not to pick the Steelers in this one. They have too much experience and have proven their worth time and time again.
The Steelers have the best defense in the National Football League, anchored by NFL Defensive Player of the Year Troy Polamalu.
The Packers are a great team and have a great chance to make the Super Bowl in the coming years, but the Steelers are just too strong.
Steelers 27, Packers 24
Keep Reading

Pittsburgh Steelers: Like this team?