New England Patriots Coveted Julius Peppers, Who Could Be In Sight This Year?
Julius Peppers introduced as a Chicago Bear
Last off-season every Patriots fan's dream almost came to fruition when Julius Peppers' six year rookie contract with the Carolina Panthers expired and New England immediately expressed interested in the unrestricted free agent.
On March 5, 2010 that dream became a reality for Chicago Bears fans. Peppers signed a six-year contract with Chicago worth $91.5 million. The deal included $42 million guaranteed over the first three years, an average annual salary of $14 million.
The Patriots pursued Peppers with an honest interest in acquiring the star pass rusher offering $10 million annually but obviously fell quite short of Chicago's winning bid.
Peppers will average $16.5 million over the latter three years of his monstrous contact which does interestingly include a nullification clause allowing Chicago to move on from him after year one.
Bears officials would be hard pressed to find a reason to void Peppers' deal after he posted a season worthy of Defensive Player of the Year honors which he finished fourth in voting for. With just a sliver of a chance that Peppers leaves Chicago before the end of his prime Patriots fans should begin to look elsewhere for a dream acquisition.
Historically the Patriots have avoided big splashes in Free Agency like the plague even electing to let big names from their own organization walk. The list is getting rather lengthy with the likes of Asante Samuel, Deion Branch, Ty Law, Lawyer Milloy, Willie McGinest, and Curtis Martin all leaving New England for greener pastures. Only time will tell if Logan Mankins will join the ranks of greats to leave the team over a financial disagreement.
There's a reason they do what they do however. The fans may have to suffer through the loss of a few stars, but New England recognizes irreplaceable talent when they see it and if the price is right a deal will be made. Tom Brady, Vince Wilfork, Ty Warren and Leigh Bodden can attest to that.
So with Peppers all but eliminated from the wish list and with New England conceivably still willing to throw eight figure contracts out lets take a look at who could possibly dawn a Patriots uniform next season.
Begin Slideshow

»
Robert Laberge/Getty Images

Back in October the rumor mill opened up and many started to speculate on a possible Vincent Jackson to New England trade.
It made sense on paper with the Patriots exploring options to fill the vacated spot of Randy Moss. Some even suggested San Deigo and New England could swap their disgruntled players in a Jackson for Logan Mankins trade, a two birds one stone approach.
New England ended up acquiring Deion Branch from the Seatle Seahawks and fielded the most productive offense in the league. Regular season success didn't carry over to to the playoffs however and the Patriots are in need of a young, play making wideout.
Wes Welker will be turning 30 in May and Branch 32 in July. Taylor Price, Brandon Tate and Julian Edelman have all shown flashes of potential, but nothing to suggest they can develop into a number one.
Jackson would require upwards of $10 million of year, but at 6'5 and 230 pounds he could be a monster receiver for Brady. For comparisons sake Moss is six years older, one inch shorter, and 20 pounds lighter. This guy could be a number one wideout for years to come.
He is tag eligible though and may be retained by the Chargers. Only time will tell, but Jackson is certainly worth dream consideration.
Nick Laham/Getty Images

Sidney Rice's future consists not only of a complicated list of possibilities, but a confusing list at that.
The Minnesota Vikings have two impending Free Agents which they would like to retain in Rice and Linebacker Chad Greenway. The team can only place the Franchise Tag on one of them and will have the option of placing the rarely used Transition Tag on the other.
The St. Paul Pioneer Press among other media sources is predicting Greenway to be hit with the Franchise Tag and the Transition Tag to be used on Rice. That would effectively take Greenway off the board as it would take a 1st and 3rd round pick along with a monster contract to pry to the Linebacker out of Minnesota.
If Rice were Transition Tagged his case would be a bit different. The tag would allow another team to offer Rice a contract and afford the Vikings the right to first refusal. In other words the Vikings could match the offer and sign Rice to the same perimeters. If the Vikings chose not to match the offer however, Rice would join his new team for just the price of the contract and no draft pick compensation.
If the Patriots have their eye on Rice this is a prime opportunity to acquire him. The 6'4 202 pounder has drawn comparisons to Randy Moss in his prime for obvious reasons. In his 2009 coming out party Rice established himself as a deep threat for Minnesota racking up 1,813 yard and seven touchdowns with 83 receptions. If the Patriots could manage to swipe him from Minnesota it would be exciting to see what kind of numbers he could produce with Brady throwing to him.
Steve Smith, who was part of the 2007 New York Giants squad that defeated New England in Super Bowl 42, would look good with a Flying Elvis on his helmet.
He's had two statistically respectable seasons with a Pro Bowl season sandwiched in between. 2008 saw Smith haul in 107 receptions for 1,220 yards and seven touchdowns.
Smith suffered an injury in 2010 that required season ending knee surgery in December which puts his return for the start of the 2011 season in question. That could make it more likely for the Giants to move on or for a team to get him at slightly reduced price.
The possible return of aging Plaxico Burress may or may not have an affect on the situation as well.
Andy Lyons/Getty Images

Cedric Benson has quietly resurrected his career in Cincinnati over the last three seasons after three disappointing years in Chicago.
He surpassed the 1,000 yard mark this year and last and finally looks to be living up to his potential after being drafted fourth overall in the 2005 Draft.
Benson is still only 27 years old, an unrestricted free agent and might garner some interest in Foxborough with only BenJarvus Green-Ellis and Danny Woodhead likely to return. Adding him to the backfield would allow the team to allocate their Draft picks this year in another direction.
Jim McIsaac/Getty Images

DeAngelo Williams is another backfield option with a lot of upside. He only played in six games for the Carolina Panthers in 2010 as a result of injury, but rushed for more than five yards a carry in each of the previous three years.
In 2008, one of only two seasons he carried the ball 200+ times, Williams compiled 1,515 yards and 20 total touchdowns.
Williams, like Benson, is also only 27 years old and could be the final piece to a New England rushing attack which is showing legitimate promise for the first time in half a decade.
LaMarr Woodley was selected 46th overall in the second round of the 2007 NFL Draft by the Pittsburgh Steelers. In his four years with the team he has racked up 39 total sacks with all but four coming in the past three seasons. Woodley has been huge in the post season as well piling up 10 sacks in his six career playoff games.
The Patriots have been without a dominant pass rusher for some time now and every off season fans and analysts alike cross their fingers and hope that this is the year. The team rarely spends high drafts picks on potential prospects preferring to instead work with whatever puzzle pieces they can come up with at OLB.
Mike Vrabel was released from the Steelers and turned into a productive and clutch pass rusher. Tully Banta-Cain was drafted in 2003 in the sixth round and has slowly developed into a efficient situational rusher.
Other projects like 2008 third round pick Shawn Crable, undrafted free agents Pierre Woods and Eric Alexander, and Adalius Thomas, who was a Free Agency signing didn't end as well.
New England wanted desperately to sign Julius Peppers last off-season and if they still their eye on a premier quarterback terrorizer Woodley is their man.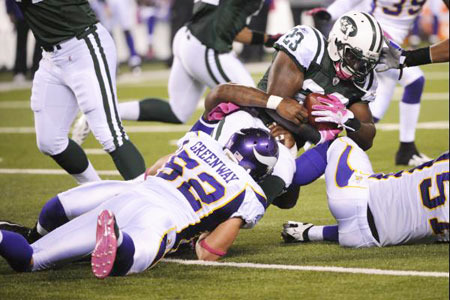 As I mentioned earlier, the Vikings free agent situation is a bit complicated with a number of unknowns surrounding the available tags. Many media sources are expecting Outside Linebacker Chad Greenway to be Franchise Tagged and Sidney Rice to receive the Transition Tag.
If these tag placements ended up going the opposite direction however the Patriots would lose out on a chance to sign Rice, but gain the opportunity to pursue Greenway.

The 17th overall pick in the 2006 Draft, Greenway has been a huge playmaker for Minnesota leading the team in tackles twice from the OLB position. He hasn't produced huge sack numbers posting 5.5 sacks in his second season and only one last year to bring his five year career total to 6.5.
He would nonetheless be a force in a New England defense which requires athletic OLBs who can drop in coverage with tightends and who possess the speed and strength necessary to beat tackles to the corner when rushing.
Acquiring Greenway is a longshot because of the likelihood that he does receive the Franchise Tag designation, but stranger things have happened.
Perhaps the most likely to join New England off all three OLBs on this list is Mathias Kiwanuka of the New York Giants. The 27 year old has only played in 16 games once in his five year career only seeing game action three times this past season due to a neck injury.
In his one full season he racked up eight sacks and despite injury has never finished a season with less than three.
Giants GM Jerry Reese has stated the team expects to offer Kiwanuka a one year prove it deal to allow the team to determine what his real value can be. One wouldn't blame the OLB if he explored other options and pass rusher needy teams like New England may be willing to go longer than one year.
Jeff Zelevansky/Getty Images

It's important to remember the significance of the Patriots 2011 Draft because of the affect it could have on the rest of their off-season.
With nine total picks and with six of them coming within the first three rounds New England could easily avoid Free Agency all together and add depth and possible starters to its core via the Draft.
Most of the impending Free Agents I've listed have complications surrounding their situations and it would be improbable for the Patriots to have any hopes of signing any more than one of them. That's why I presented a variety of options that the team could conceivably be interested in.
Whatever the strategy the Patriots do end up employing the 2011 off-season is already shaping up to be one of the most exciting in years and for a developing New England team that's a really good thing.