St. Louis Rams: 5 Reasons Steven Jackson Will Dominate in 2011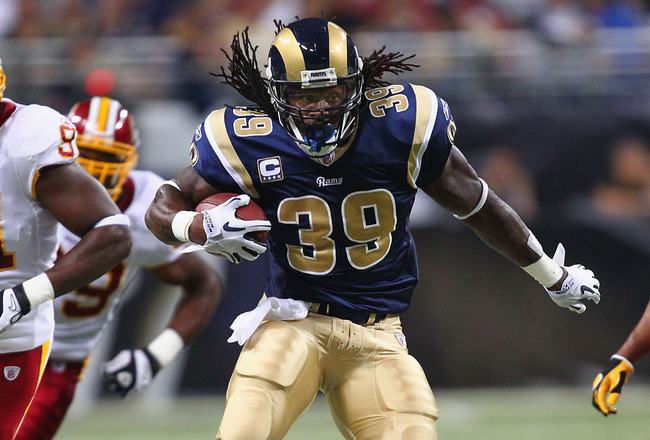 Dilip Vishwanat/Getty Images
For the last two seasons, opposing teams have had the same strategy to shutting down the Rams offense—load the box. The typical counter to this strategy would be to attack deep, get a man into the seams and burn the defense.
The past two seasons however, the Rams have not been capable of this attack. Two years ago it didn't matter who was under center. It could have been Marc Bulger, Keith Null or Kyle Boller, but the other team was going to stack the box and focus on Jackson.
Last season, as great of a quarterback as Sam Bradford was, teams continued to stack the box, showing little fear of being burned deep by Pat Shurmur's conservative offense.
Despite all of this, Steven Jackson managed to keep his name in the conversation for the league's best running back, and there is no reason to believe he will be slowing down anytime soon.
In fact, when you consider a few things, 2011 should be a huge season for No. 39.
No. 1: Josh McDaniels Will Keep The Defense Honest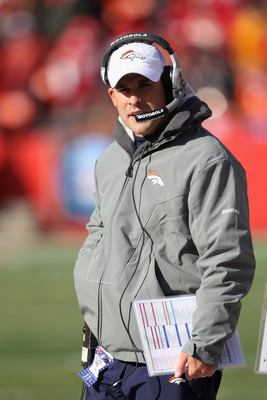 Jamie Squire/Getty Images
Josh McDaniels' move to the Rams has been covered numerous times on this site already, so let's keep this brief shall we? McDaniels knows how to air it out and should stretch the field quite a bit with Bradford.
Once the passing attack starts becoming a factor, defenses will be forced to drop one or two more players deep.
How will this contribute to Jackson's success? With the defense having the burden of guarding a vertical attack, holes will open for Jackson.
Last season there was a common theme against the Rams. Blitz, blitz, blitz and blitz some more. And when all that is said and done, continue to blitz. If worse comes to worse, Bradford would complete one of Shurmur's go to crossing routes for a six to eight-yard gain.
The typical result however?
Overloading the line and getting to Jackson immediately.
With McDaniels' offense in place, the passing attack will be scarier and blitzes will be riskier. Teams will be forced to play the pass far more often, meaning less of a burden for Jackson, an easier time for the offensive line and a lot more room for one of the most dangerous running backs in the game.
No. 2: His Hand Injury—That Too Shall Pass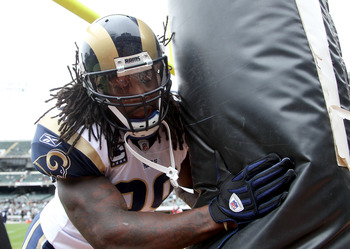 Ezra Shaw/Getty Images
If you weren't aware, Jackson played with pins in his hand for a large portion of this season. Now I've been playing sports since I was five; I've injured my knee, elbow, foot, ankle, ribs and just about every other part of my body, but the most bothering injury I've experienced is having a few small broken bones in my hand.
There were times this season where Jackson was playing almost one-handed and it showed. When a running back can't utilize both hands, their ability takes a huge hit. Considering Steven Jackson is a large bruising back who could probably stiff arm a rhino, having two hands would probably help.
Never fear though, SJ announced that the pins would be coming out after the Pro Bowl (a game in which he scored one of the thousands of touchdowns). Next season, it appears he will come in at 100 percent.
Even if he doesn't stay healthy; however, I wouldn't be against the guy toughing out whatever he comes across. I mean, the guy swam with sharks last year, he is fearless.
No. 3: Playing For Something Is Always Inspiring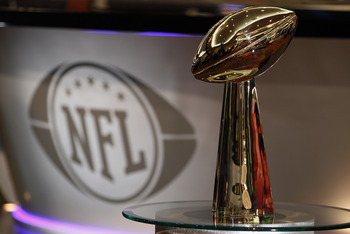 Scott Halleran/Getty Images
I will never question Jackson's work ethic. He is a work horse that deserves every yard he has ever gained. With that being said, even the best of athletes have trouble pushing themselves to the limit when you are playing meaningless games.
In 2009, the Rams were out of the playoffs before the season even started. The same goes for 2008.
During the 2010 season though, the Rams were one game away from making the playoffs. When you come that close, its hard to not be eager to get back there.
Now that a winning attitude has taken over this team, you should see plenty of guys pushing each other to be great. Jackson won't be an exception. This is a guy who deserves a Super Bowl ring, but hasn't been to the playoffs in a few seasons.
Expect him to be giving around 130 percent on every snap next season, especially during crunch time.
No. 4: The Rams Will Pick Up a Change Of Pace Back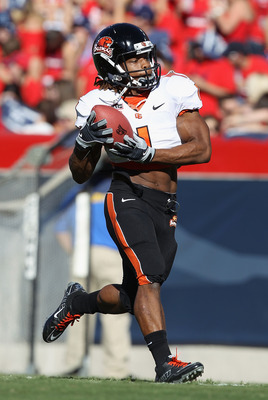 Darren Sproles 2.0?
Christian Petersen/Getty Images
Whether it be Jacquizz Rodgers, Noel Devine, another rookie or via free agency, expect the Rams to pick up a change of pace back this season, a speed back who can give Jackson a rest.
It's not that I have anything against Kenneth Darby, he just isn't a capable backup in the NFL. And while on the subject of backup running backs, the last legitimate backup the Rams had was...wait for it...Steven Jackson himself.
If they do manage to add a speed back, it will do a couple things for them:
1) An impact backup could come in and further wear down the defense and whenever Jackson has the chance to run against a worn down defense, it usually turns out good for the Rams.
2) Jackson wouldn't be as worn down by the end of the game if he is getting a larger amount of breathers. Darby rarely was able to give Jackson a legitimate rest and it usually showed by the end of the game.
In theory, a better backup would most likely take around 50-75 carries away from Jackson, but assuming they are successful at giving Jackson more of a rest and wearing down the defense, you could expect to see a rise in effectiveness from Jackson.
It wouldn't be too asinine to say his yards per carry (ypc) could go from a career-low 3.8 ypc this season to an outstanding 4.5 ypc next season.
No. 5: Once Again, The Guy Swam In a Friggin' Shark Tank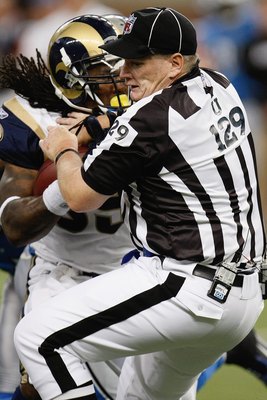 Yeah, I wouldn't get in his way
Gregory Shamus/Getty Images
Fearless, I dare anyone to bet against the guy. After all, Steven Jackson isn't afraid to go in a shark tank, sharks are afraid to go into a Steven Jackson tank.
Prediction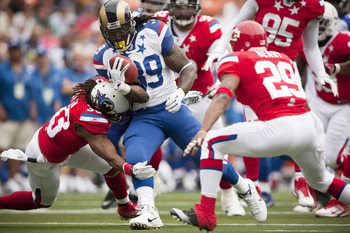 He won't be in the pro-bowl next year, they don't let the super bowl participants play. *wink*
Kent Nishimura/Getty Images
A solid backup, a team with a winning attitude and a clean bill of health should have Mr. Jackson thriving in 2011.
Be aware fantasy owners.
Prediction
Carries: 285
Rushing Yards: 1,282
YPC: 4.5
Receptions: 50
Receiving Yards: 400
Touchdowns: 11
Keep Reading

St. Louis Rams: Like this team?